New York City—Sept. 22
In the press conference after tonight's classes, McLain Ward joked that he doesn't have a great record from his two previous years at the Rolex Central Park Horse Show.
"I think my best score here is 16, and I think I've fallen off twice," said Ward. "I was having a nervous laugh about that on the way to the ring."
Ward didn't need to worry tonight as he turned his luck around.
He managed to win the $40,000 Canadian Pacific Railway U.S. Open Speed on HH Carlos Z, and then he also tied for first on Evergate Stables LLC's ZZ-Top VH Schaarbroek Z with Andrew Kocher (on Eagle Valley Partner LLC's C'Havinia) in the $50,000 Engel & Völkers Puissance.
Watch Ward race the clock in the speed class…
"Carlos is kind of a great campaigner for me," said Ward. "He does every job at the horse show other than the puissance. If he's on form, he really is tough to beat against the clock. I was thrilled with how he handled the evening. He got a nice set-up for [the $216,000 U.S. Open Grand Prix, presented by Rolex] tomorrow night."
But though he'd targeted this event with Carlos, Ward wasn't even originally entered in the puissance. He made the decision to ride ZZ-Top VH Schaarbroek Z, who also did the $25,000 Hollow Creek Farm U.S. Open Under-25 Grand Prix with Oliver McCarthy aboard tonight, while driving into New York with his barn manager Lee McKeever.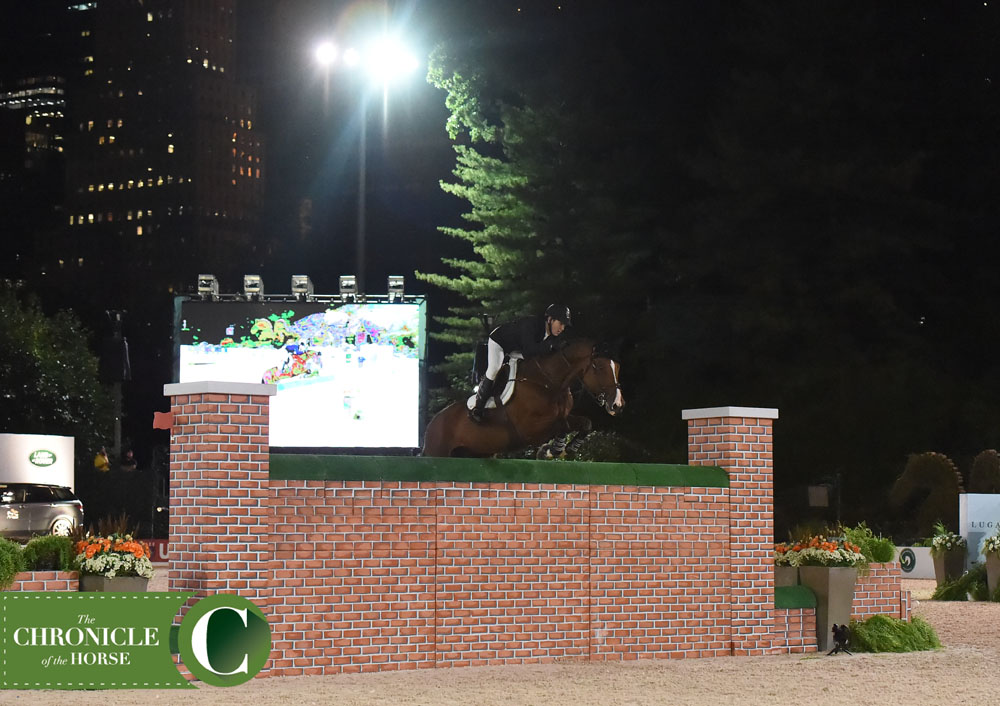 McLain Ward and ZZ-Top VH Schaarbroek Z. Photo by Ann Glavan
"Lee said, 'Why didn't you want to do the puissance? Are you getting chicken?' I said, 'No, we don't really have a puissance horse,' " said Ward. "He said, 'The bay horse can do it. Do you think you can still enter?' I was like, 'OK, I'll try and enter!'
"I haven't ridden this horse in five years," he added. "He's a wonderful grand prix horse who really knows his job and is an easy catch ride."
As for Kocher, he did a few weeks of puissance practice with C'Havinia. Both pairs had a panel off the wall at 6'9″ but cleared 6'3″.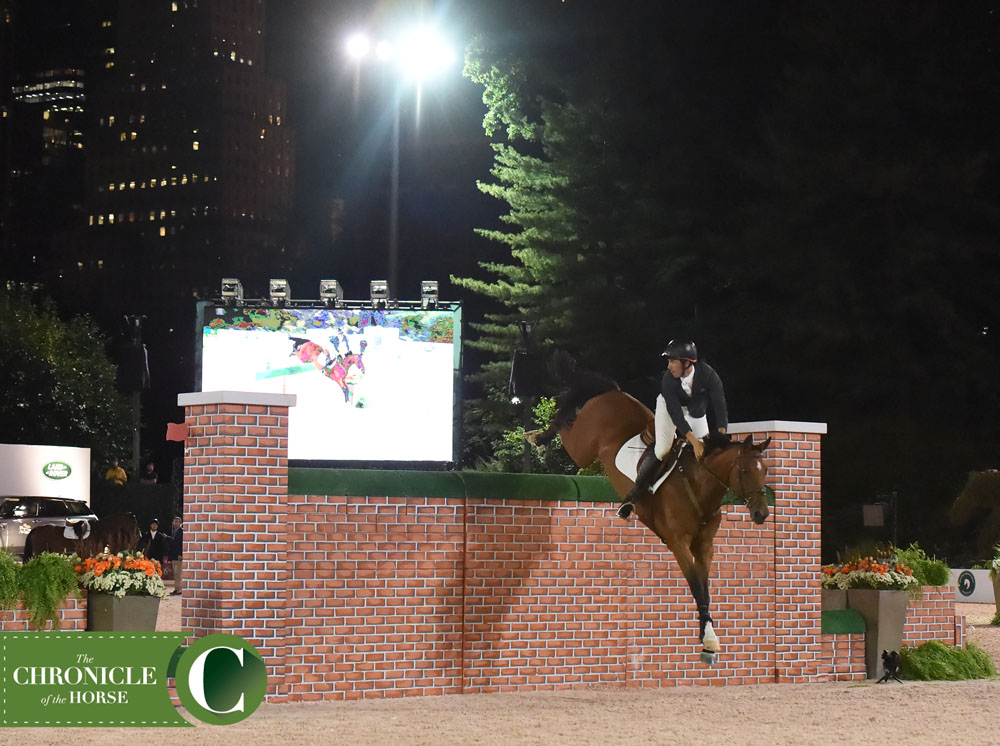 Andy Kocher and C'Havinia. Photo by Ann Glavan

"I was excited to get invited," said Kocher. "That mare's never done anything like it. I've done [a puissance] once at Washington, and it went really badly. I built a wall at home to practice, but I didn't have a big enough wall, so I put some hay in there and stacked it up. It's on quite a slope, so the wall looks really when going downhill on it. We're in Stockton [N.J.], and these guys would drive by and watch us jump this stupid wall and drink beer. It was a lot of fun."
Swail Is Second In Speed
Swail, who won the speed round at this show last year on a different horse, did his best to catch Ward on Susan and Ariel Grange's Cita tonight in the speed round. He settled for second with a time of 60.26 seconds, behind Ward and Double H Farm's Carlos' time of 58.63 seconds.
"There are a lot of competitors here this year, and I think with the world-class competitors unfortunately we didn't hold out," said Swail. "McLain's a very fast rider on a very fast horse, everything came up very well for him. I was trying to figure out somewhere I could leave out a step. I thought maybe I'd try and do something a little different to pip McLain. But she did everything I asked of her. Second place was a good result for us tonight."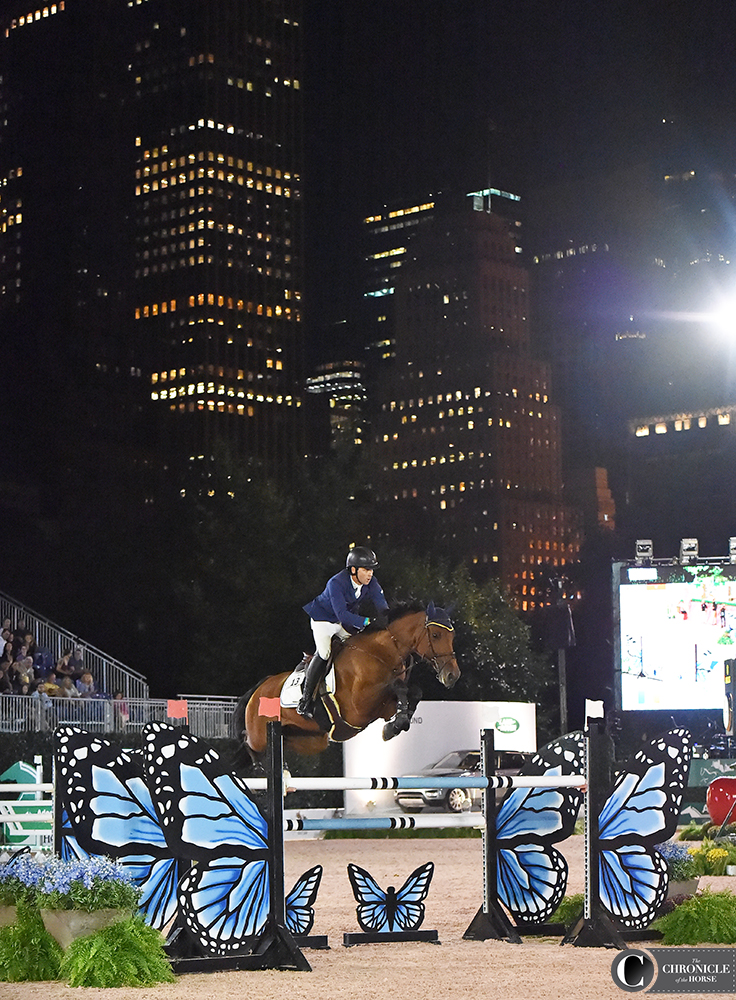 Conor Swail and Cita. Photo by Ann Glavan
Hardin Towell slotted into third on Lucifer V with a time of 60.45 seconds, just behind Swail and Cita.
"I hoped to be in the top three tonight," said Towell. "You always worry about McLain. I couldn't have done anything better to beat him. I could have been smoother to the liverpool and beat Conor maybe. But I couldn't have beat McLain."
Swail Gives Coyle A Leg Up
But despite finishing second in the speed class, Swail helped the 21-year-old fellow Irishman Daniel Coyle win the $25,000 Hollow Creek Farm U.S. Open Under-25 Grand Prix. Coyle came over to ride for and work with Swail early this year, and Swail helped him get the ride on Fortis Fortuna from owners Susan and Ariel Grange.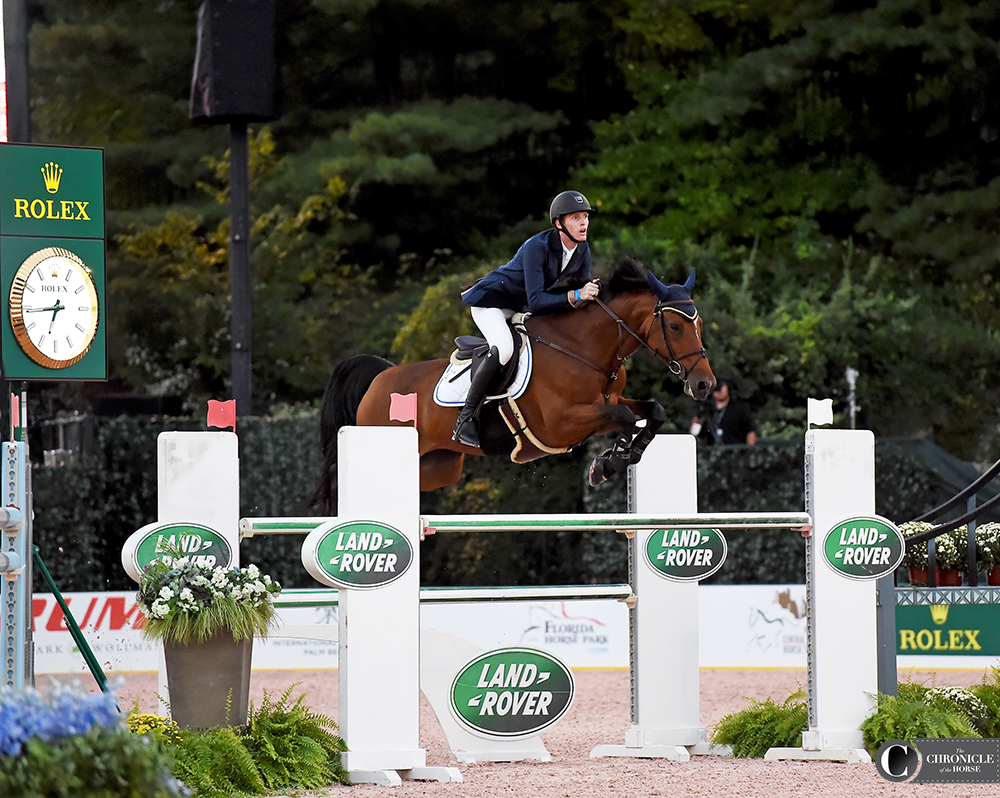 Daniel Coyle and Fortus Fortuna. Photo by Ann Glavan
"Actually Conor rode the horse and very nicely gave her to me," said Coyle. "Conor's very busy as you know, and he says to me, 'You take the horse, and you'll do very well with her.' I have to thank him for that. I won a few classes at Spruce Meadows [Alberta] with her. She's been a very good one for me to get, and I'm really happy to have her."
Problems abounded in the 14-rider class, with a few falls and stops and then rails throughout the track. All three who advanced to the jump-off (Coyle, Alexandra Crown on Von Cim, and Bryn Sadler on Bon Giorno) had a rail there, but Coyle's time of 35.57 seconds took first.
"It's great for me to be here for my first time and win," said Coyle. "It was the horse's first time as well. I just try to concentrate on getting clear to start, and I did, and then it went my way in the jump-off."
"He's a young guy, extremely talented and with a real will to win," added Swail. "He does a great job with the horses he gets. It was a little lucky how it all came together for Daniel. He's taken this opportunity with both hands and run very well with it. He's a good guy and straightforward and easy to work with."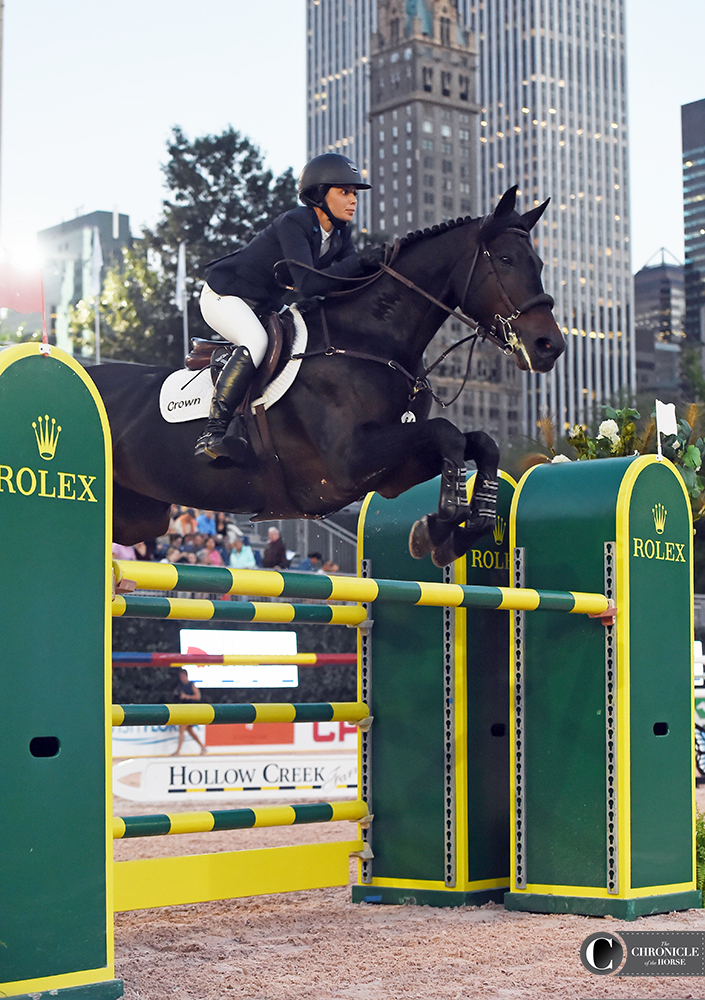 Alexandra Crown and Von Cim. Photo by Ann Glavan
See full results from the Rolex Central Park Horse Show or more photos from the night's classes.