On the final day of the ECCO FEI World Championships in Herning, Denmark, after the other U.S. squads finished their competitions with mixed results, the  Adequan U.S. Para Dressage Team continued to exceed expectations. Grade IV athlete Kate Shoemaker added another medal to the team's haul in Sunday's freestyle competition at the Orifarm Healthcare FEI Para Dressage World Championship. She and her 8-year-old Rheinlander mare Quiana earned a personal best 80.27% to take silver.
"I had so many goals coming into this. And a lot of the goals are a little bit out of your control, because it involves what other people do," Shoemaker said after her test. "But we wanted this 80 and the fact that we got it. … I don't think I quite believe it yet. But I did check the board, it's up there!"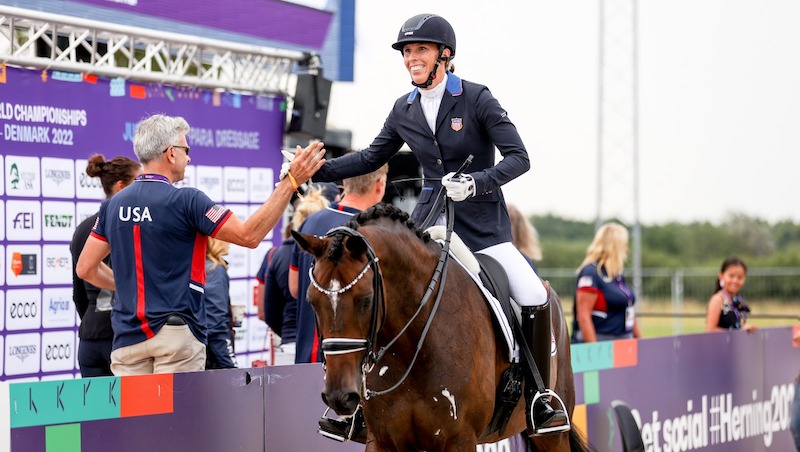 Shoemaker had only performed the freestyle four times before Herning—twice in international competition and twice at national shows. The music is a custom composition by Tom Hunt, inspired by the "Hook" soundtrack.
"This is a mix of several other floorplans that I've done," Shoemaker explained. "It just so happened that the elements all came together to really highlight her. She has beautiful half-passes, and so this is the first time where I've put together a championship freestyle with half-passes in the trot and the canter.  They just really helped me get the collection with her and keep the thoroughness through the test.
"Technically degree of difficulty is not counted in para, but if you can make an interesting choreography, and do it well, they're going to reward it in the choreography," she continued. "Our trot work, and even the canter work is quite difficult. We knew we were taking a risk with it, but if it worked, it was gonna really work. And today it did."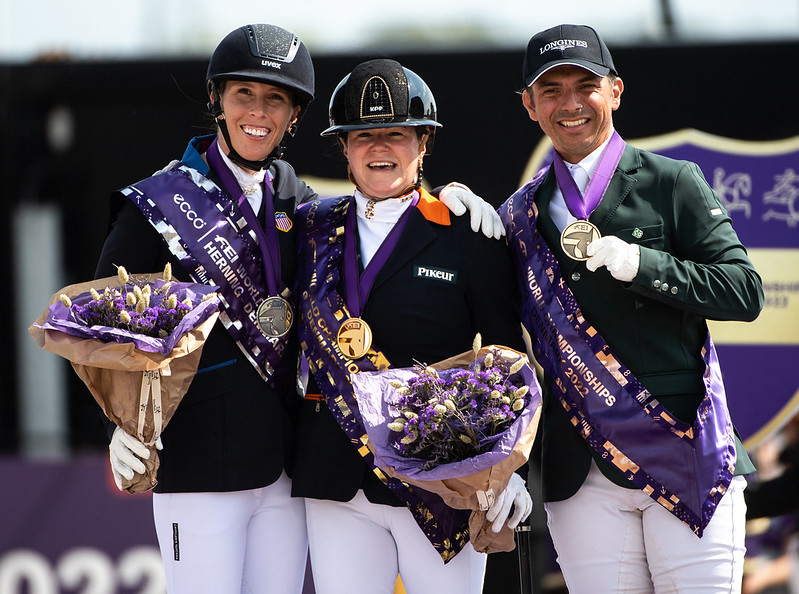 The U.S. team came to Herning after earning a historic first team medal—bronze—at the Tokyo Paralympics. But with three riders on very new horses in Herning, Chef d'Equipe Michel Assouline said his goal here was simply to qualify the team for the 2024 Paris Paralympics, which they did by earning another team bronze on Saturday.
"We had a very good training camp in Denmark, we were there for nine days before [the championship]. We trained hard, we got better and better. And when we got here, the scores were absolutely amazing, but also consistent, right?" Assouline said. "I mean, we got that medal, because basically, our three top scores were all on 75%, more or less, and it's that consistency that rewarded us the medal. So I'm absolutely thrilled, but I'm not surprised. I didn't want to have too high expectations, but in a way, I sort of know what we have, I know the skill sets of the riders, the quality of the horses."
Two other American riders just missed the freestyle podium Sunday: Roxanne Trunnell was fourth in the Grade I, earning a 76.44% on Fortunato H2O, and Beatrice de Lavalette was fifth in the Grade II with a 72.10% on Sixth Sense.
Trunnell was thrilled with her  finish on her 6-year-old Oldenburg stallion, who had only performed the freestyle at a show twice before. "It's all new to him," she said. "He was super; a little tense today  but he worked through it."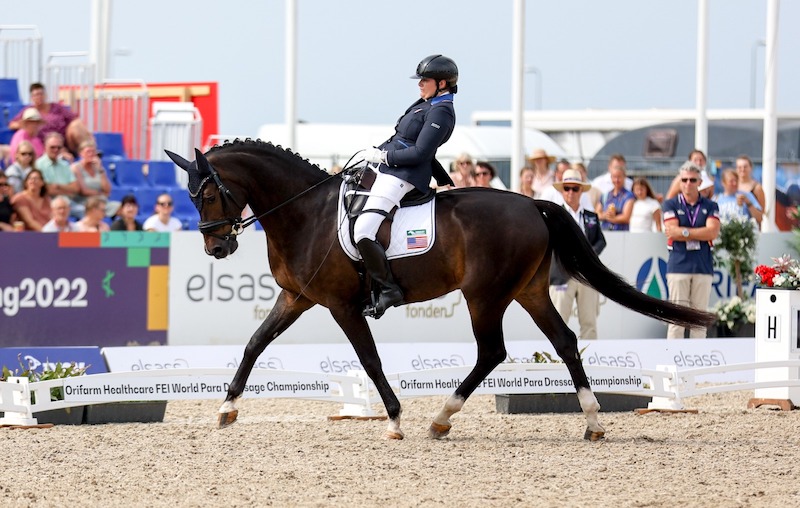 De Lavalette was also pleased with her ride on a relatively new mount.
"He was a little frisky—that's for sure—so we did have little bobbles of trot when he wasn't supposed to," she said. "It's his first time with a big audience, and as soon as he went in, I felt him kind of breathe in, and get a little more tense. More spicy. So I mean, it is what it is. I'm still very happy with the ride."
Rebecca Hart, who earned an individual Grade III bronze medal with El Corona Texel earlier in the week, had a disappointing ride Sunday when "Tex" spooked several times.  She earned a 72.08% and was seventh in the Grade III Freestyle.
"That was very disappointing; I'm going to be honest about that," Hart said after her ride. "He warmed up really well, he felt good. He got in there and things were waving and moving at him, and he just didn't stay with me with the music. It happens. Unfortunately it happened on the world stage.
"I was happy that I was able to keep him relatively relaxed through that, because historically, I would have tightened him up and shortened his neck," she continued. "I was able to be like, 'No, we're working on this new relaxation. I want him to have a good experience in here.' And make it as happy of an experience for him as I could."