Herning, Denmark—Aug. 13
The Adequan U.S. Para Dressage Team earned bronze at the Orifarm Healthcare FEI Para Dressage World Championship after anchor rider Rebecca Hart laid down a strong ride in the Grade III Team test on El Corona Texel. The third place finish means the team is now qualified for the 2024 Paris Paralympics.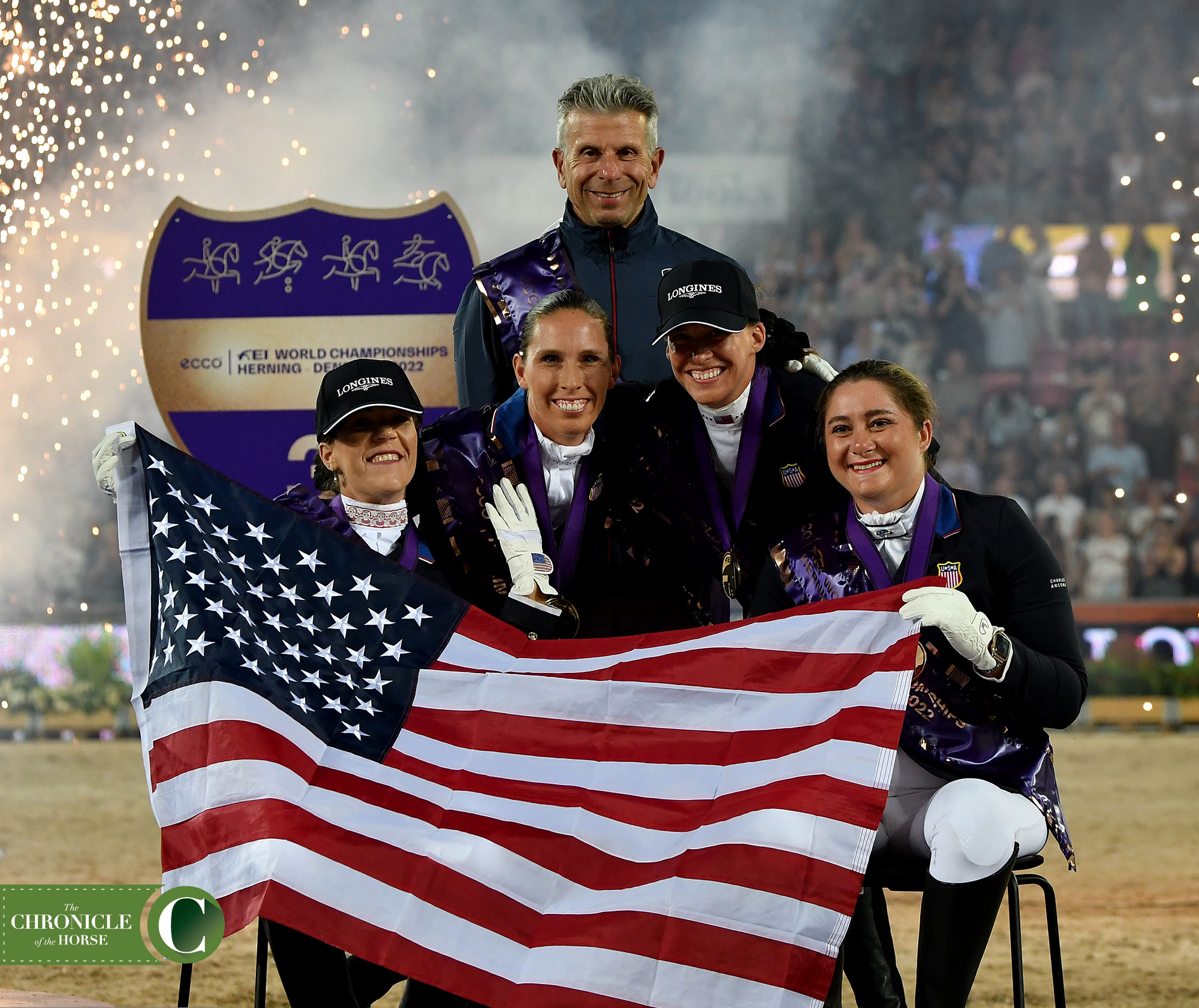 The Netherlands claimed gold Saturday with the Danish team taking silver. Great Britain landed a close fourth, marking only the second time the para-dressage juggernaut has failed to earn team gold and its first time finishing off the podium in a major championships.
"Talk about being on cloud nine," said Grade IV rider Kate Shoemaker, who on Friday produced the team's top score (75.41%) aboard her new horse, 8-year-old Rheinlander Quiana. "We came with a very different team of horses than the ones we took to Tokyo, and our expectation was not for a medal. It was to qualify for Paris and then have a building year. But this shows our program is going in the right direction. To be bronze with this young team is an amazing feeling. There's something about when you strive for something that is just out of reach and then you grab it and hold tight."
On Saturday Hart, the final U.S. rider, followed up her individual bronze medal on "Tex" with a great Grade III Team test that scored 74.70%. Her score combined with with yesterday's marks from teammates Beatrice de Lavalette (Sixth Sense), Kate Shoemaker (Quiana) and Roxanne Trunnell (Fortunato H20) boosted the team to bronze in a tight battle with Great Britain.
"I will take that," Hart said after her test. "We had a really good plan for the first day, and kind of stuck to our same plan. We just went for a little more accuracy, a little more emphasis in the cadence in the trot but I just wanting to keep him a calm and happy athlete out there.
"I had another one of those moments where I'm like, 'Hey this is going pretty well again,' " Hart added. "I'm like, 'No no, no, no,' and just tried to again keep my own focus in there, because you want to enjoy it so badly, but at the same time you're like, 'I have to get every point for my team out there.' And to stay with him because he's feeling so much more confident in himself, which is such a great feeling as a rider from when he was much more kind of internal and in his own little shell. To have him start to come out and really enjoy it, I was starting to enjoy it with him."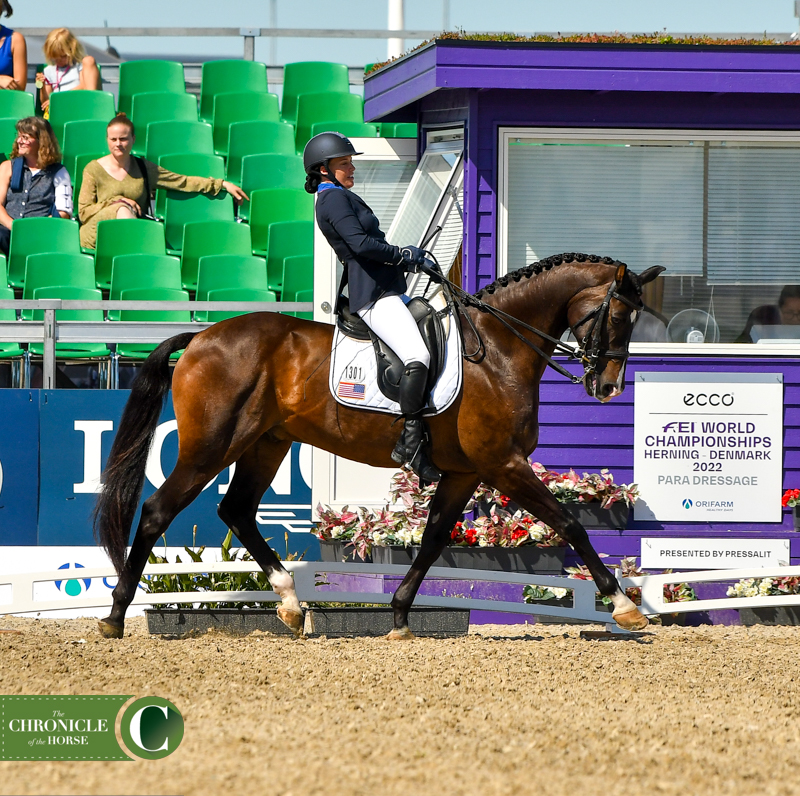 Hart changed her preparation at this competition, swapping to a longer warm up at the walk initially because she wasn't feeling well physically, but she quickly realized it worked well for Tex.
"It kind of sets the tone and then I slowly start to ask him questions, and when he's comfortable with the answers we add more impulsion and harmony and flow that we want to happen in the show ring," she said. "But it's really a very quiet kind of relaxed warm up that we then try and carry over into the ring. We've been doing that for about the last month, pretty consistently when we're competing. And so far it's been working pretty well for us."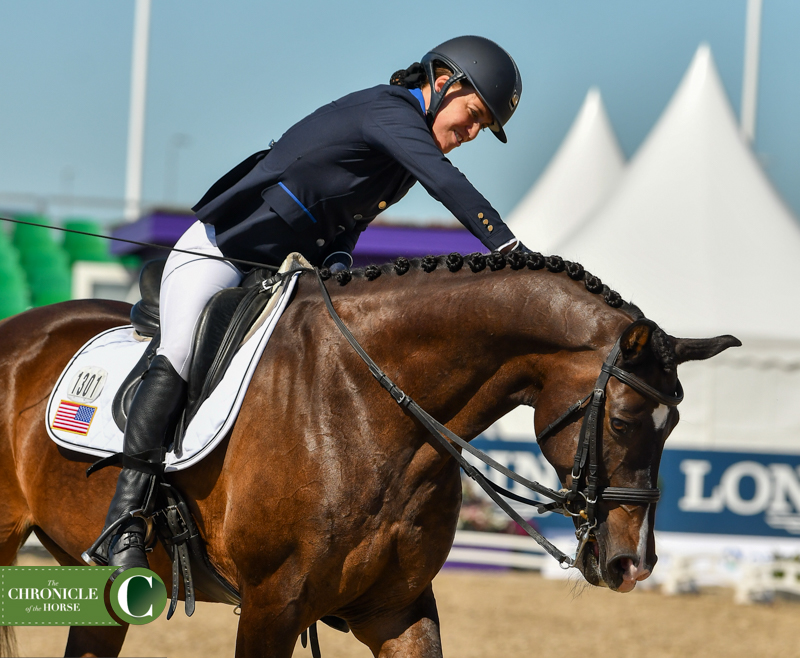 Hart said she was feeling the pressure riding as the anchor rider for Team USA.
"My team with Roxie [Trunnell], Kate [Shoemaker] and Bea [de Lavalette] did a phenomenal job so they took a lot of that pressure off of my shoulders, so thank you girls for that. There's always a little bit of responsibility, especially when everyone's had really great days because you want to go out and finish strong in your country too."
Find team results here. Want more from the ECCO FEI World Championships? Click here. Check out the Sept. 5 issue of The Chronicle of the Horse magazine for analysis from the competition.