Caledon, Ontario—July 19
A medal at the Pan American Games was important this weekend for the United States, not only for Olympic qualification, but for team morale after a tough finish at the 2014 Alltech World Equestrian Games (France).
With Brazil hot on their heels after three clear show jumping rounds today, the team delivered, taking home the gold on a score of 133.0. Brazil earned silver on 140.7, while Canada took home bronze on 163.0.
Marilyn Little clinched the team win with a clear round on RF Scandalous, and when individual leaders Ruy Fonseca and Tom Bombadill Too dropped a heartbreaking rail at the last, Little, who was sitting second, took home individual gold.
Fonseca ended up with bronze, while Canada's Jessica Phoenix and her 2011 Pan American Games (Mexico) individual gold medal winner Pavarotti earned silver.
"Obviously we wanted to come here to win, and that's what happened," said Phillip Dutton, who had one rail at fence 2 with Fernhill Fugutive to become the drop score. "It's been a bit of a tough road for American eventing, and I think that everybody stuck to the principles of trying to get better and trying to improve the sport and get better horses and for the riders to ride better.
"I would like to think it's all starting to pay off. Obviously this is one small step to where we want to go, but I think it's really exciting. It's a credit to David [O'Connor] and to everyone else who has put their time in and for the riders that have really supported it and tried to grow the sport to try to get us back to the top of the world."
Little, who was making her first appearance on a team, was nearly speechless as she described what it felt like to win two gold medals.
"Nothing really compares to a day like this—my first major games, and this day is indescribable," she said. "It's a very exciting day for all of us and for all the people who made it happen."
"Kitty" arrived in Little's barn about a year ago and has been nearly unbeatable at the two-star level this season.
"She was everything I hoped she would be," said Little. "She shows up for work, and she really loves her job. She truly wants to be great at it, and she was exceptional this weekend.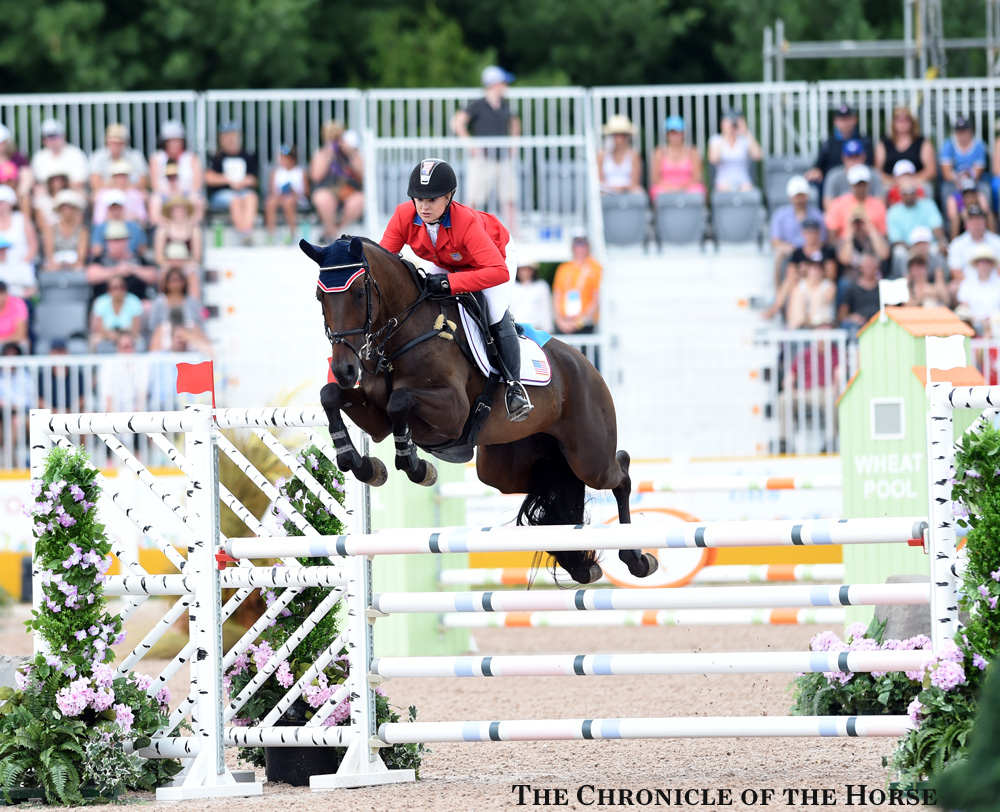 Marilyn Little and RF Scandalous won individual gold. Photo by Lindsay Berreth.
"We came here with several goals in mind, obviously one was to qualify for Rio but also to represent our country to the best of our ability," she continued. "I couldn't ask for a better team. It was a wonderful experience. I'm glad we could all do this together. I'm excited about it, but at the moment I'm just really enjoying this day and very happy."
Another first time team rider, Kieffer finished on her dressage score in seventh place with Marie Le Menestrel's U.S.-bred mare Meadowbrook's Scarlett.
"You know, I've been mentally preparing for this for a while," she said. "It's been a dream for a long time. I was just happy to be up there. It's a great balance of newbies and experience, and it was an honor to be up there, and obviously I want to keep being up there."
Boyd Martin jumped clear with Pancho Villa, and he took some time to show the spooky gelding around the ring before he started. They placed just out of the medals in fourth.
"I'm on a very good jumper, Pancho Villa," he said. "He felt fresh this morning, and he warmed up good and jumped around pretty well. He's a three-star horse, so I thought he should jump clear."
Martin was thrilled to be on the podium with his friend and mentor, Dutton.
"I've been in this racket for the last 20 years, and I've never got a medal. This is my first medal, and we had to fight for it pretty hard, but I gotta say it's a very rewarding feeling because I've been trying for this for a very long time, and I've finally got it," Martin said.
"It's comforting for me because we've got David, who's a wonderful coach and manager, and Phillip, who I like to call the 'Eventing Messiah,' " he said with a laugh. "David thinks about these sort of things 12 months of the year, and Phillip's my mentor and coach and walks the course with me at the horse trials."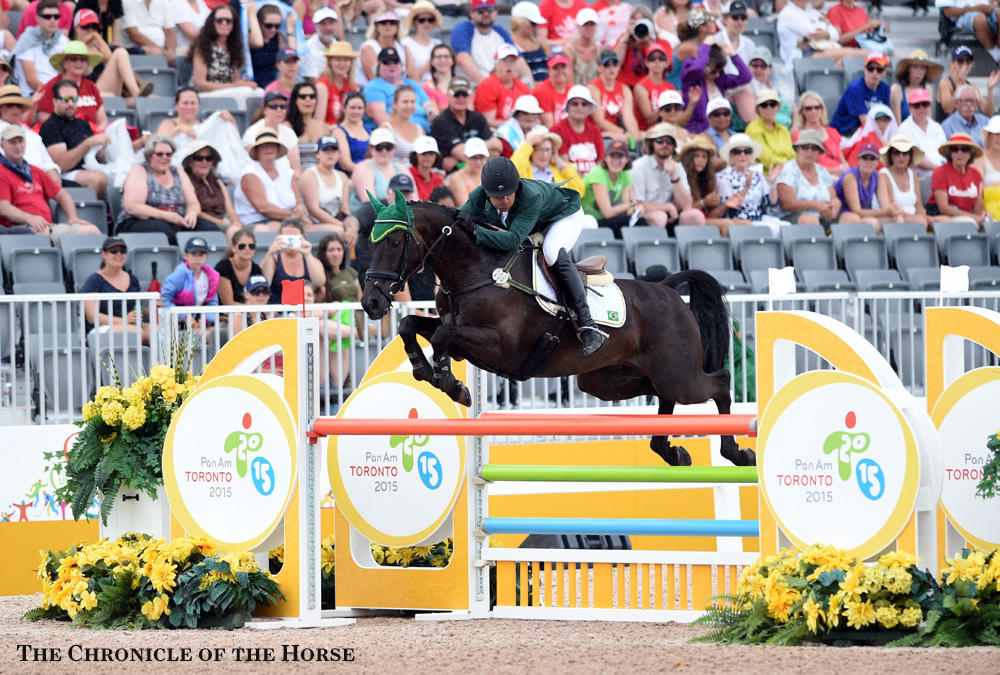 Ruy Fonseca and Tom Bombadill Too had a heartbreaking rail at the last, but still earned individual bronze. Photo by Lindsay Berreth.
Brazil's team (Fonseca, Carlos Paro on Calcourt Landline, Marcio Carvalho Jorge on Lissy Mac Wayer and Henrique Plombon on Land Quenotte) put up a good fight, moving up from third after dressage to second with four double-clear cross-country rounds on Saturday. They were only one fence behind the U.S. team going into show jumping.
With legend of the sport Mark Todd at the helm for the last two years, the Brazilian riders said they've improved by leaps and bounds. Fonseca and Paro are based near Todd in England, while Carvalho Jorge and Plombon live in Brazil.
"The biggest thing Mark has done, in my personal opinion, is he showed us it's possible to be good and do it," said Paro. "With good horses, good training, good planning, we can get there. That's what he's really preached to us.
"The Pan American Games is a big thing for Brazil," he added. "Brazil sees a sport that's close to a gold medal and with more funding could get a medal at an Olympics. I think we're going the right way."
The four teammates grew up together in Brazil riding in Pony Club and have ridden on teams before but not since the 1998 World Equestrian Games (Rome).
"I was 19 and [Marcio] was about 40 already!" joked Paro. "We've got a good team atmosphere. We all want to help each other."
Ruy had disappointment written all over his face as the last rail came down, but he was proud of his horse who's overcome show jumping demons this year.
"I had a very good round," he said. "After Rolex Kentucky [in 2014, where I fell off], we had a bit of a down side in this phase. He got a little bit scared, and he just improved. The whole season this year, this is his second rail down. It was a shame to have the last fence down, but this is a beautiful sport, it goes towards the end, and I need to see the video to see what I could have done better, but it's not the time to say to myself what I could have done better. I'm very happy with the individual medal, and we're really looking forward to Rio next year."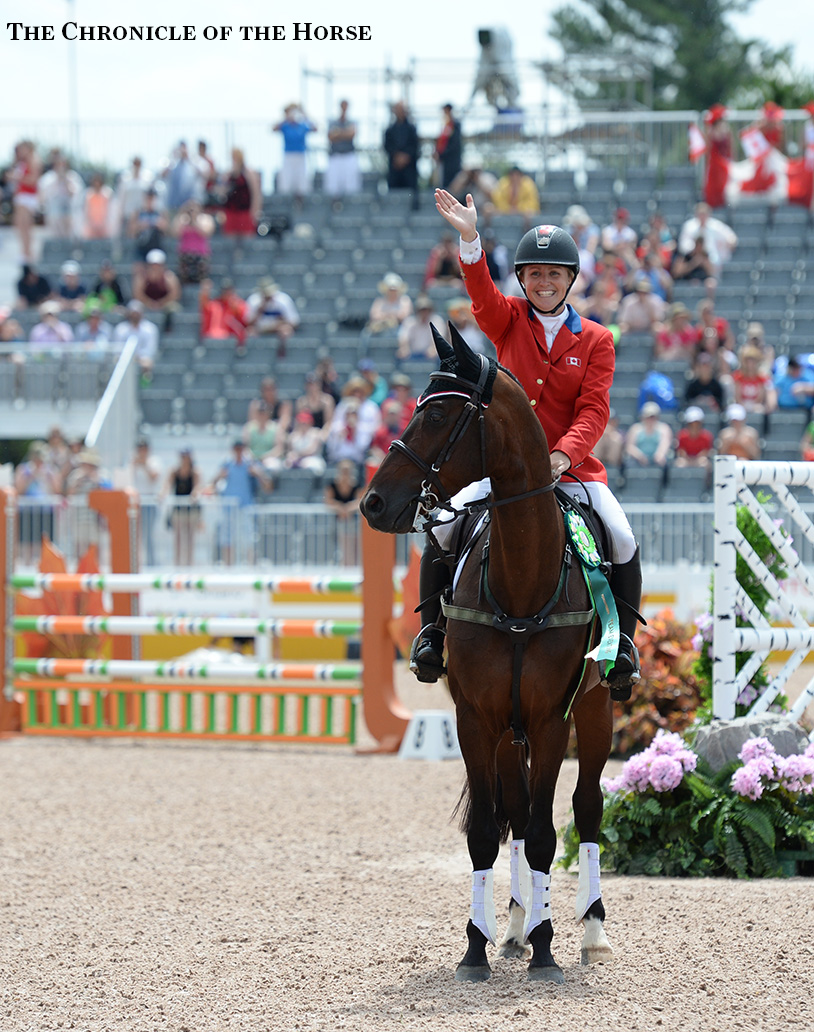 Jessica Phoenix and Pavarotti earned individual silver. Photo by Lisa Slade.
Team Canada only had three riders going into show jumping after Kathryn Robinson and Let It Bee fell at the second fence on cross-country yesterday. They had a sizeable lead over Ecuador, so when Waylon Roberts and Bill Owen dropped the final fence, they were still in a safe position.
Phoenix and team first timer Colleen Loach on Qorry Blue D'Argouges both delivered clear rounds to the thrill of their hometown crowd.
"He's a horse of a lifetime. He's such a competitor in all three phases," Phoenix said. "He knows which day is which phase, and he comes to compete every single time. I'm so thankful to have the ride on him, and I honestly love every single moment I get to be with him."
Phoenix was thrilled to ride in front of the Canadian crowd, and they were cheering for her throughout the weekend, even as she presented the gelding at the final horse inspection.
"It was amazing! I'm so thankful I could be here at this team at the Toronto Pan Ams," she said. "We've had so much support from Canada. It's just been amazing to come and showcase our sport here and be with this team."
See full results from the day, check out our play-by-play of today's action and see a photo gallery. You can also check out all of the Chronicle's Pan American Games coverage in one spot.