Welcome back for the eventing show jumping! It'll start at 1 p.m., when riders will jump for team medals and individual medals. Check out a gallery of pictures from this morning's jog and yesterday's cross-country report. You can also follow along with live scores. There is no live video at this event.
TEAM USA WINS GOLD! MARILYN LITTLE WINS INDIVIDUAL GOLD! Canada's Jessie Phoenix is individual silver, with Ruy Fonseca bronze. Team Brazil is silver, and Canada wins bronze. Check back in a bit for a full report from the day.
2:43 p.m. And now it's just Brazil's Ruy Fonseca and Tom Bombadill Too left to go. He enters looking sharp in his green coat with matching green bonnet on his horse.
It's just starting to rain, adding to the drama of the moment!
Ruy is clear 3. He's clear 6… It's pouring now! He's clear 9.
Clear 10 AB. And the front rail of the last falls to HUGE GROANS!
2:40 p.m. Marilyn Little and RF Scandalous look cool and collected cantering around. She's clear 3. She's clear the triple. And it's thundering a bit! No lightening though…
Clear 9.
And thats a CLEAR for the USA! She'll get at least silver. U.S. gets gold!
2:37 p.m. Next up, Jessica Phoenix and Pavarotti for Canada. They put in a clear! To mad cheers. USA's Marilyn Little canters in. She's in silver position at the moment.
2:35 p.m. Boyd Martin and Pancho Villa in the hoooouse. They're sitting fourth individually. They roll the second, but it stays up…They finish CLEAR!
2:33 p.m. Chile's Carlos Lobos starts with the flashy chesnut Ranco. He jumps the first HUGE. It's yet another clear! Chile's group is very excited…as they should be!
2:29 p.m. Brazil's Carlos Parro trots in with Calcourt Landline. Parro said this horse was bred to be a show jumper, and you'd believe it.
It's another clear! This is going to be a nail-biting finish between these two countries!
2:27 p.m. Fellow U.S. rider Lauren Kieffer heads in on Meadowbrook's Scarlett. Lauren takes her on a little trot around the ring. This mare was totally nonplussed by the crowds yesterday on cross-country.
Scarlett jumping super through the first 4, making it look easy. And they're CLEAR!
2:24 p.m. Phillip Dutton and Fernhill Fugitive go in now for the USA. This is the first U.S. pair we've seen.
They have a rail at the second fence. And they're clear the rest, so just the 4 to add!
2:20 p.m. Colleen Loach heads in now with Qorry Blue d'Argouges for Canada. Big cheers again for this lovely grey gelding.
They're clear through 4… It's suddenly very quiet in here. And they add dangerously to the last, but they clear it! That's a clear for Canada.
2:18 p.m. Marcio Carvhalo Jorge heads in with Lissy Mac Wayer for Brazil. We're all loving this spicy mare this weekend. She's a super jumper, and she's making light work of these fences.
Clear round for Brazil! She looks ready to go around cross-country again too.
2:15 p.m. Ronald Zabala and Master Boy enter for Ecuador. Everyone knows Ronald as he's based in the U.S. He taps the vertical at 2, but it stays up. They have down the triple bar at 4 and the oxer at 8. They also pull B of the double at 10. So they add 12 jumping faults.
2:13 p.m. Daniela Moguel enters with Cecilia for Mexico. She just taps B of the double at 10, and it falls. They add only 4 to their cross-country score.
2:11 p.m. Brazil's Henrique Plonbon enters with Land Quenotte. This is their first rider of the day, and the team is currently in second. This horse has an unusual jumping style, but he is getting it done so far… AND they're clear! Loud cheers.
2:08 p.m. Ecuador's Carlos Narvaez is in next with Que Loco. They have A of the triple at 5 down. They finish on just that 4!
2:03 p.m. Lauren Billys is in next for Puerto Rico with Castle Larchfield Purdy. She's based in California. She has the second fence down and an awkward jump at the third, but it stays up. She takes down the front rail of the oxer at 6 and then A of the double at 10. They finish with 12 jumping and 7 time.
2:00 p.m. First after the break is Ecuador's Nicolas Wettstein with Onzieme Framoni. The horse is spooking a bit at the stands, but then he's focusing again at the jumps. He's jumping HUGE.
It's another clear round!
1:58 p.m. We're in the second and final set, and it's about to get really exciting. We all four U.S. riders, two Canadians and all four Brazilians in this group of 16. Soon we'll have named the medalists!
1:45 p.m. We're now on a short ring drag break, and we'll start back in 15 minutes, at 2 p.m.
1:43 p.m. Waylon Roberts of Canada, the first North American rider to go so far, heads in with Bill Owen to loud cheers. Still, the gelding looks more relaxed than he did for the dressage so far.
This horse is just a super jumper, knees up, very tidy. #NotTiredAtAll And he just pulls down the front rail of the oxer at 11! The whole crowd groans in unison and then cheers. That's a 4-fault score for Canada.
1:40 p.m. Venezuela's Elena Ceballos Alvarez heads in next with Nounour du Moulin. He's flying! But he's clear!
1:37 p.m. Chile's Sergio Iturriaga goes in now with the lovely grey Versalles. Sergio has a matching grey military uniform. Some of them are getting a good angle on 9. He has the first of the double at 10 down, and the very last for 8 jumping faults.
1:34 p.m. El Salvador's Sofia Baussan Augspuer is going in now with Durango. He has the front rail of the oxer at 6, and the front rail of the oxer at 8. She picks up a stop at A of the double at 10. They reset for her to take another shot. She adds a stride in the second element but makes it out without having that rail! She finishes on the 12 jumping and 6 time.
1:30 p.m. Luciana Claudio Brunello is in now in with Erevan for Argentina. They have the back rail of the first fence down.
Just that first rail for them. They add 4 to their cross-country score.
1:28 p.m. Uruguay's Franciso Calvelo is going in now with Noir de la Muralla. The gelding is wearing a white ear bonnett. He's zippy!
And they're clear!
1:26 p.m. Jhonatan Rodriquez and Nilo are in next for Colombia.
They have an unfortunate rail at the very first fence; looked like the horse just didn't quite get his eye on it. He also has the triple bar at 4 down and B and C of the triple combination at 5. He also pulls B of the double at 10. That's 20 jumping and 3 time for him.
1:22 p.m. Jose Mercado, another Mexican rider, is next with Romana. She's looking very spunky as she canters around before starting her round.
And they put in yet another clear!
1:19 p.m. Mexico's Guillermo de Campo canters in with Quelite. They put in a lovely clear trip!
1:15 p.m. Argentina's Juan Franciso Gallo heads in next with Remonta Nunhil. He's wearing a crisp white military jacket, and the horse has white braids.
This horse is jumping phenomenally today. We're seeing a pattern here! But he adds inside the double combination, and has the rail of the vertical down. A 4-fault round for him.
1:13 p.m. Santiago Medina Negrete and Ritmical EJC come into the ring now for Colombia. Santiago wearing a sharp-looking dark green military uniform.
This is a typey horse; he's jumping super and looking fresh too. And that's another clear that was never in doubt.
1:10 p.m. Another rider for Uruguay, Edison Quintana Valerio is headed in next. He cross-canters into 3, but he gets it done. Very cute, forward-going horse. Another who's clearly not feeling any ill effects from yesterday! And they have a clear round!
1:08 p.m. Next is Uruguay's Rodrigo Abella Lemme and SVR Arbitro. They have the back rail of the triple down at 4 when the horse gets just a little too close. The horse adds a stride in the double too and has the vertical on the way out down. That's 8 jumping and 1 time for them.
1:06 p.m. Guillermo Garin and Ubago are in next for Chile. Can they keep up this clear round streak?
This horse is a really cute jumper, very neat up front. He breaks to a trot before 3, but he jumps it clear! He has a rail at 6, the horse just taps the front rail of the oxer, and it falls.
Another rail at 10B when he adds a stride in the triple, so 8 jumping and 1 time for Guillermo.
1:04 p.m. Juan Carlos Tafur and Quinto are next for Colombia. Another fresh-looking horse, though quite a different type than Sir Royal, a bit heavier horse. He gets close to 6, but the horse jumps out and over clear. He has another iffy jump at 9, but still clear! And they have another clear round!
1:00 p.m. Sarka and Sir Royal come flying into the ring, and the crowd goes wild! We're about 3/4 full in the stands today, I'd say.
Crowd cheers again as she clears the triple. Her horse is definitely not appearing tired at all. Aaaand they're clear! First round/first clear of the day!
12:58 p.m. First in the ring today is going to be Sarka Kolackova and Sir Royal for Guatemala. There are 11 numbered fences in this ring today, including a double and a vertical-vertical-oxer triple.
12:30 p.m. No times today since it's show jumping, but here is the order of go for this first round. Like at the Olympics, horses jump twice, once for team and once for individual medals.
12:25 p.m. From this morning's jog: Jessica Phoenix and Pavarotti. Jessie is definitely a celebrity here, and the crowd screamed when her horse was accepted.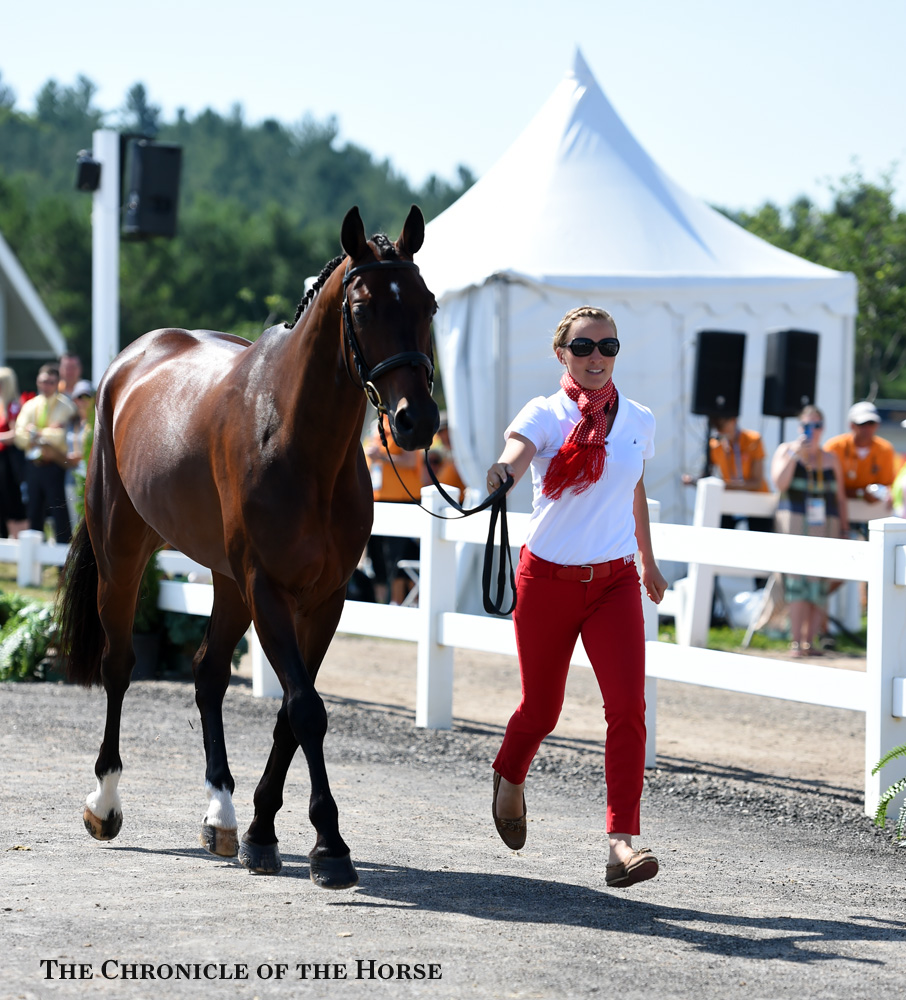 11:55 a.m. All the event horses looked great this morning, but it's HOT today, so we'll see if tiredness is a factor once they start jumping. A big crowd showed up for the jog this morning, and they're starting to settle into their seats now. Check back at 1 when we start posting updates!