Rio de Janeiro—Aug. 17
The U.S. show jumping team didn't just win team silver behind Team France at the Rio de Janeiro Olympic Games, they did it one rider down.
This morning Beezie Madden and Cortes 'C' withdrew from competition as the horse sustained a tendon injury in yesterday's initial team competition. That left Kent Farrington and Voyeur, Lucy Davis and Barron, and McLain Ward and Azur to ride on Day 2 of team competition with no drop score.
Four teams—the United States, Germany, Brazil and the Netherlands—came in on a matching score of 0, and everyone expected a tougher track today to separate out the medals. And course designer Guilherme Jorge delivered, with bigger fences and an extremely snug time allowed. The Germans were the only team in that tie for the top who had the luxury of four riding team members and a drop score.
Farrington and Voyeur led off the U.S. effort with a great round, leaving all the jumps in the cups and picking up only a single time fault.
"I saw a lot of horses struggling to jump the triple combination clear, so I really set him up for that," said Farrington, 35. "Every rail [was] going to matter today, so I wanted to secure that before I took a bigger risk on the time. I thought he jumped amazing, so I was really pleased with the horse."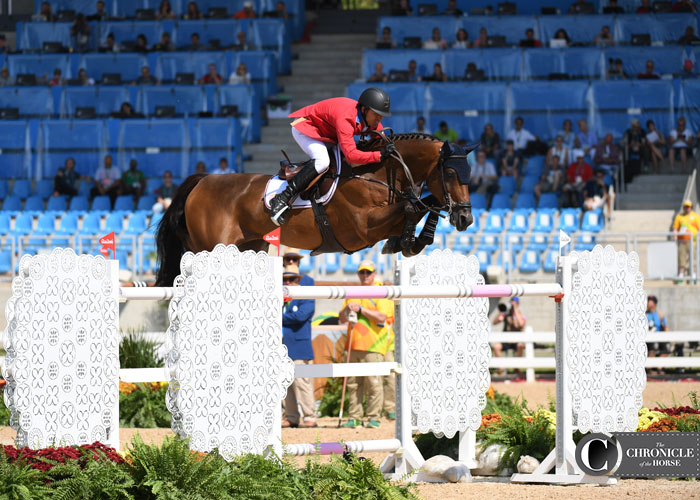 Kent Farrington and Voyeur. Photo by Lindsay Berreth.
Davis and Barron picked up 4 faults in the triple combination, but snuck between the timers within the time allowed.
"I was pleased with the round, but not thrilled, because I would have liked to have gone clear," said Davis, Los Angeles. "He jumped amazing all days, including today. I really wasn't expecting that rail because he was jumping so confident and smooth. I came around the turn and saw my distance, and I don't know if he saw something or what. I watched the video, but it's a little hard to tell."
Meanwhile, German team had faltered, with their first three riders bringing down rails, and the French had rebounded. Philippe Rozier (Rahotep de Toscane) and Kevin Staut (Reveur de Hurtebise) picked up just time faults, and Roger Yves Bost (Sydney Une Prince) rode a brilliant double clear. Their unbeatable two-round total of 3 faults meant that Pénélope Leprevost didn't have to jump Flora de Mariposa as they'd already secured gold.
Last to go for the United States, Ward knew that Team USA, sitting on 5 faults, had no chance at gold. But he didn't want the team to drop any lower and any mistake would be costly. He and Azur jumped brilliantly, laying down one of the just four fault-free rounds of the day.
"When I realized we couldn't win I was feeling like I was going to throw up actually," he admitted. "But you have to gather yourself a little bit, though it takes the wind slightly out of your sails when you're so focused on winning. We've had a little bit of a rough 24 hours, losing Cortes [from the team]. I thought Kent's round was obviously brilliant, and Lucy was the utmost professional, just like at the [Alltech FEI World Equestrian Games (France) in 2014]. She was top class and really delivered a great round and allowed me to be in a position where I could do the job that I came here to do.
"[Azur] has a big stride, so I did the options that were the leave-out which helped with the time allowed a little bit," he said. "I really thought she jumped as good as ever, if not better, than the rest of the week. It was a round I'm proud of, and I'm proud of this team. For sure we would have liked to have won, but you have to take your hat off also to France. They've had a borderline disastrous week. To pull this off—that's what movies are made of."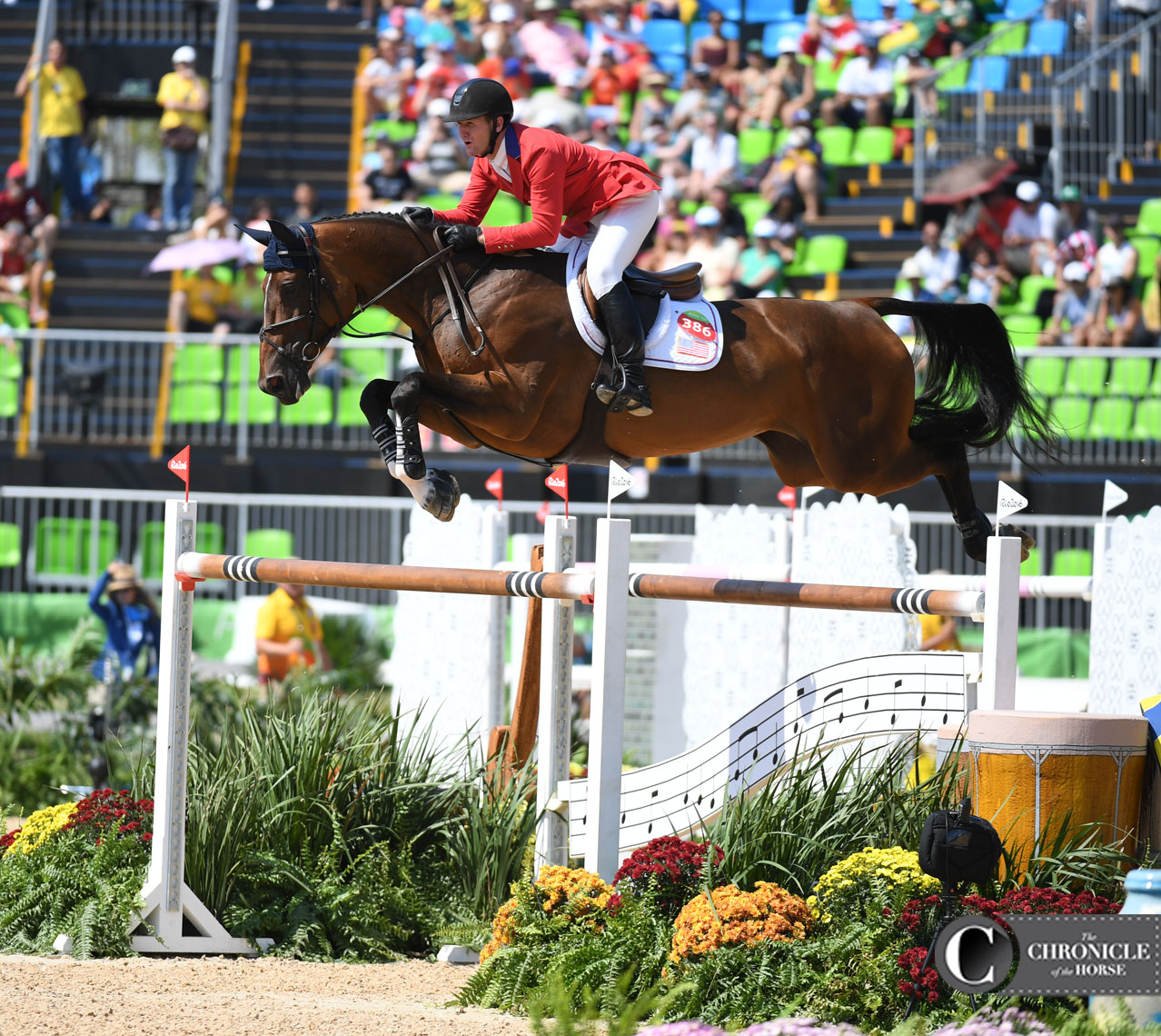 McLain Ward and Azur. Photo by Lindsay Berreth
The real excitement came after the top two medals had already been decided, as Germany and Canada both finished with 8 faults. According to the Olympic rules all teams tied for medals jump off, and the best three scores from each count. Canada's Yann Candele (First Choice 15) and Amy Millar (Hero) each put 4 on the board, while Tiffany Foster managed a clear with Tripple X III. Germany's Christian Ahlmann (Taloubet Z) and Meredith Michaels-Beerbaum (Fibonacci) jumped clear. Germany secured team bronze when their third rider, Daniel Deusser (First Class) put in yet another clear.
"It's been a roller coaster, but the same as it is for the United States, France, Brazil, Canada—we're not a different position," said Ludger Beerbaum, who rode Casello. "Everybody was of course hoping to go clear and do the best and be on the podium. Like for all our colleagues it's the same emotions."
The horses enjoy an off day tomorrow, then the top teams 35 riders, with a maximum of three riders per team, will come back to jump on Friday's two-round individual clean-slate final. Farrington, Davis and Ward will all compete for the United States.
U.S. Chef d'Equipe Robert Ridland is optimistic for what Friday will bring. "I think all three are in very good shape. They're confident, and they all came off a great week. I think all three are ready for Friday," he said.
Full results can be found here.
Mollie Bailey and Lindsay Berreth are on the ground in Rio de Janeiro for the Chronicle and will be reporting with all the news, fantastic photos and behind-the-scenes details, all posted on www.coth.com. Your go-to page for all things Olympic is http://www.chronofhorse.com/2016-Olympics.
We'll have live blogs of competition sessions, Twitter updates, blogs, photo galleries, stories about each day's competition and so much more. Don't miss a thing—we'll have everything you need to know. Also make sure to follow along on the Chronicle's social media outlets: Facebook, Twitter, Instagram and Snapchat (@chronofhorse).