Adamstown, Md.—July 6
Each member of the Pan Am Games team had a different strategy as they headed out on Ian Stark's cross-country course today for their final prep run at the Maryland International CCI3*-S at Loch Moy Farm.
For overnight leader Boyd Martin and Tsetserleg, the plan was to jump as many fences as possible out of stride over the twisty track, which is similar to what riders will expect in Lima, Peru.
Martin may not have planned to go guns blazing with Christine Turner's 12-year-old Trakehner gelding (Windfall—Thabana, Buddenbrock), but they were quick, adding just 1.20 time penalties to their score after a clear show jumping round with .4 time penalties this morning, which gave them the win.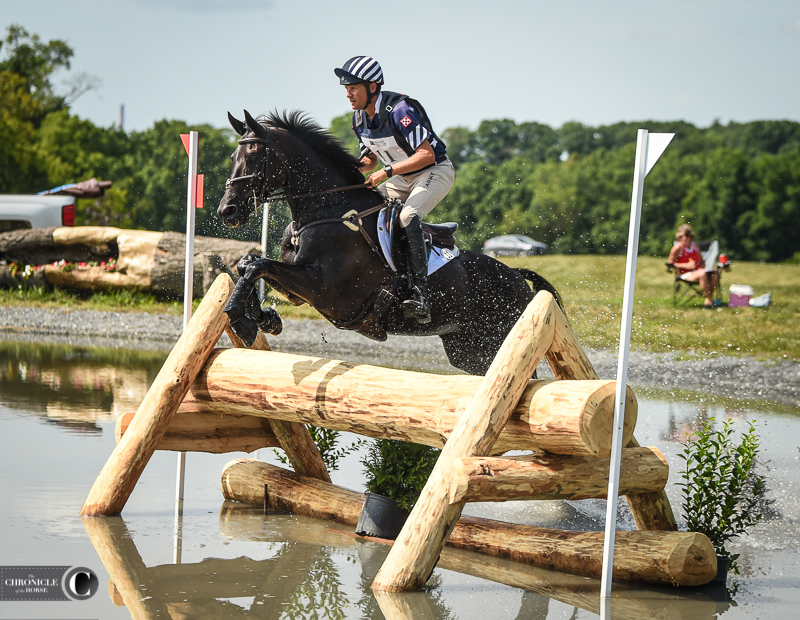 "He's a pro now," said Martin of "Thomas," his 2018 FEI World Equestrian Games (North Carolina) partner. "Last year he just felt like a young horse still, and this year he's just a real seasoned veteran. I've got him in a softer bit than last year, but I didn't try and ride him fast. I was just trying to go around the course without messing with him and slowing him down too much—just being a bit sneaky on a few of the lines and jumping the fences out of stride. He's good and fit and he's trotted up well.
"It's harder than it looks because it's on a smaller piece of land," he said of Stark's track. "You have a combination, then 20 strides later you've got another combination. I think it's good for the horses and good for your riding because you don't have this luxury like you do at a long format where you can canter along for 30 seconds and regroup. It comes up, and it's bang, bang, bang."
While the footing ended up riding a bit firmer than it walked, Martin was full of praise for the event. "The organizers have done a splendid job," he said. "This time of year it can be a real nightmare having good footing, and they couldn't have tried harder with the aerating and the watering. A big thanks to Maryland Horse Trials. It's turning into a premier event."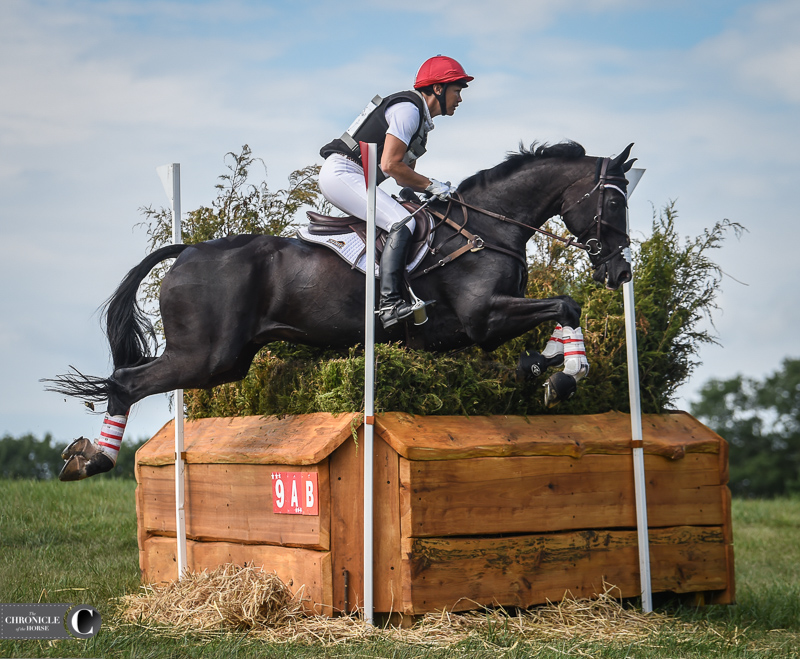 Martin's planning to take Thomas to some jumper shows at Princeton (New Jersey) for more practice in the next couple of weeks. He got permission to leave his reserve horse, Turner's On Cue, at home this weekend because she's still resting from her third place finish at the MARS EQUESTRIAN Bromont CCI4*-L (Canada) in mid-June.
"The biggest thing is you have to ride really well in the moment on the day," he said. "That's the thing—you can do all the practice and the preparation and the grooming and fancy farriers and vets, but in the moment you've got to be able to execute and pull it off, so that's my biggest, most important thing to think about, which is what I failed to do at the WEG [where he and Thomas picked up a refusal on cross-country]. I'm lucky I get a redo."
Tamra Smith and Mai Baum, a 13-year-old German Sport Horse gelding (Loredano—Ramira, Rike) owned by Alex and Ellen Ahearn and Eric Markell, was in second after show jumping, but added .4 time penalties in that phase and 14 time penalties on cross-country to finish 13th.
"Lexus," who's coming off a CCI3*-L win at Twin Rivers (California) lost two front shoes on cross-country, but Smith didn't realize until she crossed the finish line.
"He felt really good," she said. "It had everything—it had a drop to a skinny and a coffin and a sunken road and a Normandy bank and a corner to an arena fence. Everything rode really great. I think it was a great final run before something big.
"He was just so good out there," she continued. "It's so easy for him. Somebody said, 'You two are magic together,' and I said, 'No, he's magic, and he makes me look very good. I'm just along for the ride!' "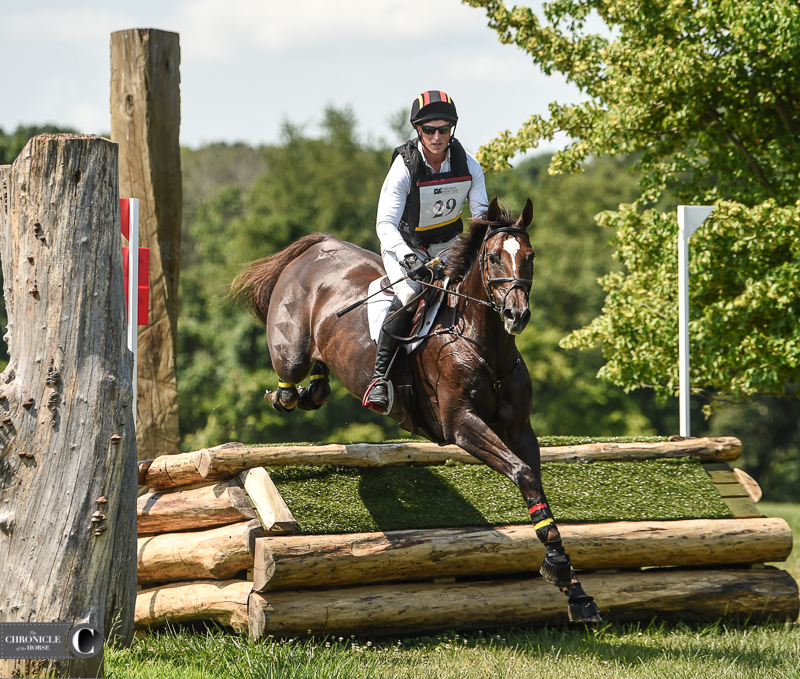 Doug Payne moved into third with his reserve horse, Debi Crowley's 15-year-old Trakehner gelding Vandiver (Windfall—Visions Of Grandeur, Mystic Replica). He finished seventh with 8.4 time penalties on his team horse Starr Witness, an 8-year-old Dutch Warmblood mare (Chello III—Carmen, Veneur) owned by Payne, Catherine Winter and Laurie McRee.
"It was her first round since [winning the Jersey Fresh CCI3*-L (New Jersey) in May], and it was a good course for her since it's a lot of stuff she wouldn't have seen before since we've haven't come here before. It was a really good experience for her," he said. "A couple of distances were a little short, which surprised me, but she's so catty, so it wasn't much of an issue. I just kind of breezed around. I tried to go slow on [Vandiver] and he nearly made the time!"
Payne is planning to show jump "Gin" in Aiken, South Carolina, in the coming weeks.
Lynn Symansky didn't have the show jumping round she wanted when RF Cool Play, an 11-year-old German Sport Horse gelding (Condors Champion—Roxana, Radscha) owned by The Donner Syndicate, stopped at the liverpool.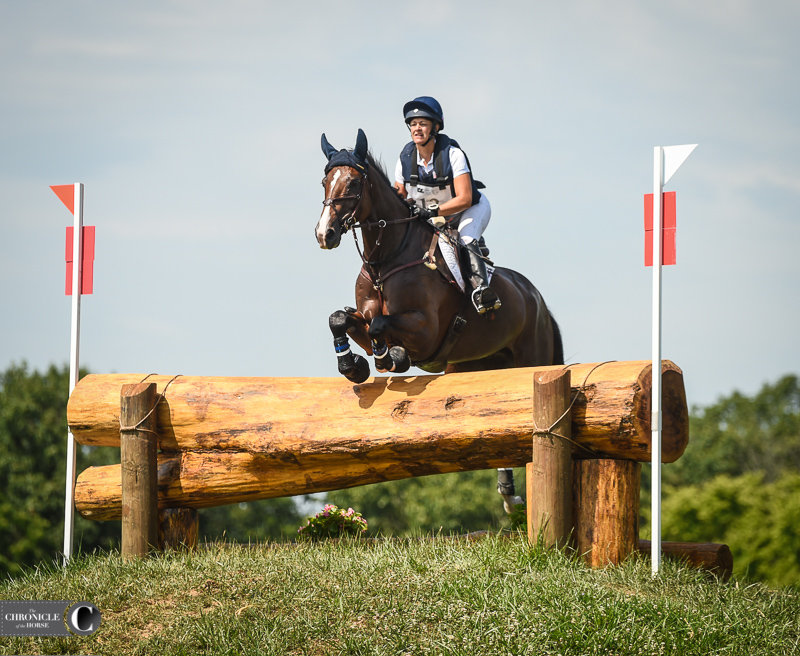 He went on the finish the course well and added 6 time penalties on cross-country to finish 15th.
"This is why we come to shows before we go to the Pan Ams!" she said with a laugh. "He was good for the most part. He jumped quite well in the show jumping, and we've been playing around with a different style of ride, and I came around the corner to the liverpool and softened, and it's like he didn't see it and just halted. He's not a stopper. It just caught us both by surprise. I'm not saying those things are good, but at least it was a bit of a wake up call. He feels better in his body, it was just one of those things that happens. It catches you out, then you go home and fix the problem. It hasn't rattled our confidence, it was just one of those things. He can be a nervous horse, and he holds his breath a bit in there, and I was just riding a soft round. We'll definitely be jumping a lot of liverpools! He's not a spooky horse. That's the game and horses."
Symansky thought the cross-country difficulty was upped this year, which made for a good final prep.
"Sometimes with these final outings, if they're in an awkward time of year you feel like you're just going around jumping jumps before wherever you're going, but here it actually makes the horses and riders think and get back on their game because it's a lot easier to have a prep trial in the spring or fall season," she said. "The summer's a bit harder to try and get the right sort of track. I think he did a good job."
Symansky said "Coolio" will jump at Swan Lake (Pennsylvania) to keep practicing, especially over liverpools!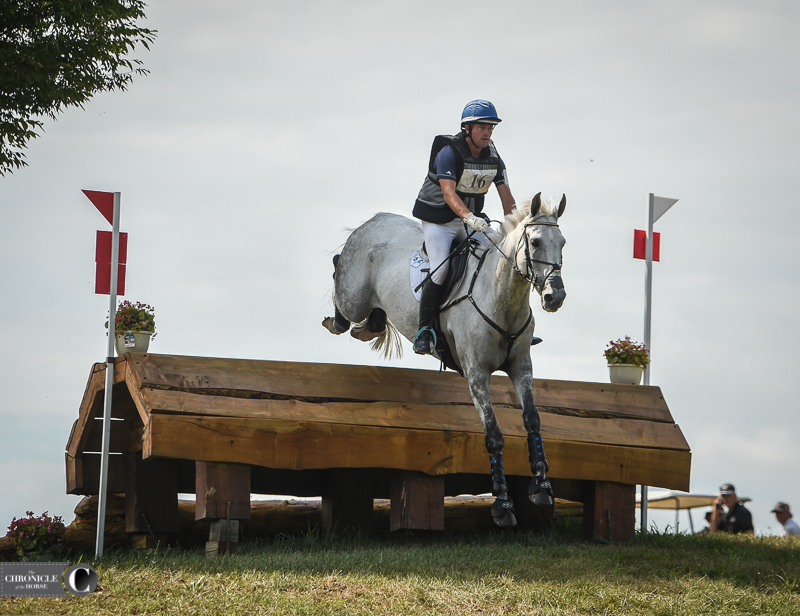 Team Chef d'Equipe Erik Duvander was pleased with how all the riders finished the weekend. He said the horses will be much fresher in Lima, since the temperatures average between 50 and 60 degrees Fahrenheit with drier air than today's 90 degrees and oppressive humidity.
"We asked Ian to build a challenging enough track that asked enough questions to keep the horses interested because some of our horses are good enough to go two levels higher, and it's sometimes more difficult to ride them on smaller tracks," he said. "The combinations were set a little more on the short side; it made the riders have to work a little bit. The game plan was to ride the horses quick enough between the fences, go through the gear changes, bring them back down, but give themselves a stride or two more to be prepared so they got the job done nicely, and it was also about building up the confidence."
Now that the horses have been tested in all three phases and any red flags picked up, they'll head to a final training camp at Stable View (South Carolina) from July 24-26 where they'll work on whatever each individual pair needs, then ship to Miami, Florida, to fly out on July 28. Eventing at the Pan American Games runs Aug. 1-4.