New York City—Sept. 21
Hardin Towell went into the $40,000 CSX FEI Speed Class with a little something to prove. Last week he and Lucifer V logged a jump-off round in the Longines FEI New York World Cup Qualifier that was far slower than he'd like, and he was kicking himself for his conservative ride.
But today he made up for it, outrunning 29 other competitors to take the top check for Evergate Stables LLC. He was nearly 2 seconds faster than second-placed Daniel Bluman and Bacara D'Archonfosse, with Kristen VanderVeen and Bull Run's Faustino De Tili taking third.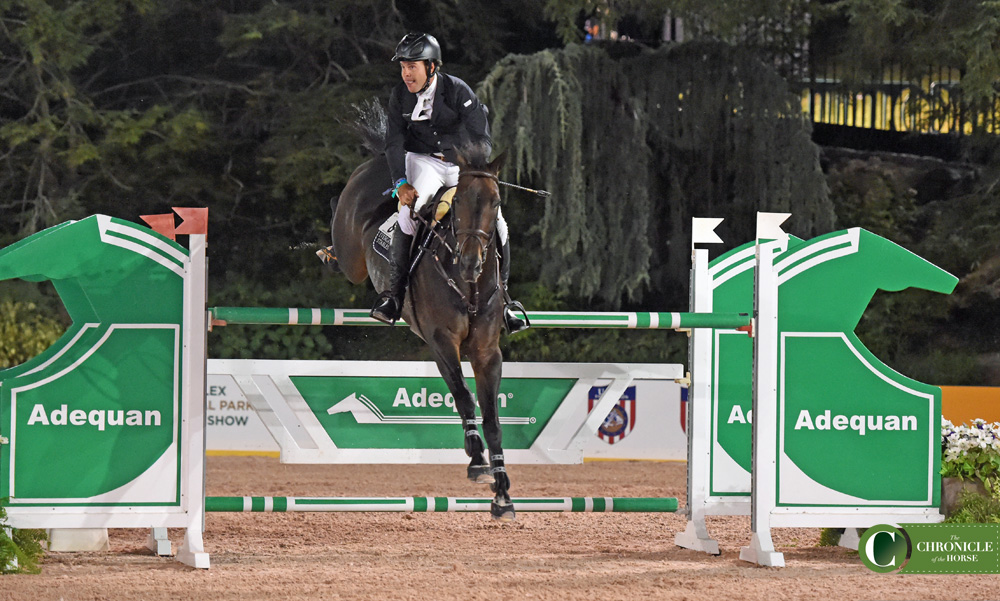 "Last week in the [American] Gold Cup I ended up third, but I didn't trust my horse and myself to the first line—I had the third jump down," said Towell. "I would have been third even if I had been clean, so I decided to believe in my horse. I felt fast today. I knew I was going to win."
Towell paired up with Lucifer an 11-year-old Westphalian gelding (Lord Pezi—Grandina) back in 2014 when the horse was still competing in the 8-year-old young jumpers. The pair qualified for the Longines FEI World Cup Final (Nev.) in 2015, and this season Towell's been contesting the Longines Global Champions Tour, so he felt confident in the gelding's ability to fight for the big check tonight.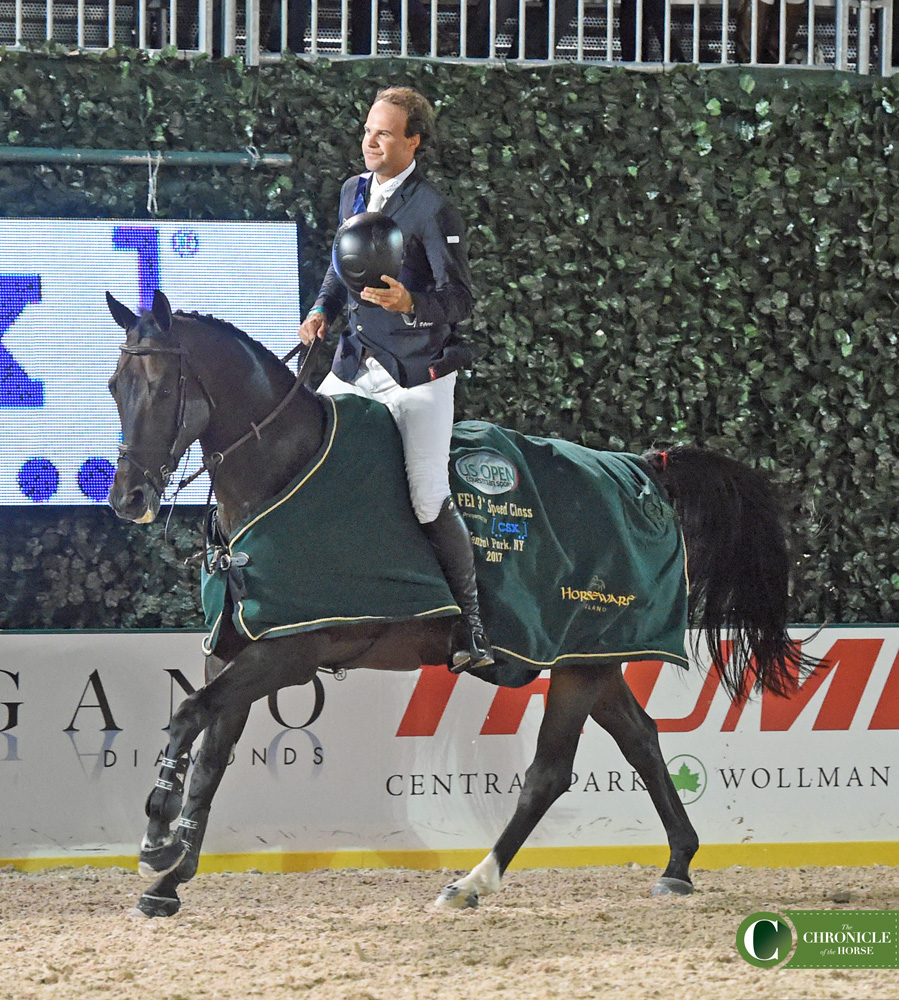 But it wasn't just disappointment in his performance last week that spurred Towell onto a better performance tonight. He was also eager to beat Bluman whom he counts as a friend.
"Daniel is one of my very close friends," said Towell. "To beat your friends is even better. I'm not going to lie; the reason I really tried is because Daniel was also winning. He's winning way too much, so I was not going to let him."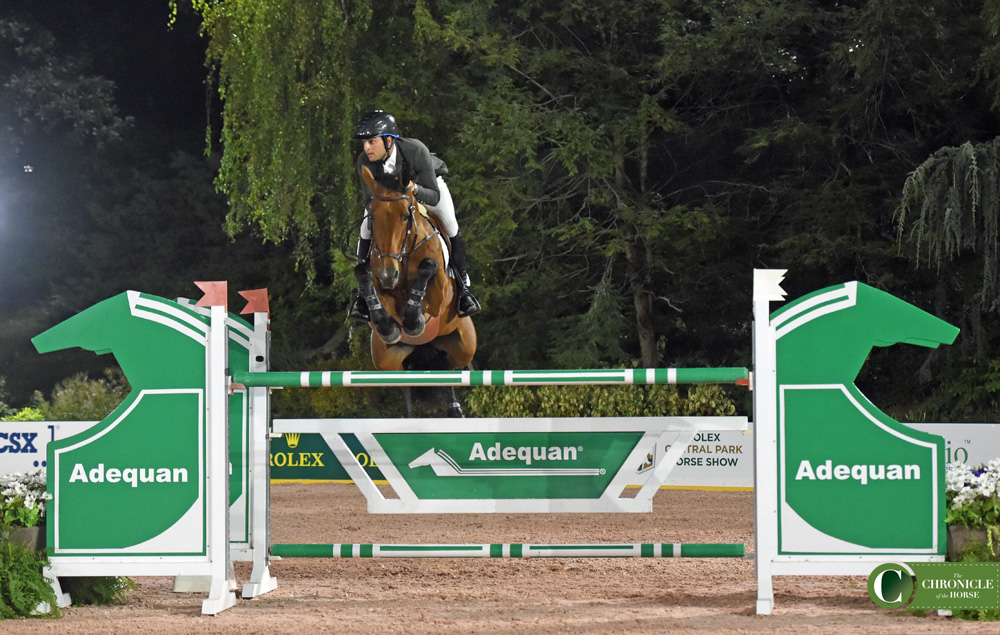 To Bluman's credit, he knew that Towell was going to be his toughest competition.
"I watched Kristin's round; she jumped a beautiful round," said Bluman. "She was super fast, and at that point I thought it was very likely that Hardin at the end would get me. I'm a competitive guy, and I knew he'd try get me."
Both riders felt that the course was—though twisty—a small enough height that it was a good course to try to win a little bit of money.
"It wasn't too big," said Bluman. "It was a nice round to try to compete. If you have a horse that jumps well two days ten you can try to go fast and come back the next day ready for the grand prix. My horse you can try to win the class, and she jumped quite well."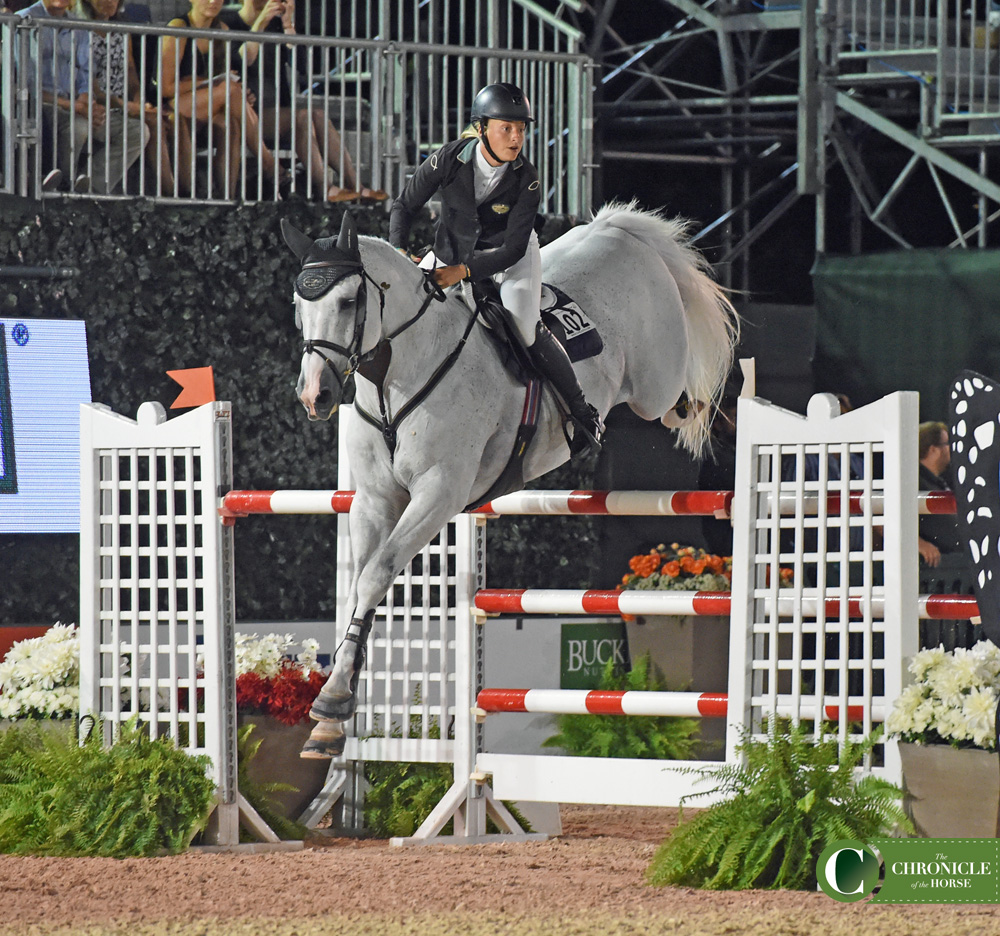 For more in-depth coverage from the fourth annual 2017 Rolex Central Park Horse Show, check out the October 9 issue of The Chronicle of the Horse magazine.
Want to know when each class goes and where to watch the livestream? We've got that information for you!
You can see full results from the Rolex Central Park Horse Show here. 
Follow along with all the action from the Rolex Central Park Horse Show with the Chronicle, and make sure you're following us on Facebook, Twitter and Instagram at @chronofhorse.