March 24—Raeford, N.C.
After two days of dressage at the Cloud 11-Gavilan North Carolina International CIC*** the 77-horse leader board is packed tight towards the top, with a three-way tie for first.
Allison Springer was first down centerline this morning on her veteran 17-year-old partner Arthur, hoping to top yesterday's leader Ryan Wood, who scored a 44.1 on Powell.
Despite entering the ring late when she couldn't hear the judge's signal and a few spooks from the gelding, Springer and Arthur still scored a 43.4.
Maya Black and Doesn't Play Fair, aiming for their second Rolex this year, matched their score a little later, putting in a fluid test to earn one of their best marks at the level in the last few years.
Last to go before the lunch break, Emily Beshear and her beautiful gray Shame On The Moon also matched that score, and no one could catch them.
One of the most competitive divisions this spring, the three-star is full of Rolex Kentucky CCI**** and Olympic hopefuls, including Buck Davidson, with five rides, three of which are in the top 10, Sinead Halpin and Manoir de Carneville, Lynn Symansky and Donner, Colleen Rutledge and Cover Rights, Boyd Martin on three, and Phillip Dutton on four, including new four-star ride Indian Mill.
Read on to hear from two of the co-leaders on how their tests went and how they're feeling heading into show jumping tomorrow on the Carolina Horse Park's beautiful grass derby field.
With Marc Donovan designing the show jumping again and promising a tougher track for riders preparing for their spring three-days, it's safe to say the Carolina International won't be a dressage show! There's a good chance of rain overnight and into the morning which should improve the going.
Show jumping for the CIC** starts tomorrow at 8 a.m., followed by the CIC*** at 10:45 a.m. EQSports.net is livestreaming all phases of the three-star and some of the two-star.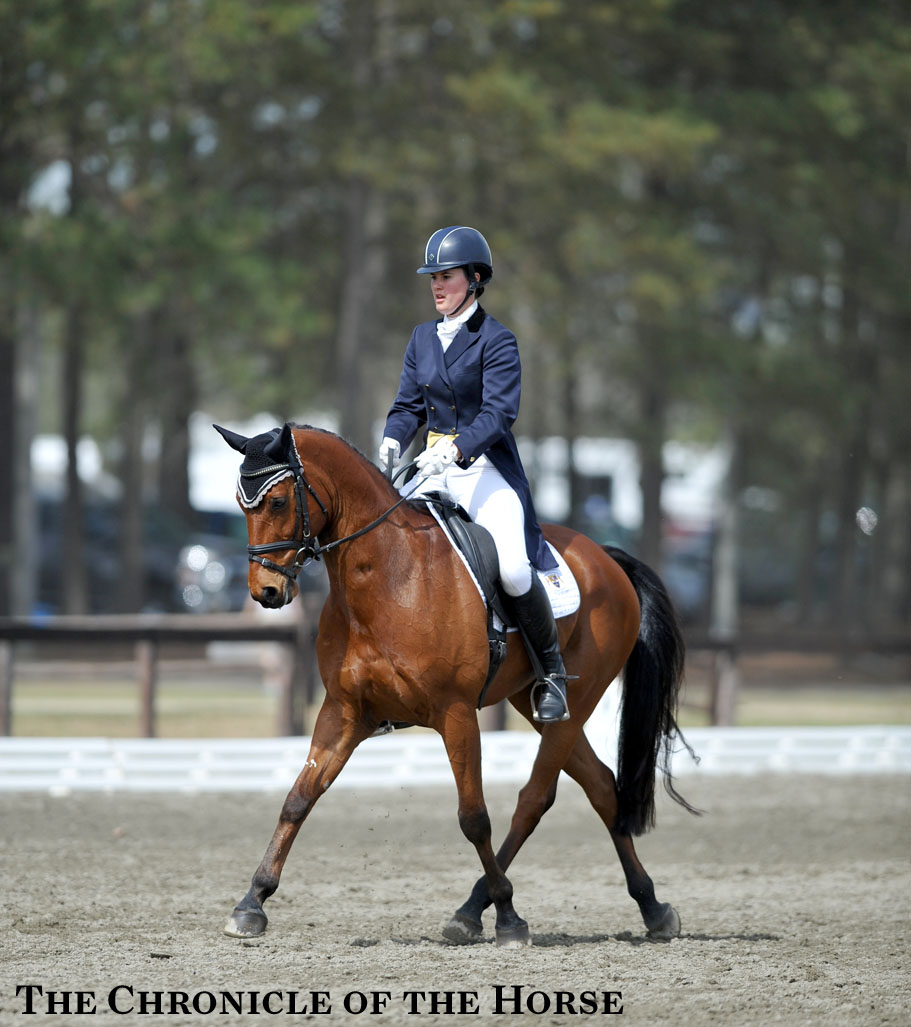 Maya Black and Doesn't Play Fair
On her test:
"The last time he had a test in the low 40s was a few years ago at Richland [Park (Mich.)]. It's just been a little while coming back to get to that point again. You feel like every year you get better, but sometimes it doesn't show like that in the ring. Over the winter I worked a lot on figuring out how to make his brain better in the ring. The last few years I was trying to improve how he moved, so we had that at home, but then struggled with the tension in the ring. Now I feel like he's at home working much more relaxed and was able to have a little bit bigger movement and I've been able to figure out some techniques and ways to ride him with not quite so much pressure. He puts a lot of pressure on himself.
"Looking back at the test, there are definitely things I feel like I could improve, but I felt like he's starting to take a breath in the ring."
On show jumping:
"Last year our show jumping here was not so stellar. I'm going to tighten my girth more, maybe use a non-slip pad, because my saddle was falling off in the show jumping, and it was really bad!"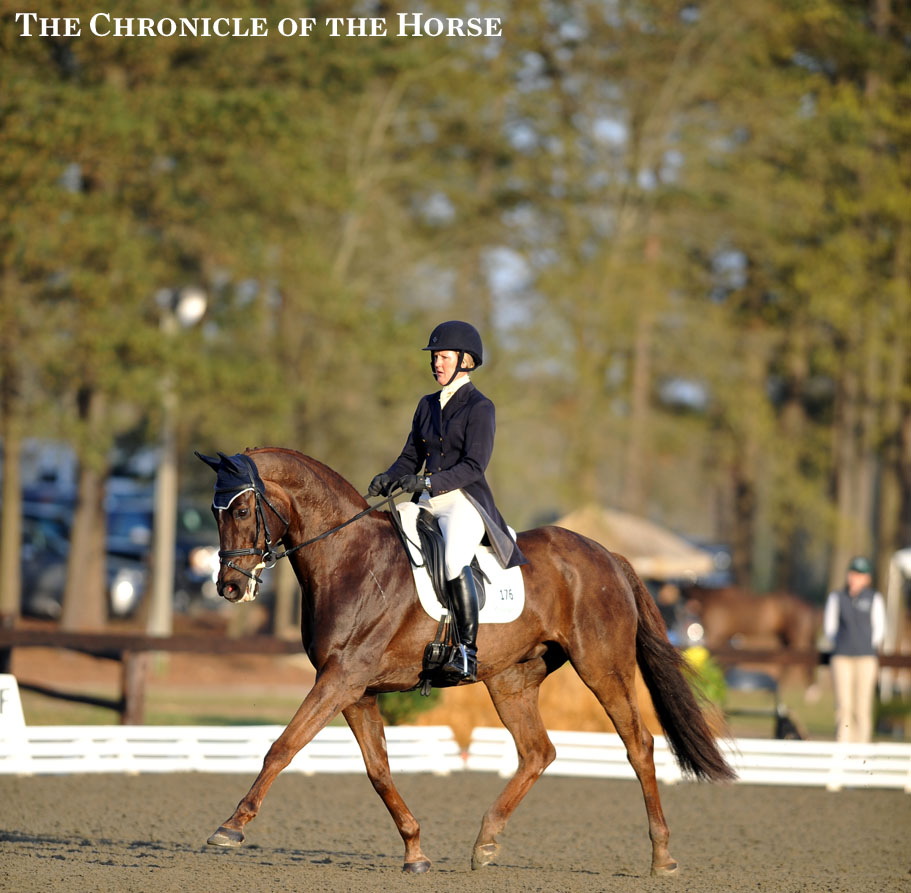 Allison Springer and Arthur
On her test:
"He was actually pretty spooky. Obviously he's fully capable of nicer trot work, but the stuff he does well he does really well. I think I'm like most eventers, you always think it could be way better. The changes felt good and certain things felt good, but he just felt spooky this morning. It's hard with the time change this year. I was riding him in the dark this morning, but you kind of just have to get on and go.
"He hasn't been out since Wellington. It's Arthur—it's getting him relaxed and happy. I don't think people realize how hard it is to get a good test out of Arthur. He's a beautiful horse and beautifully trained but he's very, very spooky so it takes a lot to get him relaxed. That 8 a.m. test with the new time change isn't the most ideal situation, but it is what it is, and he still does a lot of stuff fine. It's Arthur. I love him to death; he's so funny, and he's such a sweet horse, but he's very aware all of the time."
On show jumping:
"Show jumping's never the most amazing thing to do on Arthur, but I feel like I know him so well. He jumped well here last year. I think I have a good mindset with him. I know what I need to do to warm him up, I know how I have to ride him, and that's all I can do. As I've worried less about it and just kind of ride the way I'm supposed to, well that's not so easy to do in competition; it takes a lot of mental game to get to that point, but hopefully I give him a good ride. I've worked really hard on my own show jumping, so hopefully I can give him as a good a ride as I can."
Emily Beshear and Shame On The Moon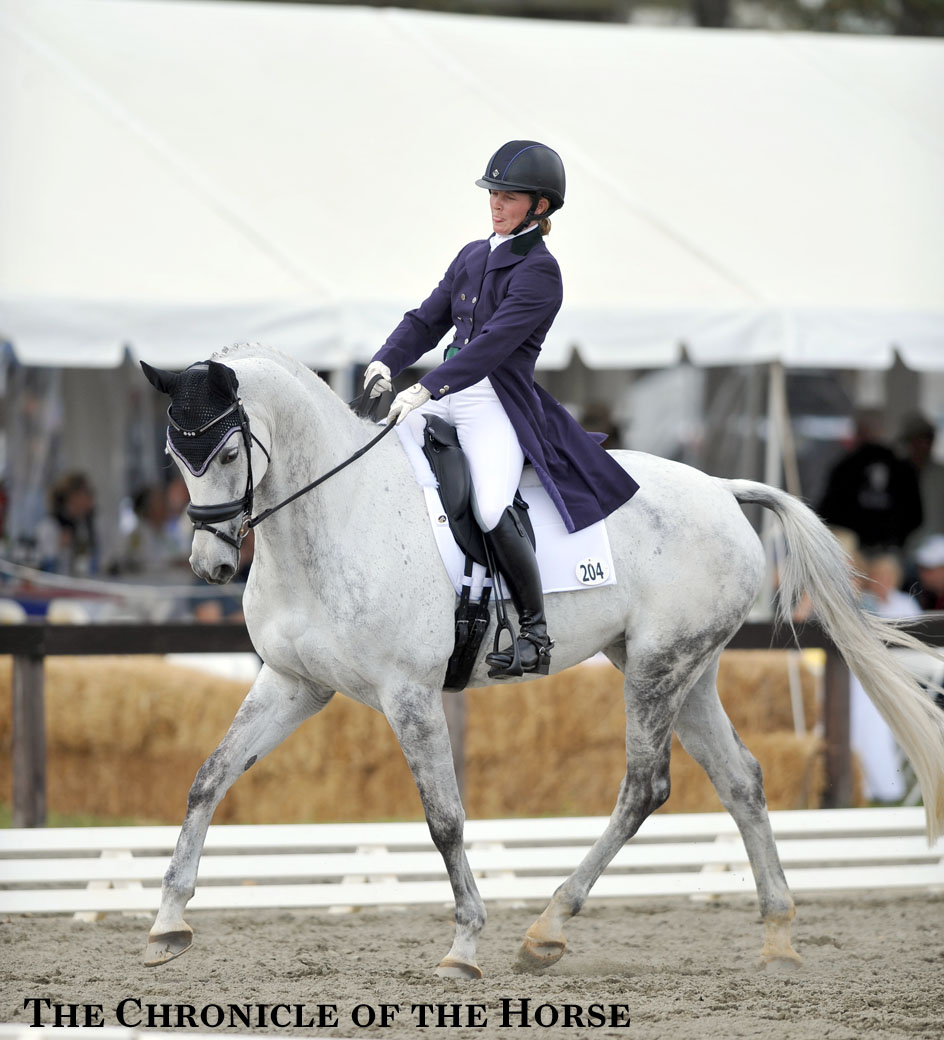 The CIC*** leaderboard.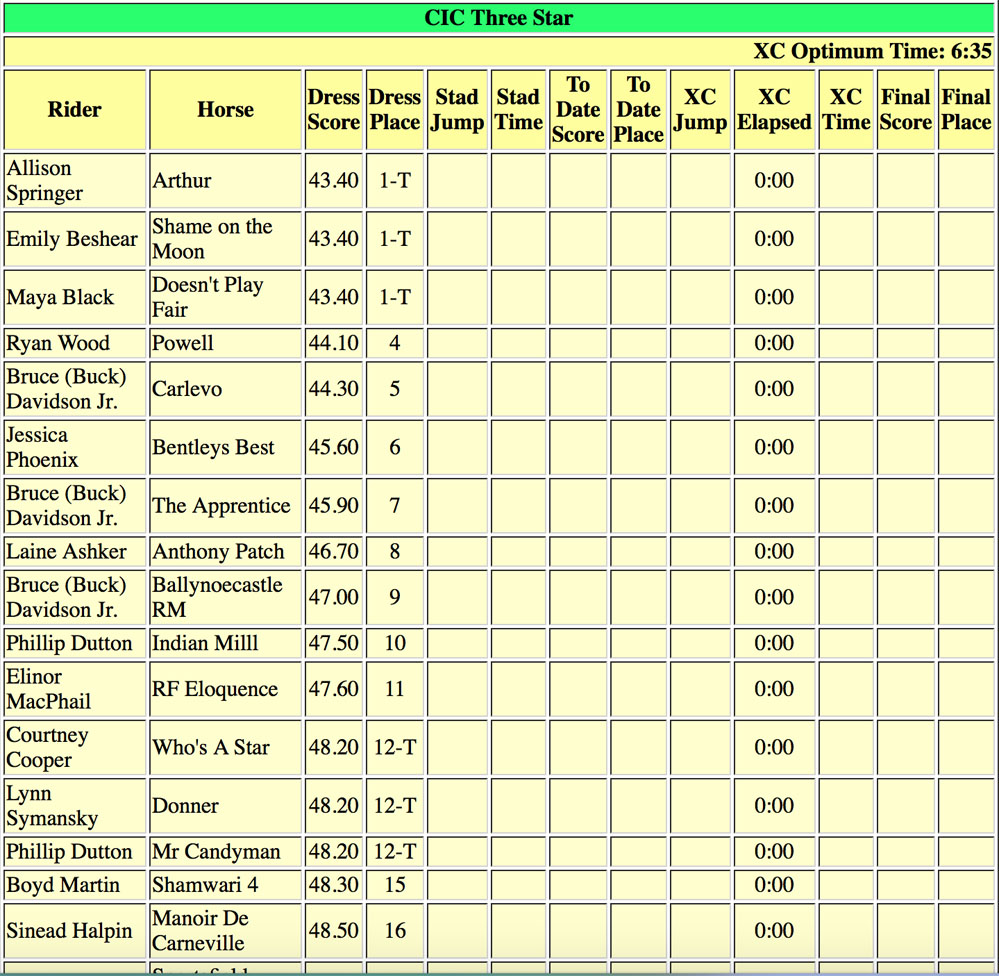 Full scores can be found here.
For more from the Carolina International, visit our hub page.