Lexington, Ky.—Nov. 13
Lucy Tidd has known Ellert HB since his first week under saddle as a 3-year-old, and they've come up the levels together.
On Saturday at the U.S. Dressage Finals, their partnership culminated in a win in the adult amateur Grand Prix freestyle championship (70.00%). It was a full-circle moment for the pair, who  had won at training and first level at the inaugural Finals in 2013.
"For him to come back and win at the Grand Prix is just amazingly special," said Tidd, Poolesville, Maryland.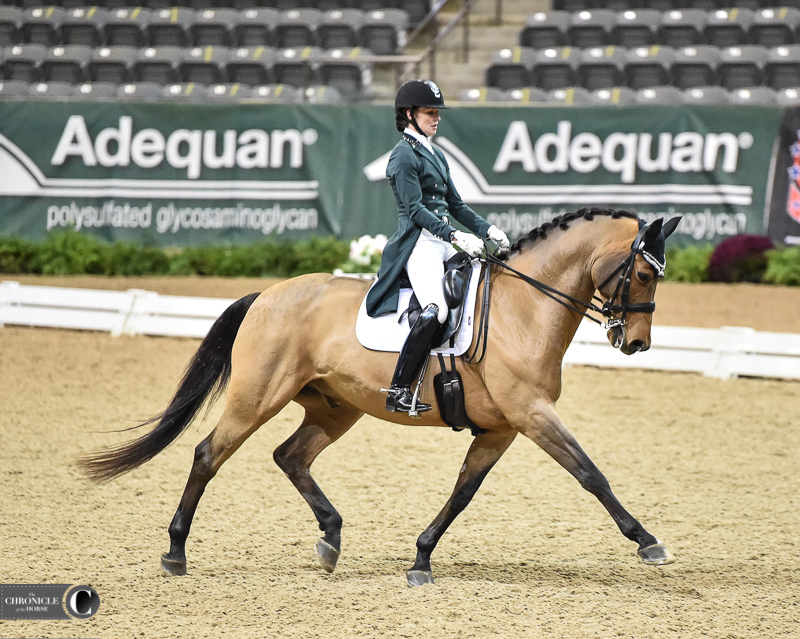 "It's been a fun experience and challenging to put all those pieces together," she said. "I was super happy with him. We had a couple little bobbles here and there, but he just went out there and really tried and was with me. He's so much fun to ride in this atmosphere and in this ring."
Tidd is a small animal vet with two of her own practices. She also runs a boarding barn, but finds the time to ride Ellert HB, a 12-year-old Dutch Warmblood gelding (Johnson—Alanda-B) and three other horses.
"I've been super fortunate that it's allowed me time to ride and compete and focus on these guys as well as practice," she said.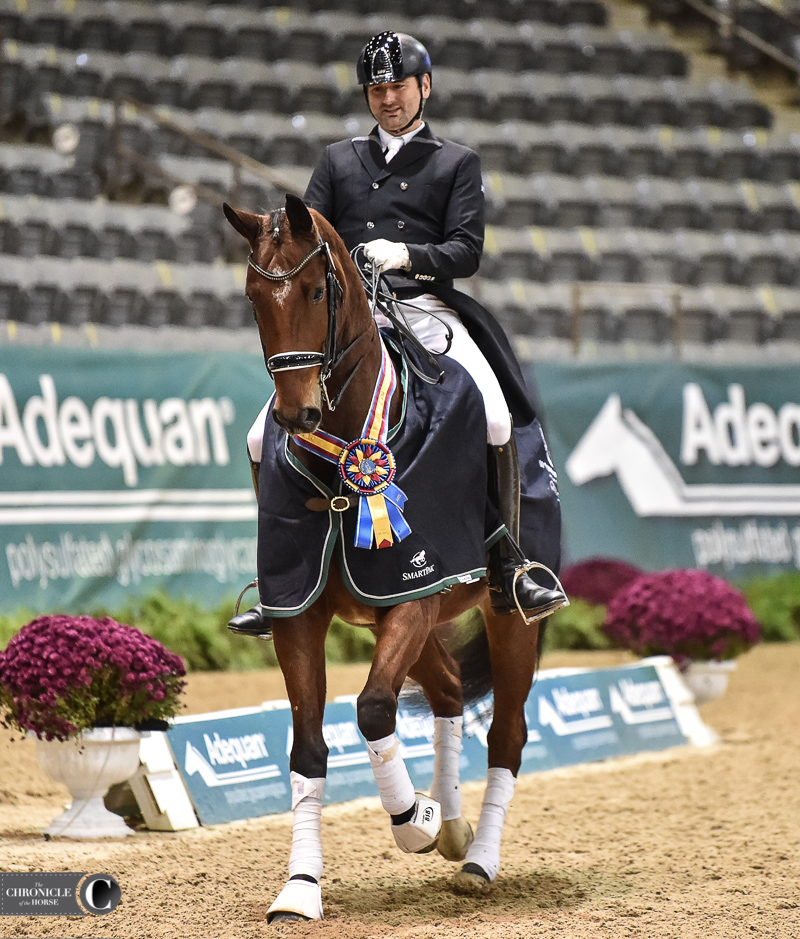 Anartz Chanca joked that he's happy to be riding in the amateur classes instead of against his wife, professional Martilla Renilla.
He topped the adult amateur Intermediaire I freestyle championship (69.94%) today with Dazzle, a 9-year-old Oldenburg gelding (Danone I—Leonie).
The busy father of three works a full-time job managing a company in Houston, Texas.
It was Dazzle's first time at a Final, and Chanca said the gelding was definitely distracted and a bit worried heading down centerline, but he stayed with him.
"He listened to me," he said. "I'm very proud of him, when you feel like he's not being mean, just being worried about his surroundings, and yet he listens to me. We had a great ride after that, and I'm very happy with him. It's a horse that is a fighter. He has the biggest heart."
With a 1-year-old and 7-year-old twins at home with their grandfather and a nanny, Chanca and Renilla are grateful to be able to come compete together at Finals and spend quality time taking care of their horses themselves.
"It's a lot of work to be here—a big commitment. We're thankful we have a big support group," he said.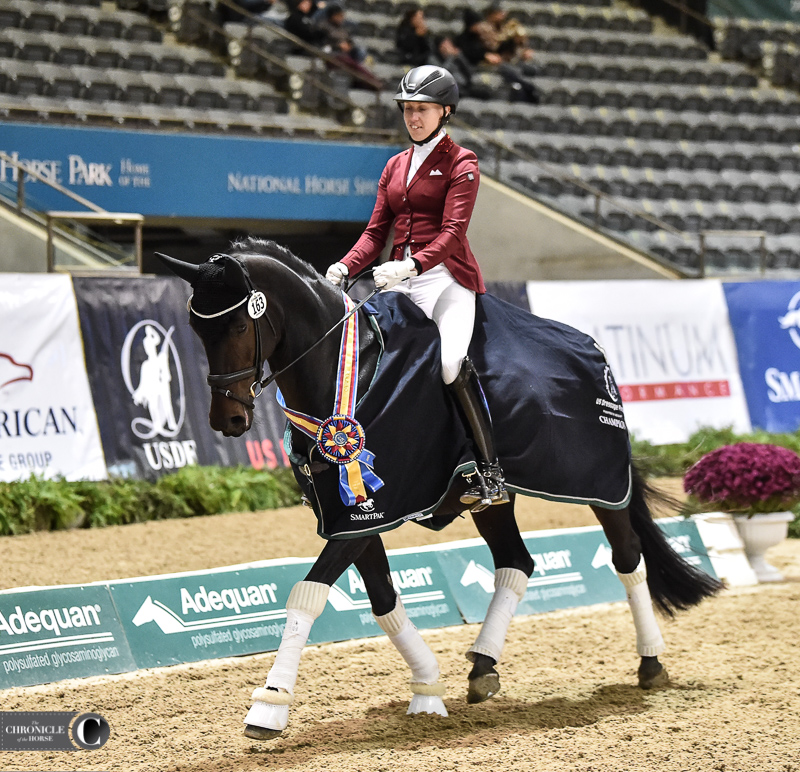 Brianna Zwilling returned to Finals two years after winning the open first level freestyle championship to take home another win this time in the open second level freestyle championship (73.96%) aboard For Dea Bella, an 11-year-old Dutch Warmblood mare (Don Schufro—A Royal Diamond MC).
Owned by Sally Miller, the mare did her freestyle to music from Enya, which Zwilling said was complementary to her "softness and understated beauty," and featured fluid and soft, curvy choreography.
"I was very pleased with her," said Zwilling, a professional based in St. Louis, Missouri. "We had a little bit of a struggle outside in the weather on Thursday. She was on the ball today and really listening. I had a couple of little bobbles, but it was all from her trying to give me good things."
Riding to her toe-tapping music from "The Grinch," Kristin Wasemiller-Knutson captured the open Grand Prix freestyle championship (74.27%) on Vashti, a 12-year-old Warmblood-Friesian mare (Nico—Thekia).
They were reserve champions in 2019, so to return and win was a huge thrill for Wasemiller-Knutson, who drove 14 hours from Oklahoma to compete.
They've spent the last two years polishing up their Grand Prix and trying for a clean test. "Luckily we were able to pull that off last night with a relatively clean performance," she said of her Saturday night ride. "She was super. The difference she has made in growing up those extra two years was an amazing transformation. She was soft and happy and just could not have been more perfect for me. She wasn't tense or spooky. She was super. I haven't stopped smiling."
Wasemiller-Knutson's had Vashti since she was 2. She was bred by Sherry Koella and shares the same sire as pinto Grand Prix horse Adiah HP, formerly ridden by Jim Koford and now ridden and owned by amateur Ashley Maul.
"It's very symbiotic," said Wasemiller-Knutson of her partnership with Vashti. "I've gotten to know just about every mood and environment that we go into to at least carry off the best performance we can try to give. I've kind of worked out all the kinks and just enjoyed every minute of it."
Full results I COTH's Coverage I Live Stream
Are you competing at the U.S. Dressage Finals on a horse or pony with a cool story? Email Lindsay at lberreth@coth.com for a chance to be featured.
The Chronicle is on site at the U.S. Dressage Finals in Lexington, Kentucky. Read all our coverage here.
2021 U.S. Dressage Finals - Saturday
Lindsay Berreth / Nov 13, 2021 9:35 pm