Amateur dressage rider Anartz Chanca has risen to the top levels of the sport remarkably quickly, and one of the top professionals he works with—spoiler: she's also his wife—has a theory about how he's done it:
"Some people are born with it—the athleticism, the drive, the feel for horses," Marta Renilla said of her husband. "Anartz [Chanca] is one of those people, which explains why he was able to progress from training level dressage to Grand Prix in two years."
Last month at the GAIG/USDF Region 9 Championships, held Oct. 7-10 at the Great Southwest Equestrian Center in Katy, Texas, he won the adult amateur Intermediaire I championship and the adult amateur Prix St. Georges reserve championship aboard Dazzle (Danone I—Leonie) with scores of 70.51 and 69.92 percent, respectively, and won the adult amateur Grand Prix championship with Superman (San Amour—Espania) with a 63.26. The win bumped him and Superman to fourth place in the USDF Adult Amateur Grand Prix rankings.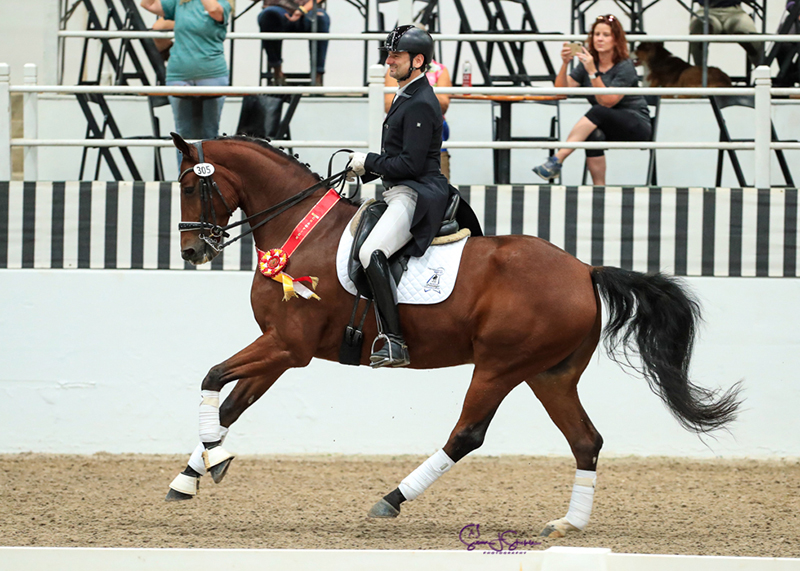 Chanca hails from Spain, where he got into horses through endurance riding. But soccer took over when he was a teenager, and he stopped riding until he came to the United States in 2006 to pursue his MBA at Eastern Michigan University.
"I had been missing riding and always had it in the back of my mind that I might get back into it," he said.
At 28, he found himself living in Ohio, where he thought the time and circumstances were right to get back to the horses and began training as a jumper.
Just a few years later, his job relocated him to Houston, Texas, and his life changed in several key ways.
Most importantly, he met the woman who would become his wife, Marta Renilla. Renilla is a professional dressage trainer whose family owns and operates Woodlands Equestrian Club in Tomball, Texas.
He continued with the jumpers for a couple of years, Renilla gamely going along with him to his horse shows, but he found himself increasingly drawn to dressage.
"I always wanted to do the one-tempis; that looked fun," he said.
In 2013, Chanca entered his first dressage show, riding training level on a 4-year-old, and that was it—he was hooked.
Renilla helped him find an FEI horse that could help him meet his goals, a Hanoverian gelding called Campione who was competing at Prix St. Georges. With the help of a horse who knew his job and a wife who could help him get started, he was able to rocket up the levels.
"He got a 68 or 69% in his first FEI test," Renilla said. "It was amazing."
His first taste of success at the upper levels had Chanca addicted, and he hasn't slowed down since–despite owning a business and working there full time and parenting three young sons—twins who are almost 8 and a 10-month-old.
"I get up very early every day, ride two horses, get to work at 9 a.m., ride another one on my lunch break if I can, and then I get home by 7 p.m. to play soccer with the kids and eat dinner as a family," he said. "So I don't sleep."
Being present for his children is Chanca's top priority. "I don't want to miss them growing up," he said.
The twins love soccer, and they take riding lessons twice a week with their mom.
"The baby, we don't know yet. He likes to sit in his stroller and play with the whip, teaching us all a lesson," Chanca said with a laugh.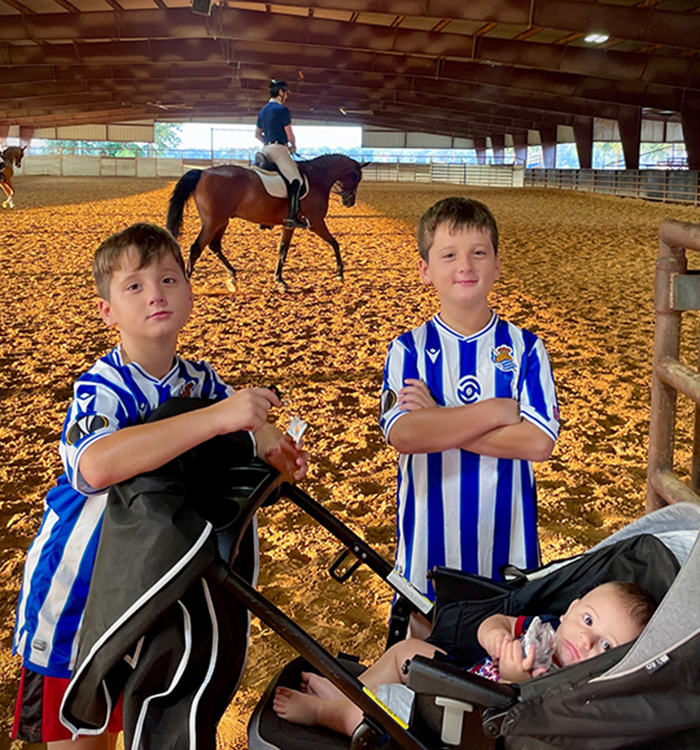 The secret to balancing all of this—in addition to limited sleep—is that his home is walking distance from the barn and a 5-minute drive from his office, where he co-owns and runs the American subsidiary of a company that manufactures truck parts.
Being married to a professional dressage trainer certainly doesn't hurt, either.
Renilla's approach to coaching and training is full of positivity: "Every day is my best day ever. Every ride is perfect, because as soon as the ride is over, I erase all the negative things that happened and focus on what went well."
The horses feel that, she believes, and do their best to meet her expectations.
Renilla has 65 horses at her farm and doesn't have the time to coach her husband or ride his horses. "Sometimes we'll share our opinions when we're riding together, but that's it," Chanca said. So if he doesn't get to a horse one day, that horse doesn't get ridden.
"Once I showed him how to take a baby horse to the Grand Prix level, he's been doing it mostly by himself," Renilla said with pride. "He's a tremendous athlete. I think he would succeed in any sport, and I'm lucky I got him to fall in love with dressage."
Before the pandemic, Conrad Schumacher would come to the farm to give Chanca and Renilla lessons, but it's been nearly two years since they've seen him. So in a coaching vacuum, Chanca is an information sponge, reading books, watching videos, watching Renilla and asking questions. Lately, he's focused his reading on learning about the mental aspect of sport to find competitive advantage.
While lots is going well for Chanca and Renilla, nothing is ever perfect in the world of horses. He lost a talented 6-year-old Westphalian, Gangster, to colic when Houston underwent an unusual freezing spell earlier this year, and another of his young horses is recovering from a hock surgery.
"We've had the good side but also the dark side of dressage this year, with the injury and Gangster's passing. It's been rough, so I was extra excited about the results at the regional finals," Chanca said.
"We don't ride for results but the love of the horses and what they mean to us and what they bring to our lives," he added. "We like to compete as well, and if we win, it's even better. It's nice to go to nationals for sure, but as everyone in this industry knows with horses, there are some parts that are a little bit sad as well. So I hope I've had my fair share of bad things for a while."
In addition to his FEI horses Superman and Dazzle, Chanca has two promising young horses in the wings as well.
"I think Dazzle can do the Grand Prix," he said. "We'll see."