There are no new faces in the top three after dressage going into today's cross-country at the Rolex Kentucky CCI****: Germany's Michael Jung, last years Rolex winner, holds the top spot; crowd favorites Allison Springer and Arthur sit second; and the 2015 double gold medalist from the 2015 Pan American Games (Canada) Marilyn Little is third with RF Demeter.
But there are 69 other riders out there getting ready to ride the toughest cross-country course in the United States, and only one can win. If you're looking for someone else to pull for, ribbons or not, here are three to consider:
Setback After Setback Couldn't Stop Fergusson From Getting To A Four-Star
Lisa Marie Fergusson and Honor Me. Photo by Ann Glavan.
Riding a four-star track is not for the faint of heart, and getting herself even on the start list of one was like moving mountains for Canadian rider Lisa Marie Fergusson. She's a Rolex rookie who's overcome tragedy after tragedy to get where she is today.
It started with Uni Griffon, Fergusson's first advanced horse. Fergusson brought him along from the very start (she first backed him as a 2-year-old), when "Uni" collapsed and died after the cross-country phase of the Maui Jim Horse Trials in July 2009.
Fergusson started over, bringing up Uni's half brother, Smart Move, through the ranks, climbing the same ladder she had started with Uni, and she got even higher. The pair had completed two CCI*** competitions when "Smartie" had to be euthanized after he got loose and was hit by a car.
So Fergusson starts over again, for a third time, with a full brother to Smartie: Honor Me. But even getting Honor Me to the four star level was an uphill battle.
"I got him at the end of his 4-year-old year. He had ten rides on him, and then he had surgery because he had a chip in an ankle," Fergusson said. "So I didn't actually ride him till the middle of his 5-year-old year, and then I went to Pennsylvania, and he got kicked and had another almost year off.
"So he's 10 going on about 5," Fergusson said with a laugh.
It's remarkable to witness Fergusson recount her story without an ounce of self pity. She told a story about how she turns her horses out together in groups, and someone asked her if she was worried they'd hurt each other.
"I said, 'No, I've learned if it's not meant to be it's not meant to be,' " Fergusson said.
"[There have been times I've asked], 'What am I doing?' yeah," Fergusson said. "And you know, I lost another horse last spring, a really lovely Thoroughbred that would have been an insanely good four-star horse."
But she's here, and Fergusson is starting cross-country tied for 41st place with 54.8 penalties.
"Hopefully its smooth sailing from now on," Fergusson said.
Tiana Coudray Says It's Time To Slay The Dragon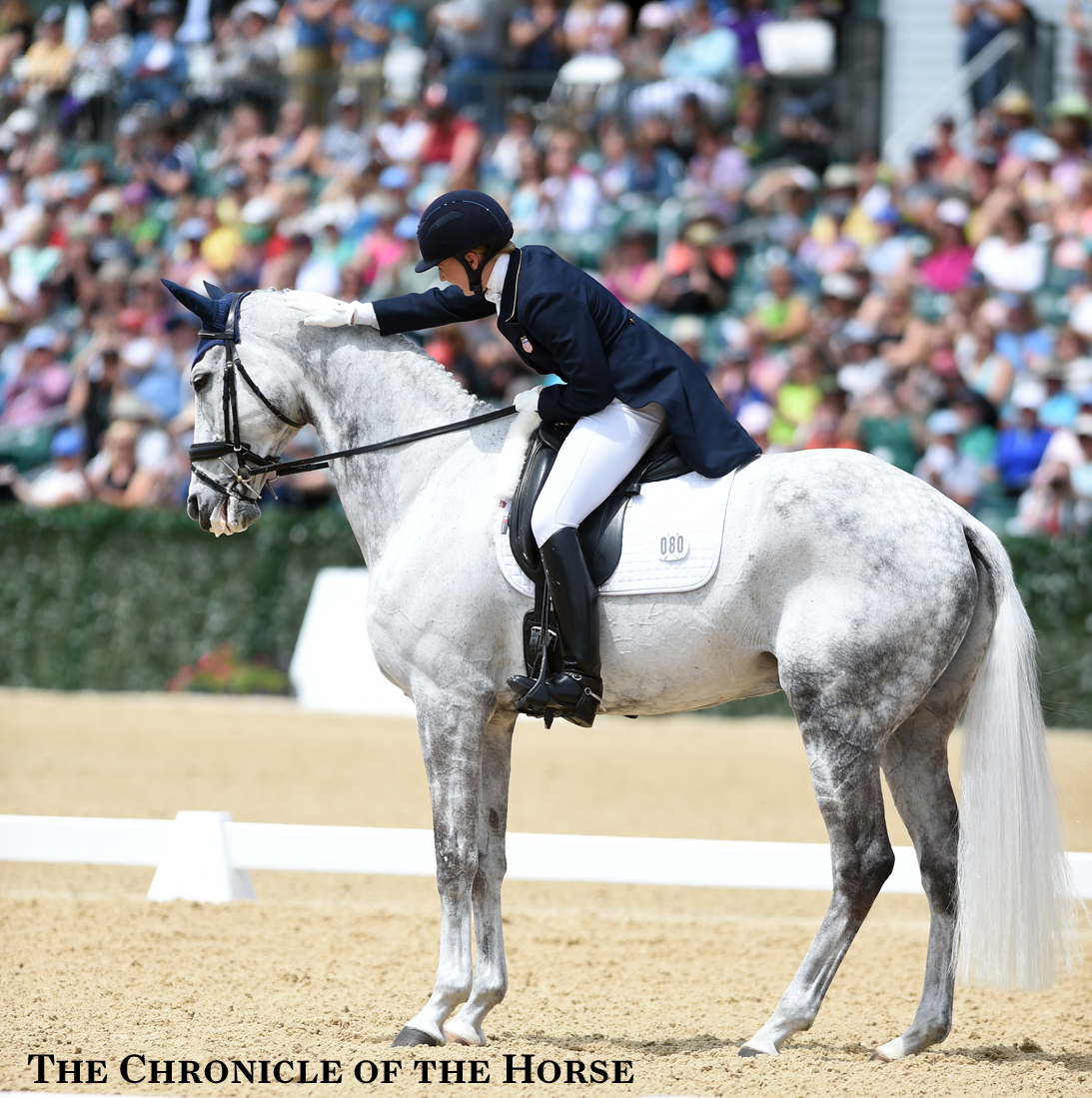 Tiana Coudray and Ringwood Magister. Photo by Lindsay Berreth.
Tiana Coudray is no Rolex rookie. The U.S. rider has competed twice here, but she's yet to make to Sunday's show jumping. Coudray was eliminated during the phase in 2007 aboard King Street, and then again in 2011 aboard the horse she's contesting this year, Ringwood Magister. It's been five years since her last Rolex attempt, and she's ready to conquer the cross-country course beast.
"It's a little bit of a dragon I need to slay," Coudray said. "I've wanted to bring him back here."
Coudray spent has spent the last five years based in Great Britain, completing 2014's rainy and tough Mitsubishi Motors Badminton CCI**** there, which she's hoping will give her a leg up at Rolex with heavy rains in the forecast for this year's cross country day.
"We were kids [at Rolex in 2011], and there's probably still a lot more that we have to learn, but we're definitely more experienced than we were five years ago, and we've had five years of running around in the mud," Coudray said. "So hopefully that's in our favor.
"You never like being at the very end of the day at a day like that, because I don't think there's going to be any ground left to gallop on," Coudray continued. "But anyhow, we'll be thankful for the experience we've had in England for the past five years, that's for sure."
Coudray goes into cross-country 16th on a dressage score of 46.9 penalties, a bit of a disappointment after scoring a 40.8 the last time she was in the white box at the Rolex arena, but looking forward it's all about conquering that cross-country course.
"The horses are going to have to have a lot of scope and a lot of jump, and I don't think there's a single hill out there that Derek hasn't found to make you gallop up," Coudray said with a laugh.
Panda Christie Comes All The Way From England With A Special Horse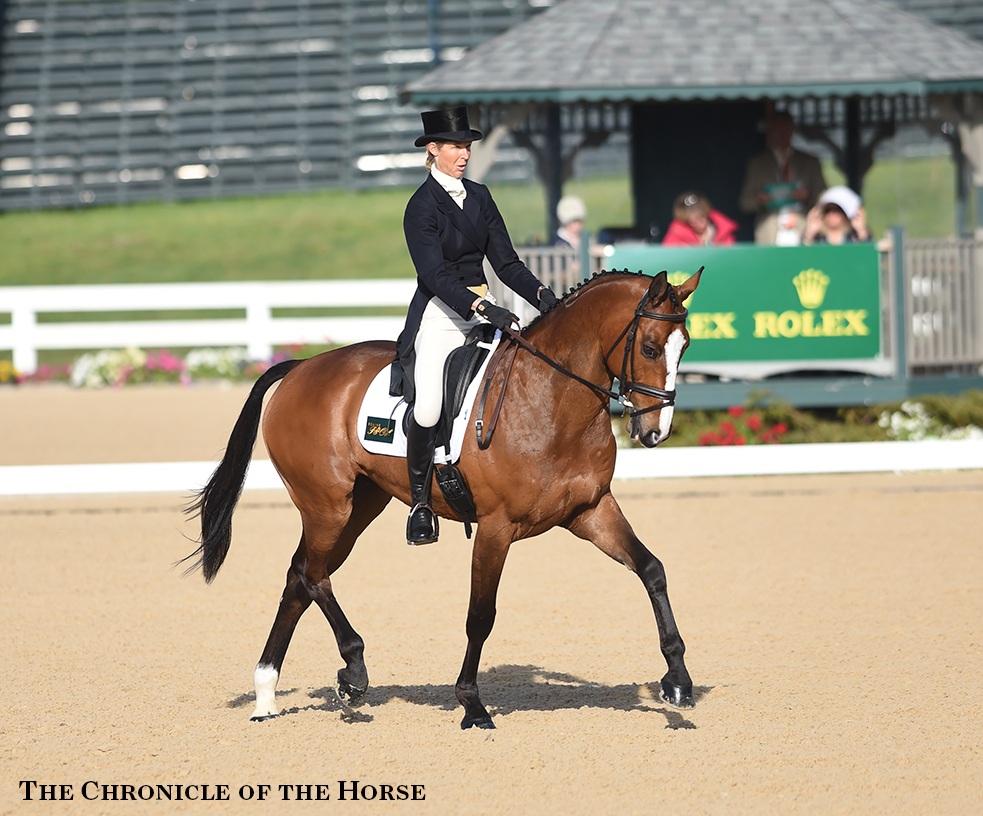 Panda Christie and Little Leo. Photo by Lindsay Berreth.
Panda Christie had a long trip to Rolex—she came all the way from England to compete for the first time in Kentucky, which will be her second four-star appearance with Little Leo.
"I didn't think that I would get into Badminton, which would have been much easier, because it's half an hour away from our house," Christie said with a laugh. "But he's 14, and I don't how many years he's got in him at this level, and I've heard that Rolex is amazing, and I should come. I thought, 'It's an opportunity.' "
Christie has spent nearly a decade with Little Leo, bringing him along as a young horse herself.
"I got him from Germany as a 5-year-old," she said. "He's a lovely horse, a really lovely personality. If he was a human, you'd marry him."
Little Leo is like a member of Christie's family—he lives in a five-stall barn in her own backyard.
"Literally I can see him out my window," Christie said. A mother of three, Christie's family will be cheering her on via live stream this weekend as she heads into the cross-country phase tied for 56th on a dressage score of 58.3 penalties.