Lexington, Ky.—Nov. 11
Bad dress rehearsal, good opening night? For Lauren Thornlow that accurately sums up her U.S. Dressage Finals experience this year.
After a four-day drive from Snohomish, Wash., and a few days for her mount Royal Konig to recover from the trip, Thornlow entered an open Grand Prix freestyle class as a warm-up the day before her championship ride. To put it lightly, it didn't go well.
"Everything that could have gone wrong did," said Thornlow. "It was the first time I've ever gotten below 60 percent on that horse in the last 10 years I've owned him. I was definitely not in a good place yesterday. It was like, 'OK, got to pick yourself back up, get it back together.' "
But Thornlow took her horse for an early morning ride today, and then she got back on to warm him up just briefly before her actual Grand Prix test.
"I felt like he and I were a little more together—both on the same page—and we came out, and it really paid off," she said. "I felt like he was with me the whole time, which I don't always get with this horse. He can be a very difficult ride. He's a little bit of a prima-donna, and he thinks he should get by on his good looks, which only works until about I2, and then the work really, really starts to get hard, and you have to pay attention a little."
Their score of 64.00 percent put them in first in the adult amateur Grand Prix over Kristy Truebenbach Lund on Akvavit (62.70%).
"It definitely was the comeback kid ride," said Thornlow. "He was paying attention today; he was with me. He wasn't quite as 'up' as I would like, but I will take that ride any day over yesterday. Overall as far as how our connection and communication went, I think that was our best Grand Prix."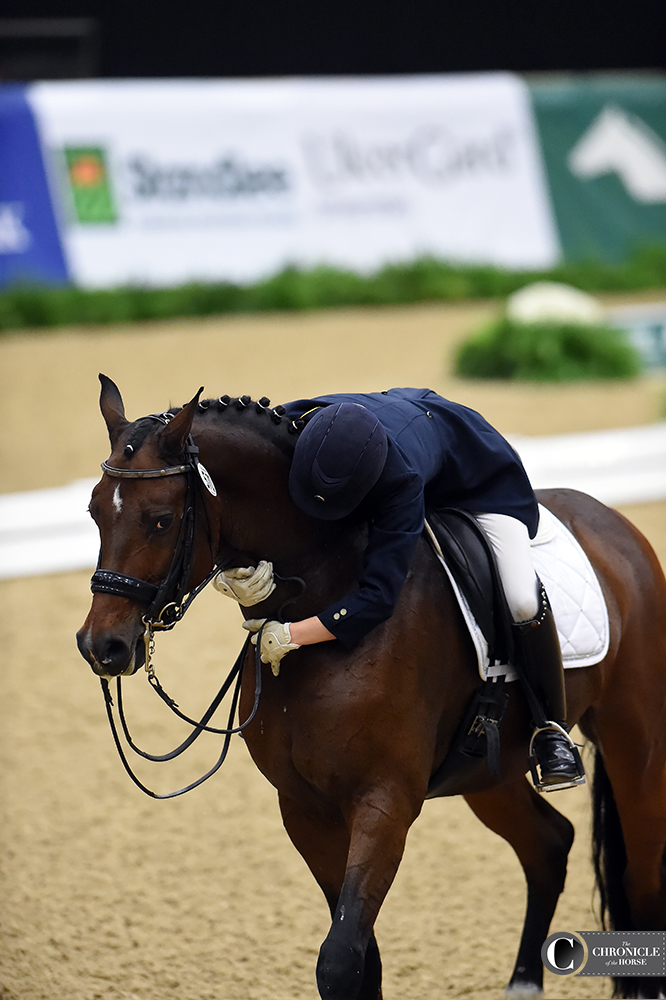 Lauren Thornlow and Royal Konig. Photo by Lisa Slade.

Thornlow, who found Royal Konig in Germany when he was 3 and she was 16 with the help of her trainer Morgan Barrows, said that training the gelding has been "a little bit of a roller coaster."
"We do have a great relationship. He's very opinionated, and so you have to find that balance of give and take and asking him to do things, getting on the same page," said Thornlow. "I'm very happy to have him. He's a lovely horse, and when things are going right, and we're on same page, he's just spectacular to ride."
Two years ago Thornlow made her first trip to the U.S. Dressage Finals with a group, and she chose a professional hauler for the horses. But when they arrived, the horses weren't in good shape.
"The horses were exhausted when they got here," she said. "They were stressed out, and they lost weight. They didn't drink very well; all they did the whole week was lay down. The rides were tough because the horses were exhausted. We thought, 'OK, we're going to do it, and we're going to haul them ourselves. We're going to rest them, and they're going to trust us more than getting on a stranger's rig.' "
The group from Region 6 split their drive into a four-day trip, and the horses arrived fresh earlier this week.
"We said fairly early in the show season, 'We're going to Kentucky. Who's going with us?' We really wanted to have a good showing," she said. "We really do have some good horses and riders in Region 6. I know that sometimes it's like, 'They have horses in Washington? There's dressage out there?' And yes, there is! We have good horses."
Open Grand Prix: Chase Hickok and Sagacious HF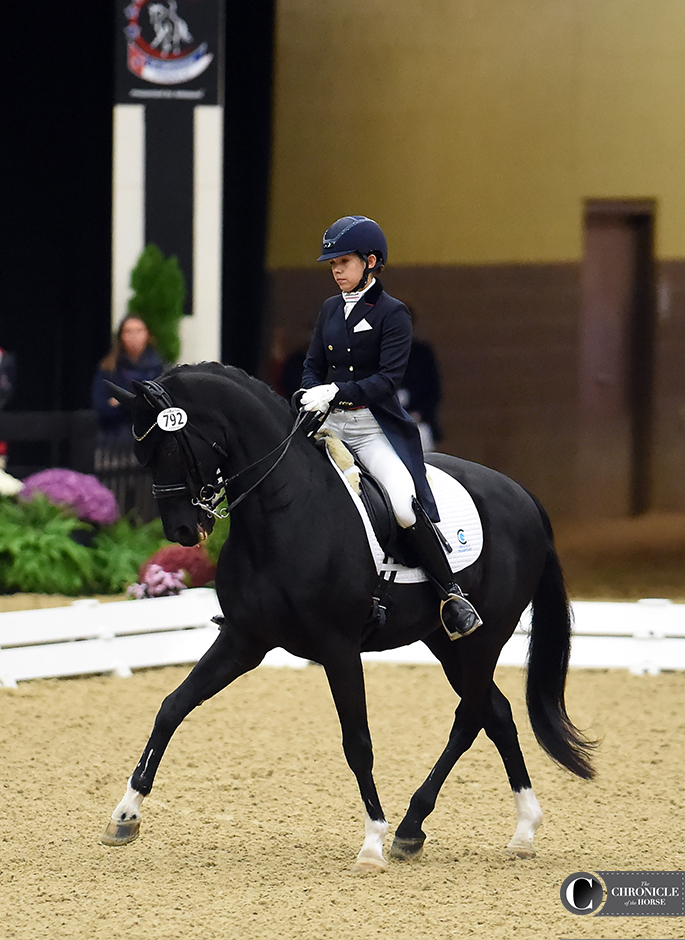 Chase Hickok and Sagacious HF. Photo by Lisa Slade.
In the open Grand Prix championship, Chase Hickok and Sagacious HF topped the 15-horse class with a score of 70.66. Anna Whit Watkins and Oublette finished second (68.00%). Hickok and the 17-year-old gelding are fresh off a second-placed finish in the Dressage At Devon CDI-W (Pa.) Grand Prix for the Special.
"I can't really put into words what an opportunity it's been for me to ride him," said Hickok. "From Day 1, he's been such a generous teacher. He definitely tests me and has made me step up to the plate, but he has accelerated my riding and improved my riding in so many ways.
Open Intermediaire I: Mike Suchanek and Hero L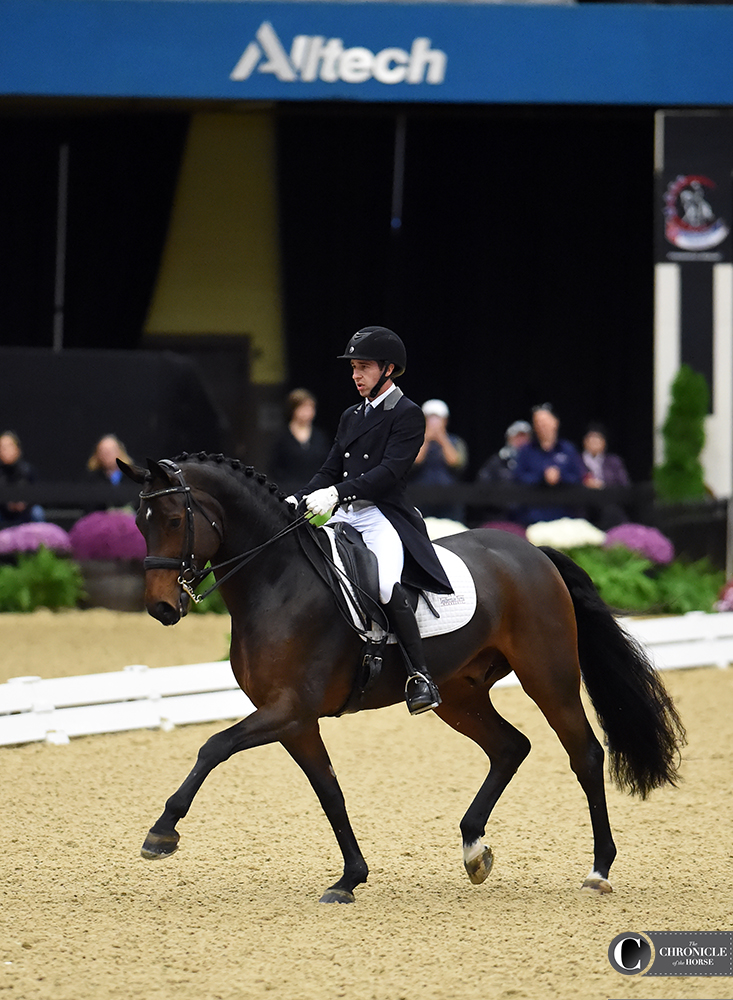 Mike Suchanek and Hero L. Photo by Lisa Slade.

Mike Suchanek, who'd never ridden dressage before taking a job at Leatherdale Farms in 2010 and only started competing in the disciple about three years ago, rode Hero L to first in the open Intermediaire I division with a 71.79 percent.
"Hero was the first horse I trained and sat on there," he said. "He was 3 when I started him, and we've built up a connection over the years. We fumbled here and there, but we've really come together. I'm so happy and proud of him."
Other champions today included: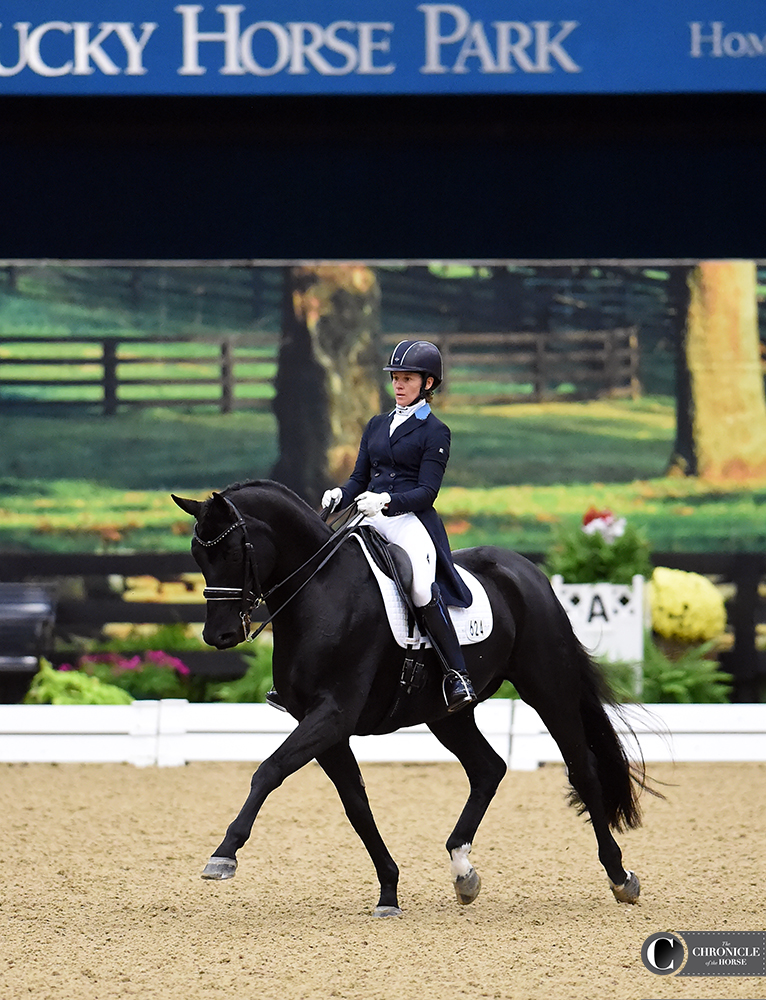 Rachael Hicks on Fabio Bellini. Photo by Lisa Slade.

Adult amateur fourth level: Katherine Lewis on Donneur (68.11%)
Adult amateur Prix St. Georges: Rachael Hicks on Fabio Bellini 69.12%)
Adult amateur second level: Bonnie Canter on Fifinella GCF (72.31%)
Open third level: Michael Bragdell and Sternlicht Hilltop (72.35%)
Open training level: Missy Gilliland and Windermere DDB (74.16%)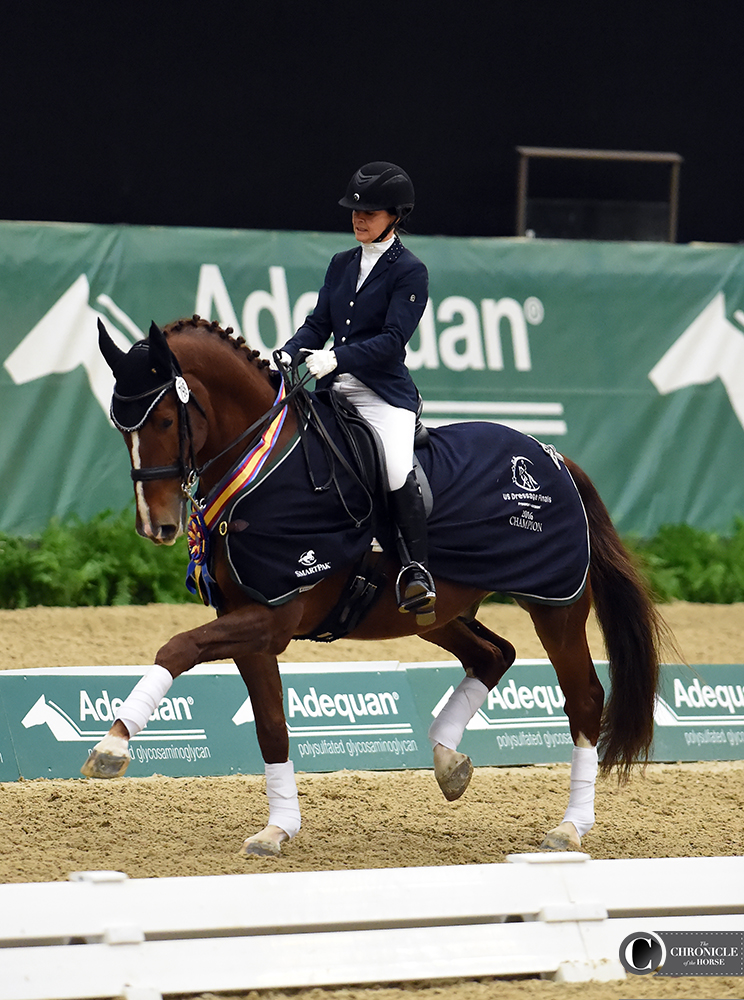 Katherine Lewis and Donneur. Photo by Lisa Slade.
See full results from the U.S. Dressage Finals.