Plastic bags, flower boxes, their own shadows—horses find anything and everything to spook at. Fortunately for Australian rider Charmaine Fuller, her 6-year-old German Riding Pony cross Leedale Sweet Inspiration doesn't have "kangaroo" on his spook list.
While at a dressage show at Bunbury Horse and Pony Club in Gelorup, Western Australia, Fuller and "Harry" had some unexpected visitors in their ring.
"I'd saluted, and I was just walking out," said Fuller. "I heard people yelling out my name, and I didn't realize for what. We kind of just turned to see what was going on because I thought someone fell off. I'm actually an ambulance officer as well, so I thought, 'Oh, well now someone has fallen off, and I've got to go and help.' But it was only a bunch of kangaroos coming through."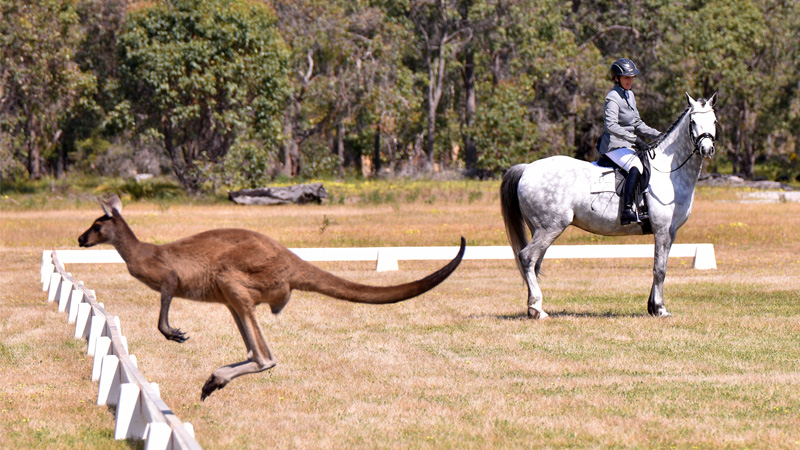 The mob of four kangaroos didn't seem to realize the commotion they were causing and continued hopping across the showgrounds. Most of the other horses around Fuller were leaping out of their skin at the sight of the 'roos, but Harry didn't mind. Photographer Christine Curciarello of Chrissy May Photography is friends with Fuller and started snapping pictures of the kangaroos once she realized the pair had everything under control.
Fuller has owned Harry since he was a yearling and has done all his training herself. Harry lives at home with Fuller, 51, and one other horse. Fuller used to jump when she was younger but now prefers dressage. She currently rides Harry at the novice and elementary levels in Australia, the equivalent of first and second levels in the U.S.
"I'm fortunate to have lots of kangaroos here at home, so they're just part of everyday life for my boy," said Fuller, of Boyanup, Australia. "It depends where you live. I have bush that surrounds me, so I have kangaroos here all the time. But most horses wouldn't see them that often.
"[Harry is] very sensible, so he wasn't worried at all," she continued. "He just stood there and thought that all those other horses were using far too much energy."
---
This article appeared in the Nov. 19-Dec. 3, 2018, issue of The Chronicle of the Horse.

You can subscribe and get online access to a digital version and then enjoy a year of The Chronicle of the Horse and our lifestyle publication, Untacked. Or you can purchase a single issue or subscribe on a mobile device through our app The Chronicle of the Horse LLC.
If you're just following COTH online, you're missing so much great unique content. Each print issue of the Chronicle is full of in-depth competition news, fascinating features, probing looks at issues within the sports of hunter/jumper, eventing and dressage, and stunning photography.
What are you missing if you don't subscribe?