Magazine
SEPTEMBER 19, 2016
(Subscribers can read the full magazine online.)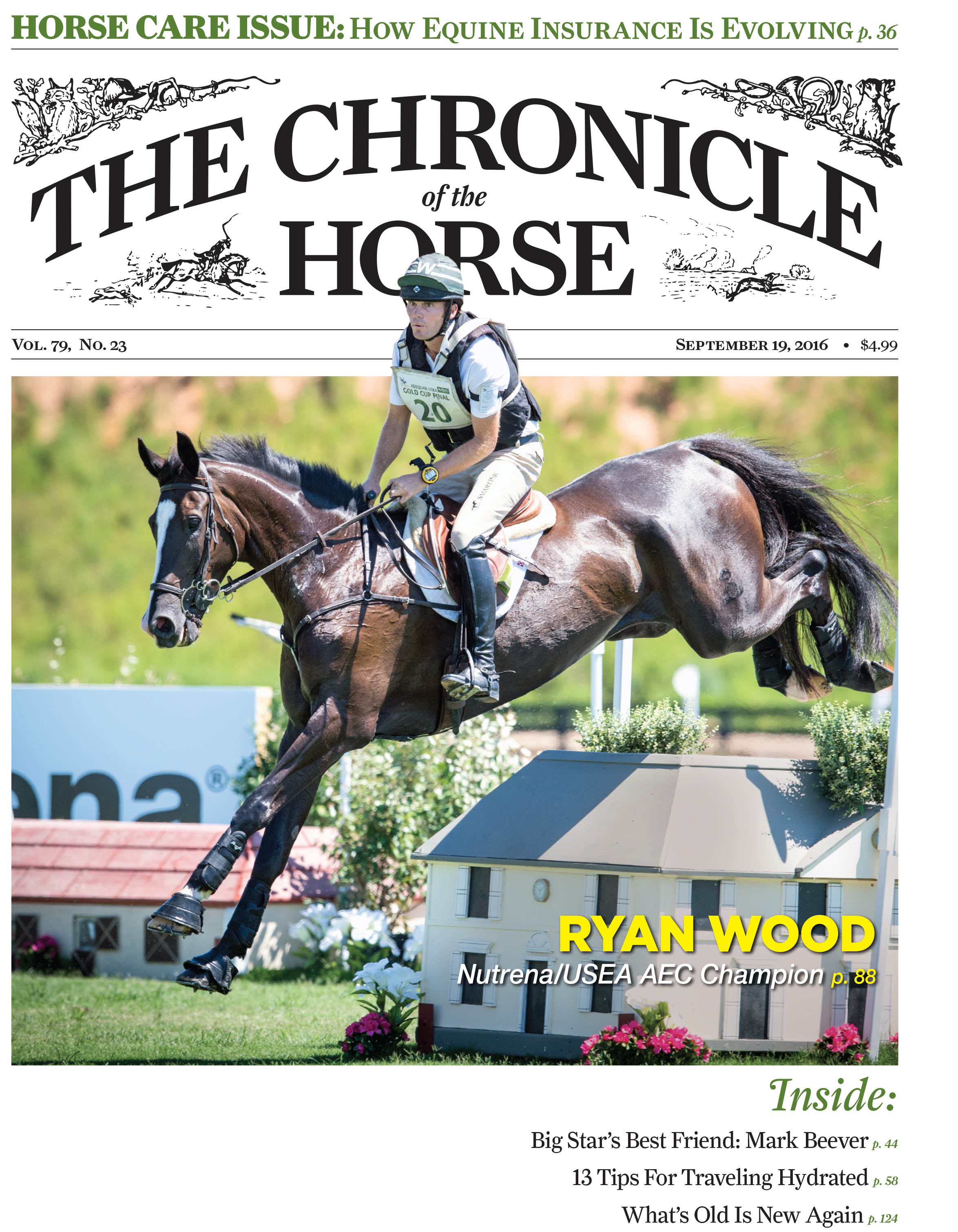 INSIDE:
* The Model Of A Modern Major Medical Policy
Decades ago, if you bought an expensive horse and wanted to protect your investment, equine mortality insurance was your best bet. It was also your only choice of insurance for horses. Today, equine insurance runs the gamut - from owners who are still just seeking mortality insurance for their expensive animals, to owners wanting major medical and surgical coverage alongside mortality, to people insuring horses worth $5,000 or less.
* Mark Beever Has A "Big" Job
"Emotional" isn't a state that comes easily for Beever. He and Nick Skelton are the epitome of typical British stiff upper lip - it's part of what has helped them maintain their trust and respect over Beever's 31 years of grooming for Skelton.
* A Medical "Masterpiece"
This adult amateur hunter survived two bouts with cholangiohepatitis and a surgery so rare most equine surgeons never perform it.
* Hydrating For Peak Performance
There's a reason the old maxim, "You can lead a horse to water, but you can't make him drink," endures. Greater meaning aside, sometimes horses just choose not to drink, especially when they're under stress due to travel and competition and faced with unfamiliar water.
* Tromp Makes His Mark At The Hampton Classic
A jumper stallion with a hunter double life and a 21-year-old professional broke into the big leagues in the $50,000 Longines Cup.
* Buffini Is Best In USEF Young Adult Grand Prix National Championship
Anna Buffini is big on setting goals, and, at 21, she already has a proven track record of following through on them.
* Horizon Hints At Bright Future in Markel/USEF Developing Horse Prix St. Georges Championship
If you're a rider who's competed at Olympic and World Equestrian Games, is it still meaningful to win a national championship for young horses? If you're Adrienne Lyle, the answer is a resounding yes.
* Sin Fallo Flies To A Win At Nutrena/USEA American Eventing Championships
Sarah Fischetto didn't set out to buy a Lipizzan as her next event prospect. Sin Fallo fell in her lap, and so far the mare has exceeded her expectations.
* Burton Is Best At Burghley
It was far from the polished show jumping round you might expect from a four-star winner, but it was good enough for Christopher Burton to hold his overnight lead and win the Land Rover Burghley Horse Trials in England with Nobilis 18.
* McArdle And Elicole Repeat At YJC Western League Finals
Jason McArdle knew Elicole had talent from the moment he first saw her as a 4-year-old in the Netherlands.
Plus: stories from Sallie B. Wheeler/U.S. Hunter Breeding National Championship, Richland Park (Mich.) and Turf Writers.
September/October Untacked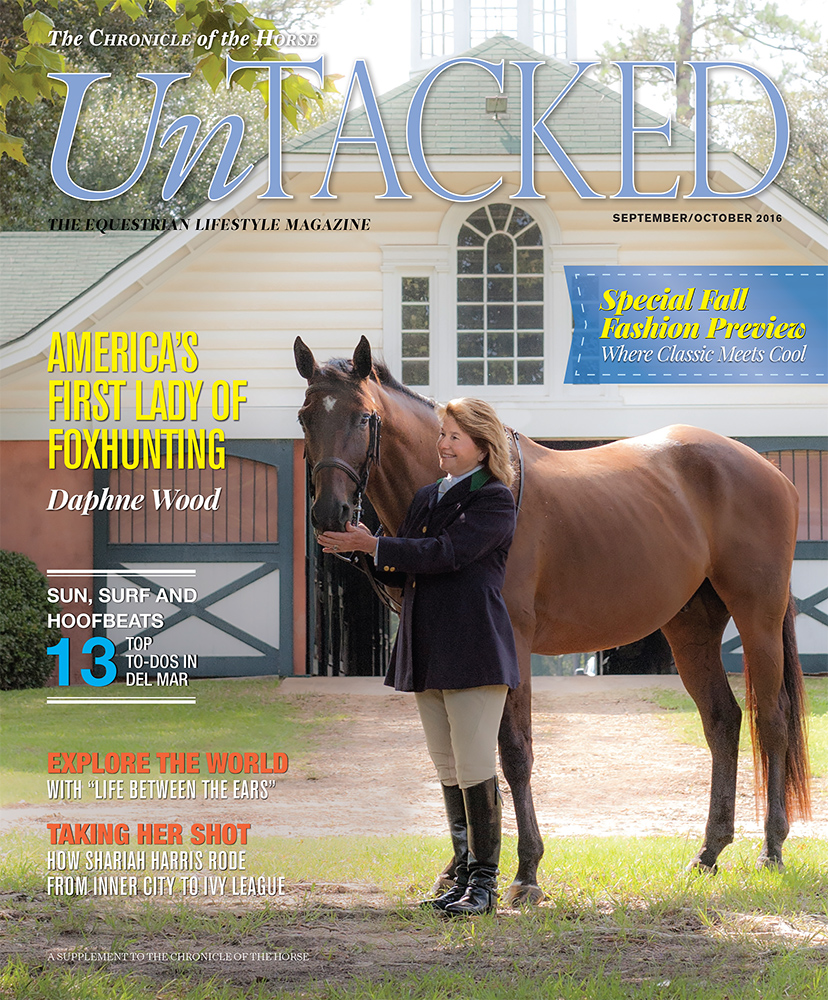 INSIDE:
If you love the great outdoors, you'll want to meet Daphne Wood, the energetic "quintessential Southern lady" and co-founder of the Live Oak Hounds whose passion for hunting around the world is matched by her zeal for land conservation. In Untacked's cover story, find out how her childhood freedom to roam and a devotion to horses and hounds ignited Wood's desire to preserve both the sporting life and the green spaces it requires, and to inspire new generations of riders to join the chase.
You don't have to be Nimrod to host one of autumn's best traditions: the hunt breakfast. We've got you covered with flavors from the United States, Ireland and Great Britain (with a touch of curry from India!).
Get the travel bug with our new department based on the social media phenomenon Life Between The Ears: a regular photo feature with breathtaking images from around the globe, all taken from horseback. We also check into Mexico's magnificent Rancho Las Cascadas in this issue for a ride with Mexico's caballeros. From beachfront to backstretch, we've scouted all the best spots in Del Mar, Calif., for you in our City Guide. And we step back in time at Pebble Beach, one of the equestrian world's most romantic competition venues.
For back-to-school season, we meet an inspiring Cornell University (N.Y.) freshman, Shariah Harris. Philadelphia's Work To Ride polo program helped her ride from the inner city to the Ivy League. And our Fall Fashion Preview sets you up for the cooler season with bold new twists on some classic looks.
There's even more inside the September/October issue of Untacked, at the intersection of equestrian life and style.
Plus: Editor's Letter, Editor's Picks, Tech Spotlight, Clothes Horse, Test Lab, Film Review, Feed Room, Parting Ways, Around The Arena, Charity Spotlight and much, much more!
Magazine Writers Guidelines | Guidelines for Results | Guidelines for Art Gallery