Magazine
JUNE 20 & 27, 2016
(Subscribers can read the full magazine online.)
INSIDE: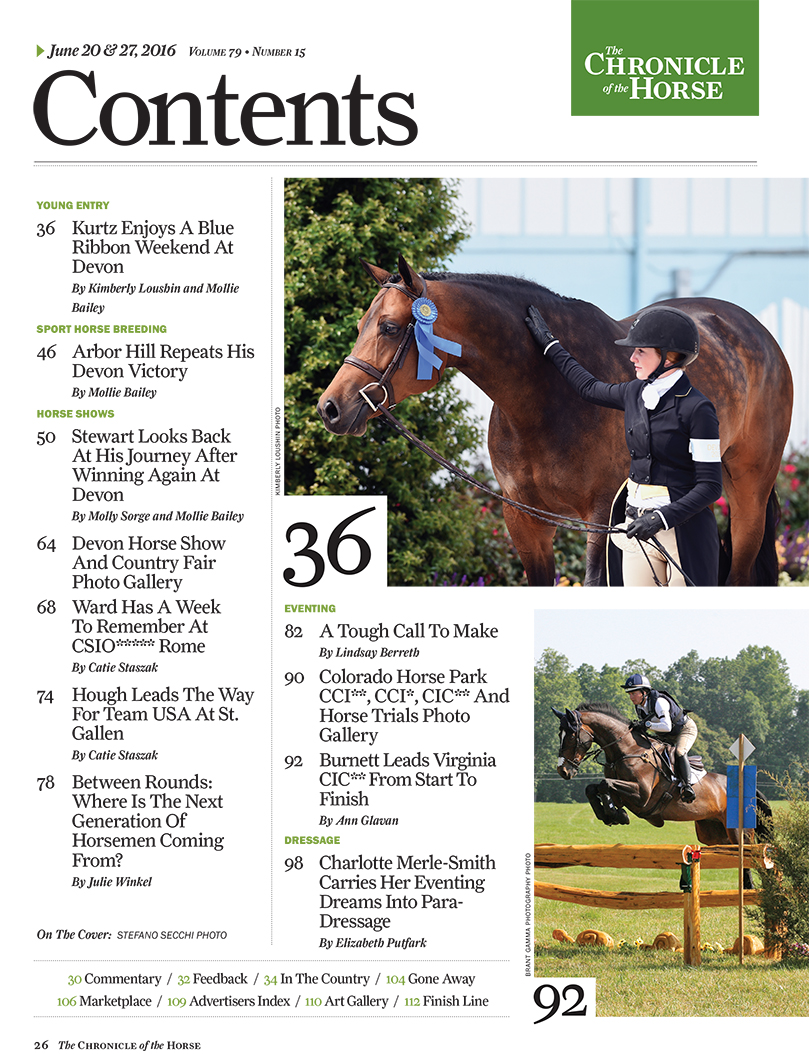 * Stewart Looks Back At His Journey After Winning Again At Devon
It's easy to forget that 20 years ago, Scott Stewart was a young professional struggling to find his way amongst the legends of that era—the names etched on the Leading Hunter Rider trophy in the '80s and early '90s.
* Ward Has A Week To Remember At CSIO***** Rome
Ward had to adjust his jump-off plan twice, adding a stride in the first and last lines, but he and his talented mount still faultlessly navigated the shortened track more than 2 seconds faster than the runners-up.
* Kurtz Enjoys A Blue Ribbon Weekend At Devon
Every once in a while all the pieces fall into place, and things go just right. Emma Kurtz had that weekend at the Devon Horse Show.
* A Tough Call To Make
Some of eventing's safety checks and balances rely on correct cross-country scoring and recording, a task largely dependent on volunteers of various abilities.
* Charlotte Merle-Smith Carries Her Eventing Dreams Into Para-Dressage
Event rider Charlotte Merle-Smith always dreamed of riding for her country, and on Oct. 14, 2008, it looked like she was on her way.
* Burnett Leads Virginia CIC** From Start To Finish
No event rider's string is complete without a promising young prospect or two, and Hannah Sue Burnett has a particularly bright rising star in her stable with Cooley Dream. The 8-year-old gelding led the CIC** division wire-to-wire at the Virginia Horse Trials.
* Between Rounds with Julie Winkel: Where Is The Next Generation Of Horsemen Coming From?
As a young professional, I, like many of my era, did much of the work. We drove the truck and trailer to the shows, groomed, braided, rode and competed on the horses, coached our students, longed and bathed the horses as well as rubbed down, wrapped, fed, and did the office work.
* Stories from St. Gallen (Switzerland), the Colorado Horse Park CCI and sport horse breeding at Devon.
Plus: In The Country, In The Frame, Finish Line, Gone Away, Art Gallery, photo galleries, results and much more.
May/June Untacked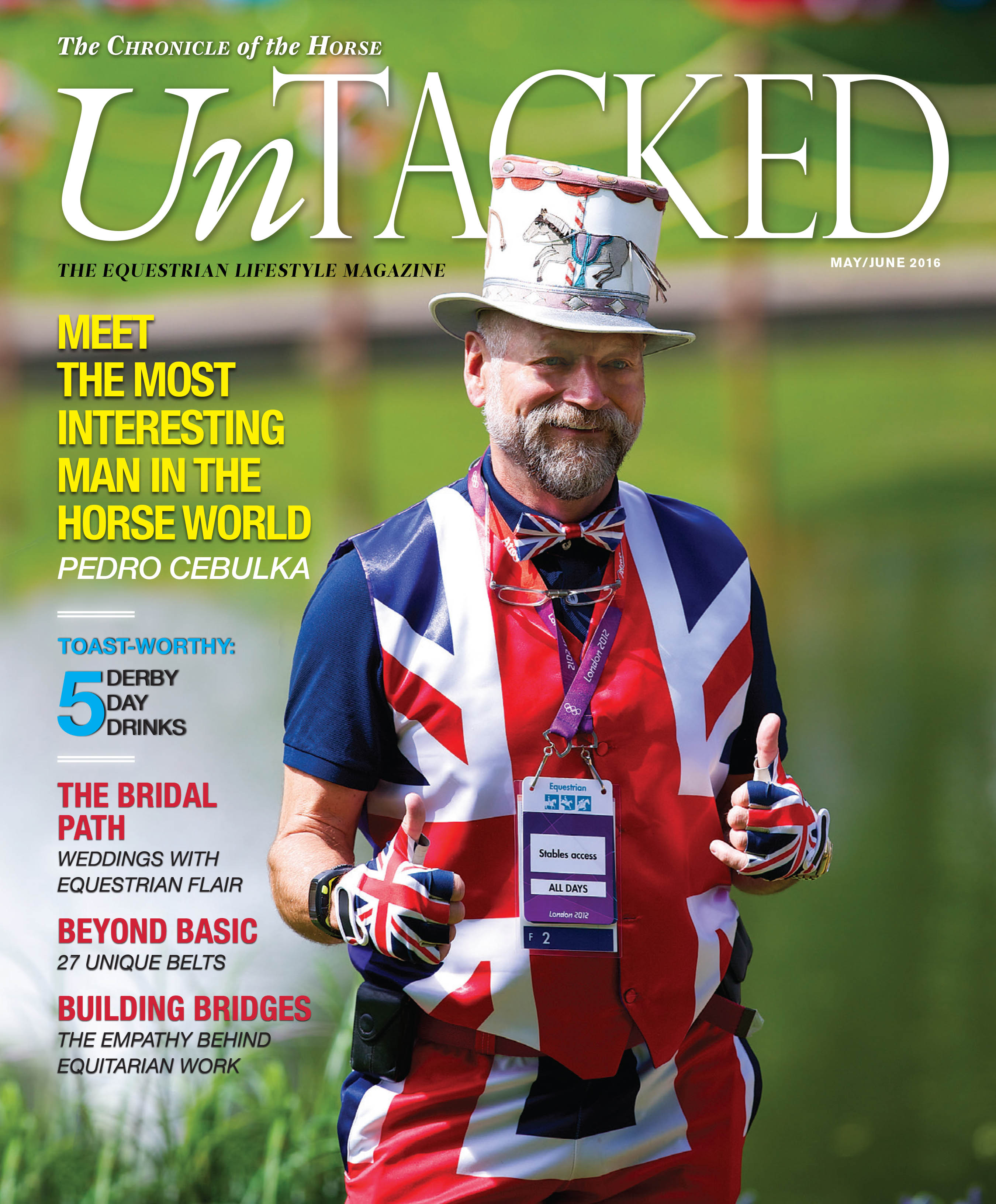 INSIDE:
We're gearing up for summer shows with a look at the one and only Pedro Cebulka, one of the most beloved characters on the circuit, who's brought perspective and defined his role with a vibrant, larger than life personality. We look into the sometimes complicated relationships navigated by "equitarians" around the world, and we meet the family behind New Vocations, one of the most prominent organizations working to transition race horses into new jobs.
If you're showing in Camden, S.C., this summer, we'll give you the inside scoop on the best places to eat, shop and enjoy, and we bring you a glimpse of the latest, hottest trends in accessorizing with 27 new takes on the belt. We give a nod to fathers who support our horse showing habits, share inspired details from equestrian weddings, and help you prepare to host a killer derby party with five drinks to remember. You'll find all this and much, much more in the May/June issue of Untacked.
Plus: Editor's Letter, Editor's Picks, Tech Spotlight, Clothes Horse, Test Lab, Film Review, Feed Room, Parting Ways, Around The Arena, Charity Spotlight and much, much more!
Magazine Writers Guidelines | Guidelines for Results | Guidelines for Art Gallery