New York City—Sept. 23
When a group of top four-star riders get together to contest a track set at one-star height, you don't necessarily expect a lot of excitement. But add a novel format, a snug ring and a serious paycheck, then position the event in the middle of New York City, and there's bound to be some excitement.
Team East Village had a big part of that, with Dom Schramm riding a solid scrappy second round aboard No Objection, and Ryan Wood following with a speedy go on Alcatraz to get the crowd on their feet as they earned a spot on the top of the podium during the U.S. Open $50,000 Arena Eventing Relay, the final competition of the Rolex Central Park Horse Show.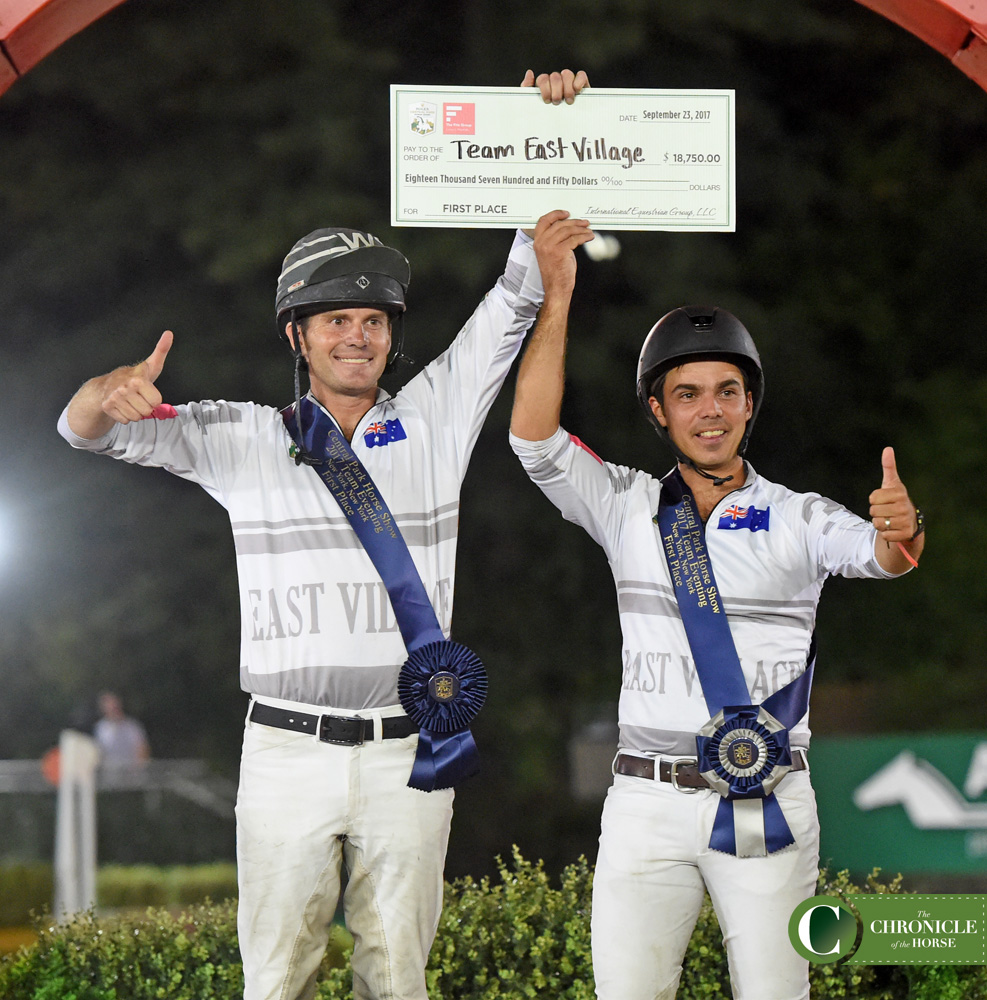 Organizers brought a unique format to the class with 24 riders  divided into teams of two, based on nationality, to compete in a relay-style class. One rider would lead off over a show jump before galloping around the ring over cross-country obstacles. They finished over another show jump, at which point their teammate would perform the same course on their horse. The fastest six teams over the first course returned for a second go, which followed the same format.
The teams were named after neighborhoods in New York City, with Team Times Square (Holly Payne-Caravella/Never Outfoxed and Boyd Martin/Kyra) taking second, and Team Chelsea (Oliver Townend/Indian Mill and William Fox-Pitt/Prince Renan) in third.
See all the photos from the evening in Central Park here.
The biggest challenge by far proved remembering the course, with Marilyn Little and Keep Kitty jumping the wrong fence, but the format of the course allowed for her to continue and finish fourth along with her teammate on Team Tribeca, Bill Levett on Quinn.
Schramm and Wood, who both have Australian passports but call Cochranville, Pa., home, lay fifth after Round 1, and they came back looking for the win.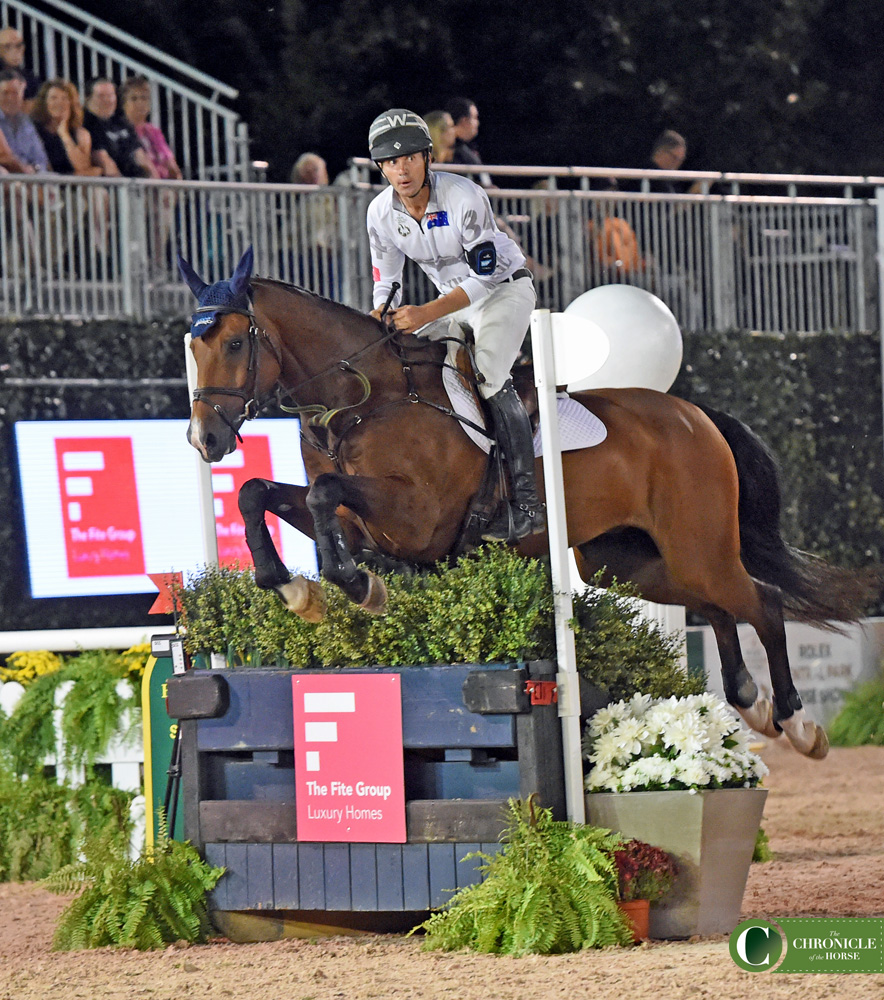 When they headed back to the stables they decided to switch up the order, because they decided Schramm would be able to make a more efficient transition as Wood's mount, Alcatraz, would be a bit of a slower to get started. (Wood described him as a "bit of a diesel engine: Kind of a slow started but once he's started he's quick.")
Wood laid down a speedy go on Alcatraz, to start strong.
"There was a moment in the second round when the crowd was amping us up, and then I looked up at the lights from the sky rise buildings, and I thought, 'Bloody hell, we're in the middle of New York City!' It's pretty awesome. It's a long way from home!"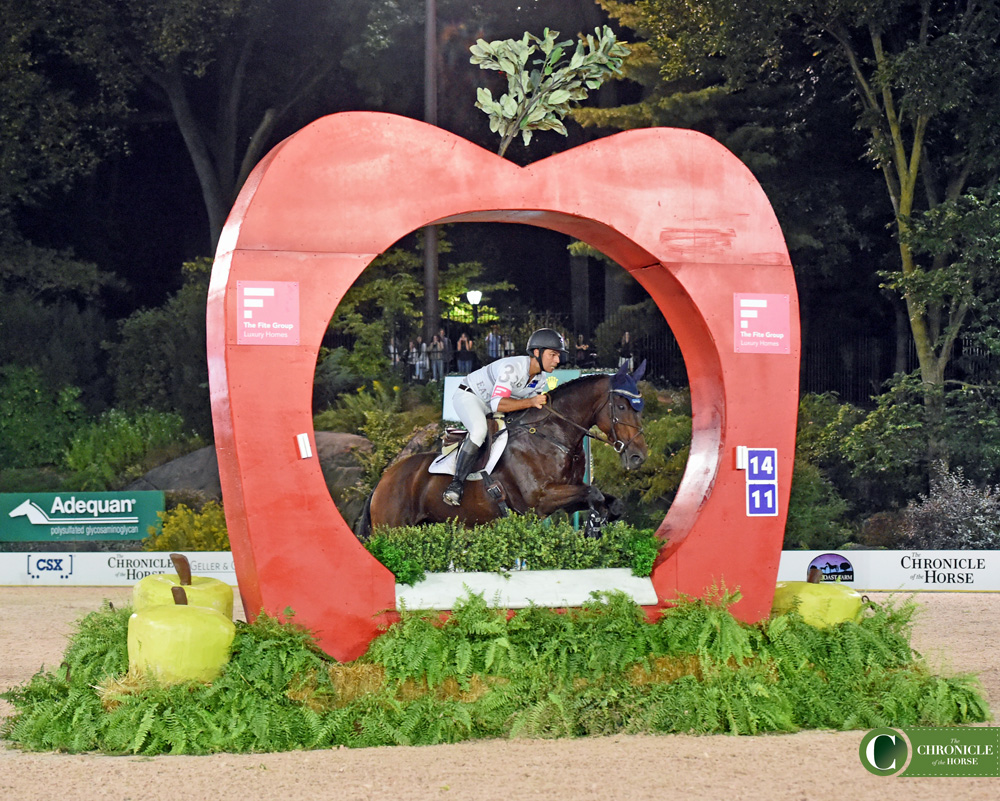 Schramm stepped on the gas too, but was nearly unseated at fence 8, a skinny cabin. He regrouped to finish strong.
"My fella's 20 years old," said Schramm. "He's just been going novice, so I felt kind of bad for him, as we were turning and burning. Halfway around I was thinking 'Sorry mate, I wouldn't normally ride you like this,' but he was a champion. He was just unbelievable, just picked himself back up."
Martin and Payne-Caravella were pleased to pair up, with Payne-Caravella helping her partner out by yelling where the next fence was from time to time.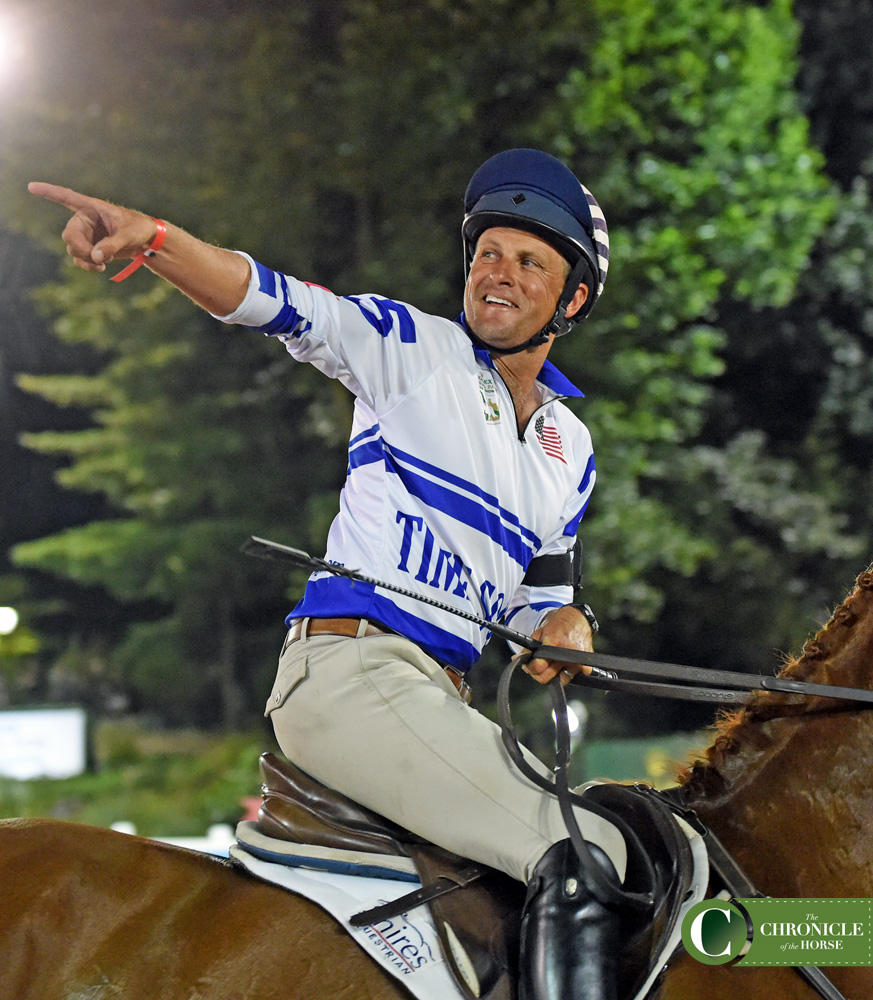 "I was over the moon when I saw that I was partnered with Holly, as Holly always has a crack at these things, wherever she's riding," said Martin. "I knew that it'd either go really well, or we'd bomb out. We're a bit like dumb and dumber here, and just decided to cruise around the first round, and we came back and just really decided to have a crack. We had a bit of luck on our side in the second round, and it went very well."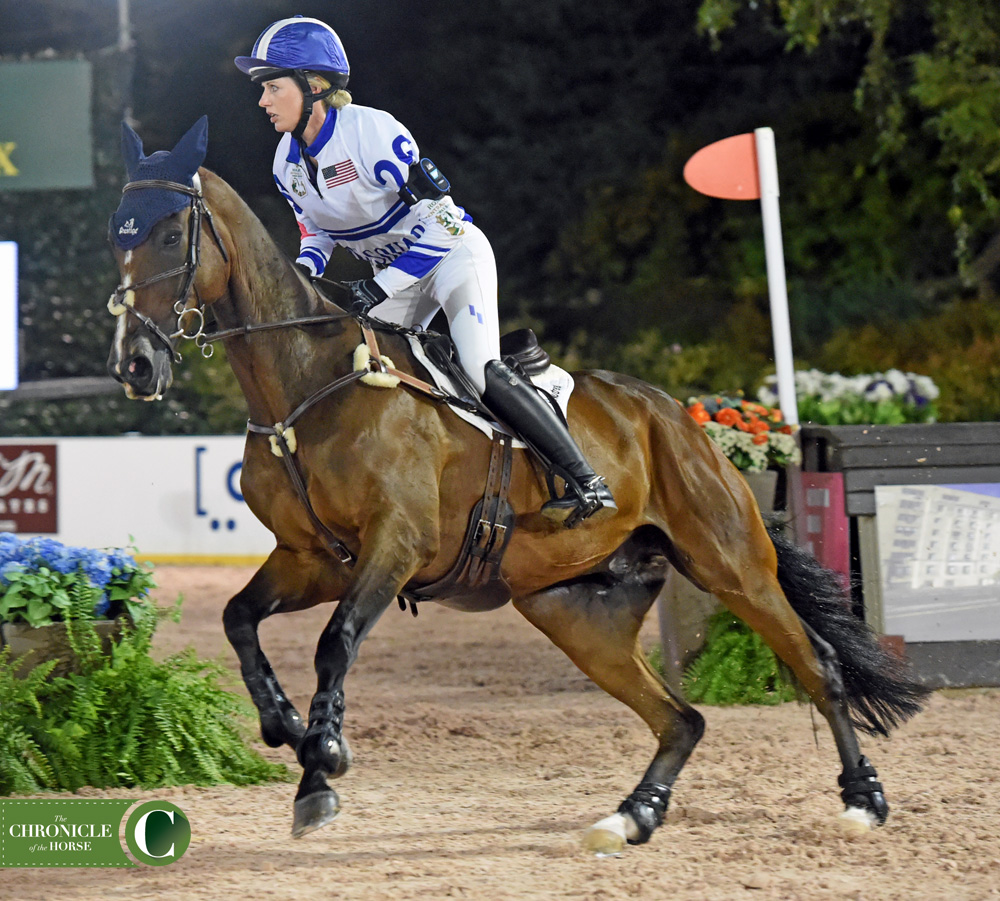 Townend and Fox-Pitt arrived from their home bases in Great Britain just in time for the show, and had single test rides on their borrowed mounts this morning before the class.
"This was great fun," said Fox-Pitt. "I'm not a star at this arena eventing thing, but this was really well executed. I was very happy to remember the course, as I thought that jumping the same jump twice in a different direction was pushing it. But, it all worked out, and I'm glad that we had some nice horses, and that it all worked out."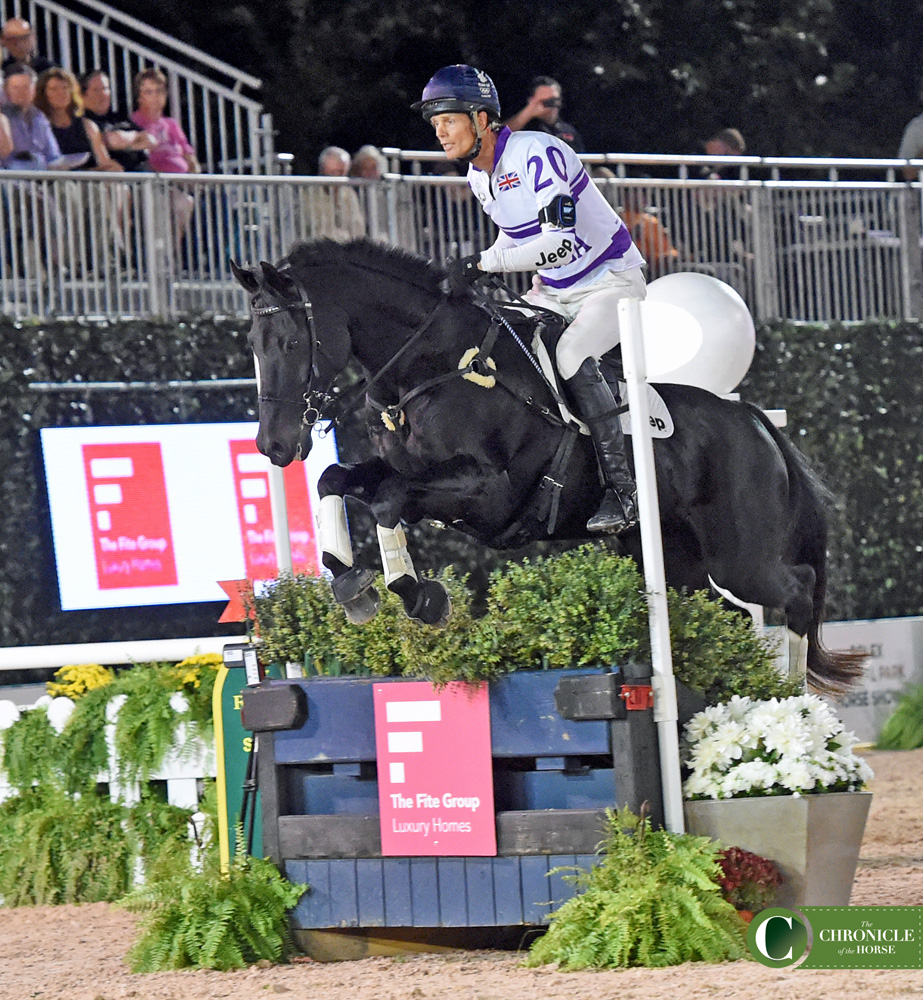 Townend agreed.
"For William and I both, the biggest setback was remembering our way," he said, and sure enough at one point Fox-Pitt was walking in front of the next fence until moments before he was to jump it. "We went over it again and again and again. This is just an unbelievable setting and a privilege to be here. I'm very grateful, to Mark and the whole team for having us here, because we've enjoyed this experience tremendously.
"The hardest jump of the night? The one where William Fox Pitt stood in front of the one I wanted to jump," he continued.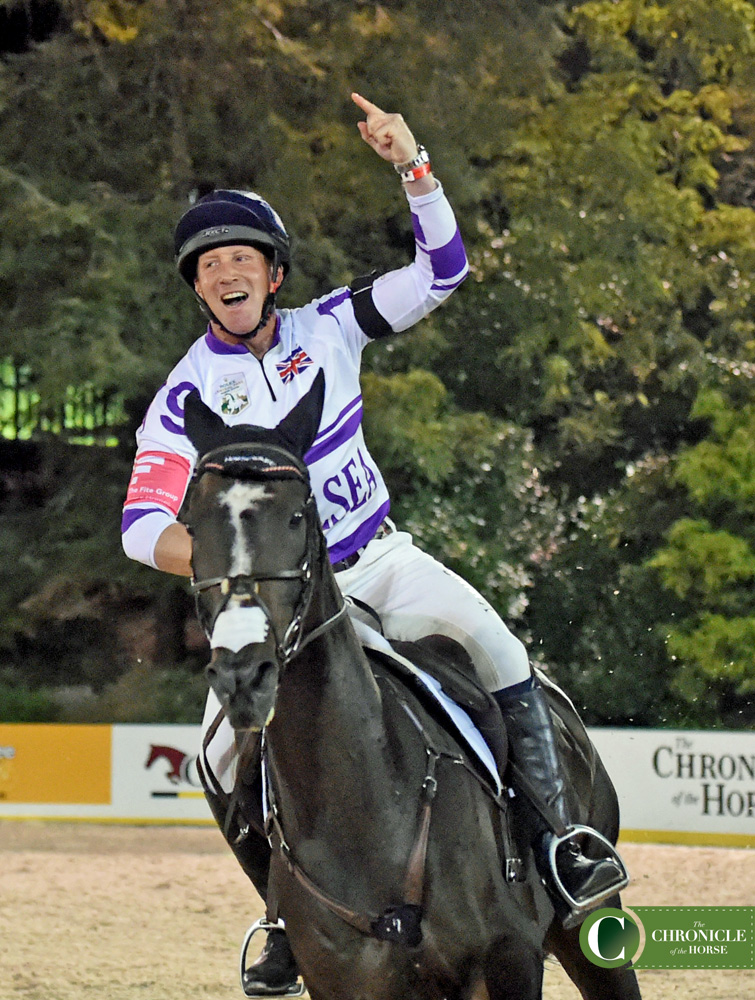 For more in-depth coverage from the fourth annual 2017 Rolex Central Park Horse Show, check out the October 9 issue of The Chronicle of the Horse magazine.
Want to know when each class goes and where to watch the livestream? We've got that information for you!
You can see full results from the Rolex Central Park Horse Show here. 
Follow along with all the action from the Rolex Central Park Horse Show with the Chronicle, and make sure you're following us on Facebook, Twitter and Instagram at @chronofhorse.