Herning, Denmark—Aug. 12
With three rides completed, Team USA sits third in the team para-dressage standings at the Orifarm Healthcare FEI World Para Dressage Team Championship behind Austria and Spain. But with powerhouses Great Britain and Denmark with riders still to come—as well as Thursday's individual Grade III bronze medalist for the United States, Rebecca Hart on El Corona Texel—nothing is certain.
Kate Shoemaker was first to go for the United States and earned 75.41% in the team test, which left her third best in the Grade IV group. She was much happier with today's ride versus Wednesday's Grade IV Individual test, in which she finished fourth, citing her medium trot work as a highlight.
"Today was just a better day from the start," said Shoemaker, who rode Quiana, the 8-year-old Rhinelander mare she co-owns with her parents, Craig and Deena Shoemaker. "We gave her yesterday off because we just felt the first test she was just a little bit tired, and I didn't have that horse that I could go to with in the ring and keep it safe. So yesterday, we gave her a rest day.
"Today we came out with a very short warm up and said, 'We're just going to go for it because this is for the team; this is what matters,' " she added. "We put our whole heart and soul into that ride. And 'Q' was with me every step of the way, and it was just—I was so happy."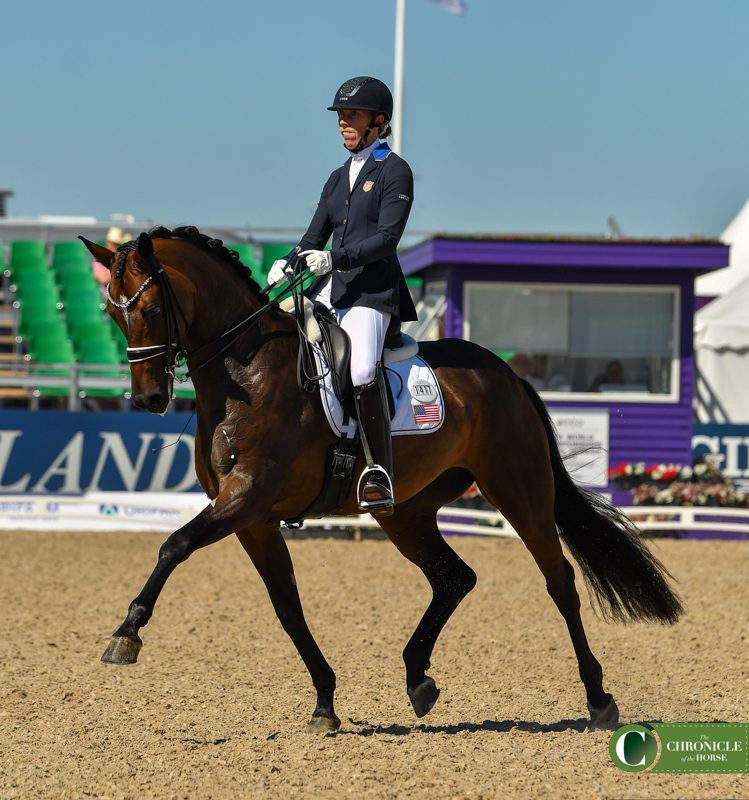 Shoemaker, an equine veterinarian based in Wellington, Florida, is making her third appearance on the Adequan U.S. Para Dressage Team at an international championship. She said each experience has helped her grow as a competitor.
"It's mostly my emotions that are changing," she said. "I look at it the same way, but how I respond to it is growing each time: Getting comfortable quicker in the week rather than later, and so today [I] felt very centered with my horse and here for the competition instead of worrying about the cameras and the people and what everybody else thought back home, and am I disappointing anyone. We were able to go in there for myself and my country and get it done."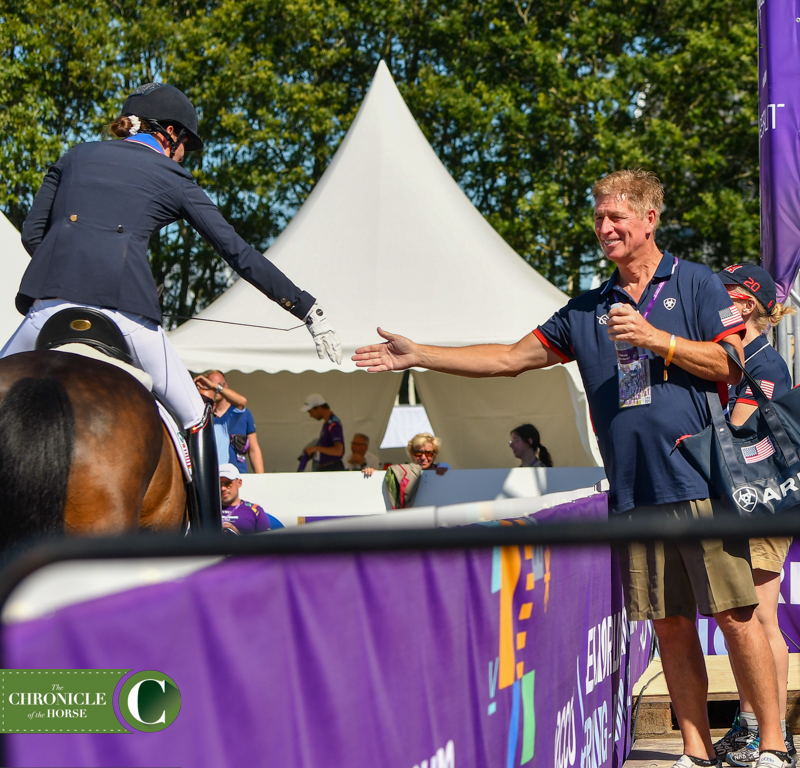 Beatrice de Lavalette faced an extra challenge when the band on her safety stirrup broke during her Grade II Team test aboard Sixth Sense.
"It broke pretty much at the beginning [of the test]," she said. "You could hear the clicking; everybody could hear the clicking. That kind of got him off balance a little bit, got him off course for him, mentally. But he stayed in the contact, he stayed forward, he did all the stuff that he needed to do. I could not be more proud of that horse today."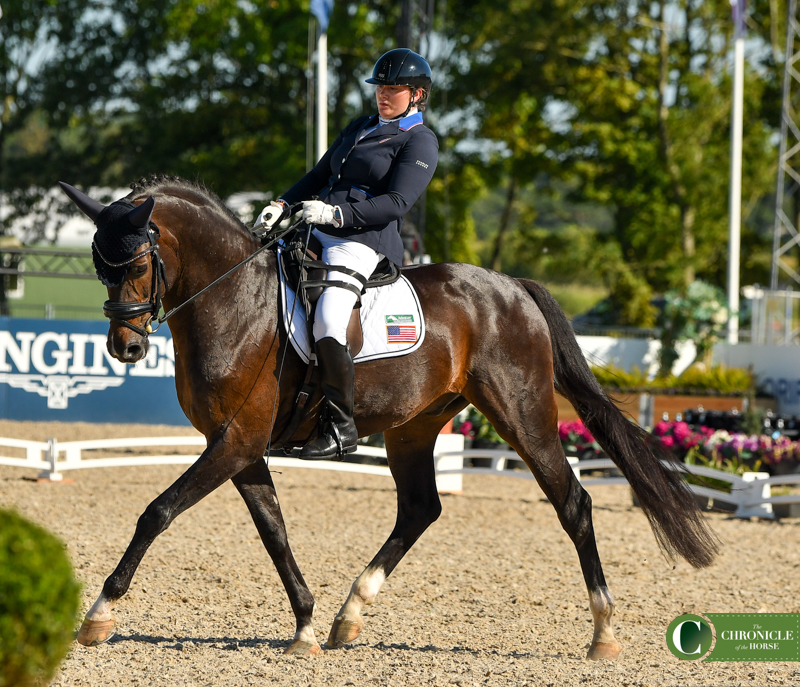 De Lavalette stayed focused despite the mishap to score a 73.23%, the fourth highest score in her class today.
"Today was much better than Wednesday [in the Grade II Individual test]," said de Lavalette, Lake Fort Worth, Florida. "He was very much more loose and relaxed in the back, so he was able to really place himself comfortably, and that also meant that I wasn't bouncing in and out of the saddle, so my straps didn't go off. Everything was good this time, [except] for the clicking, but I'm sure for the freestyle everything will go very well."
Roxanne Trunnell tacked up Lehua Custer's 6-year-old Oldenburg stallion Fortunato H20 for this competition, leaving her Tokyo Paralympic champion Dalton at home in Royal Palm Beach, Florida. ("He's back in the barn, annoying people," she quipped.) She performed a mistake-free test, scoring a 75.21%. She cited her serpentines as a highlight, as she's been focusing on them.
"He was more relaxed; [he was] a little looky [Wednesday]," she said. "He was so good; he just marched along like a good boy."
U.S. Chef d'Equipe Michel Assouline, who spent 12 years coaching the British team before coming across the pond to work with the U.S. squad, was thrilled with his athletes' performance.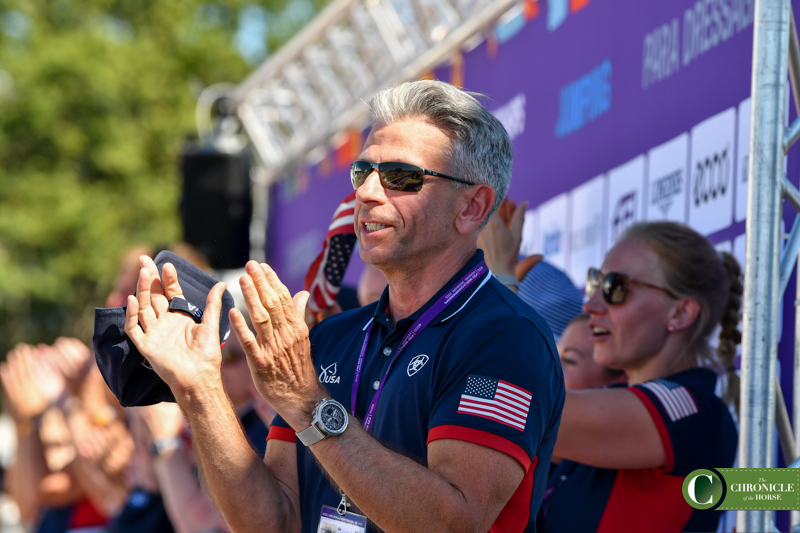 "Now really it's like an able-bodied standard. It's absolutely amazing," he said.
"We've come here to qualify for [the 2024 Paris Paralympics]," he added. "That was our aim, but I'm pleased to see with the hard work. We've come up even more already to be between 73 and 75 percent. I was counting on that."
Grades III, including the final U.S. rider Rebecca Hart, and V compete Saturday, Aug. 13, to complete the team championship.
Click the links for results from Grade IV, Grade II and Grade I, and you can find the team standings here. Want more from the ECCO FEI World Championships? Click here. Check out the Sept. 5 issue of The Chronicle of the Horse magazine for analysis from the competition.