Devon, Pa.—Sept. 30
When Alice Tarjan bought Serenade MF as a foal from her breeder, Maryanna Haymon, she never expected she'd be winning in the Dixon Oval at Dressage At Devon, but she made that dream come true on Friday night, winning the CDI-W Grand Prix for the freestyle with a 71.80%.
Tarjan is coming off a strong year, being named to the U.S. Dressage Team short list for the Blue Hors FEI Dressage World Championship (Denmark) and then heading to the U.S. Dressage Festival Of Champions (Illinois) with "Shrimp" where they won the Grand Prix national championship.
The 9-year-old Hanoverian mare (Sir Donnerhall—Duet MF, Don Principe) has been dipping her toes in the CDI ring this year with good finishes at the Adequan Global Dressage Festival (Florida), the World Equestrian Center—Ocala (Florida) and her first overseas trip to Rotterdam (the Netherlands).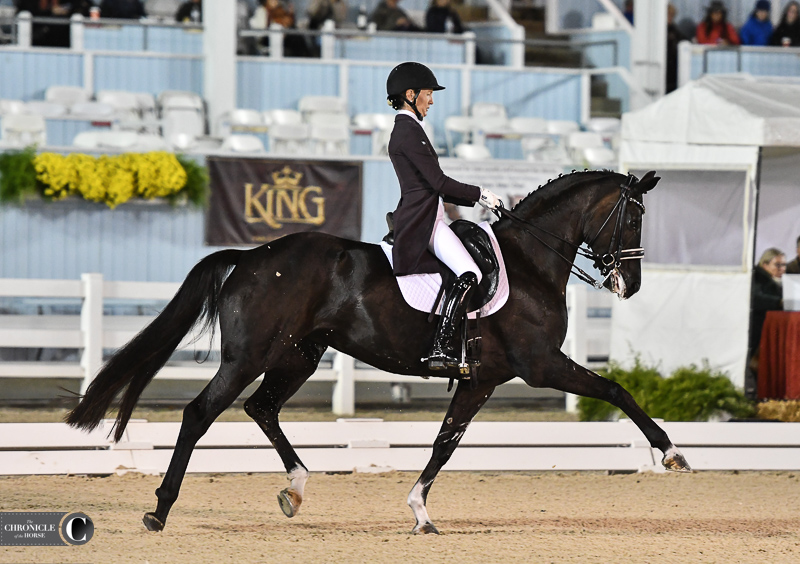 Even so, her riding schedule has been a bit on and off due to Tarjan's travels back and forth to Europe to keep her other horses going.
"She's a good little horse," said Tarjan. "She does her job. It's still an ongoing process to get the quality I can get in the warm-up in the ring, but she doesn't let you down. She really tries her heart out for you. I think I had three rides on her and went to Lamplight [for Festival of Champions], and she got through that. The preparation was a little better for this."
With rain starting to fall, Tarjan put in a good test under the lights of the Dixon Oval, although she felt her warm-up was a bit too long.
"I think I ran a little bit out of horse, but that one was on me," she said.
Riding in Rotterdam helped prepare her and Shrimp for the atmosphere at Devon.
"That had an electric atmosphere," she said. "I've ridden in Wellington, and I've ridden here, but you go into that arena [at Rotterdam], and the whole thing buzzed. It was like nothing I've ever experienced before. She's super easygoing, but even she could feel it a tiny bit. It was definitely a different experience. It was cold and raining, and the stands are packed."
Shrimp is no stranger to Devon, having competed as a foal in hand and then in the 3-year-old materiale class, while Tarjan has been back many times since being diagnosed with cancer in 2005.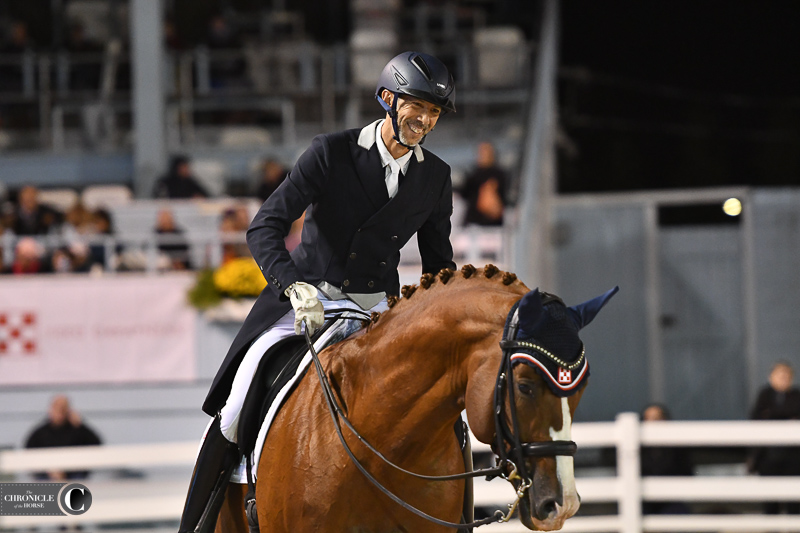 "The first time I came to Devon was in 2006," she said. "I had cancer and no hair and my wig on and said, 'This is so cool. If I can live long enough, I want to come and ride here.' And you look and the easiest class is the materiale because you don't have to qualify, so I was like, I'll go buy a foal and wait until it's 3 years old, and that was Somer Hit [a horse she took through Developing Grand Prix]. It's been a journey."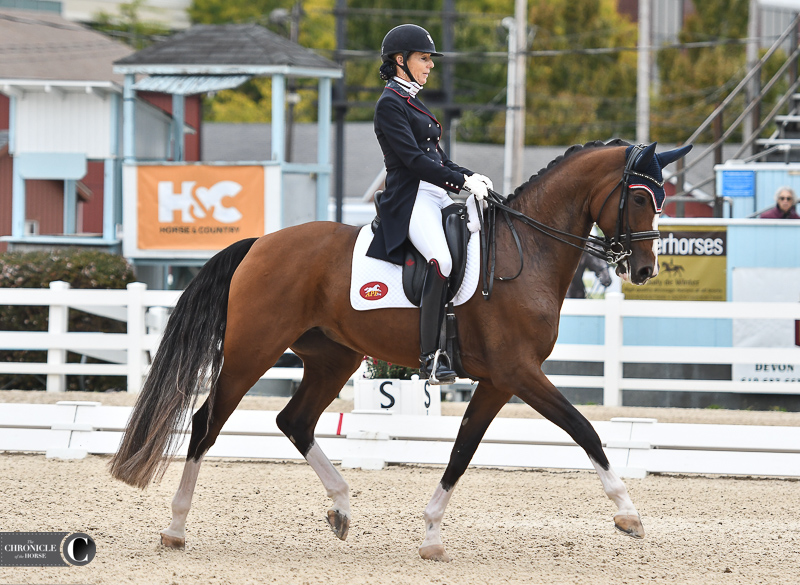 Shannon Dueck traveled the world with her former Grand Prix mare Ayscha, and when the mare incurred a small injury during her career, Dueck decided to breed her.
With help from Jen Vanover of Maplewood Warmbloods, who chose Franziskus as a sire, they welcomed Angelika MW seven years ago.
The mare made her Dressage At Devon debut today, winning the CDI1* Prix St. Georges with a 71.47%.
"She's such a special horse because she's the one and only baby out of my last international Grand Prix mare, Ayscha," said Dueck, who shared that she lost Ayscha when she was pregnant with her second foal.
"["Angel" is] 7 years old this year, and is just a freak of a genius little mare. But it's so special because every time I ride her I feel Ayscha in her," she said.
The Canadian rider got a group of women—Elizabeth Ferber, Kathy Putnam and Julie Skinner—together when Angel was born to form the Ayscha's Angels Syndicate.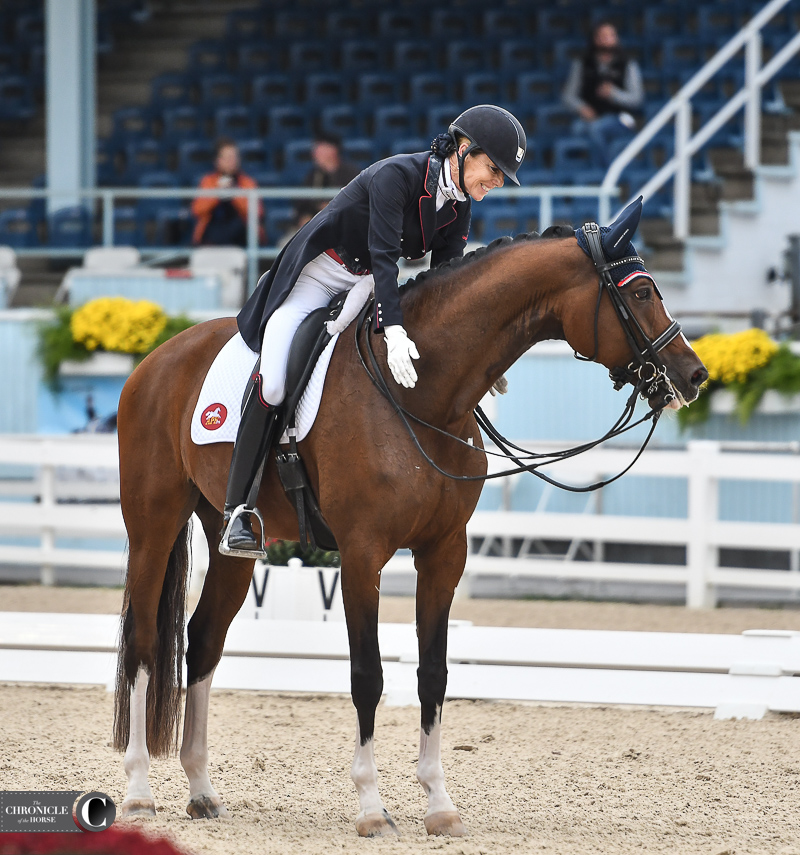 "They're still with her and helping develop her," said Dueck. "She's going to be a Grand Prix horse, no doubt."
Angel handled the atmosphere of the Dixon Oval like a much older horse. She competed lightly at the Adequan Global Dressage Festival (Florida) circuit last winter to get used to some atmosphere.
"I'm letting her be her and not putting any pressure on her," said Dueck. "To be able to come here, everybody says Global's so scary, but this is a totally different atmosphere. We schooled under the lights at night last night, and to have her go in there—she just stays with me. She's just an amazing mare to be able to go in there and be with me the whole test."
Their score was a personal best, and Dueck hopes with some more strength and muscling that Angel will be ready for the Developing Grand Prix division next year. If all goes to plan, she'll be a candidate for the 2023 Pan American Games (Chile) and the 2024 Paris Olympics.
"I'm super excited the judges like how she presents herself. She's such a pleasure to ride. I get to go into that show ring and kind of show her off and show how easy it is to pilot around that stuff," she said.  "She's such a princess. As she keeps thinking she's that good, I'm starting to put some pressure on the amplitude of the gaits, and she gets better and better. I'm super excited for what the future holds."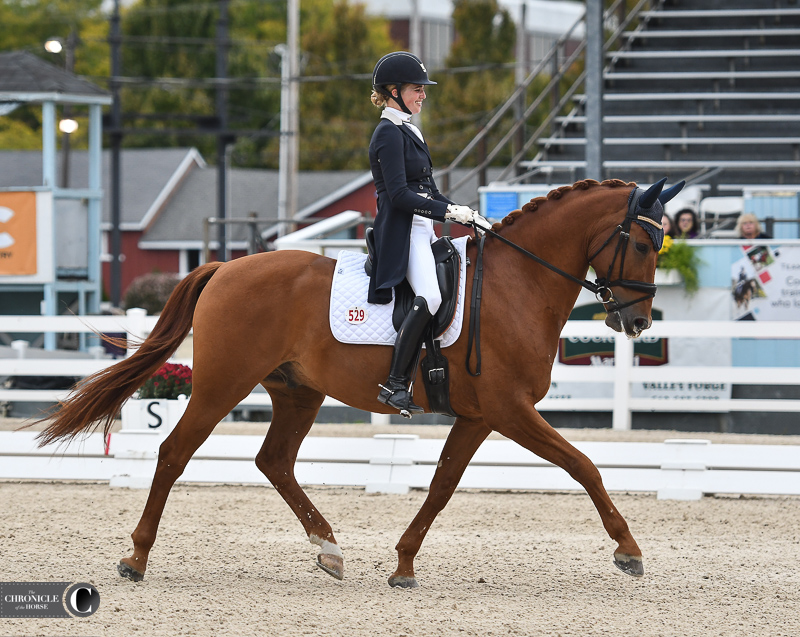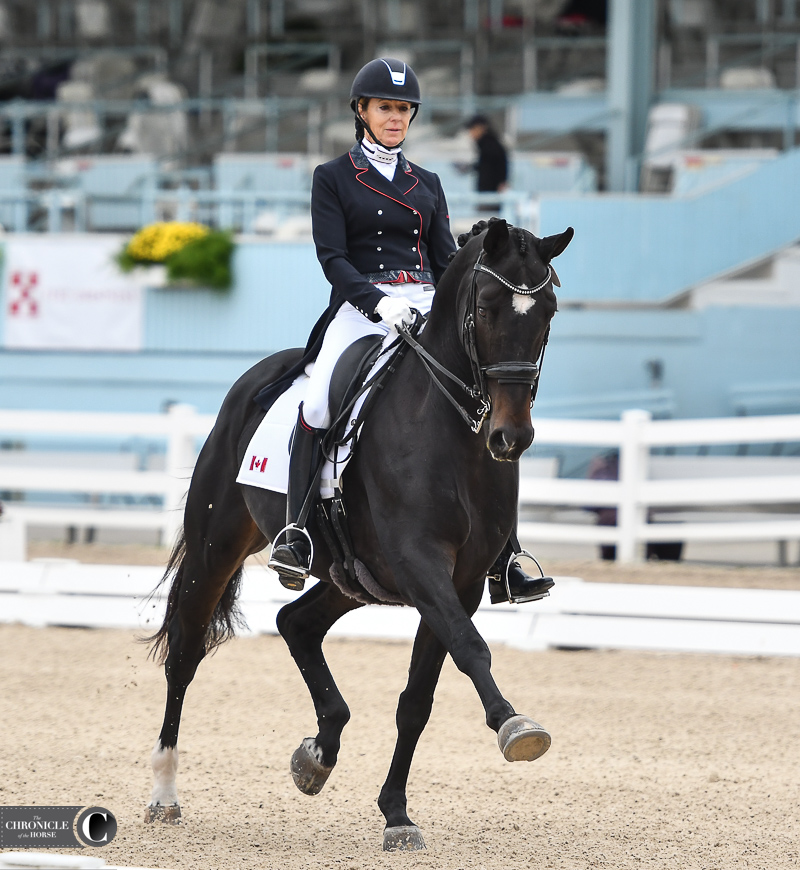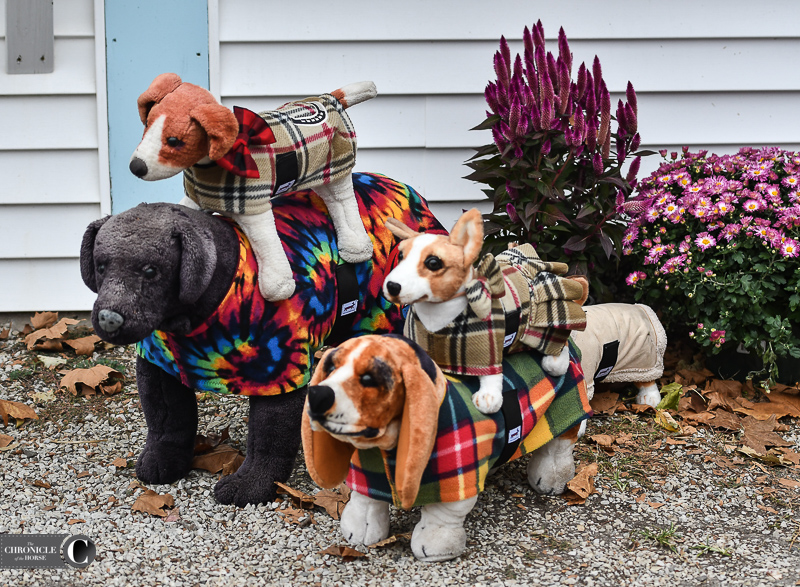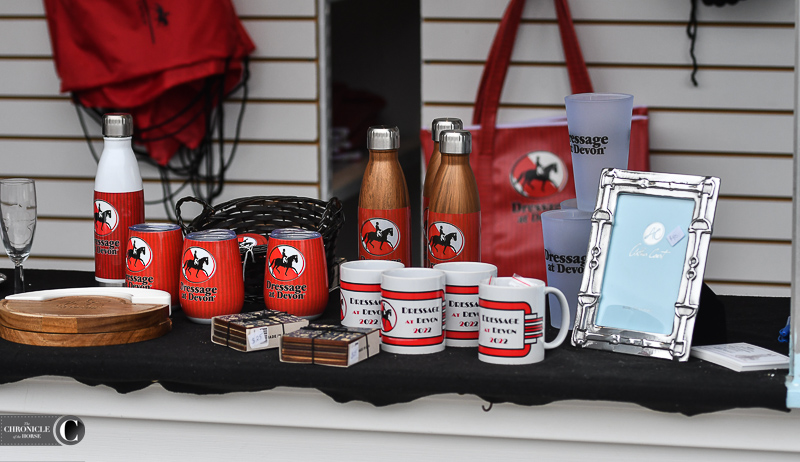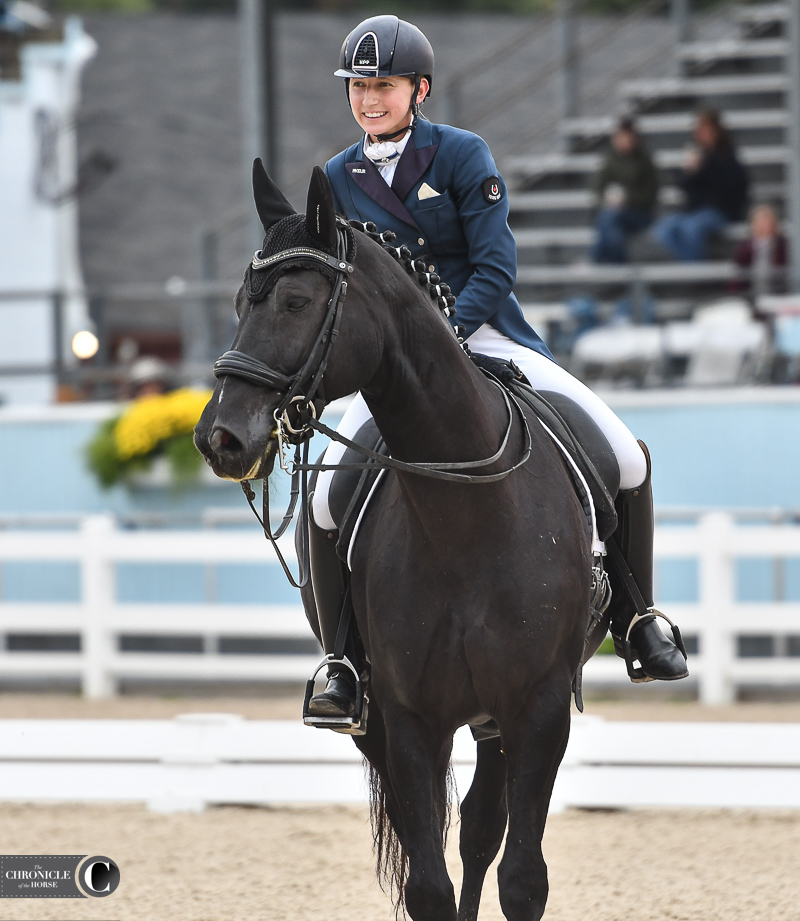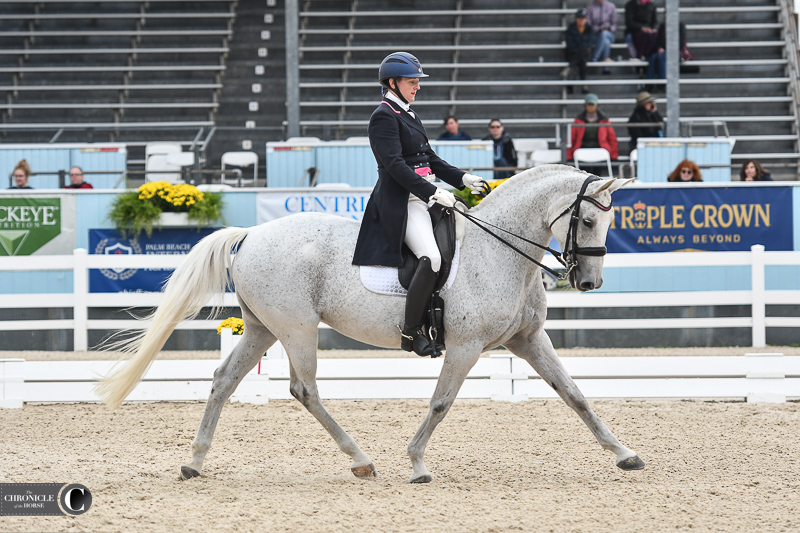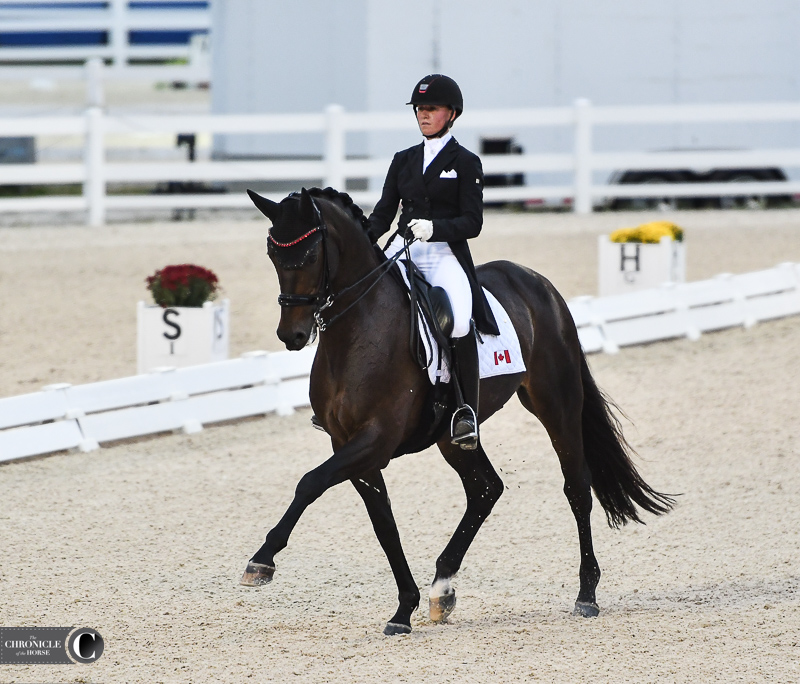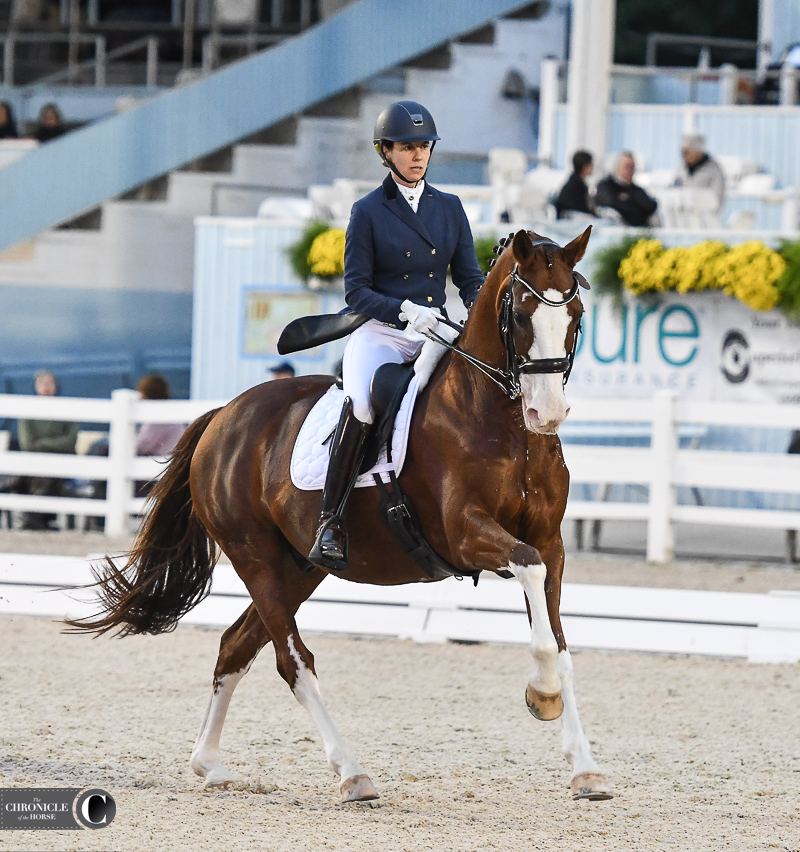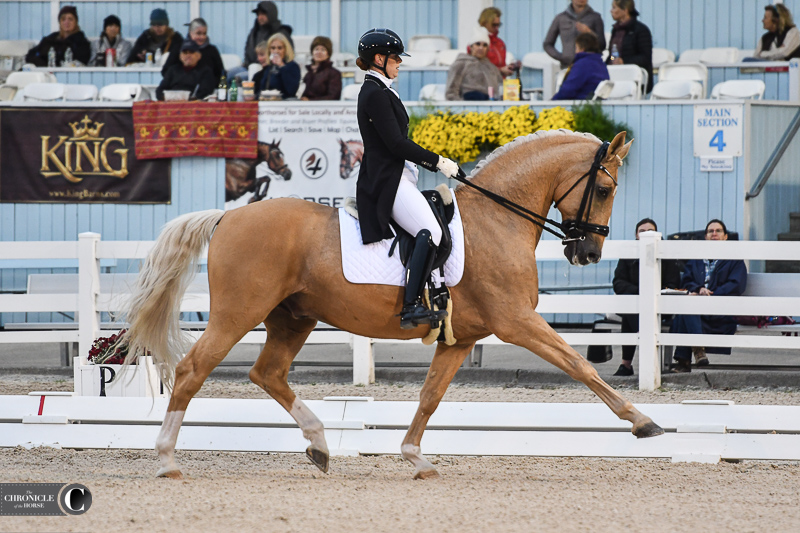 Results I Website I Live Stream I COTH's Coverage I Schedule
We're headed to Dressage At Devon this weekend to bring you news and photos from the historic and beloved competition. Check back at coth.com all weekend for coverage, and be sure to pick up the Oct. 24 issue of The Chronicle of the Horse for more from Devon.
Are you competing at Devon on a horse with a cool story? Email Lindsay at lberreth@coth.com for a chance to be featured.