Wayne, Ill.—Aug 27
As Janet Foy talked through the judging panel's first impressions at the end of Adrienne Lyle's FEI 4-year-old final test on Fürst Dream this morning, the murmuring in the crowd grew louder.
9.5 for the trot, 8.6 for the walk, 9.2 for the canter, 9 for submissiveness and a 9.4 for general impression, giving them the overall 4-year-old championship title at the Markel/USEF Young Horse Dressage National Championships with a score of 9.14.
And a couple of hours later, Lyle was back in the ring on 5-year-old Valor, earning a 9.42 to boost her to the 5-year-old title.
Surprisingly, it was Lyle's first trip to the young horse championships, and she'd only had four days at home after returning from the Blue Hors FEI Dressage World Championship (Denmark) where she rode Betsy Juliano's Salvino.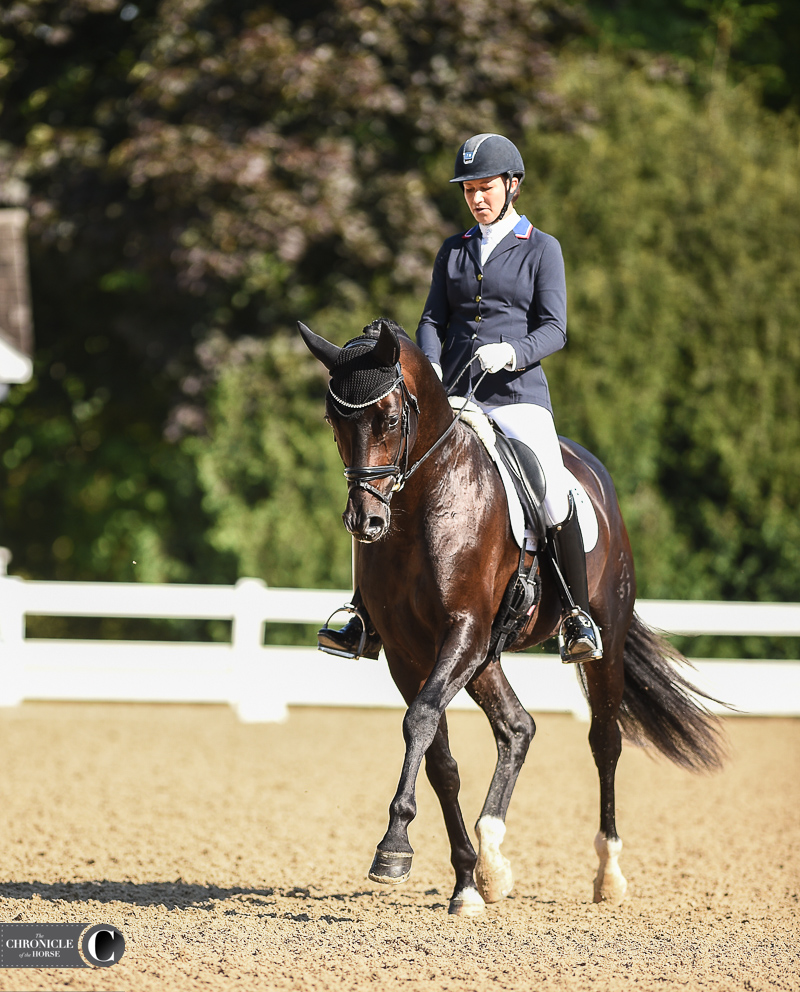 "I've always ridden young horses, it's what I love to do," she said. "I've always brought them along and tried to produce my own horses, I just haven't done the actual young horse competitions much before. This has been really fun to learn more about them, and they've grown so much here in the U.S. The quality of these horses here now has really improved and it's really exciting to see."
Fürst Dream, a Hanoverian stallion (Fürstenball OLD—Bella Lucia, Benneton Dream FRH), is also owned by Juliano and came to Lyle as a 3-year-old from a stallion auction in Germany.
"This is a big venue, and there's a lot going on for a 4-year-old," Lyle said. "He handled everything just super well, he was focused, and he was right there with me. He's just got such an incredible brain, which is something I really like, besides his talent. And he's got lovely gaits, but he's really got a super brain, especially for a stallion. He's just really rideable. He has such incredible suppleness, especially for a 4-year-old. Suppleness is the most important thing I look for in a young horse, and he's got an amazing brain."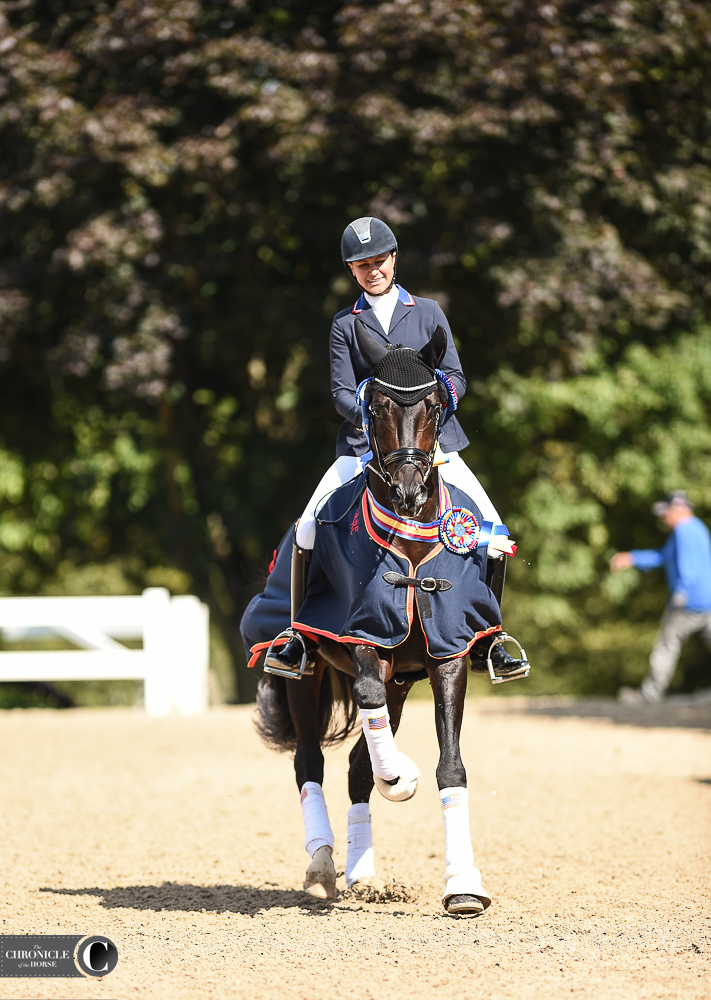 Valor, a Wesphalian gelding (Vitalis 4—Fürstenkind, Fürstenball OLD) also came to Lyle as a 3-year-old from Germany. He's owned by Kylee Lourie.
"He put his head down, and went right to work. He's such a kind, giving horse, and I think that's what I enjoy the most about him," she said. "He is so fun in the ring. He is so light to the aids and soft in the contact that you can just kind of sit there and try to stay out of his way. And he really lets you navigate him through all of the different questions in there."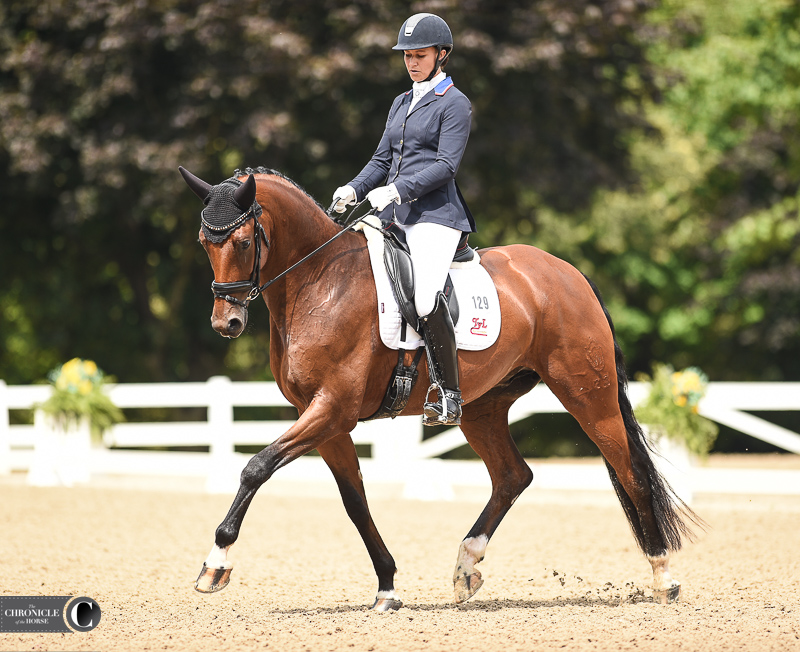 Alice Tarjan always brings a trailer-full of young horses to the Festival of Champions, and she's had a great week so far.
She won the Grand Prix, Grand Prix Special and Grand Prix freestyle with Serenade MF to take home the USEF Grand Prix Dressage National Championship. Today's freestyle earned a 76.98%.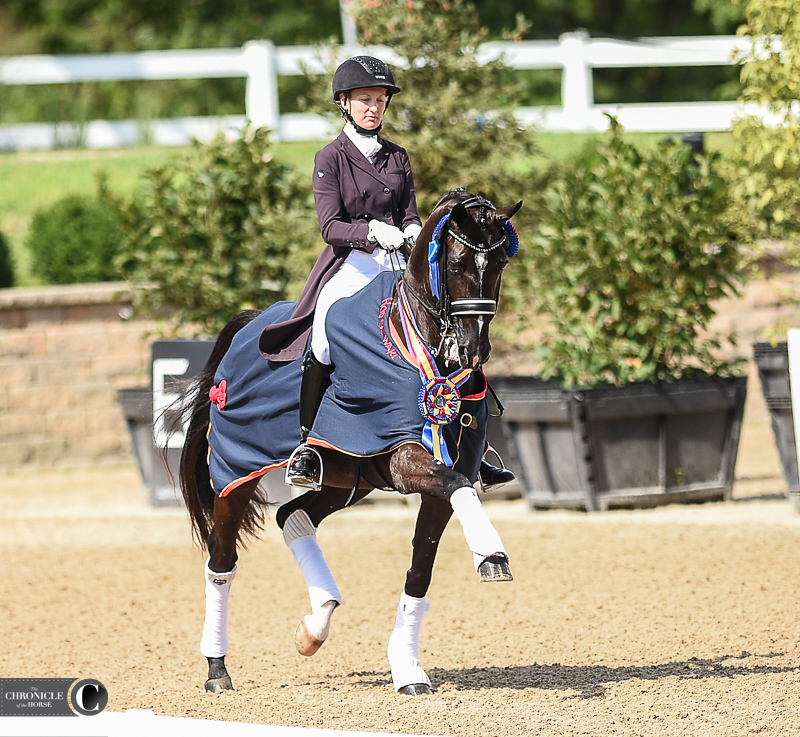 "I think the horse is drastically different than she was last year," said Tarjan. "And from where she was the year before. Trying to get the balance and get her to [sit back] on the hind legs and get the connection better in the bridle is now what we're working on. It's way better than it was, but there is still a lot of work to be done to finish it up. I think in another year, it's going to be that much better. We're still losing points everywhere out there, and the horse is pretty competitive."
Bred by Maryanna Haymon in the United States, "Shrimp," a 9-year-old Hanoverian mare (Sir Donnerhall—Duet MF, Don Principe), has been with Tarjan since she was 4. Tarjan took her to Europe this summer for two and a half months along with her top Grand Prix horse, Candescent, who was named to the short list for the world championships.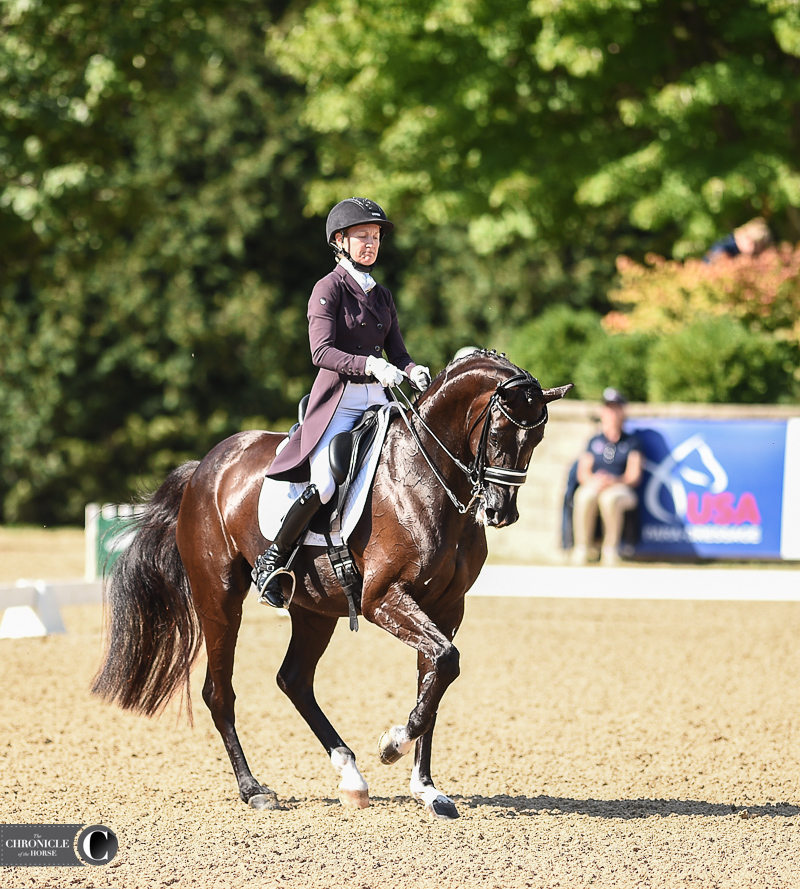 "I'm lucky in that sense, this horse is really good at horse shows. She's not spooky, she just goes down the centerline, and she does her job every time," said Tarjan. "You could put a child on this horse, and she would do her job. The horse has definitely had more exposure this year. It was her first year doing the CDIs over in Europe, and I think it's been a growing experience for both of us."
The pair won the Developing Horse Grand Prix championship last year at Festival of Champions.
"The horse is learning how to ride with better balance, and I'm also learning," said Tarjan. "I came up doing all of the young horse classes, and you try to put the gaits on the horse, and then you try to put the [movements] on the horse. Of course, you learn that it's one thing to be able to do all of the movements in the Grand Prix, and another to be able to string together a cohesive test that's harmonious in its self-carriage, and that's for sure where I struggle. The aim with this horse has been trying to understand how to ride a test that's more on the hind legs and more harmonious."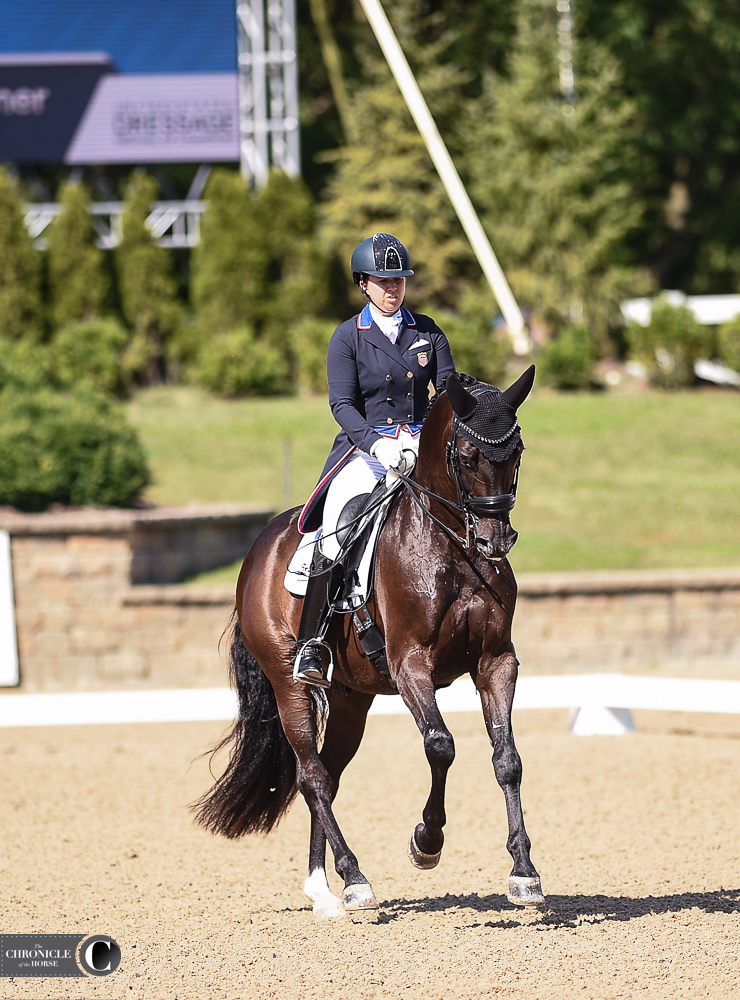 Quinn Iverson swept the Adequan/USEF Young Adult Brentina Cup National Championship aboard Beckham 19, a 13-year-old Hanoverian gelding (Benetton Dream FRH—Davinia, David Davidoff 2). Her freestyle today scored a 72.84% to maintain her lead ahead of Callie Rose O'Connell and Eaton Unitechno, who earned the reserve championship.
"I'm a little speechless at the moment," said Iverson. "My trainer [Adrienne Lyle] has been gone all summer in Europe, so I've kind of been on my own, and thankfully we kind of picked up right where we left off, and I'm very happy she was here!"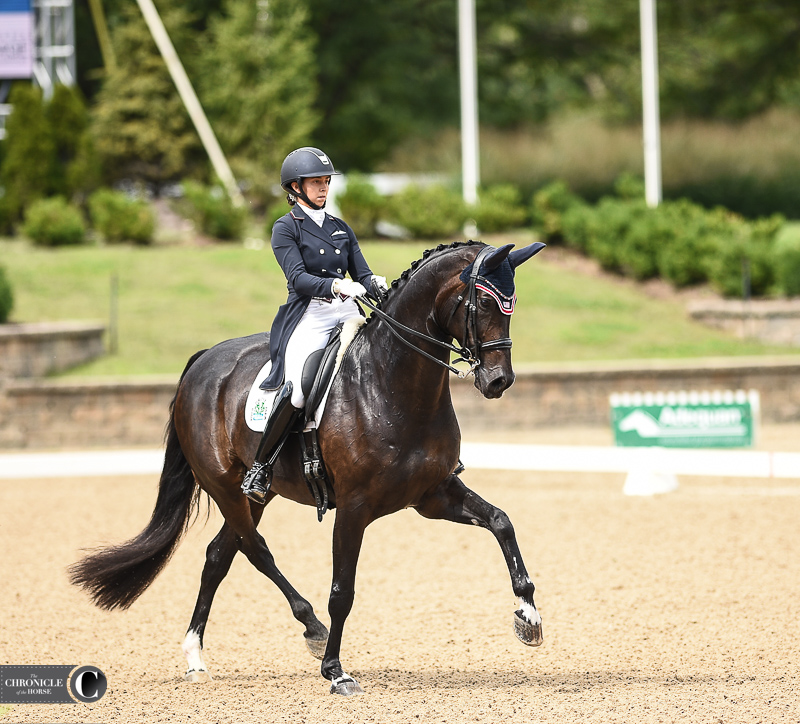 She borrowed a freestyle from Susan Dutta to ride to as she's only had Beckham since December.
"It was amazing. He was such a good boy," she said. "He was there for me every step of the way. I'm very happy with it."
Iverson is Lyle's assistant trainer and is sponsored by Billie Davidson, who owns Beckham and two others for her.
"We're still getting to know each other, but I'm really excited for the future. He's a really cool horse," she said.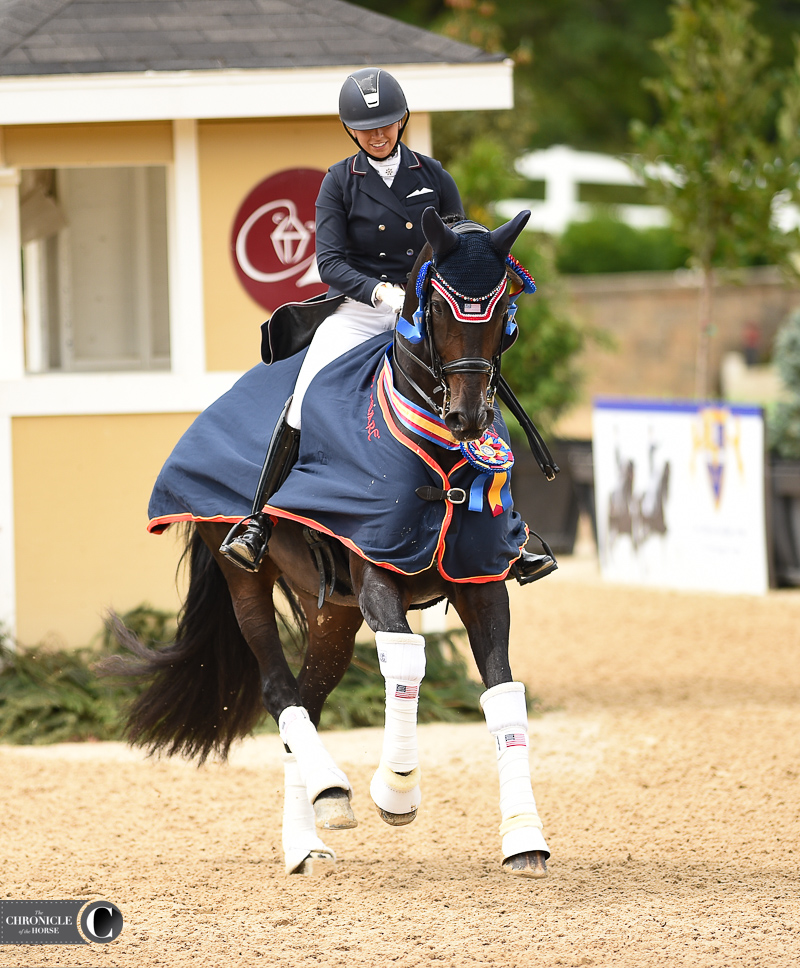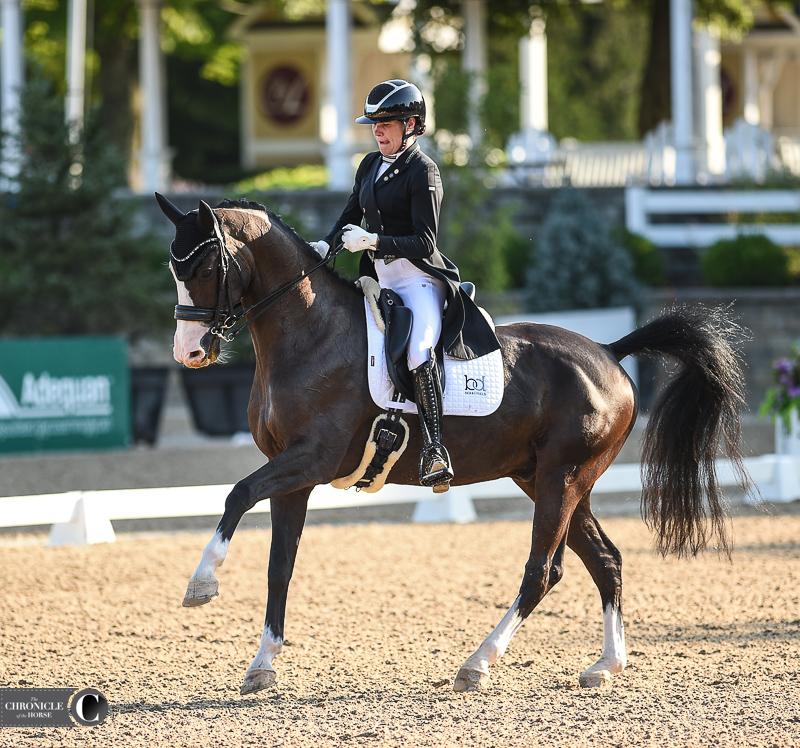 M.K. Connatser earned another "unexpected" win, just a day after topping the USEF Dressage Seat Medal Final, 13 & Under on Donau Hit.
"I did not expect this at all," she said. "I am so happy that it happened and very grateful for Linda Graves, who's allowed me to ride this pony, my trainers and my parents."
Maryn Geck and Whinny topped yesterday's FEI Pony Rider team test, but a couple of costly mistakes today dropped them to the reserve championship. Connatser won today's test with a 66.98%.
"Yesterday my test was nice, but my trainers had told me to try and steady his head a little because Maryn had won yesterday, and she won because she had steady contact," said Connatser. "I was fidgeting all over the place. We really worked on that in the warm-up, and that got us a a point higher. We didn't spook, which is like a first!"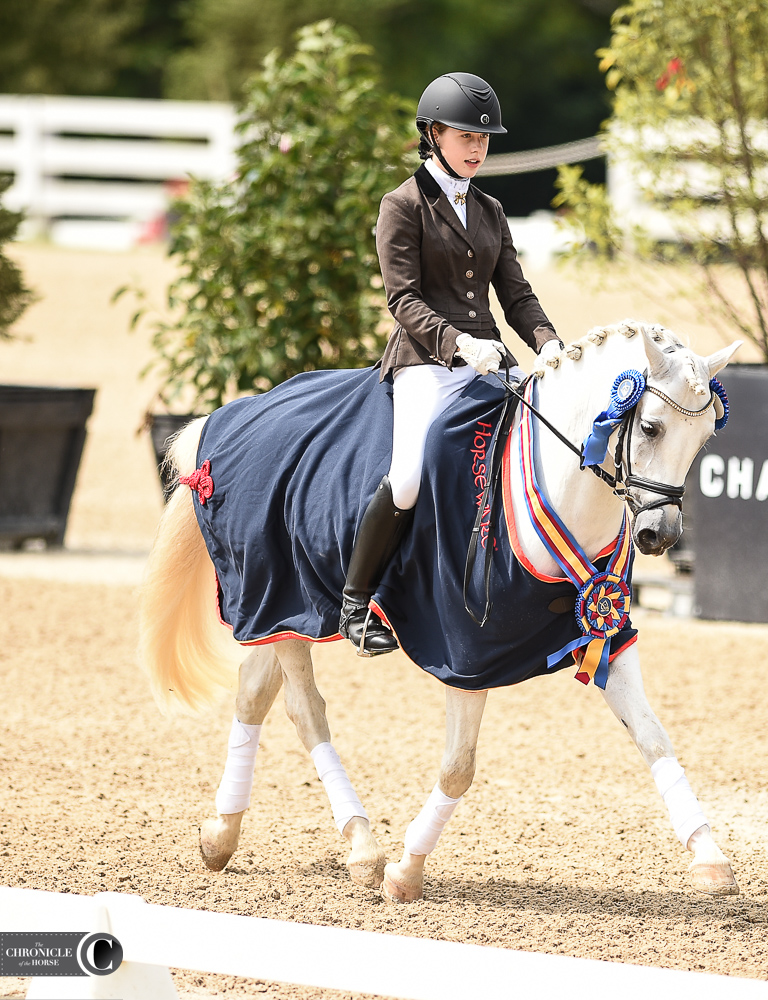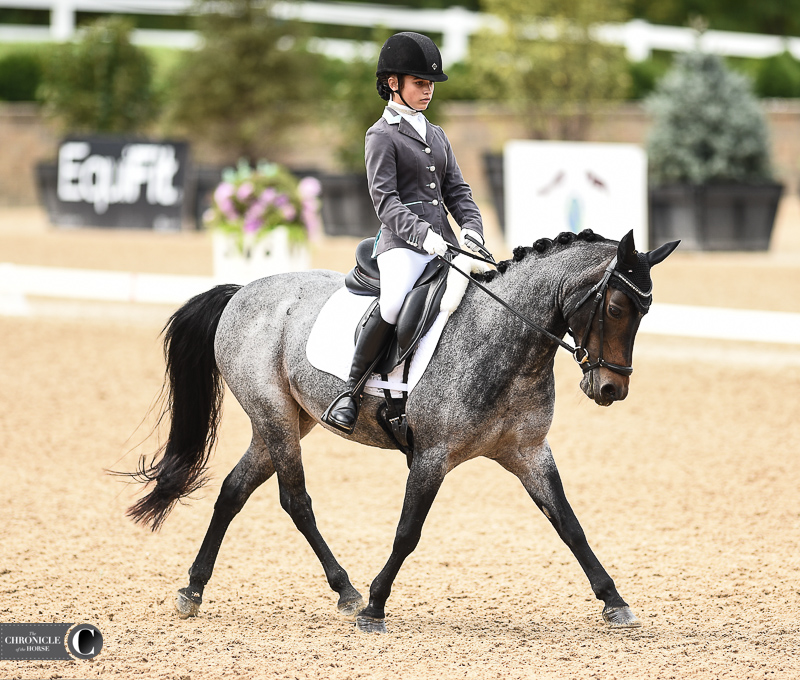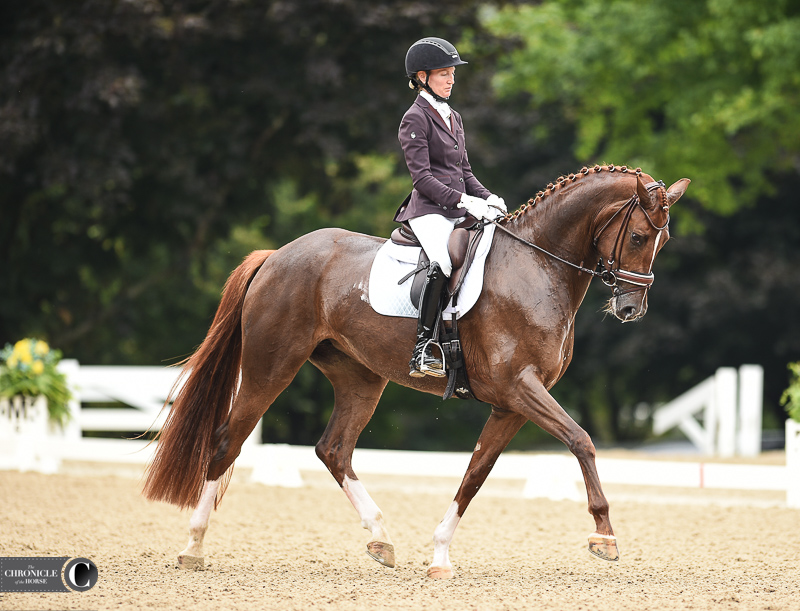 Competition at the Festival of Champions resumes at 8 a.m. (Central Time) Sunday.