It has been eight weeks since William arrived at Heritage Farm. I have to say I really like him.
I have taken this slow and I have been very involved in his program. It is interesting the connection with a horse that develops; it can be all-consuming. I think this connection to horses, their care, training, development, and the process of bringing along a prospect has always intrigued me. It's no different now than when I started as a teenager. I like it—love it really.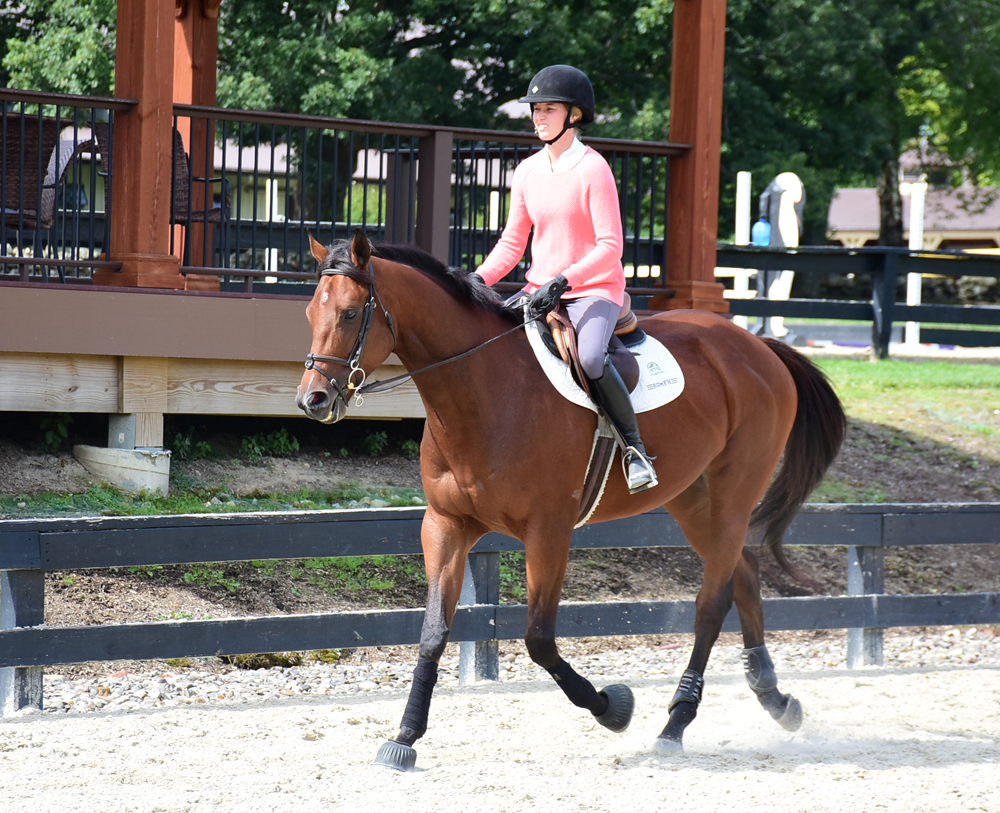 William working on the flat with Lindsay Baker. Photo by Michael Dignelli
William has been only been working on the flat for the first eight weeks, and he is quiet, no spook at all. I didn't start jumping him during this time as he didn't seem ready.
He needed to be better broke on the flat and needed to get stronger. Although he was quiet and well behaved, something just didn't seem right. He often seemed cranky and some what sulky at times. He seemed hard to move forward off the leg and looked uncomfortable. He always looks sound, but this was more in his body language.
Lindsay Baker (his rider) in one of his flat sessions turned to me and asked, "Have you thought about a gastro product?"
My response was, "Yes, it has crossed my mind." We talked about it and she explained what she was feeling when she rode William and I what I saw during his training sessions. We were both in agreement—let's try it!
Stomach ulcers are common in racehorses, and show horses. William has been on one of the well-known omeprazole paste products—one tube a day for three weeks and a taper off. We will also start him on a hind-gut supplement.
Both Lindsay and I were away for a week when the treatment started. We saw a huge difference when we returned a week later, in his overall demeanor and his look while under saddle. He seemed to just go better in general. We both noticed an overall improvement.
Next came chiropractic evaluation and treatment and adjustment. We use a very good chiropractor, Liz Fish. Liz also has several Thoroughbreds off the track, and is familiar with their issues. William was out of alignment from his poll to tail. William has had three adjustments in the past month.
I also do carrot stretches with him, the basic stretches—carrot to elbow, carrot to hip, carrot between his legs etc. He seems more even in both directions when ridden now.
So now, let's talk about his feet. They are pancake flat and low in the heels, common in off-the-track Thoroughbreds, with under-run heels. He has been shod three times since arrival and I have only let him go four weeks and a few days between shoeings.
He starts to look foot sore and his toe looks long around week three and a half. We have him in steel and a gel pour and pad; he seems much better and he is growing new foot and growing some heel.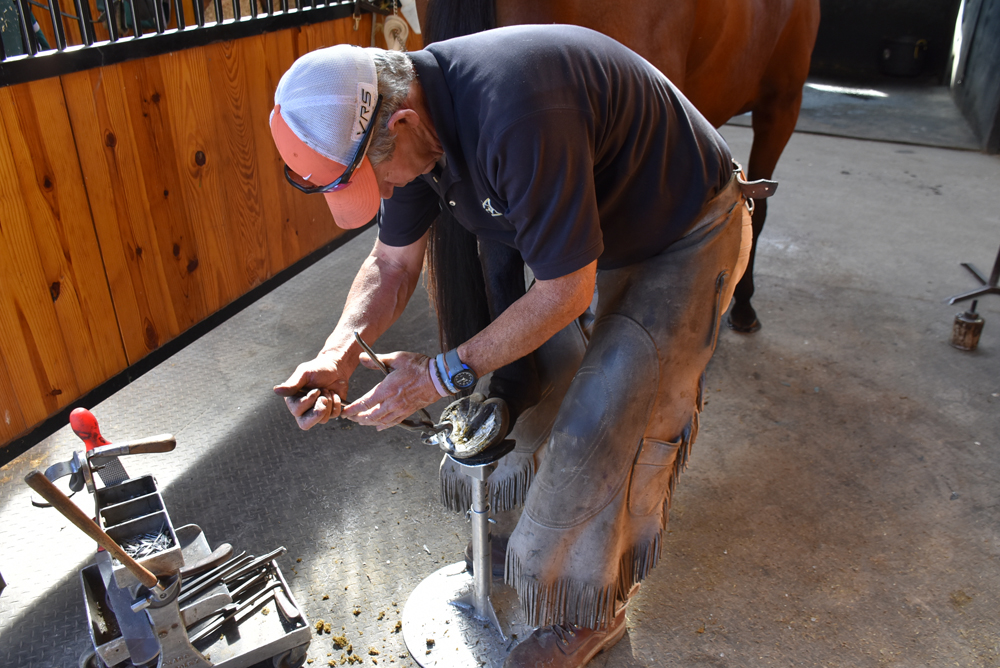 Farrier Michael Boylan working on William. Photo by Michael Dignelli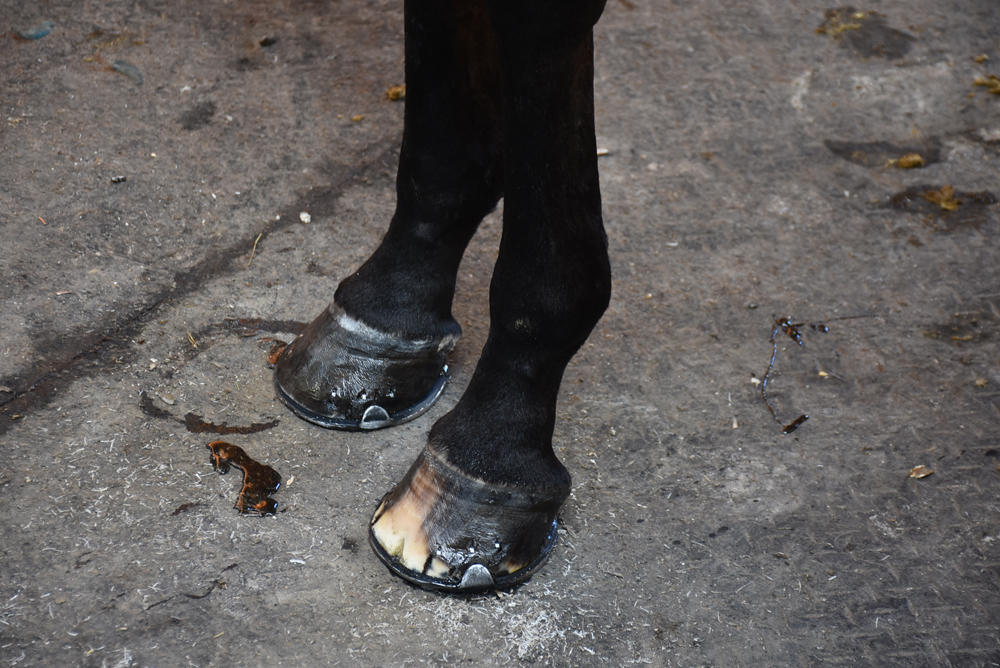 William's feet have been improving steadily. Photo by Michael Dignelli
Dottie Areson has been added to the mix as well. Dottie is a rider and trainer here at Heritage Farm; she is very skilled at preparing horses. Dottie got along with William right away. She also started her riding and showing on the backs of Thoroughbreds as a junior growing up in south Florida.
We are starting to add some small jumps to William's work and he has been great. Will looks athletic, scopey and has good technique and good brain. We were able to get him weighed and he was 1,200 pounds in late August and 1,220 in late September. He is starting to bloom, with some muscle and top line developing.
Watch William jump a few jumps…
To me this is not about warmblood vs. Thoroughbred, William is a horse, and a very nice one at that. It is interesting that fate has tapped him on the shoulder yet again. He was trained at a top training center as a young racehorse, West Point Thoroughbreds, and trained by Hall of Fame trainer Bill Mott. His breeding and conformation got him there.
Now William has somehow found his way to our Heritage Farm in Katonah, N.Y., home of so many top show hunters and jumpers. A for-sale ad on Facebook got him here.
There are currently 99 horses here at the farm at this time—98 warmbloods and William, the only Thoroughbred. William is also the youngest horse in training at the farm. I think there may be one 6-year-old and the rest range in age from 7 to 17-plus.
To me he is the gem I was searching for. When I watch him, I think to myself, "He is getting it." My plan is to start showing him in the hunter division when he is ready.
Michael Dignelli, along with his brother, Andre, co-owns Heritage Farm in Katonah, N.Y., where multiple talented hunter/jumper junior stars have learned to ride. Michael manages the daily operations and business of Heritage and lives on the farm. He grew up riding and showing alongside Andre and will be sharing his experience of developing an off-the-track Thoroughbred prospect.