Bridgehampton, N.Y.—Aug. 31
With the World Equestrian Games looming around the corner, it is natural to think about all the horses' preparations. Are they jumping fit? Or have they been jumping too much? Have they met that almost impossible sweet spot of being fresh yet focused?
And while Shane Sweetnam is pondering all those questions with his WEG horse Chaqui Z, he's aware of the other half of the horse-and-rider equation. By showing Chaqui Z in just the national standard classes, he looked to his other horses to keep himself sharp.
And sharp as a nail, he qualified not one but two horses to the jump-off in the $75,000 Douglas Elliman Grand Prix Qualifier. In a field of 49 horses, only nine made it clear, including Sweetnam's mounts Main Road and Indra van de Oude Heihoef.
"[The Hampton Classic's] great preparation—especially for me, to keep me in the groove of jumping at the highest standard," said Sweetnam. "I need this and I'm sure most people need this. And the horse is in good shape and these guys, I'm sure hopefully these horses will be future WEG horses at some point."
Sweetnam had a vision though that came to him with hard work and a twist of good luck. That vision emerged in the form of a stride left out. Wanting to save Main Road for later in the week, he used that ride to gain knowledge of the track so that he could test the boundaries later in the class with Indra van de Oude Heihoef.
"I was never really going to go all out with [Main Road]. He's naturally quick and I think I had quite a good plan to get a piece of it," said Sweetnam. "And then obviously going around once gives you an advantage of knowing the rules and how it felt. And the first line did feel like there was a six there. I had to work for it a bit but she does cover the ground."
The Belgian-bred Belgian Warmblood (Casantos—Favorite Van De Kapel, Action-Breaker) posted a fast time of 37.72 seconds to take the win, which comes on the heels of her victory at the Dublin Horse Show (Ireland) $58,542 Stablelab Stakes CSI***** three weeks ago.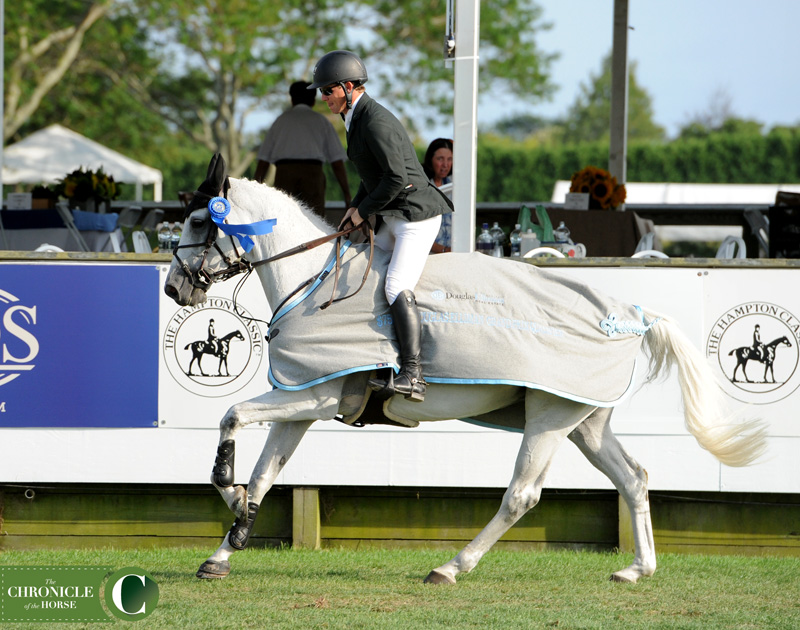 "This is my second year having her," said Sweetnam. "Last year she was good here also. She was double clear in this class, but we were a bit slower. And she was sixth in the grand prix. And she won a big class in Dublin a few weeks ago, so she's been going great. She'll go again tomorrow and hopefully we'll replicate this."
Sweetnam's other mount, Main Road, finished fourth.
While Sweetnam is full steam ahead to Tryon, his competition attention is slightly divided as his daughter Olivia takes on the pony ring and his other two are starting to ride.
"So Olivia comes along all the time," said Sweetnam. "I'm not that kind of person where I get nervous for her. And she doesn't get nervous either. So I'm delighted she's so into them. I'm glad she rides that well and we're having fun with it.
"At the moment, her mom is brilliant at [teaching her the hunters] so I'll let her get her to the jumpers," he said. "And when she gets to the jumpers I'll help her."
The Chronicle will be on site bringing you all the gorgeous photos, great interviews and behind-the-scenes stories. Make sure to follow along at www.coth.com, as well as on Facebook, Twitter and Instagram @Chronofhorse. For more results, click here.