Phase 1, the hunter phase, is complete.
The course rode very nice. There were some long bending lines to test your control and proper usage of your track.
I was very happy with my round today; Devy and I scored an 85 and 87. We ended up seventh overall with Zayna Rizvi taking the top spot after having a beautiful round.
Devy and I have a good understanding of each other, and he gives me a lot of confidence when we step into the ring. Today, I was focused on maintaining a consistent speed around the course and making each jump match.
For me, whenever there is a long bending line in the course I like to count down instead of up. For example, the first bending line was nine strides, so after my landing stride I counted down from nine. I find this technique helps me stay on track. It also keeps my mind thinking. I find that when I count up from one I tend to lose where I am and can mismeasure the line.
Tomorrow will be the jumper phase. Depending on how the rounds go we could see some shifts in the standings before the work-off.
In the jumper phase, there will be some added elements. There will now be a time allowed for the course, and we will no longer be jumping hunter fences—it will be changed to the jumper-style fences.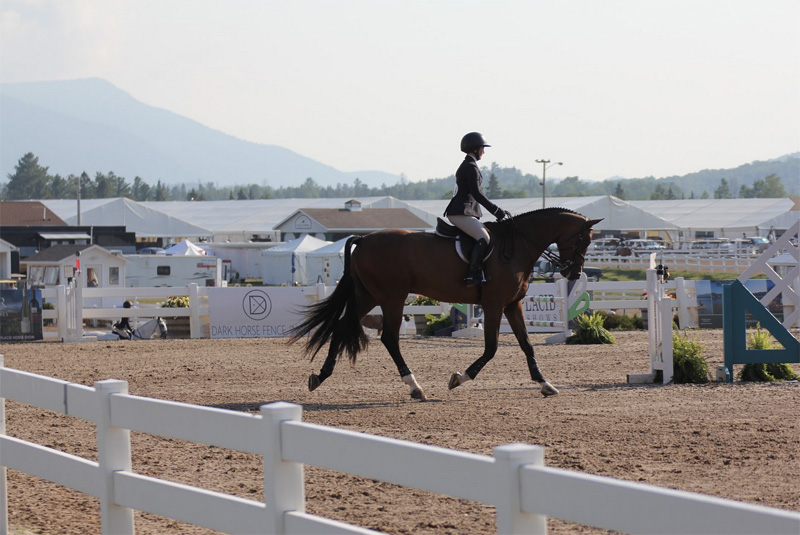 Heading into tomorrow I am going to continue to keep my mind calm and focus on Devy and our plan. I find that if I remind myself of the basics and focus on my track, pace, straightness and rein length it helps take away some of the added pressure that comes with showing. My morning will start at 6 a.m. to ride in the stadium and the class will begin at 8 a.m.
---
Tessa Brown is 15 years old and hails from Jamaica, Vermont. She trains with Kyla Makhloghi at Rosemont Farm LLC. She finished fourth in the Dover Saddlery/USEF Hunter Seat Medal Finals (Pennsylvania) last year in her second year competing in the big equitation finals.