As 2018 looms on the horizon, we took a look back at some of the most-read and commented-upon stories on coth.com in 2017. It was a year of discussion about the direction of the sport and what kind of behavior is acceptable from riders in the spotlight.
---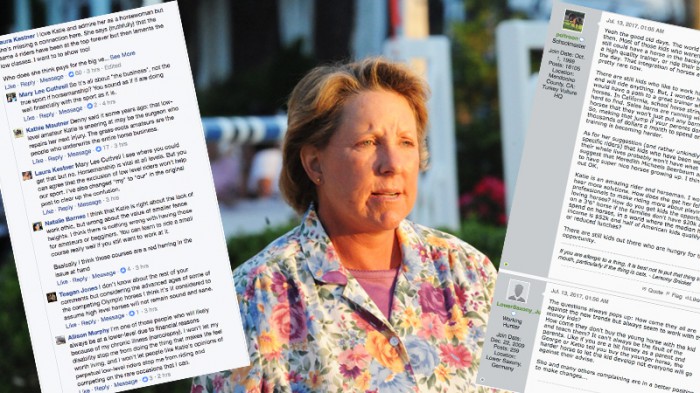 THAT Discussion With Katie Prudent
Katie Prudent's no-holds-barred criticism of certain aspects of show jumping in a podcast with Chris Stafford on the WiSP Sports Horse Show platform in July caught the COTH editorial staff's ear, so we published an excerpt on our website. And it ignited quite a firestorm of conversation about not only Prudent's comments, but also about the role of amateurs and the loss of horsemanship in the sport.
Much of the discussion centered around a phrase Prudent used: "the fearful, talentless amateur." Many amateur riders took offense to the description with comments such as: "Some of us amateurs may be talentless, but those of us who are trust-fund-less also are horsemen. We have to take care of our horses, know them inside out, go without lessons, etc. Isn't that ironic that we are more horsemen than the rich, talented pros." Spirited discussion on the topic took place in the comments on the COTH Facebook link to the story and on the COTH discussion forums. And a few submitted responses to COTH directly.
Read the original WiSP Sports excerpt: "A Conversation With Katie Prudent: U.S. Show Jumping Has Been Dummied Down."
And read some of the social media and discussion forum comments posted in response to the story.
Here's amateur rider Jennifer Baas' thoughtful response to Prudent: "Put Your Money Where Your Mouth Is: An Amateur's Letter To Katie Prudent."
Olympic gold medalist McLain Ward called COTH to share his thoughts on Prudent's points: "In Response: McLain Ward Believes Show Jumping Is Evolving, Not In A Downward Spiral."
Fellow amateur Eliza LaLuna penned another view: "In Response: I'm An Amateur Who Agrees With Katie."
Veteran show jumper Leslie Howard chimed in as well with some suggestions: "In Response: The Future Of World Class Show Jumping—Two Suggested Steps."
And grand prix rider Callan Solem shared her thoughts on the topic: "In Response: Embrace Your Own Journey."
---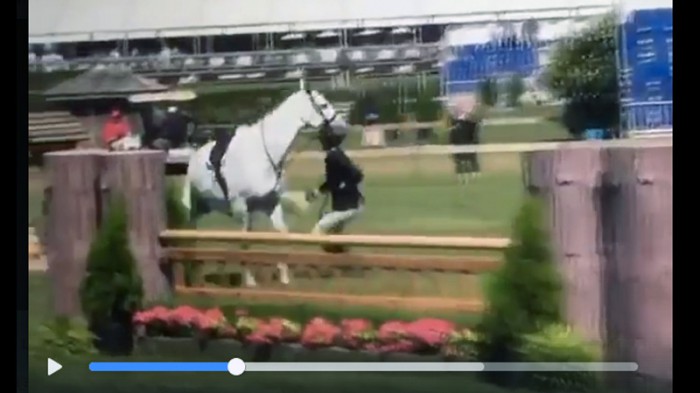 Unsportsmanlike Conduct Caught On Video
When a source sent COTH a video of amateur rider Jazz Johnson-Merton responding to a refusal and fall in a less-than-ideal way, we investigated whether the incident had been addressed by officials at the show and discovered they had not filed an official report, so we reported on that.
Uproar ensured on the internet. Most horsemen focused on the sportsmanship and welfare of the horse aspects of the situation, while mainstream news sites picked up on the story because Johnson-Merton is a high-profile individual.
Read the original article: "Unsportsmanlike Conduct Caught On Video At The Hampton Classic."
The updates were: "USEF Launches Investigation Into Jazz Johnson-Merton Incident At The Hampton Classic Horse Show" and "Jazz Johnson-Merton Responds To USEF Investigation."
In addition, COTH senior editor Molly Sorge wrote a blog about why the COTH editorial staff felt it was necessary to address the video: "If You See Something, Say Something: Why We Wrote About That Video." And social media professional Mary Hirsch responded to the video news with: "In Response: When Officials Don't Act, A Viral Video Holds Us All Accountable."
The news broke on Dec. 28 that Johnson-Merton will serve a two-month suspension from the USEF in 2018.
---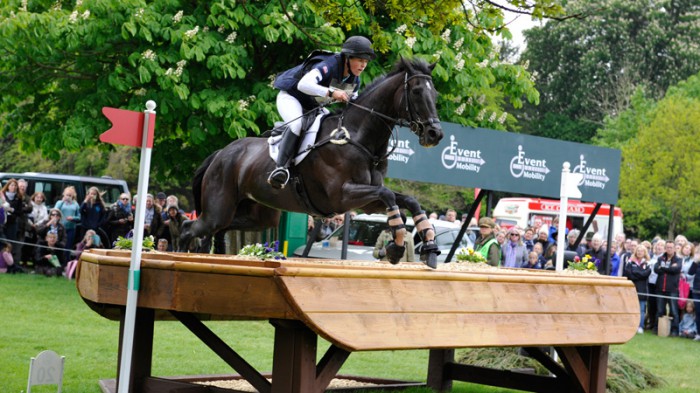 Elisa Wallace gets a yellow card at Badminton
News of U.S. eventer Elisa Wallace's FEI penalty at the Mitsubishi Motors Badminton CCI**** (England) elicited quite a bit of conversation both in comments on the story and on the Facebook link to the story as well as the COTH discussion forums.
The comments ranged from "Everyone can make mistakes! Its a part of life and sports! GO Eliza and Go Johnny," to "I am not sure which bothered me more: to see her riding an exhausted horse into the ground, or her reaction (of walking away and not even looking back to see how her horse was) after he was unable to clear the last jump, he was so tired. She does not deserve such an incredible horse who gave his all for her."
---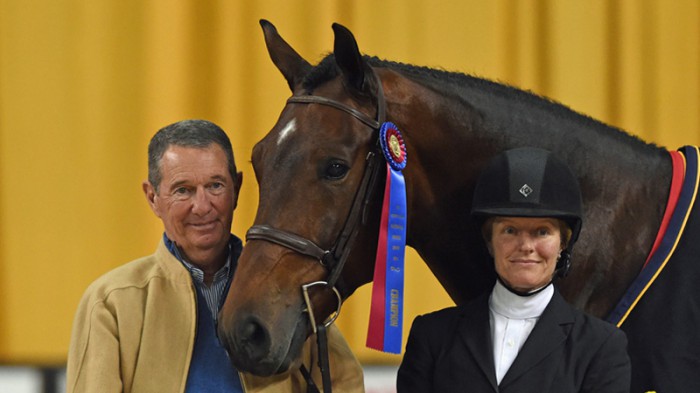 USEF issues Larry Glefke and Kelley Farmer suspensions for GABA infraction
Readers definitely had opinions when the news broke of Larry Glefke and Kelley Farmer's suspensions, and the conversations continued online, with statements from Farmer and Glefke and points of view from other horsemen.
Read more: The original news item about the Glefke and Farmer suspensions.
Larry Glefke And Kelley Farmer Release Statement In Response To USEF Suspensions
USEF Agrees To Farmer/Glefke Rehearing
Kelley Farmer And Larry Glefke File USOC Complaint Over GABA Suspension
Frosted Glass Makes A Better Door Than Window—COTH's Ann Glavan blogs about the Gelfke/Farmer suspensions
USEF Upholds The Farmer/Glefke Doping Suspensions
In Response: I Believe That The USEF Acted Fairly In The Glefke Case—veterinarian Mark Baus' perspective on the case
USOC Grants USEF Motion To Dismiss Glefke And Farmer Complaint
---
See more of the the Best Of articles from 2017 on the COTH website.