Although Rolex Kentucky typically draws many European riders, Polly Stockton and Charles Owen Tangleman made the trip across the Atlantic from Great Britain alone this year.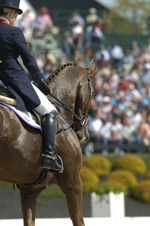 With three horses ready for a four-star this spring, Stockton knew she couldn't run all of them at Badminton. Since Charles Owen Tangleman is the only horse she owns herself, and she promised the owners of Tom Quigley and Regulus that she would run them at Badminton, she decided to seek sponsorship to send Tangleman to Kentucky. The British Lottery Funding, which usually pays the way of British riders to overseas events, was not available this year due to the Olympics.
"I thought I'd go around asking a few people [for sponsorship], and Charles Owen very kindly said they'd help fund my trip," she said. "They've been brilliant."
In fact, Stockton's stable is only about half an hour from the Charles Owen factory.
This marks Stockton's fifth trip to Kentucky and the third trip for Tangleman. In 2003, he tied for the win with Pippa Funnell and Primmore's Pride, but their slower cross-country time broke the tie and left them in second.
This year, Tangleman is stabled alone in the quarantine section, and Stockton just traveled with a groom and one friend. "It's really nice, having a little paddock to ourself," she said, of Tangleman's little grazing area fenced off just outside the stable. "It doesn't feel like we're on our own."
Stockton chose Kentucky instead of going to the Luhmuhlen CCI**** (Germany) because she thinks Mike Etherington-Smith's track here suits her 17-hand horse better. "Luhmuhlen is very twisty, and this is a more galloping track," she said.
Likewise, she said she hasn't thought of him as a horse for the Olympics in Hong Kong, since the hot climate would be especially hard on a horse with his large, stocky frame.
So her focus will be on the course in Kentucky, especially since she snagged 20 penalties for running by an arrowhead here last year. "The Lake will be influential with the arrowhead [on the way] out," she said. "You only need to trip up the steps, and you fluff the arrowhead. And the third water could be influential, with the ducks. When the horses are tired and near home, you've got to turn them away from home there."
And this could be one of the last major events for the 15-year-old British Thoroughbred, who has already earned a sixth at Burghley and ninth at Badminton and been shortlisted for the British Olympic team in 2000. "Anything I get out of him after this would be a bonus," she said.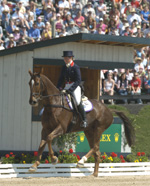 So she was frustrated that his dressage test wasn't his best. "He's so capable of doing a good test, but he gets in that arena and is inattentive," she said. "He was not listening to me. It was a little frustrating, but we survived. We got a score to go on with.
"I know him pretty well, but today he was doing freestyle dressage," she added with a laugh.
"He's not the brightest, but he's very trusting. I've been lucky to have him; he's taken me a lot of places."