It's hard to miss Symantha Melemed as she's galloping around cross-country with CCS Aragorn and CCS Thorin.
The adult amateur eventer has a passion for Knabstruppers, and she's enjoying bringing attention to the breed in the United States.
"I like being an ambassador for the breed," she said. "Every time I ride I have the breed brand on my saddle pads. There are only a couple hundred in the United States, and it's nice to be able to tell people what a great horse they are and get folks excited about them because there are a lot of wonderful ones out there that I'd love to see doing eventing and dressage."
Melemed grew up in Iowa and learned to event on Hawk, a project horse her farrier helped her find in the slaughter pen as a yearling.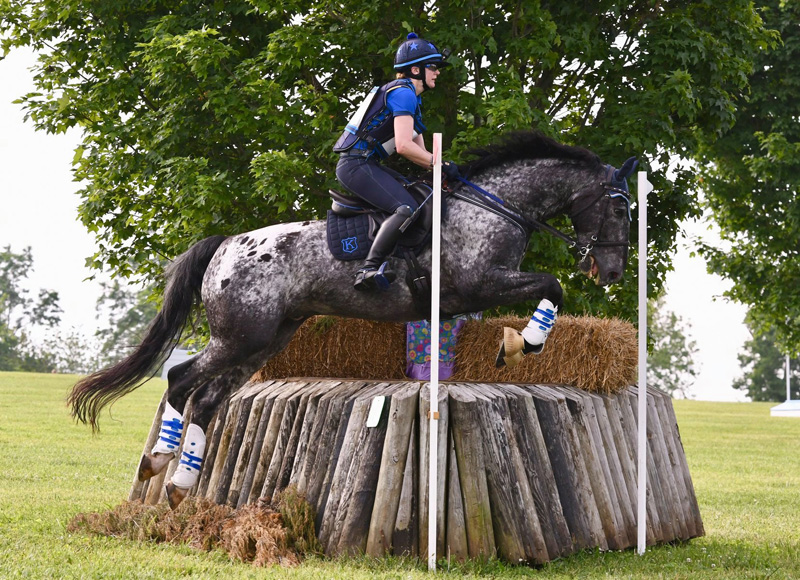 Hawk is an Appaloosa-Thoroughbred, and he took Melemed to the preliminary level until uveitis gradually took his sight. He's now 27  and still lives on her farm.
"He was really bright and really, really clever," she said. "I'd read about eventing when I was reading about Thoroughbreds, and I thought he would be well-suited for it because he was really athletic and liked to do a lot of different stuff. People wanted me to sell him because he was a super dressage horse, super show jumper, and he did cross-country just kind of out of love for me, and I just couldn't do it. I thought about being a working student, but I couldn't sell him, so I went to graduate school instead."
Hawk went to college with Melemed at Colorado State, where she majored in equine science. After graduation she moved back home and earn her Ph.D from Iowa State University in molecular genetics after she became interested in genetics during her undergrad research with Temple Grandin.
While earning her Ph.D, Melemed found a passion for cancer research, and she currently works for a pharmaceutical company in Indianapolis.
When it came time for Hawk to retire, Melemed searched the country for another Appaloosa-Thoroughbred but couldn't find a project she liked.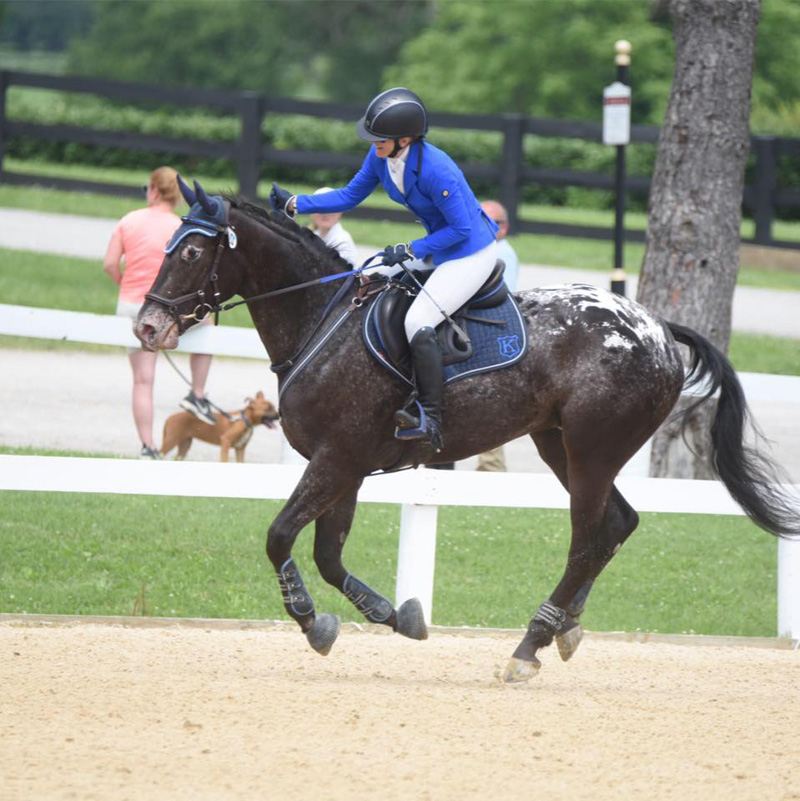 She'd taken a break from showing because she could only afford to keep one horse, and her job kept her busy, but her husband, Allen Melemed, encouraged her to renew her search.
"He said, 'You know, every time you talk about horses you're a different person.' He knew me after my horse had gone blind. He said maybe I should get a horse and get back into it," she said.
Through a friend, Symantha found Melyni Worth and her Cedar Creek Stables in Staunton, Virginia. Worth has a Knabbstrupper breeding program and has worked hard to give the breed attention in the United States.
Symantha drove to Virginia and sat on CCS Aragorn, or "Strider, " as a 4-year-old. It wasn't until two weeks later that she realized she wanted him.
She also bought "Thorin" (Ecuador Skodstrup—Riganttona Anastasia Bonita), who is his full brother.
"What I really like about them is they're very hard workers; they're very smart; they're very athletic," she said. "Strider's 16.3, and his brother is 17.1. They just have really great temperaments. I ride quite a bit, but I also have a big job. I have to go to Japan for a week, or I travel all over the world going to research conferences. Sometimes they'll be in full fitness. My barn manager will longe them, but sometimes they don't get ridden for four or five days, and I want to be able to come back and have them not be total lunatics. This breed is very amateur friendly, and they love their jobs, but they're never crazy or stupid."
Thorin, 5, is getting ready to move up to training level, while Symantha made the move back up to prelim with Strider, 8, after a long absence.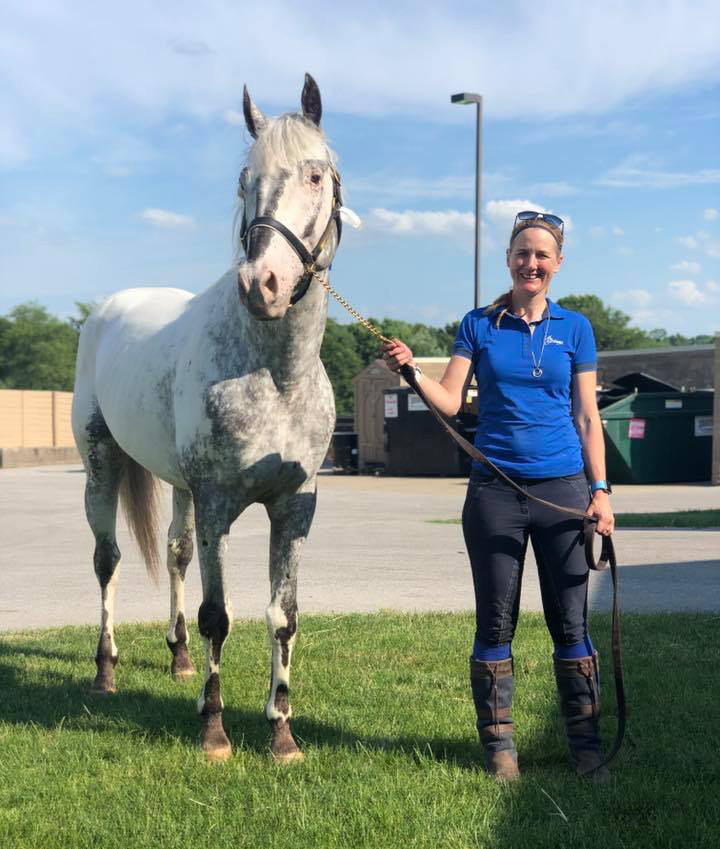 "I haven't ridden at that level for a long time, and we're kind of learning that level together because I brought him up myself," she said. "It's nice; he's such a talented jumper that he can get me out of a lot of trouble!
"We really took our time," she continued. "I got Strider as a 4-year-old, and we worked and worked. We moved up this year. I train them to be dragon slayers on cross-country. I'm big on building a lot of relationship and trust. It's relationship first, riding second. He felt really ready when we moved up in May. We definitely have a lot to work on, but we really trust each other, and that's been the big difference. At the end of the day you trust your horse, and you trust their training and all the experience they have. He's been an incredible partner."
Symantha, 41, just bought a Knabstrupper-Thoroughbred named Lindegaards Elliot (John Wayne—Elmegaardens Efrodite), a 6-year-old who was a breeding stallion until she had him gelded. She's aiming him towards jumping and dressage.
In addition to keeping three horses going and a demanding job, Symantha finds time to run one to two marathons a year and has six rescue dogs she's trained for dog agility. Allen has a lower-level event horse he rides for fun, and the couple works for the same company and often collaborate on projects.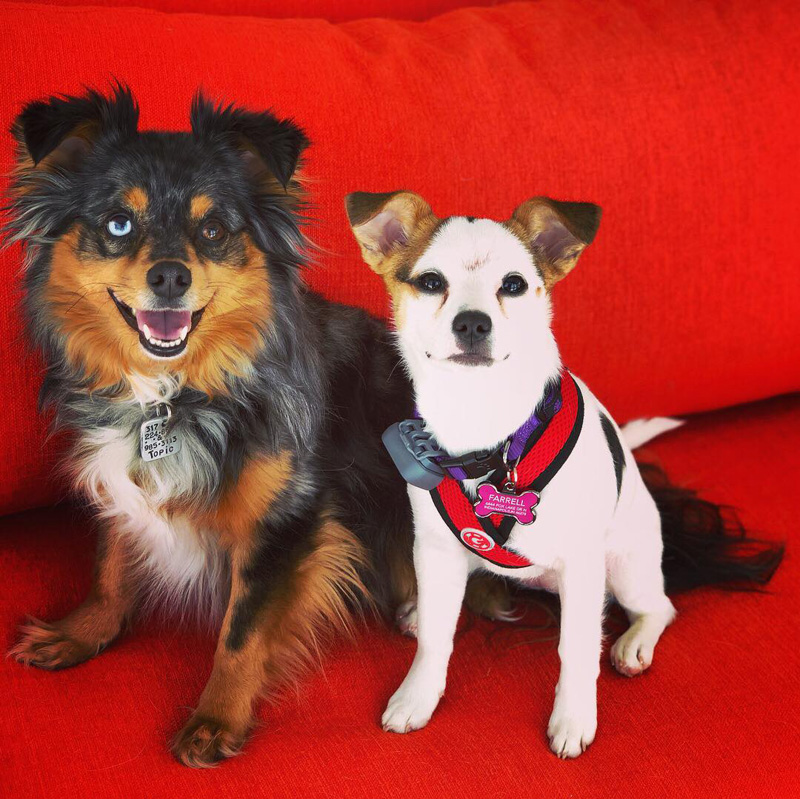 With help from her trainer Lee Ann Zobbe, Symantha hopes to try for a CCI2*-L and maybe intermediate in the future, but for now, Thorin and Aragorn are aimed for the USEA American Eventing Championships (Kentucky) where she hopes to catch everyone's eye.
"One thing I like about eventing is the level of horsemanship and the relationship building," she said. "You see different breeds of horses and people working with what they have. It's really cool. I'm really proud of the breed and proud of the publicity we can bring to them because they're really super horses that I think are underrated just because people aren't used to seeing them so much."
Do you compete an unusual breed in your discipline? Email Lindsay at lberreth@coth.com for a chance to be featured on coth.com!