In 22 years of breeding Knabstruppers, Melyni Worth has seen all manner of reactions to the niche spotted breed—all except for one.
"No one is indifferent," said Worth, 61, with a laugh. "They're either like, 'That's great! So nice to see some color!' or they're like, 'Dear God, what the heck do you think you're doing?' "
Currently showing Intermediaire I with her homebred 11-year-old mare, CCS Tinuvel, Worth also had an unambiguous reaction to the first Knabstrupper she met "a million years ago" in England—a reaction so strong she still hasn't gotten over it.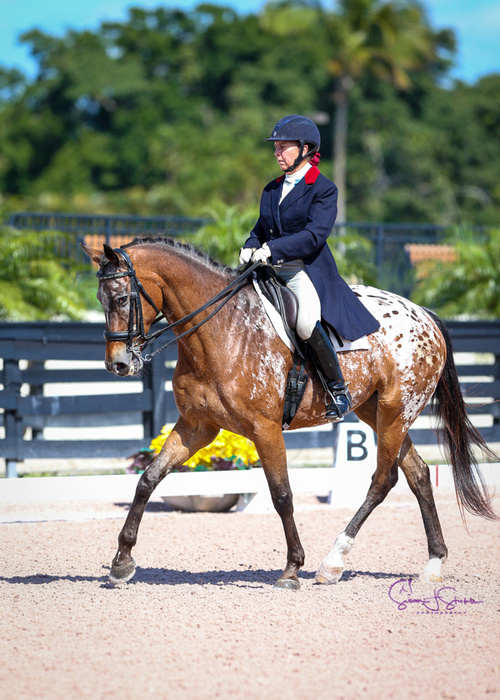 Born to an Australian mother and German father, Worth grew up in Kenya where her family fled from Nazi occupation years prior. Her father worked for Shell Oil and sent Worth to boarding school in England, where the family settled in 1972.
Upon graduating high school, Worth took a job riding for Alison Oliver, show jumper and trainer for the royal family, and by chance she got assigned to the sole Knabstrupper stallion in the yard, Klaus.
"I had no idea what he was, but she said to ride him, and I said, 'Yes, ma'am!' At 18, you pretty much ride anything with hair on it," Worth remembered. "He turned out to be the most fantastic horse, and I just loved him."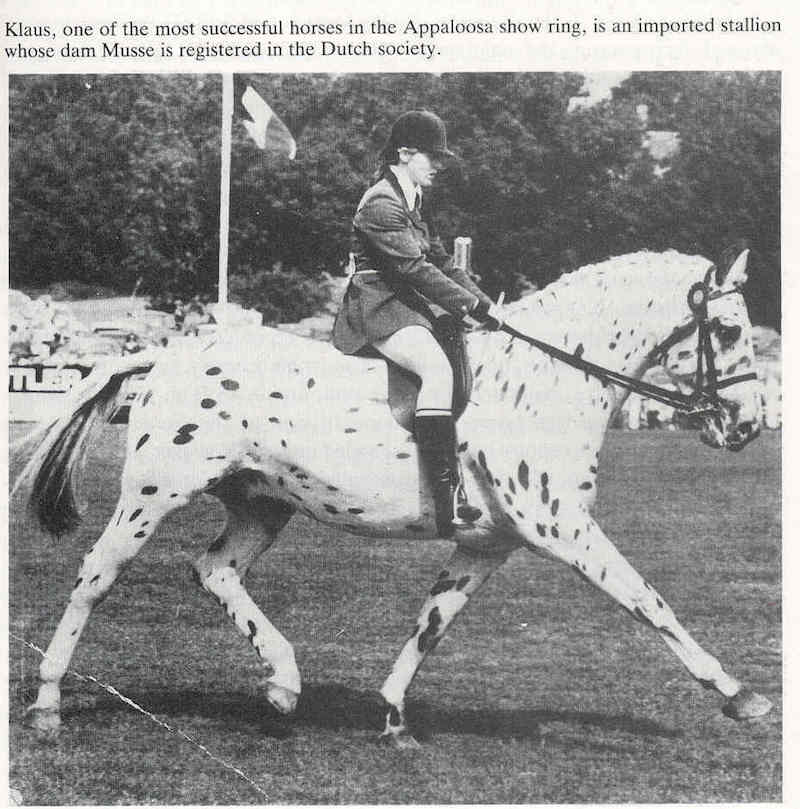 Klaus would become a major influence in her life, but Worth didn't know it at the time. She continued riding through her college years, eventually moving to the United States in 1984 for graduate school at Virginia Tech. She earned a Ph.D. in equine nutrition and became a professor, teaching first in Georgia and then in Virginia.
After several years of research, Worth noticed a gap in the market for magnesium supplements, which she believed could help high-strung performance horses like barrel racers relax more during events. She mixed up a prototype of what would become Quiessence, a magnesium and chromium supplement, in her home kitchen, and in a few years she founded her own equine nutrition company, Foxden Equine, which she currently runs in Stuarts Draft, Virginia.
"Really the whole business started in a bucket," Worth joked. "After trying at one point in my life at the onerous and difficult task of being an equine professional, and then being a professor, I moved on to entrepreneurship."
Even as her profession changed, Worth always managed to prioritize her riding, which at the time was mostly eventing. But after decades of searching she never felt like she had quite the right horse.
"I was looking for that perfect combination of all the good things that I had with Klaus, and I just couldn't find it," Worth said. "So one summer when I was in England visiting family, I met with Alison, and I asked about Klaus' bloodlines, thinking maybe I could find another horse like him. And she said, 'Oh, didn't you know? He was a Knabstrupper.' And I was like, 'A WHAT?' "
Believed to originate from spotted horses on the Iberian Penninsula, Knabstruppers represent one of the oldest registries in Europe, founded in 1812. Valued for their trainability and vibrant markings, the breed developed from a single blanketed chestnut broodmare from Spain who arrived at Maj. Villars Lunn's Knabstrupgaard estate in Denmark, where she began throwing wildly colored offspring.
The registry grew to international recognition until the early 20th century, when World War II and a tragic fire at a leading stud farm threatened the breed with extinction. The Knabstrupper survived by the introduction of three hand-selected Nez Perce Appaloosas, imported to Denmark from Canada in 1956.
Today, Knabstruppers maintain a similar appearance to the American Appaloosa, but the registry has since sought to return to its European heritage, requiring three generations of select breeding to non-Appaloosas for stallion approval.
The result is a horse that Worth described as first and foremost "a worker."
"Whatever you're doing, they're doing it with you. The worst thing you can do for a Knabstrupper is to ignore him," Worth said. "They want to have a job, and they want to get on with it."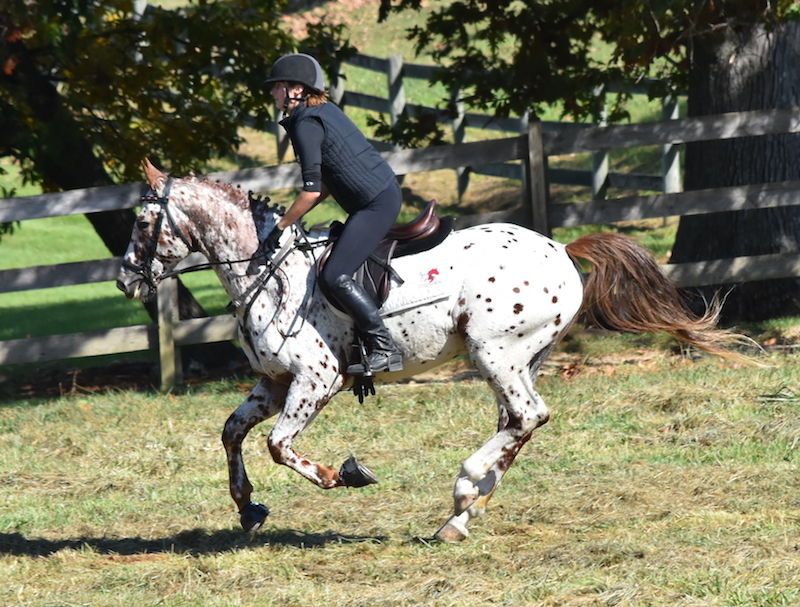 Upon learning Klaus' heritage, Worth immediately sought out Knabstrupper breeders, most of whom were in Europe. She visited a yard in Germany in 1995 and selected a few weanling fillies, then flew to Denmark to see the annual Knabstrapper stallion show.
"It's a misty morning at the National Equestrian Centre Vilhelmsborg and standing there, all you could hear were the sounds of hooves on concrete. Out of the fog comes this big, spotted stallion, and I'm like, 'It's Klaus! It's Klaus! I found him!' " Worth remembered with a laugh.
Of course, the stallion wasn't Klaus, but for Worth he represented the possibility of riding a horse like Klaus once more. She purchased one of the stallions presented that day and had him gelded prior to importation. Within a few years, she was breeding and riding some of the only spotted Knabstruppers in the United States at her own Cedar Creek Stables in Staunton, Virginia.
"There are still only about 150 Knabstruppers in the United States, with an estimated 2,000 or so worldwide," Worth said. "It's a highly specialized breed with a lot of variation. For me, I always breed for a well-rounded, athletic, sensible horse that can go do dressage, can go do eventing, can go do anything really."
Worth switched from eventing to dressage when her injuries "stopped healing quite as well as they used to." Her current mount, CCS Tinuvel, was expected to mature into an eventer based on her show jumping sire, Ravaldi, and steeplechasing dam, Imperial Spice XX (by Imperial Falcon). But jumping didn't quite take.
"She can get over a fence if she has to, but it's not pretty," Worth joked. "It's a good thing she doesn't have to make a living as an eventer, because she'd be out of a job."
A trainer who worked in Worth's barn at the time, April Shultz, started and produced "Sugar" up to third level before changing fields, leaving Worth with the ride. An amateur rider herself, Worth happily discovered that the age-old joke about Knabstruppers rang true in the young mare.
"We like to say that the best thing about Knabstruppers is they lack sensitivity, and the worst thing about Knabstruppers is they lack sensitivity," Worth said. "Like most of us, I spend most of my time on my backside in front of a computer, so it's nice that when I make a mistake, she's like, 'Hm, I think that was a mistake. I'll just wait and see if you do that again.' She's a very enthusiastic worker; she just wants to be sure you really mean it before she makes up her mind to do something. Then it's game on."
Aside from some cheeky barn habits (like opening stall doors and overturning anything she can reach in the wash rack), Sugar has proven a perfect partner for Worth. In the past five years, the pair have ascended from third level to Intermediaire I, the highest level Worth has achieved so far.
Worth said they make most of their progress during the winter months they spend in Wellington, Florida, where she trains primarily with James Koford.
"It's getting worse—I used to go down for a month, then it was two, now it's three," Worth said with a laugh. "It's my best chance to get concentrated training though, because persuading Jim Koford to show up at my barn here for training, it's difficult. Once a month, you're doing well. But you really can't make progress at this level on a once a month basis, especially now when I'm having to learn everything as I go."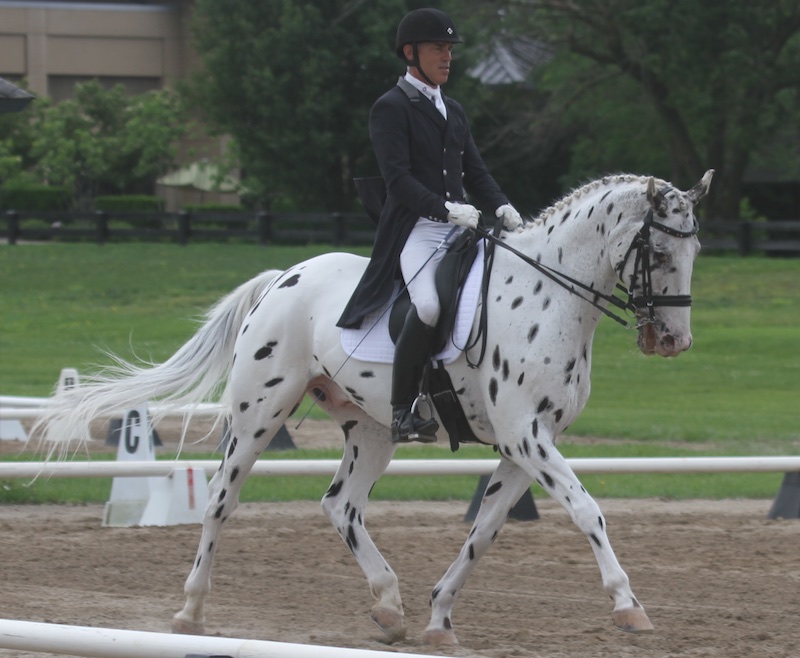 For Koford, Worth's dual role as competitor and breeder makes for a productive blend of business and pleasure.
"It means a lot more when she's riding all her homebreds," Koford said. "She's birthed them, raised them, fed them very specific things what with being a nutritionist, and really watched them grow and develop. It's fun that she gets to then enjoy the end product, which normally breeders don't get to do. Then, because of that, she's able to tailor her breeding so that she's actually producing horses that she would enjoy riding.
"With so many people breeding for these high-end, super star Grand Prix horses, breeding horses that are smart and safe and well suited to the amateur market, that's really a great gift," he added.
In addition to coaching Worth, Koford currently campaigns one of her spotted Knabstrupper geldings, 9-year-old CCS Theoden (Equador Skrodstrop—Rosie, Rosentau) at Intermediaire I. He likes the horses, but he's as impressed by Worth's commitment to them as he is by the breed.
"I don't know anyone else who would have made it her mission to bring a breed back just because they thought it had a lot to offer. Her tenacity—it's amazing," Koford said. "I had never ridden a Knabstrupper before I met Melyni, but now I find they're these sturdy, strong horses that stay sound of body and mind, you never have to longe, and you just feel safe on. And many of them turn into nice FEI horses. It's amazing what she's actually giving back to the breed and to the sport."
Foals from Worth's program have found futures outside the dressage arena as well. CCS Boromir, a 9-year-old by the same sire as Sugar and out of Oldenburg mare Lolita (by Libero Star), currently goes training level with Tori Nuckols of Dragonfly Eventing (Greenville, Virginia), while others have gone to amateur owners of all sport horse disciplines.
But whether they're on course cross-country or cantering down centerline, Worth admits there's a golden rule for finding success on a Knabstrupper that you might ignore on any other breed.
"The most important thing is never to make any stupid mistakes, because if you do, everyone is going to remember it the next time you show up," Worth said. "It's not that you're penalized more, it's just everyone can see you—you're not on some anonymous bay horse.
"Whatever happens in there, good or bad, you have to know it won't be forgotten!"