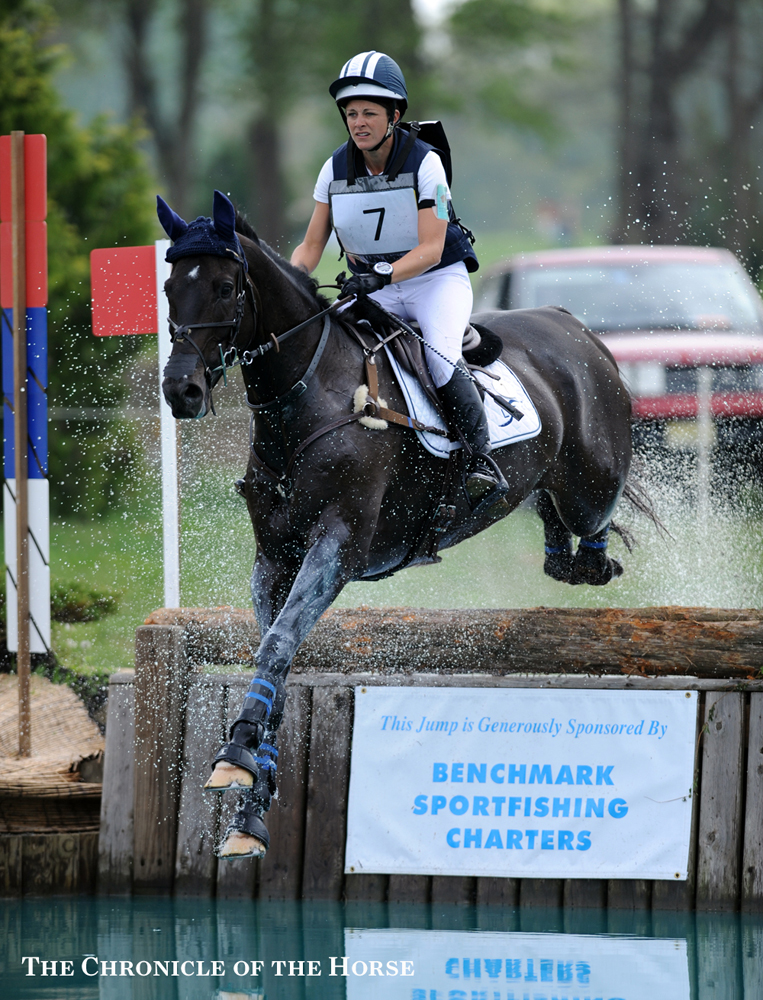 Osborne 9 jumped well at Jersey Fresh and
wasin second in the CCI**.
Photo by Lindsay Berreth
I went into the Jersey Fresh International Three-Day event feeling positive and excited. I had my lovely German horse Osborne 9 entered in his first CCI**, and it was my first competition of 2014 with my favorite off-the-track Thoroughbred Donner after taking some time with him earlier this year.
I backed off his workload when some fill showed up in a hind ankle early in the season, and decided to focus on improving his flatwork and get him stronger to ensure I had a serious possible contender for the Alltech FEI World Equestrian Games team.
Heading into Jersey he was feeling stronger and better than ever. He put in a good dressage test and jumped a beautiful clear show jump round in the CIC***, which put him in second. It was great having him back, and I was really looking forward to getting him out on cross-country, our favorite phase of the three together.
I was also lying in second in the CCI** after dressage and cross-country on Osborne 9, a lovely Westphalian gelding owned by Alton Quanbeck and myself. Unfortunately, halfway through the cross-country course—at the water jump—I had my first fall from Donner in the six years I've owned him.
What started a great run up to that point ended abruptly and unexpectedly, and for me, painfully. The good news is Donner is absolutely fine, looks fantastic and was back in full work that following Monday.
The bad news is I'm more banged up than I initially thought. While I didn't break any bones, I did manage to get thrown directly underneath him and my arm, hip and leg were stepped on when he landed from the jump and cantered off.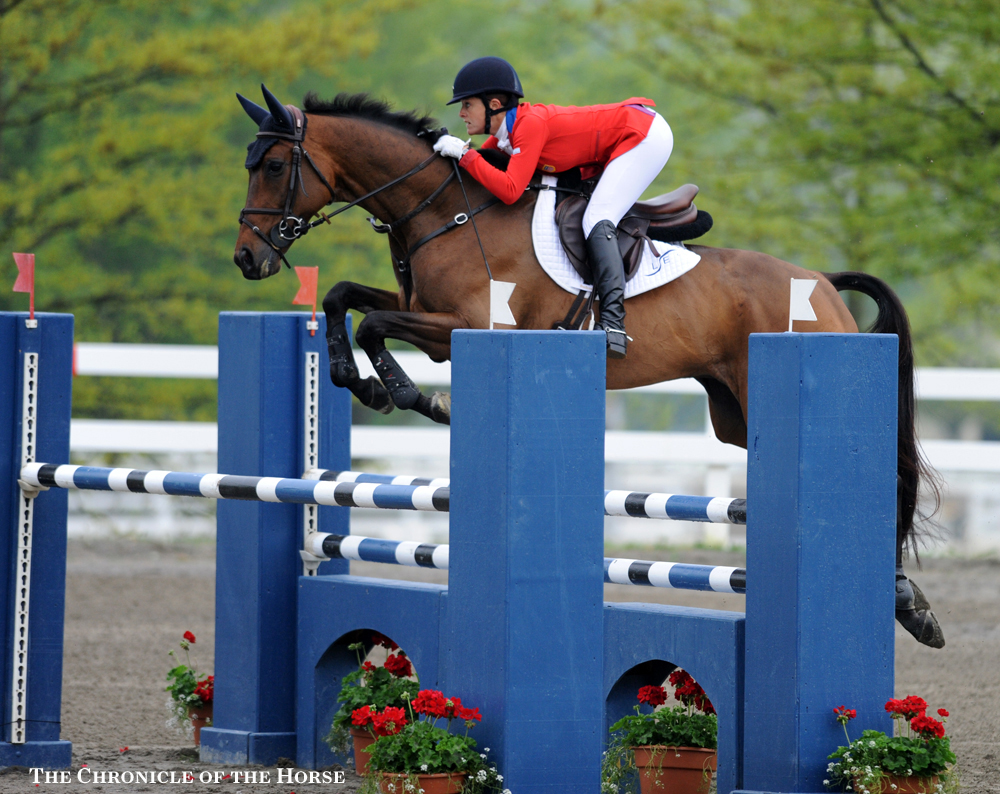 Donner was sitting in second after
the show jumping at Jersey Fresh.
Photo by Lindsay Berreth
The worst damage was to my left calf, and after several hospital and doctor visits, a ton of icing, rest, drugs, TLC, and daily physical therapy, I'm still unable to use my left calf and ankle remotely correctly or close to pain-free. I thought I got lucky when I learned I had no broken bones at the hospital that day, but unfortunately I didn't escape some nasty muscle and soft tissue damage.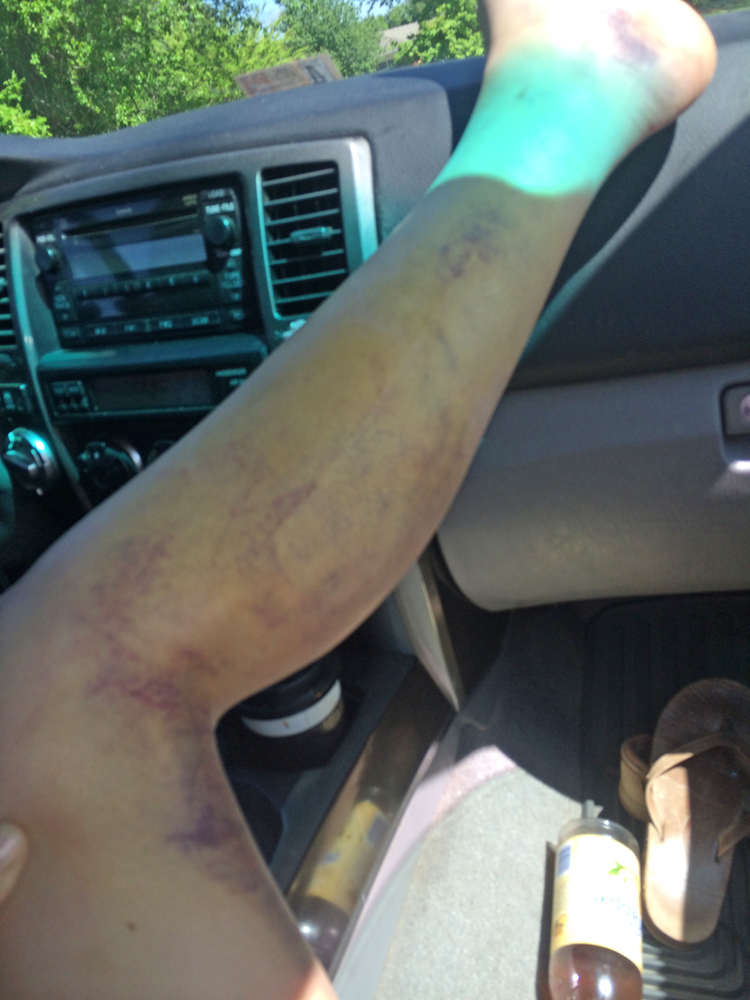 Ouch!
With the year I've been having, I suppose it was wishful thinking to expect 1,200 pounds of horse with studs in to land on me without some long-term trouble.
Honestly I'm in a pretty tough spot now, as this obviously wasn't part of my plan. To be seriously considered as a possible contender for the WEG, I feel I need to run Donner in the CIC*** at Bromont, which has always been part of my plan from the beginning. However it's only two weeks away, and while my horse is sound, going great and feeling 100 percent, I'm not even close to 50 percent.
Donner had a great year last year, and while past performance goes a long way, it's not a get-out-of-jail-free pass. We still need to get out and compete and perform at the level. And while the fall at Jersey was completely out of character and part of this bad luck that I just can't seem to shake, it still happened, no matter how many good excuses there are for why.
When The Chronicle of the Horse contacted me over a month ago wanting to do an interview about my
I can still teach!
road to the WEG, I almost said no. I hadn't yet competed Donner this year, so the WEG were far from any sort of sure thing.
I also feel like sometimes it can be a curse to put yourself out there like that, like putting the cart before the horse. But if you never put yourself out there, you're never going to get anywhere, and it's good to push yourself get out of your comfort zone. Unfortunately in this circumstance I proved my superstition correct!
So what's the silver lining? Because there's always a silver lining right? After all, everything happens for a reason!
At the moment, I'm not buying that. I think the phrase "everything happens for a reason" is just a way for people to justify when thing don't go according to plan. I do often do try and look for that reason. But sometimes life just likes to rain.
Sometimes it's a sprinkle, and sometimes it's a storm. Eventually sunshine seems to come back around. But right now, I'm wet. I mean, I fell in a water jump for goodness sake!
My first thoughts the moment I fell went something like this—"This absolutely has to be a dream. This is absurd. I don't fall off of Donner, especially cross-country, or ever….WAKE UP! No it's definitely not a dream. Is Donner OK? Look I'm walking away I'm going to be fine. No wait, I'm quite lame. Maybe I can tough it out and still show jump my two-star horse tomorrow. I HAVE to show jump tomorrow. Someone bring me Donner I need to see he's OK. WAKE UP. OK, I'm not waking up, this wasn't a bad dream." And then a frustrated profanity or two may have followed.
I truly apologize to anyone who was next to me with children as I was waiting to get in the ambulance. I was mad.
I did get to check on Donner and saw he was completely fine before I left for the hospital. I actually refused to leave in an ambulance, and shortly thereafter realized I was very incorrect and stubborn and needed to get to the hospital ASAP.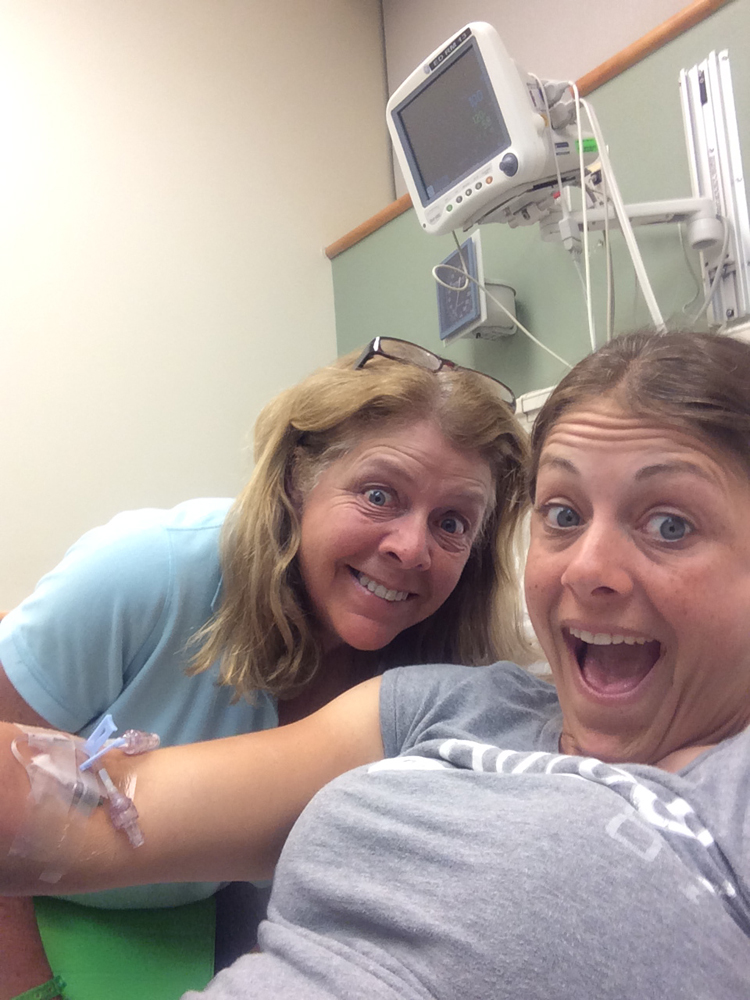 Mom cheered me up in the hospital!
In addition to my fall, another big disappointment was realizing I was not going to be able to show jump my two-star horse on Sunday. He ran around a 9 ½-minute course, looked great Sunday morning, but none of it really mattered because I had to scratch him and thus don't get the qualification.
It's one thing to have to scratch a horse at a horse trial and reroute to another a few weeks later, but after running such a long course, and being such an exciting prospect for the future, I don't think it's fair or worth it to try and get him to another CCI this spring. He will have to reroute to the Fair Hill CCI** this fall.
I truly have no idea if I will be able to ride at Bromont in two weeks, which means I truly have no idea if the WEG is in the cards anymore. I'm getting help from Dr. Mark Hart of the Event Owners Task Force, Dr. Andrew Bishop, team physio and chiro Holly Moriarty, who are trying to give me the best possible chance to ride again as soon as possible.
I actually attempted to ride Donner a few days ago, but I have extremely little use of my left leg and cannot even put it in a long dressage stirrup at this point without wanting to cry. He was a trooper as I tried to do what I could to see how much healing I have to go, and apparently I have quite a bit!
I have some more tests to see how extensive the damage is to give us a better idea if Bromont is remotely in the cards. And if it isn't, I'll start working on plan B, which will probably be Burghley in the fall.
I am so incredibly lucky to have such a great staff who have been working their tails off to pick up my slack, awesome clients who have been very understanding during my time out of the saddle, great friends who have helped me with Donner and checked in daily to provide entertainment, a great vet team who made sure my horses were taken care of even when I wasn't there, and countless other sponsors and supporters who have offered to lend a hand any way they could.
Right now, I just need some good healing thoughts to work quickly!
As a rider it's absolutely gutting when you're trying to reach a goal such as the WEG and your horse acquires an injury that takes it out of contention. But it's absolutely MADDENING when your horse is the one ready and waiting, and the rider's lameness is holding the team back.
One of the Chronicle's bloggers, eventer Lynn Symansky placed fifth at the 2013 Rolex Kentucky CCI**** and 13th at the 2013 Pau CCI**** (France) with her Donner. They were also part of the U.S. team gold medal effort at the 2011 Pan American Games. Lynn and Donner have been named to the 2014 Eventing High Performance Winter/Spring Training List as World Class Talent. Lynn runs her Lynn Symansky Equestrian out of Middleburg, Va.
You can read all about Lynn and Donner's trip to the Pau CCI**** in her previous blogs.