This winter has been trying.
I began 2014 completely motivated and excited to build upon the successful preceding year. This year I decided to be a little selfish, and for one month I left my students and clients behind so I could devote a little time to my own training. While I took a big financial hit, I headed to Ocala with just my more experienced horses. I would then meet my students, clients and the rest of the horses in Aiken mid-February.
But as we all well know, Murphy's Law of horses states that when you make concrete plans, they rarely go as you intend.
The day before I left for Florida, one of my all-time favorite horses, Waitangi Notebook (better known as "Mouse" to her fan club), had a freak pasture accident. When she slipped on wet ground in her field running from a nearby hunter's gunshot, she got tangled up in her legs and had a bad fall.
One hour before I had one of those amazing rides that just makes you smile, and the next minute she's fighting for her life against a nasty trauma involving three joints in her hind leg. I am the sole owner of Mouse, and her medical bills far exceeded my insurance coverage. It wasn't looking very promising for her even after surgery, and I had to leave her behind at the hospital knowing there was a good chance I'd never see her again.
One Thing After Another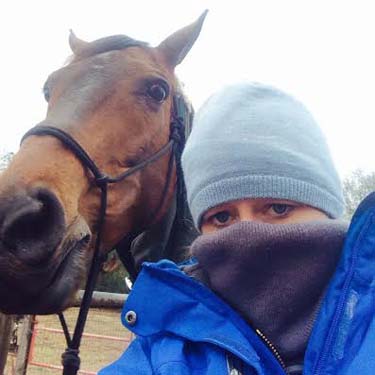 It was cold even in Aiken!
Over the next few weeks, it seemed to just keep raining on me, and my wallet was feeling the floodgates opening up. My top horse and Alltech FEI World Equestrian Games hopeful Donner got temporarily sidelined due to a minor setback, my shadow and loyal German Shepherd Ike was hospitalized with a bad case of pneumonia, I had to put down my first horse, who was the equivalent of a dear family member, and I was in the middle of a very drawn out tax audit. So much for the Year of the Horse!
But life has a way of putting everything in perspective. Mouse continued to beat all the odds, and while she will likely never be a competition horse again, I consider myself lucky she's still here after Allison Springer, Buck Davidson, Kristi Nunnink and Jessie Phoenix sadly all lost lovely horses in this same time frame to different tragic events.
Donner's mini hacking and flatting vacation gave me some additional time to be able to focus on my two preliminary horses, who are now moving up to their first two-star and intermediate this week, and to focus on continuing to improve Donner's dressage and overall strength.
I decided to bypass the Rolex Kentucky CCI**** with Donner this spring. Since he ran double clear at both of his four-stars (Rolex Kentucky and Pau [France]) last year and is already qualified for the WEG, I decided there was no sense in pushing him to get to Rolex this year. Last year he jumped double clear in both cross-country and show jumping, so what he needs most is to get back in the atmosphere and improve upon his dressage. He is 11 this year, and I'd like him to be around to compete for awhile longer, so sometimes that means deciding to come up with a competition schedule that makes the most sense for the horse rather than what would be the most fun and educational for myself.
Donner is gearing up to do the dressage test ride at Kentucky, and the CIC***s at Jersey Fresh (N.J.) and Bromont (Quebec) this spring, and his body looks great.
A few times this year when I've been riding Donner, someone has asked, "What horse is that you're on?" It makes me smile when they don't recognize my formerly scrawny OTTB who now has a real topline and is filling out to look like a different horse.
Ice Cream Life Theory
I came home the other evening exhausted and starving (actually that's pretty much any evening). My options were limited since I had just arrived back in Virginia and haven't been grocery shopping since January, so I went with the Dove ice cream bar.
I was judging myself for eating ice cream while there was still snow on the ground until I came across the inscribed message on the popsicle stick: "Take a moment. Enjoy what you have." It was one of those moments that strikes a chord close to home.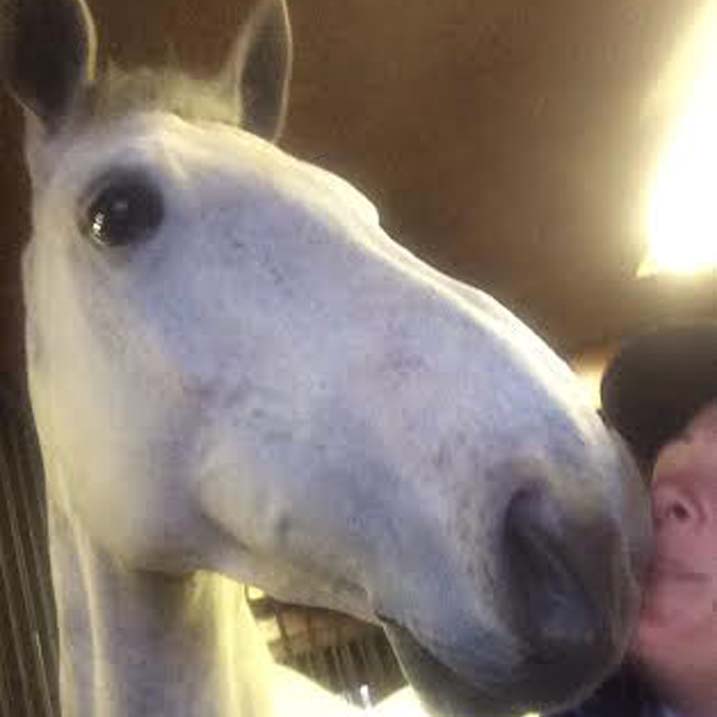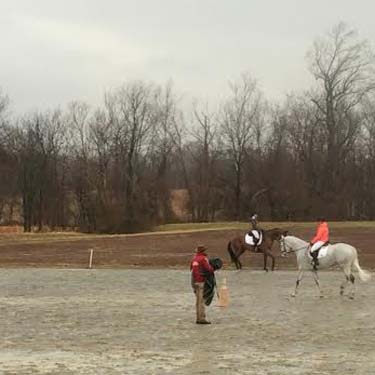 Returning to Virginia
brought a happy reunion
with Mouse (top) and
some coaching in pretty
awful weather!
I may have had a tough few months financially, emotionally and career-wise, but I have so many great things in my life to balance out when life throws some curve balls. I have a job I wouldn't trade for anything. I have an amazing team of vets, farriers, physios, coaches, staff, clients, sponsors and supporters. I have a loyal boyfriend who does his best to accept my obsession and puts up with barely seeing me except for a few exhausted hours at the end of the day. I have a wonderful family with two amazingly supportive cheerleading parents.
In all, I have an amazing team, and for that I am eternally thankful.
I spent this weekend at Morven Park Horse Trials doing a little competing and coaching in some terrible weather. It was pretty miserable, especially Sunday. As I stood outside in the rain, hail, snow and 40 mph winds watching my students (who I believe are some combination of tough, dedicated and foolish), as much as I wanted to go spend the rest of the day in a hot tub, even if I had one, I would never consider it.
I wanted to support those people on my team who show up to support me. Plus, I got to see what other crazies ventured out and were just as miserable as us.
Our best and most valuable horses get hurt, our beloved animals die, unplanned exorbitant bills can be a knife to the gut, and miserable weather combined with an outdoor career or hobby makes you second-guess your sanity.
I've found that in the end, it's best to try to figure out a way to enjoy the entire process. I'm always working toward an end goal in my riding and career, but if I get too caught up in that goal going according to plan, both the big and small things that go wrong suddenly become overwhelming.
Life can trick you when it just happens according to plan. It lulls you into a false sense of security and success, and you'd better enjoy when everything seems to fall into place, because Murphy's Law is going to sneak up on you sooner or later. While I had a good 2013, Murphy certainly seems to be after me this year. That's why I'm just enjoying my ice cream for the time being, and taking every moment to enjoy what I have.
One of the Chronicle's bloggers, eventer Lynn Symansky placed fifth at the 2013 Rolex Kentucky CCI**** and 13th at the 2013 Pau CCI**** (France) with her Donner. They were also part of the U.S. team gold medal effort at the 2011 Pan American Games. Lynn and Donner have been named to the 2014 Eventing High Performance Winter/Spring Training List as World Class Talent. Lynn runs her Lynn Symansky Equestrian out of Middleburg, Va.
You can read all about Lynn and Donner's trip to the Pau CCI**** in her previous blogs.