Kalispell, Mont.—July 22
A year ago, Tamie Smith wasn't sure Fleeceworks Royal would have an eventing career after a scratched eye resulted in an emergency corneal transplant just after her first CCI** at Jersey Fresh (N.J.).
But she recovered remarkably, and is now tackling her first season at the advanced level.
Smith led the dressage yesterday in the CIC*** at Rebecca Farm with Judith McSwain's 8-year-old Holsteiner mare (Riverman—Marisol), and she held onto it today after jumping clear with 10.4 time penalties over Ian Stark's cross-country course. She also maintained her lead in the CCI** with Sunsprite Warmbloods' Sunsprite Syrius.
"It's pretty impressive," said Smith. "That was kind of a career-ending injury. It was the scariest thing ever. I was just getting on her today, and I went, 'Wow, this could have gone a completely different way.' I'm just grateful it didn't. She's a really special horse. I'm lucky to have her."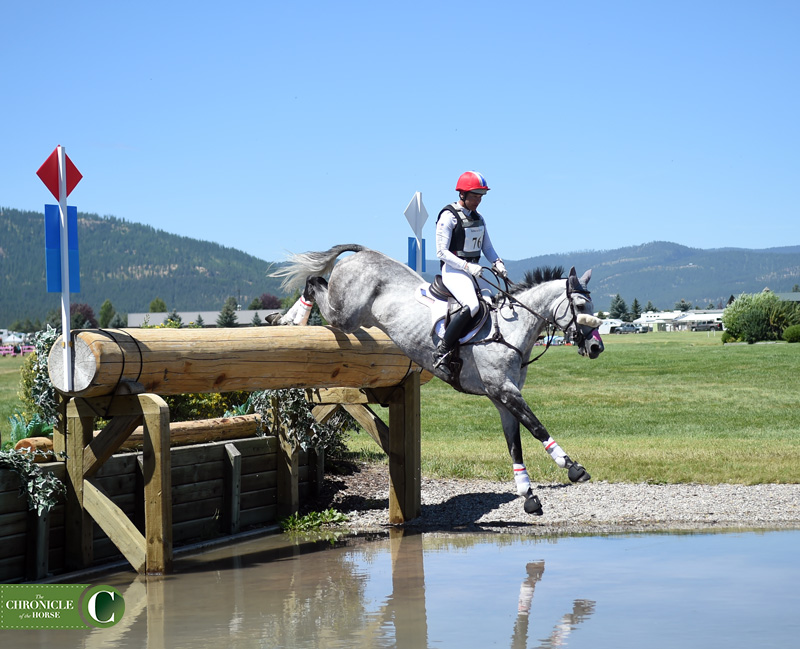 No one made the time over Stark's course. Lauren Billys and Castle Larchfield Purdy picked up a refusal at fence 6, the rolltop feeder, and Maya Simmons and Archie Rocks got a technical refusal there for jumping an option incorrectly. Allison Sparks and Mystic Mojo had a refusal at fence 11, the hanging brush, and Ashlyn Dorsey fell from RF Kinetic at fence 15, the Honey Bear Table, but was up and walking quickly.
For "Rory's" fourth advanced, Smith was impressed with how she handled it. "I was thrilled with her," said Smith. "The Normandy Bank I thought was really difficult. It was a big ditch bank bounce over a significant log, sharp bending line to a left point corner in three strides, and I thought that was harder than the CCI***. She was wonderful. I couldn't believe it. I went, 'Wow, you just turned and read the corner, and that was really amazing.'"
When Rory was 5, she fell in a water jump when she over jumped because of a shadow, and since then she's been a bit careful dropping into water.
"She's always been a little suspect at water since then, so having that hanging log into water [fence 10a] was definitely, 'I wonder what she's going to do here,' but she jumped it great. She was super bold and rideable and really wonderful," she said.
Smith is looking for the win tomorrow after a tough spring season where she lost her advanced horse Dempsey from complications after an injury incurred at the Pedigree Bromont CCI*** (Quebec).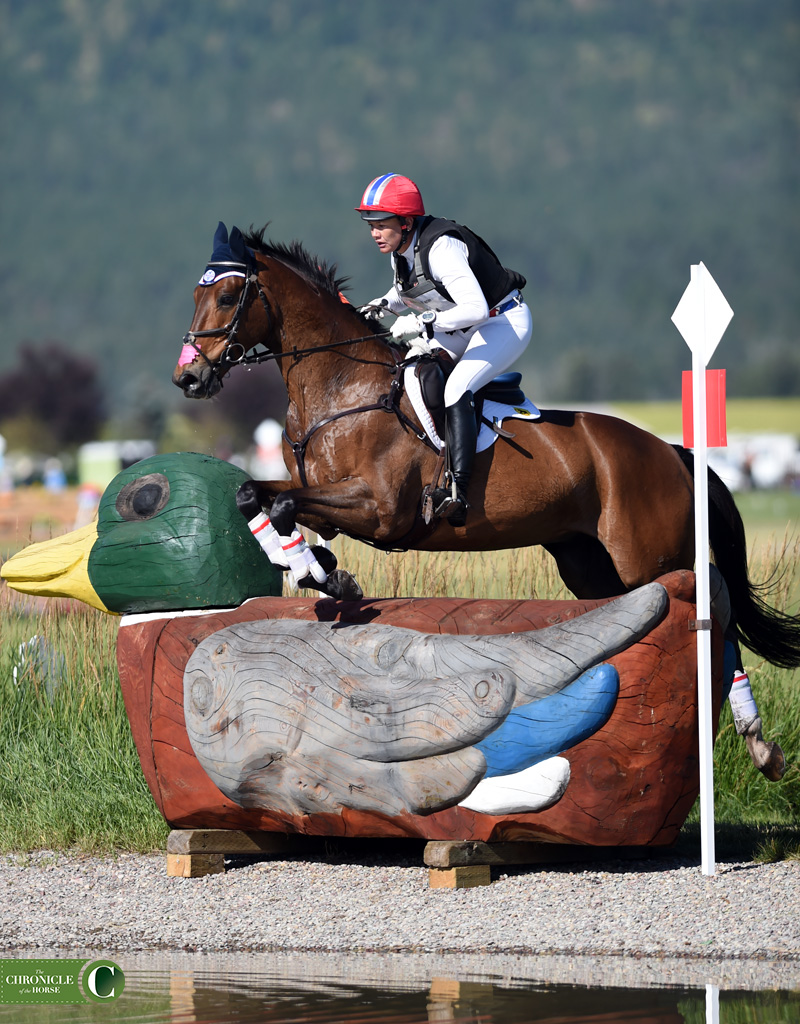 "If she's rideable then she's more than capable of show jumping clean," she said. "I'll have to have a little discussion with her in the stall before we come out and give her a little talking to and tell her to be careful. I think she understands what I say to her!"
Smith was quick to thank McSwain for her support.
"Judy is such a huge supporter of me and has always been. I'm so grateful," she said. "We've brought along a couple of young horses together, and this is the first horse that's gone to the three-star level. I'm really happy for her."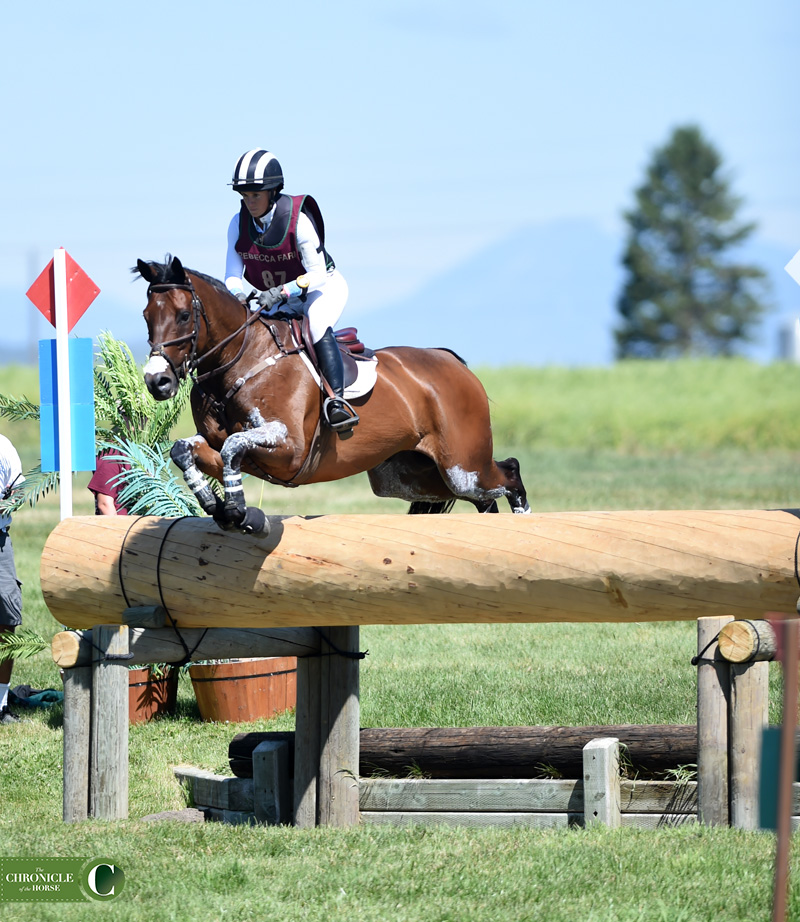 After a hoof bruise thwarted Erin Sylvester's spring CCI*** plans for Paddy The Caddy, she decided to apply for a grant to Rebecca Farm.
When she got it, she was excited, but a bit nervous since she'd never been before.
But Stark's course was no problem for Sylvester or "Paddy," a 10-year-old Irish Thoroughbred (Azamore—Slamy) owned by Frank McEntee. The pair moved into the lead in the CCI*** with 3.2 time penalties.
"I'm very glad I made the trip. The venue is even better than everybody described it," she said.
The course was confidence-building for "Paddy," according to Sylvester. "His ideal footing would be Fair Hill mud, so it wasn't quite that, but he still ran really well," she said. "They did an incredible job watering throughout the week. I was a little bit apprehensive coming out here because they have had a drought, and I hadn't been here before. The soil here is amazing.
"The course was very fair and confidence-building," she continued. "I think there were some tough questions, and then there were some let-up fences after them so he could really get into a gear. He came in feeling so confident. He's got all the heart in the world, and he gave me such a good feel today."
For full scores, click here.
Follow along with COTH this weekend at coth.com as we bring you all the news you need to know and tons of gorgeous photos from Rebecca Farm and the NAJYRC! We'll have a full report in the August 7 print edition of the Chronicle.
2017 Rebecca Farm Cross-Country
Lindsay Berreth / Jul 23, 2017 8:45 am