Devon, Pa.—May 30
It's been a long and very bumpy road for both Phoenix Cooke and Skys Burnin Blue on the way to their big wins at Devon—one filled with tragedy, second chances, and hope.
When Stefanie Portman and Cooke started working with Skys Burnin Blue a few years ago, they never imagined the game gray mare would take them to some of the biggest shows in the country—and to the awards ceremony at the Devon Horse Show.
But Cooke, 23, and Skys Burnin Blue—an Appendix Quarter Horse (Sky Blue Walker—Powderburn)—sped to the top of the NAL Adult Jumper Classic at Devon and claimed the division championship. "She's way more than we ever thought she'd be," said Portman, who trains Cooke.
"This is a big one for us!" Cooke said. "We've been working really hard all year and we've had some plateau moments. We've been doing a lot of training at home to get me confident in my turns. I just tried to keep a positive attitude."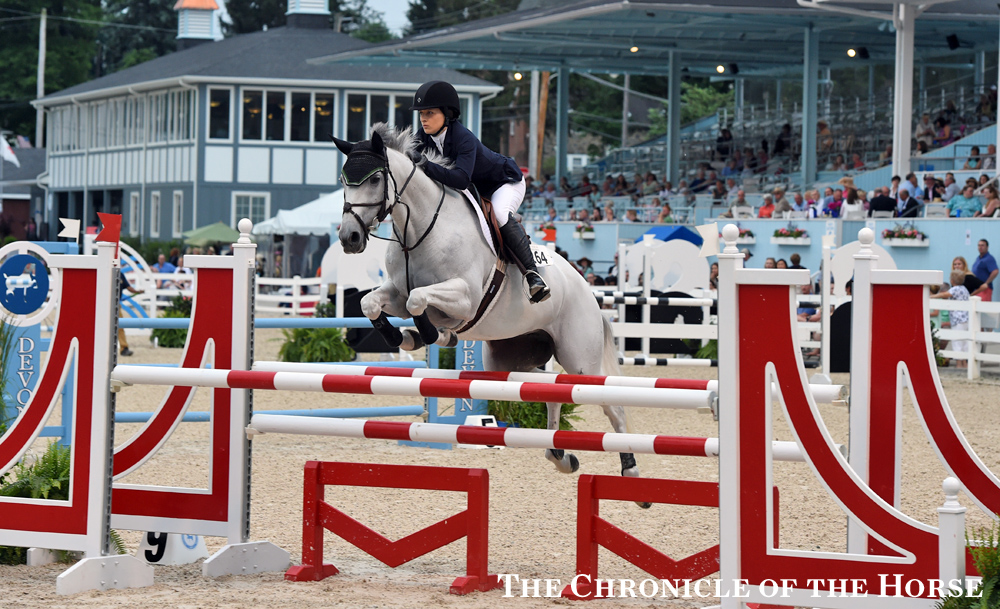 Phoenix Cooke and Skys Burnin Blue turned in the only clear jump-off round of the NAL Adult Jumper Classic to top the class and earn the division championship at Devon. Photo by Molly Sorge
Cooke and Skys Burnin Blue, 10, first burst onto the scene in 2013, debuting at the fall indoor shows in the adult amateur classes. Then, the Chronicle first spotlighted Cooke's story, detailing how Skys Burnin Blue and Portman helped her persevere despite the loss of her mother in 2009 and then the sudden death of her first horse in 2012.
Skys Burnin Blue had a hard-luck story of her own. She came to Portman's Chagrin Falls, Ohio, farm in 2010 as a rescue case. "It took three months before we put a saddle on her, she was so skinny," Portman recalled. "She was dropped off with a halter and a leadrope on her and we still couldn't catch her in her stall."
After Skys Burnin Blue gained weight and got healthy, Portman set about retraining her—essentially re-breaking her and starting over. "We started her off as a hunter, to learn the basics of straight lines and not spooking," Portman said. Skys Burnin Blue spent a year showing a few times in the 2'6" hunter division with Portman.
But by May 2012, Portman knew where the mare's heart was. "She just was too sparky to keep doing that, so we switched her to the jumpers," she said. And she chose Cooke to pilot the mare in the jumpers, after the then-teenager's only horse had died suddenly while in the pasture. "We didn't have much [budget] to work with, so we thought we'd find her a project," Portman said. "I said, 'Why don't you try riding her and see how it goes?'"
"I was scared to death!" Cooke admitted. She'd only ever show in the hunters, and wasn't used to the speed and turns of the jumpers or to Sky Burnin Blue's nimble nature.
"It took her a while to feel comfortable on a quick horse because she had a 16.3 warmblood who was really slow. So to get one something that was little and quick was like going from a pickup truck to a Maserati," Portman said.
But Cooke wasn't afraid of a new challenge. "I've always liked projects and to work hard for things in life," she said. She started the mare in the 2'6" classes in May 2012 and by January 2013, they debuted in the 3'6" adult jumper division.
"We had some goals, and we thought it would be great if she were a three-foot horse. And then we moved up to 3'6". She's just been so much more; she never lets you down. She loves her job," Portman said. The mare and Cooke show in Ohio all winter.
And in 2015, Cooke and Skys Burnin Blue made their Devon debut, placing second in the NAL Adult Jumper Classic. This year, they improved on that with the only double-clear performance in the class to win. Impressively, their time was also the fastest of the seven-horse jump-off. It was an encouraging moment for Cooke, who had lost some confidence this spring.
"We were just grabbing some rails and I was losing some confidence in the turns, so we just took a step back," she said. "Steph was like, 'Let's just start with slow turns and low jumps. Then we built the jumps back up higher again. I started getting back into the groove again and I peaked at the right moment.
"I couldn't have done any of it without my trainer Stephanie," Cooke continued. "She's there every step of the way. She's hard on me, but it pays off and at the end of the day, she always makes sure sportsmanship is the first priority."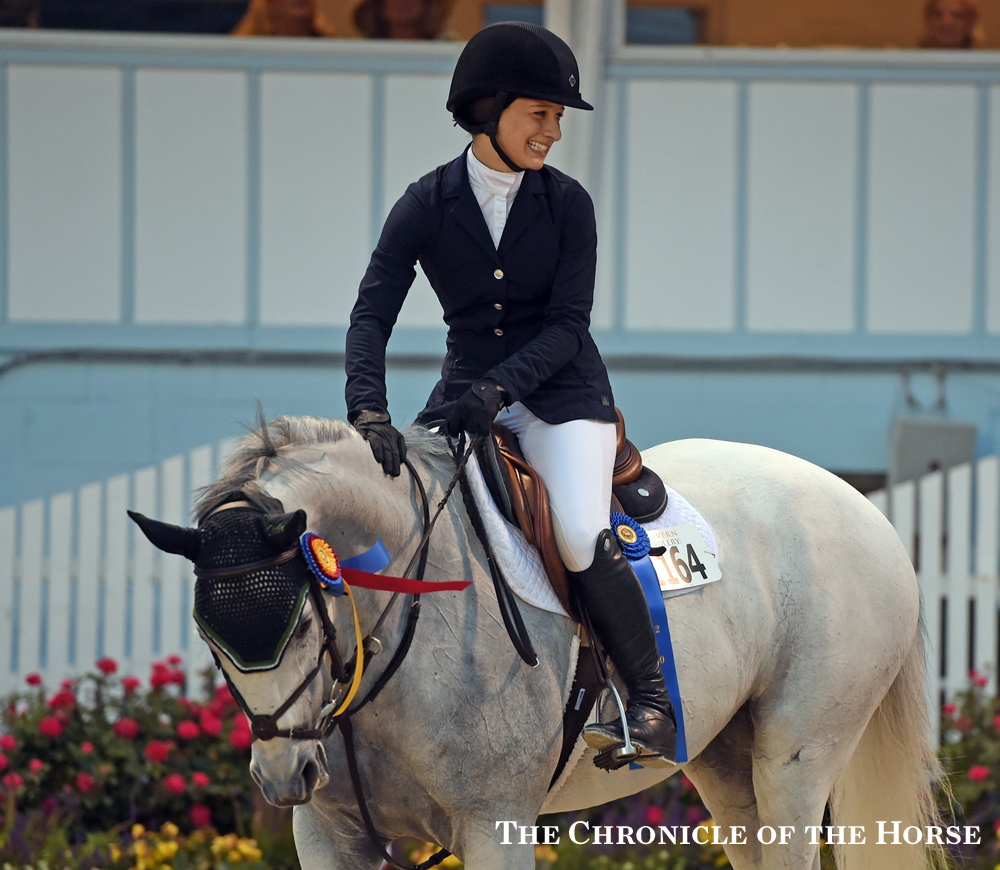 Phoenix Cooke just couldn't stop smiling after her Devon wins on Skys Burnin Blue. Photo by Molly Sorge
Cooke, of Chardon, Ohio, had to juggle making that progress with working at J.P. Morgan as an analyst. She started last year after graduating from Allegheny College (Pa.) with an economics major. "I ride four or five days a week. I'm not going to lie—it's tough," she said. "I just started a new position, so I'm on a learning curve and I'm working hard. Then I go to the barn and luckily Stephanie is willing to wait for me—we don't get done until about 7:30 at night. It pays off, though."
Stay tuned to www.coth.com all week for coverage of the open and amateur hunters, the Sapphire Grand Prix of Devon, and so much more. Check out all the Chronicle'sonline coverage of Devon Junior Weekend. Find full results from all of Devon at Ryegate and check out full analysis of the whole show in the June 20 issue of the magazine.