This afternoon, there will be a competitor back in the barns scrubbing her horse's gray coat to a sparkle. She'll groom the mare herself, change into her only pair of white breeches, and tack up.
And when she trots into the Verizon Center ring for the Washington International Horse Show Adult Jumper Classic aboard her appendix Quarter Horse, the necklace she wears will remind her of one person not in the audience.
Phoenix Cooke, 20, lost her mother, Debbie, to a car accident in 2009, but she's continued the passion for horses and showing that her mother nurtured in her. "She's definitely there in the ring with me," Phoenix said. Debbie taught Phoenix to ride and was a certified therapeutic riding instructor.
Just before her mother was killed, Phoenix, of Chardon, Ohio, had gotten her first horse, a talented young warmblood mare. Ruvenschon was Phoenix's rock as she grieved her loss. "There were two different roads I could have picked. I could have gone down the really bad road of giving up or I could keep my head up and carry on," Phoenix said.
"I thought 'What does it accomplish if I go down the bad road?' and there wasn't anything. The barn is a place where I can mentally get away. I walk into that ring and it's me, the horse and the jumps. That's it. It's a zone and a passion," she continued.
Phoenix and Ruvenschon competed in the children's hunters until 2011, when the mare sadly died unexpectedly. It was another blow for the then-teenager, and trainer Stefanie Portman was a source of comfort and friendship.
"Phoenix has had a hard go of it and she's been so stoic through the whole thing," Portman said. "We all are amazed at how well she's come through everything. It was so much for a teenager to go through and she's come out the other side so well. She stayed with the horses and I think that's helped her. It is part of her mom still; her mom loved the horses."
Truly A Blessing
In the spring of 2012, Portman put Phoenix together with Skys Burnin Blue, a green appendix Quarter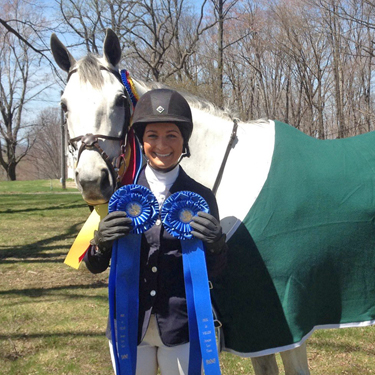 Phoenix Cooke didn't expect to be competitive
in just their first year at 3'6″, but they did
quite well.
Photo courtesy of Phoenix Cooke
Horse mare she'd bought. Skys Burnin Blue—by the famous Western Pleasure stallion Sky Blue Walker and out of a Thoroughbred mare, Powderburn—was bred for the Hunter Under Saddle division of American Quarter Horse Association shows. Portman originally thought she'd make a roping prospect for her boyfriend, Dave Zebrovious. She and Zebrovious train in their respective sports out of Circle Z Bar Ranch in Fredonia, Pa. "He got her going, but whenever I saw her trot, I said she needed to come to my ring," Portman said. Portman showed "Gracie," then 5, in the low and very green hunter divisions in 2011.
Phoenix and Skys Burnin Blue started out in the low adult jumpers in May 2012 and moved up to the 3'6" in January, when Phoenix's father was convinced to buy Gracie for her. This year, they won three NAL/WIHS classics at shows like Chagrin Valley (Ohio) and Country Heir II (Ky.). "Stefanie made sure to tell me 'This is a green horse, it's going to take a while to get going.' And because the [NAL/WIHS-qualifying] season starts in September, we were a couple of months behind. So, we figured I'd just get my feet wet at 3'6" and maybe qualify for the finals next year. But then I started winning," Phoenix said.
"She was always a very pretty rider, but she'd always just sat pretty on a hunter," Portman said of Phoenix. "She had to learn how to be more effective. Sometimes you have to think outside the box to get it done and she's improved at that. Every now and then the cow horse comes out in Gracie—she can drop and spin faster than you can blink. But Phoenix has been very patient with her. And the mare has been very forgiving in learning along with her. They've just clicked personality-wise."
After all the sadness in Phoenix's life, she's enormously appreciative of the opportunities she's been given. "It's pretty amazing that I'm privileged enough to have a horse," she said. "I don't have a $100,000 horse, but she's a lovely horse. There are a lot of people out there who don't even have a home, and I have a horse. To be privileged enough to have a horse and be able to do this sport is truly a blessing."
Phoenix divides her time riding with her junior year at Allegheny College (Pa.), where she's majoring in economics. She's done an internship in Washington, D.C., and has been offered a job with that company post-graduation.
Unlike most show horses, Gracie spends the majority of her time turned out, getting good and muddy. Cooke cares for her herself; there's no groom on Portman's payroll for her.
Like A Mountain
In September, Phoenix and Gracie traveled to Saugerties, N.Y., for the USHJA Northeast Regional Children's Adult Jumper Championships, where they were fifth overall individually. "By the end of the week, the jumps were like 3'9" and maybe 4'. When you're on a 15.3-hand mare, that looks like a mountain," Phoenix said. "But she's so game and focused. She goes in and does her job and you don't feel like you're jumping that high because she just does it."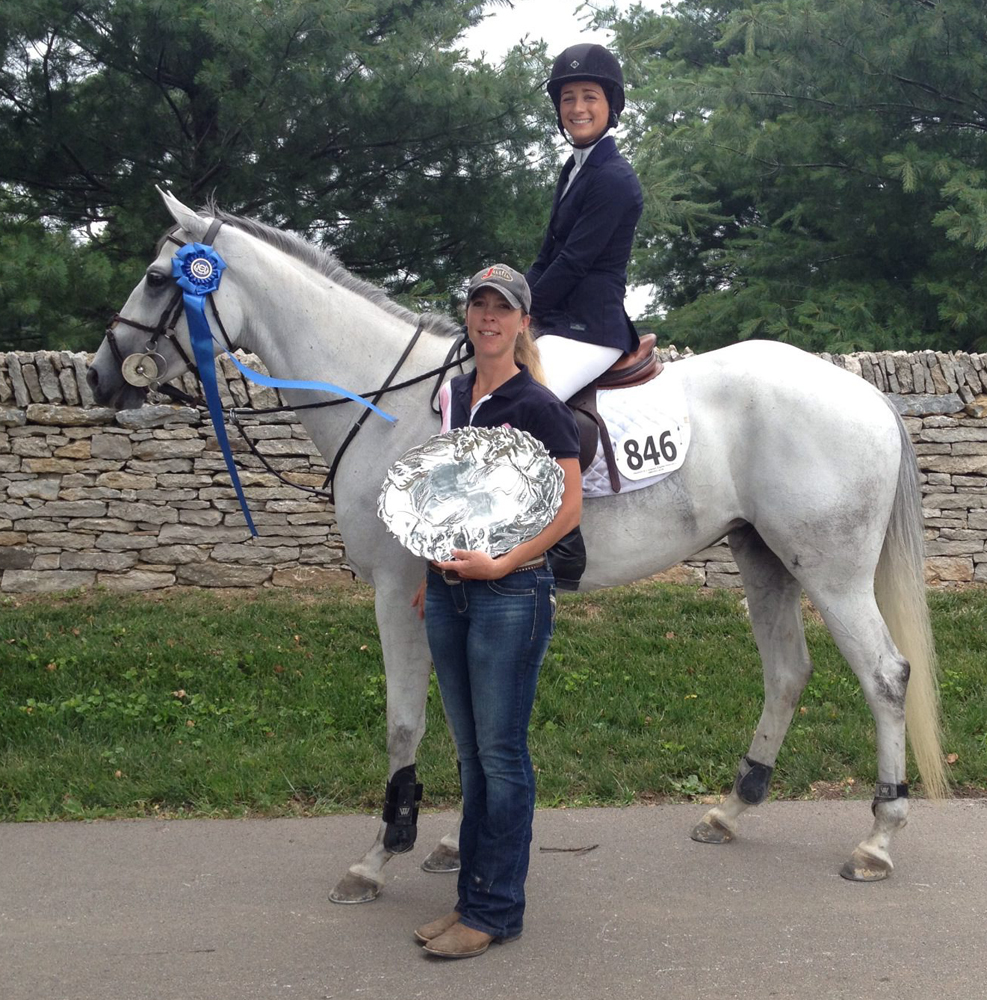 Phoenix Cooke and trainer Stefanie Portman have
formed a supportive friendship in the face of
tragedies.
Photo courtesy of Phoenix Cooke
So, on Oct. 19, Phoenix and Gracie found themselves at their very first indoor show, the Pennsylvania National, for the NAL Finals. "It was a completely new kind of venue for us, nothing that my horse or I had ever seen before," Phoenix said. "We walked up to the gate before we went in the ring and she peered in over the door and saw the crowds and the lights and the announcer echoing. But she walked right in and jumped around. I was very pleased, for her being just 7."
Phoenix and Gracie finished out of contention with three rails down. "She just made green mistakes. And it was a tough course," she said. "It was definitely intimidating, but we all have our on and off days. I know the potential we have, and it's frustrating when you don't put it together on the day. I have to remember that I'm going to make mistakes; I'm not a professional. And she's going to make mistakes."
Phoenix hopes to improve on that performance at the WIHS Finals. "They walk in the ring and they're all business, both of them," Portman said. "We haven't done anything where I've watched them and thought 'Oh my God, that's scary.' [Showing at the USHJA Regionals] was a really good introduction to the bigger and wider fences. The mare had never seen courses like that but she never gave up and she gave a great effort there. After that, I felt pretty confident taking them to indoors because I think they have a good partnership. They're on the same page and everything's going forward, even in the mistakes."
Through all the preparation for her first indoor shows, Phoenix has been supporting Portman as she suffered three tragic losses in September—her father, Fredde, a horse, Pilot, and her dog. "I helped her through that and she helped me. We just lean on each other," Phoenix said. "It's nice to have that connection."
** Phoenix Cooke and Skys Burnin Blue had two rails in the first round of the WIHS Adult Amateur Jumper Championship to finish out of the ribbons. **
Check back at The Chronicle of the Horse all week for full Washington International Horse Show coverage. In-depth stories will appear in the Nov. 11 issue of the Chronicle.