Just a few weeks ago I found myself standing at the in-gate in my brand-new, never-been-worn, impossibly white pants, trying not to get slobbered on by a pony.
As I evaded his prehensile lips, it washed over me again that minutes earlier I'd just ridden in my first mini-prix. (Woohoo!) I had hopped off Fiona and then hustled over to the short-stirrup ring to coach Boots (our cookie-crazed, mouthy pony) and his child.
I'm at a stage in my career where I find myself at opposite ends of the spectrum at shows. I have a fantastic group of clients and the majority of them are under the age of 13. To translate, that means we've got a small army of ponies. Most of my kids are new to the rated horse show scene and are just learning about the great big world outside of the local circuit.
It's such an exciting time in their riding and I am so thrilled to be their trainer. Every time the kids discover something new with their ponies it reminds me of my own childhood. Those first overnight "away" shows are still stamped in my brain as a magical blend of competition and equine slumber party.
Just as the kids are charting new territory in their riding, so am I. Fiona and I competed in our first mini-prix at Loudoun Benefit this June. Even though the track was smaller than the 1.35 meters we'd shown in the week before at Upperville, the added pressure of riding in "the class" of the horse show, pulling on my alarmingly white pants for the first time and riding in front of a crowd that size really ratcheted up my nerves.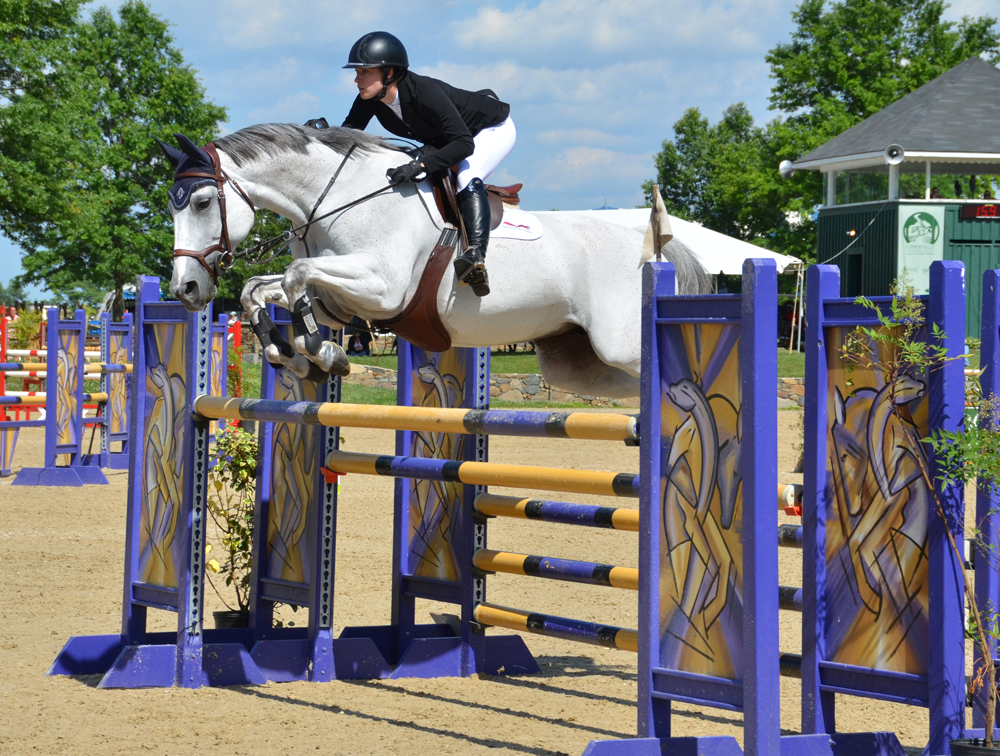 Fiona and I conquering new challenges. Photo by Robert Cade
But we did OK. One unlucky rail. Not my best round but not a disaster. Fiona was her usual wonderful self and showed me that even when I'm nervous, she's not.
It's a good thing for me to get nervous once in a while. It's easy to forget when I'm coaching what it felt like to walk into the short-stirrup or the children's pony hunters for the first time. But in retrospect, it probably felt a lot like walking in for my first mini-prix.
So as I stand ringside and crane my neck to see if my little grasshopper picked up the correct lead in her courtesy circle, I know what she's going through because I'm going through it too. We all do. I've said it before and I'll say it again, the mental side of the sport is the most difficult piece to master. No matter whether it's the pre-adult hunters or the Olympics, we all wrestle with our own minds far more than we wrestle with our horses.
I've been to a lot of horse shows in the last few months and listened to a lot of trainers at the in-gate. And yes, I want my riders to ride to the best of their ability when they walk in the ring. But my riders are green and to them, these horse shows must feel a lot like the Olympics. I noticed that in their quest to be perfect, they were making a lot of mistakes. Mistakes that didn't happen at home. So I got to thinking, what could I do to take the pressure off and help my riders focus?
It's all practice. Everything we do with our horses every day is either good or bad practice and either trains them or un-trains them.
So I started changing the horse show dialogue. Instead of "Don't cut your corners!" or any litany of last-minute coaching, I started telling the girls, "This is all practice. Show me what you've learned."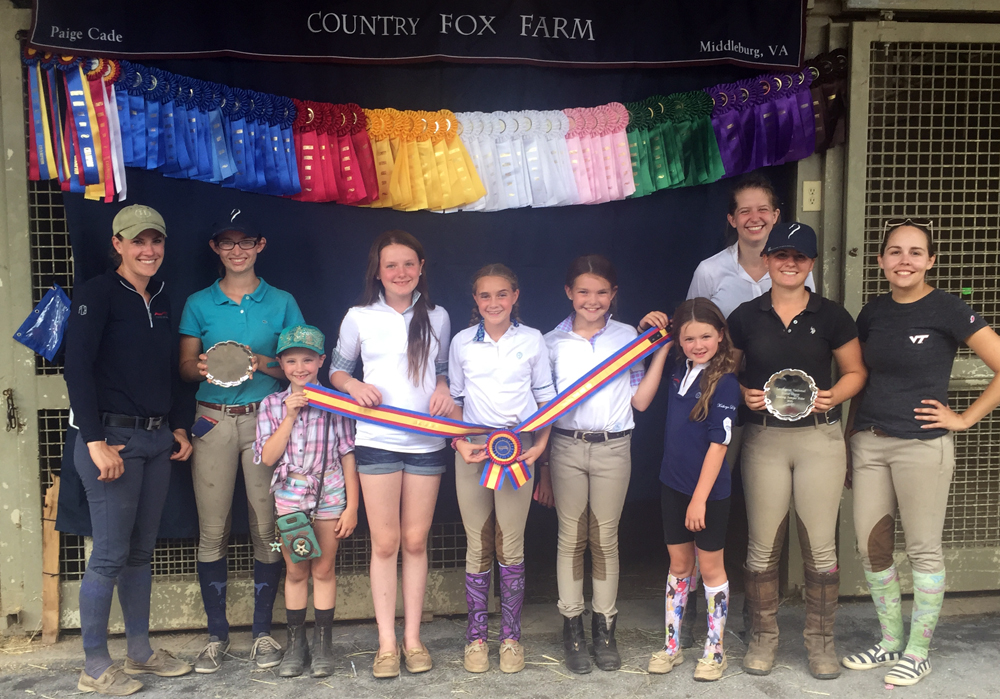 My crew!
I explained to them that what I care about isn't putting in a perfect round today, but riding in a way that continues the training we're doing at home. From my riders I want to see deliberate, focused riding that clearly communicates to their horses what is expected of them. I don't care if you miss to Fence 1; I care if you mentally check out and blank screen for the remainder of the round.
We're extraordinarily fortunate to have a barn full of delightful creatures that are able to step up and turn on the auto-pilot for their ammy or child riders. But I don't want that to be the expectation. The goal of my program is not to create well-dressed passengers but to create effective, feeling riders who will be able to safely ride a range of horses. And I think it's important to set that precedent early.
My littlest student is 6. But she's tough, capable, and excited about riding. Though she may not be able to physically execute inside leg to outside hand just yet, that doesn't mean I'm not going to talk about it. If you never start the dialogue, how can you expect your riders to understand these concepts? If you wait until they're teenagers or adults it's much harder to learn and bad habits are already ingrained.
Yes, having a detailed conversation with a first grader about steering with both reins can be arduous, but if the end result is that she can steer her pony without his head going one way and his body going another then I've won for the day.
So often I hear other trainers talking about their students and saying things like, "She'll never be able to do that," or discussing horses' limitations but not their abilities. I think, 'What if they tried 10 percent harder.' What if that trainer changed his or her program to work on teaching that rider how to properly ask for a lead change instead of selling an otherwise suitable horse to buy an auto-changer.
And I understand, there are times when the match just isn't appropriate and the horse needs a new human and the human needs a new horse, but in this ribbon-crazed world I think we give up on each other all too often. As a professional, I have built my career on the backs of underdogs. Out of necessity, I have learned to ride horses that other people didn't believe in.
Fiona is my dream horse. She is everything I could have ever hoped for in an upper level partner. She is not a perfect horse, but she is perfect for me. But believe me, if she was simple, she wouldn't be mine.
If we change our perspective and look at riding and showing not as one show or even one season, but as a long-term relationship between horse and rider that can steadily be made better, then the pressure of one round in one show disappears. It's just another step on the path. And as riders we have the power to make that a step forward or a step back every time we enter the ring.
Chronicle blogger and up and coming hunter/jumper trainer Paige Cade spent most of the 2015 FTI Winter Equestrian Festival working for Margie Engle's Gladewinds Farm, and has recently made the decision to return to Virginia to start her own riding and training business, Country Fox Farm, Inc. Paige would like to thank Antares, Equine Omega Complete, Dr. Sallie Hyman and Total Equine Veterinary Associates for their continued support for the 2016 season. Read all her blog entries.