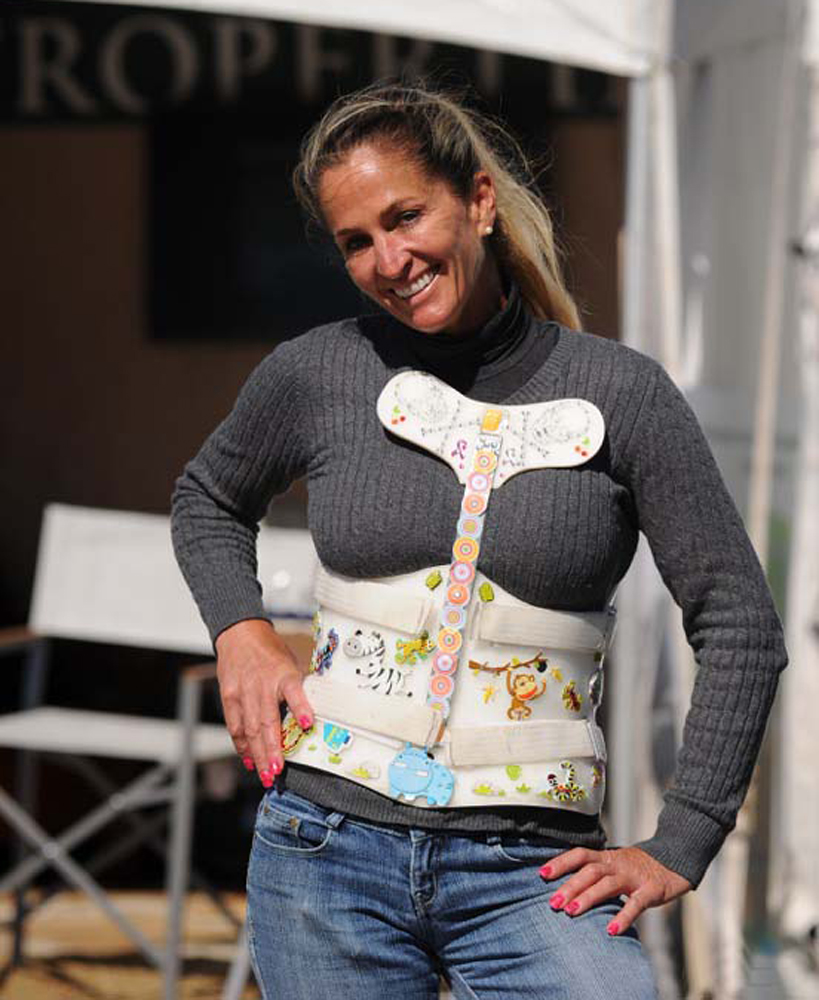 Sandy Ferrell showing off her decorated back brace.
Photo by Ann Glavan
Riding injuries can run the gambit from big and scary to relatively harmless and just plain funny—luckily, Sandy Ferrell's falls into the latter two categories. When the professional hunter rider took a spill from a young horse in mid-December of 2015, a trip to the hospital revealed three fractured vertebrae and a punctured lung, but oddly, Ferrell felt fine.
"I really didn't have much pain at all, I still don't," Ferrell said, speaking six weeks after the fall. "I can't feel that my back is broken, so it's kind of best case scenario for what happened. My lung healed itself, I didn't have to have any type of surgery."
What she did have to do was take some time off from riding, and get fitted with a back brace to support her fractured-but-stable vertebrae while they healed. What most would see simply as a functional medical device, Ferrell saw as a blank canvas. Every week since donning the brace, Ferrell has taken it upon herself to transform it into a wearable arts and craft project.
"Oh my gosh, I put bells and lights on it for Christmas, I had a New Year's-themed one, the front of it last week was under the ocean theme, so it had coral and fish, and the back was beachy and had sand castles and palm trees."
The beach motif is particularly fitting given the circumstances of Ferrell's accident.
"I woke up that day, and it was a beautiful morning and I said to everybody 'Gosh you know lets all go to the beach today, its such a pretty day, I just have to make sure I go ride this one horse first,'" Ferrell said, trailing off into a laugh, "And there you have it."
Ferrell was walking the young horse at her Wellington farm when a dump truck loaded with shavings drove by. "The plastic tarp flapping or something just startled him. It happens. I should have just gone to the beach!" Ferrell said.
A few different professional have helped keep Ferrell's horses in work and in the show ring while she's out of the saddle, including Louise Serio and Holly Orlando.
"Peter [Pletcher] was supposed to help, too, but you know, we're broken buddies now," Ferrell said, referring to Pletcher's arm injury sustained during the first week of the Winter Equestrian Festival (Fla.).
An MRI in the coming week will show how well Ferrell's back is healing, but she expects to be back in the show ring soon. Ferrell's initial MRI following the accident revealed some interesting discoveries even Ferrell didn't know about her own skeleton.
"What was crazy is the [MRI] guy said 'Have you seen your films?' and I said no, all I know is I've gone 44 years and never missed a day of riding for an injury," Ferrell said. "And he said 'OK, but just so you know, you've already broken your back three times.' It's hard to say when they occurred, but they're there."
Jokes aside on the cosmetic appearance of the brace, Ferrell has been taking her road to recovery very seriously, wearing the brace whenever she isn't sleeping or lying around the house. She has been able to start going to exercise classes, but nothing horse-related.
"Hopefully next week will be good news, but I'm not going to ride until they say I can ride," Ferrell said. "It's been super interesting watching my horses go because I don't usually watch them go. Louise and Holly have been doing an amazing job, and it's been fun to go down there and cheer them on and watch the horses go."
Ferrell isn't sure she will be ready to give up her newfound decorating hobby once doctors tell her she no longer needs to wear the brace.
"I want to decorate it for the Super Bowl, with like each team on one side, but everybody's like 'You're going to have your brace off before the Super Bowl', and I said well I think I'm still going to wear it," Ferrell said with a laugh. "And I have Valentines Day, and St. Patrick's day, its just so fun to decorate, I think I'm just going to wear it on the holidays just so I can decorate it."