I haven't worn any type of jewelry for the past month.
After spending six months out of New Jersey last year, between our Florida stint and the summer in Europe, I decided that we should stay in N.J. for January. This would, first and foremost, allow me to earn back some of the money I'd spent on our summer adventures, as well as reconnect with the community that had supported those adventures (one of those people being my wonderful fiancé, Tik).
This seemed like a great idea. Until the temp started dropping below the 30-degree mark.
Luckily for me, I didn't even get the chance to complain, because Meg knows me all too well. She also knew how much I needed to take advantage of the teaching opportunities knocking on my door, and in no time she had me booked from sun up to sun down!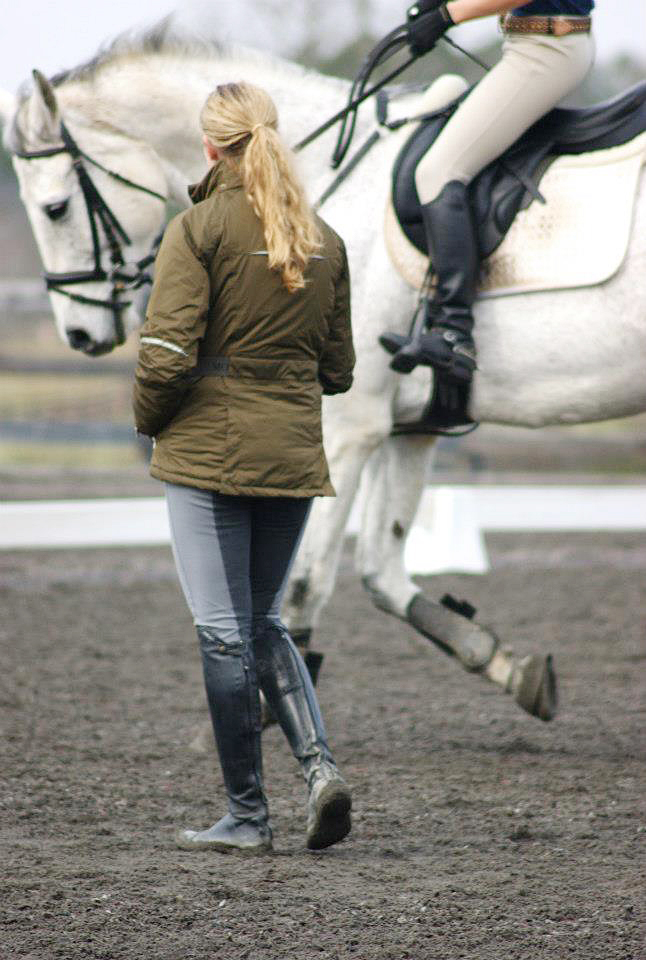 Sinead Halpin stayed out of the saddle with a broken rib this winter, but teaching clinics across the country meant no rest for the weary.
This took me to blessedly warm(er) places such as Kentucky, Alabama, Texas, North Carolina and a slightly chilly Massachusetts teaching clinics. I also did 48 hours near Houston with fellow eventer Jennie Brannigan to get ICP certified, then I ventured to the USEA Convention in Colorado. From there I got to sneak in two days in Mexico, checking out a venue for our wedding next year, and then I finished off the grand tour with a family vacation in, of all places, Honduras.
Now, you might be thinking, "When in the world was she riding her horses?"
Well, in between all these adventures, I had about three days a week at home, during which Meg had filled the schedule. We had a three-day young rider clinic at our farm, then some students I'd taught at a clinic in Michigan shipped in for another three days of lessons, and then another young rider from Pennsylvania came in for another three. And somewhere in the middle of all of this, I happened to be standing in the wrong place and got run over by a slightly fresh horse in the arena, fracturing a rib.
So, wrapped in an incredibly tight polo wrap, I was able to keep teaching, moving, laughing and breathing (kind of), but riding was off the docket for a few weeks. Some great downtime! But this is the rock n' roll lifestyle, and you got to strike while the iron is hot!
I'm feeling all healed now, and luckily I got back on and jumping last week. I'm getting very excited about the season to come. We pack up and head to Florida on Wednesday with 14 horses, and I plan on being a bit selfish with my time down there. I won't be teaching any more clinics until June, and I plan on focusing on my horses and training as well as the dedicated students that are joining the team and coming south with us.
I'm also nervously working on Tate and On Cue's syndicate. We have some shares sold, but in these unsure economic times I understand people's hesitations in getting on board with something like this. But I of course feel like it's a unique opportunity, and I'm excited that the group that's starting to form is a fun one that loves the horses, wants to be competitive and be part of the U.S. team's climb back to the top. I'm marketing the dream… Not only the dream, but my team's dream. I want people to feel part of this and experience the sport from an intimate perspective, where your heart feels the excitement, disappointment, and every so often, the win.
What's been very cool in this process is working with the Event Owners Task Force, which is a group that is working to get Team USA back on top. They're helping people like me who are savvy in the barn with the horses but maybe not so good at networking and filling these syndicates. They're creating syndicates and encouraging owners to get involved with different riders. I think this is not only going to help the riders, but also give owners multiple chances of getting to the top competitions.
I currently have one shareholder who owns a horse for two top professionals, which I think is awesome! She's a great supporter of the sport, and I want her to get to the top events and feel like part of the team. Obviously I'd like her to go to those events with me and my horses, but sometimes things don't work out, and so it's great that she also has a chance to go with another professional. Arrangements like this will hopefully prolong her involvement (and others') in the sport and therefore help Team USA long term. If we work as a team, the individuals will succeed.
We've also moved to a new farm in New Jersey—a top-notch facility in Long Valley. I'm sharing with grand prix show jumper Amanda Flint, and I can say that just in the short time I've been in the barn, the things I'm picking up are fantastic. Just like my experience at William Fox-Pitt's, it's amazing what you can learn by just being around top professionals.
Amanda is not only an exceptional rider, I like the way she thinks, and she has a style I feel I can possibly mimic successfully. Amanda quietly watches, thinks and doesn't waste words. I've already learned quite a bit from watching a different caliber of horse and different priority of the flat work, and I'm enjoying being back in the company of another professional to bounce ideas off.
Tate is back in full flatwork, and I'm looking forward to our first training sessions in Ocala during our first week in Florida. He's aimed at Rolex, which I'm pumped about. There's magic at Kentucky for every American lucky enough to ride there.
This blog had less of a flow than most of my blogs, but I think I've been writing enough articles lately in a format, so I figured every now and then a little free form can't be a bad thing! Cheers to everyone and best of luck in the New Year… And remember every new day is a once-in-a-lifetime experience, so enjoy it!
Sinead