When the U.S. Show Jumping Team for the Rio Olympic Games was named, McLain Ward and HH Azur's names were on the list, making the fourth consecutive Olympic team on which Ward has served. They will compete alongside Beezie Madden and Cortes 'C,' Kent Farrington and Voyeur and Lucy Davis and Barron at Rio in August.
Ward and HH Azur's final observation event was the Rotterdam CSIO, where they tied for third in the Longines Grand Prix of Rotterdam but didn't jump in the Furusiyya FEI Nations Cup, in which the U.S. team finished fifth.
Ward remains in Europe and will next ride Rothchild and HH Carlos Z at the Knokke CSI (Belgium) on June 30-July 3.
I was thrilled with how she went [in the Grand Prix of Rotterdam]. I didn't do the Nations Cup at Rotterdam, so I had a little bit of the luxury of being able to do one warm-up class and the grand prix.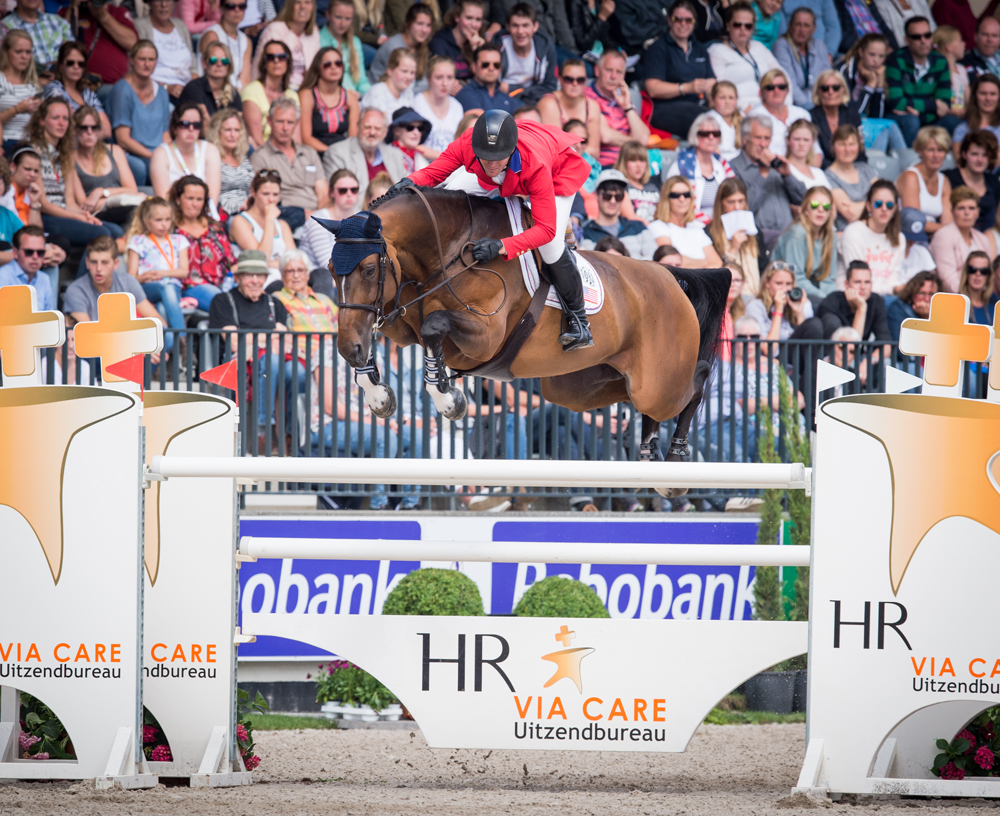 McLain Ward and HH Azur on their way to a tie for third in the Longines Grand Prix of Rotterdam. Photo by Shannon Brinkman
She jumped beautifully. I probably wish the course would have been a little bigger, because there were a lot of clear [rounds]. Then, unfortunately there was a little bit of a turn that I didn't think was a very good turn in the jump-off. I opted not to do it, which probably cost us the grand prix win, but obviously we have bigger things in sight.
Going back to before, even Rome [in May], there were some combinations [chef d'equipe Robert Ridland] wanted to see a little more, so that was kind of always the game plan, [to sit Rotterdam's Nations Cup out]. We've tried to stick with that [plan] all the way through and meet the benchmarks. She continues to perform beautifully. I think she's in good form and ready to go.
[The observation events] have been nice. We've had the pressure of a Nations Cup [in Rome], which we hadn't done with her, so it was nice to have that experience—not that I was concerned, but it's always good to do. I've been to two very nice shows, and she's handled everything as she does, in stride. I think now, we're in the last part, so we'll just try to keep the horse fresh and healthy and be ready to go in the moment.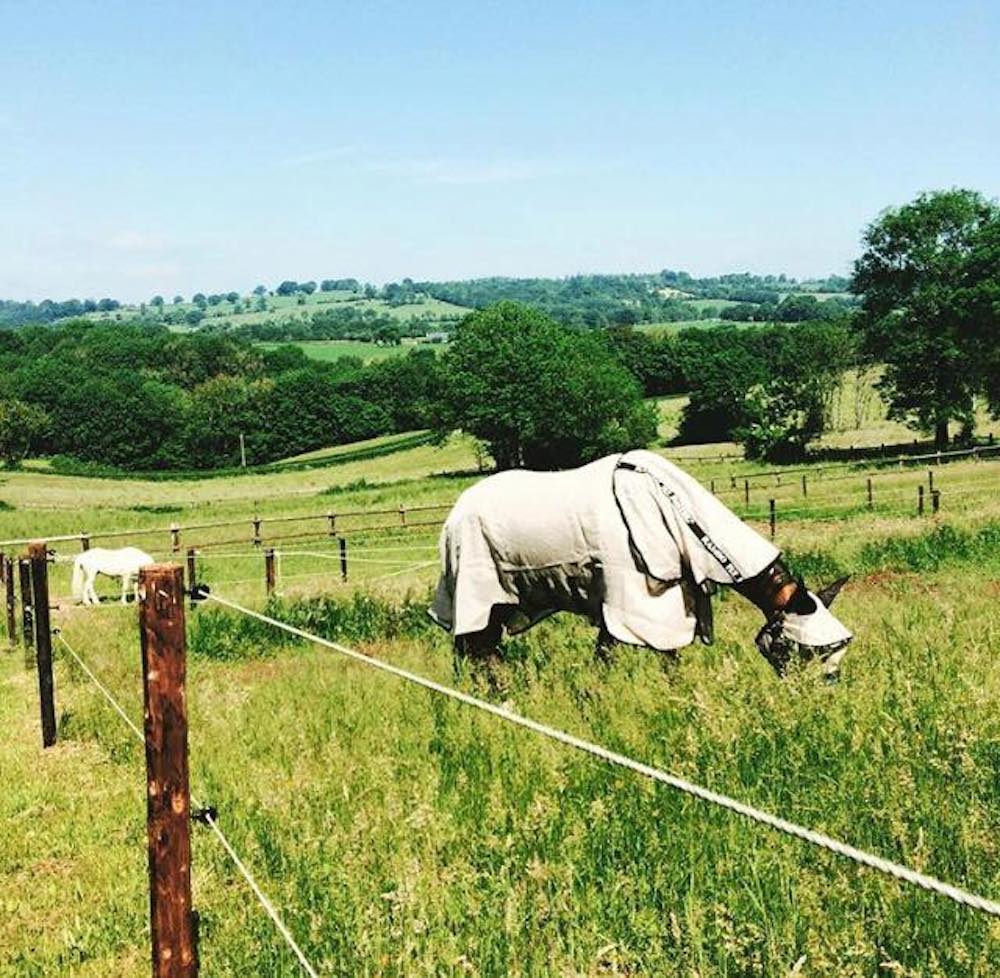 Azur enjoying some relaxing turn-out time in Europe.
[As the Olympics approach], you try to keep things tempered, of course. First, I'm lucky enough that in my career, this will be my fourth Olympics. So the experience of making the team, while it's fantastic and full of pride, we've taken that as just one step along the road. It was never the end game.
It's another step that we needed to reach on this road, but our focus has always been on the Olympics themselves.
I'm excited about the group, and I think it's a very strong team, but I think there are other strong teams. You never want to take anything for granted. Even the ones who don't have the best trial events typically benefit from them and do better afterward, so there's something to be gained.
[With my recent winnings], I did buy myself a lawn mower. I've been looking at it for two years, and I finally broke down and bought it. I'm a simple guy. I was probably more excited about the lawn mower than buying some horses!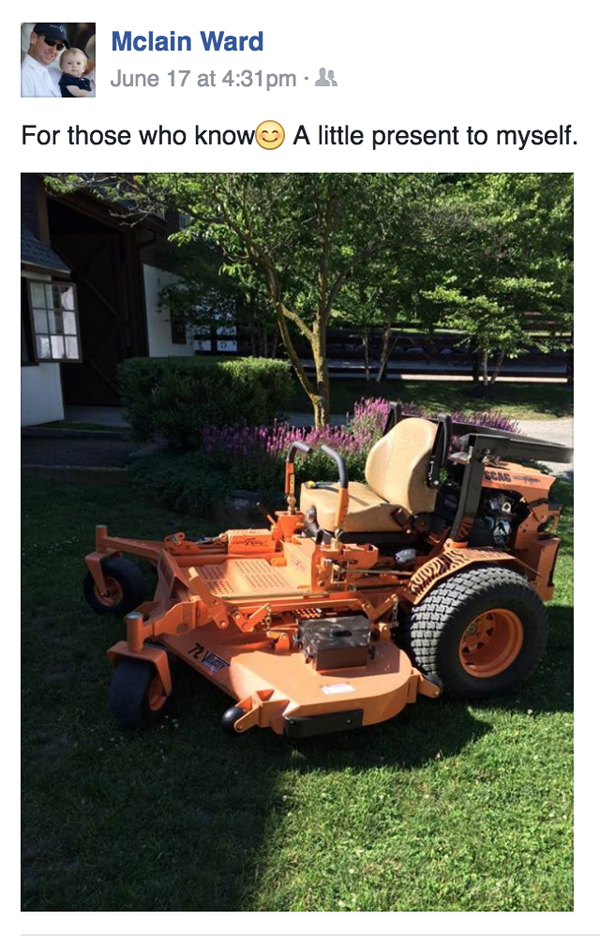 [Azur] will do one more show [before Rio] at Aachen [Germany]. The Olympic team horses are going to do Aachen, but they may or may not do the Nations Cup. That'll be discussed in the next few days.
About McLain Ward and HH Azur
Home base: Castle Hill, Brewster, N.Y.
Azur's stats: 10-year-old Belgian Warmblood mare (Thunder van de Zuuthoeve—SIon van de Zuuthoeve, Sir Lui)
Azur's owners: Double H Farm and Francois Mathy
Big Performances in 2016:
1st— $380,000 Suncast Grand Prix (Fla.), Feb.
2nd—$500,000 Rolex Grand Prix (Fla.), April
2nd—$500,000 LGCT Grand Prix of Miami Beach (Fla.), April
1st—Loro Piana Grand Prix of Rome, May
3rd—Longines Grand Prix of Rotterdam, June
We'll use that show for what's best for each individual's horse, and I believe that's the last show for all the horses before traveling to Rio.
I'll come back home a couple times. I try to come back to the States; I enjoy my farm, and I enjoy America and my family, so it's nice to get out of here a little bit, but it's a little bit of a back-and-forth. I might do one more show at [HITS] Saugerties with a few horses, but from here on in, the next eight weeks is really all about the Olympics.
In this series, the Chronicle follows six riders as they seek to fulfill their Olympic dreams in Rio de Janeiro in 2016. We'll check in with them every few weeks as they pursue a team spot, seeing how they're getting their horses ready and preparing mentally.
Read all of the Road To The Olympics with McLain Ward
We're also following:
Eventer Phillip Dutton and his groom Emma Ford
Dressage rider Kasey Perry-Glass