Four-star rider Sinead Halpin has been out of the spotlight recently, but for a good reason.
She gave birth to Brooks Tobin Maynard on Sept. 4, and just 2 ½ months later she's back at the international level this weekend at the Ocala Jockey Club International (Florida).
Halpin is competing in the CCI** aboard Cutty Sark, an 11-year-old Canadian-bred Dutch Warmblood gelding (Ikoon—Ghia) bred and part-owned by Linda Ackermann of Creekside Farm.
Based at Copperline Farm in Citra, Florida, with her husband Tik Maynard, Halpin, 37, has been enjoying new motherhood and being back on the competition circuit.
We caught up with her to find out more.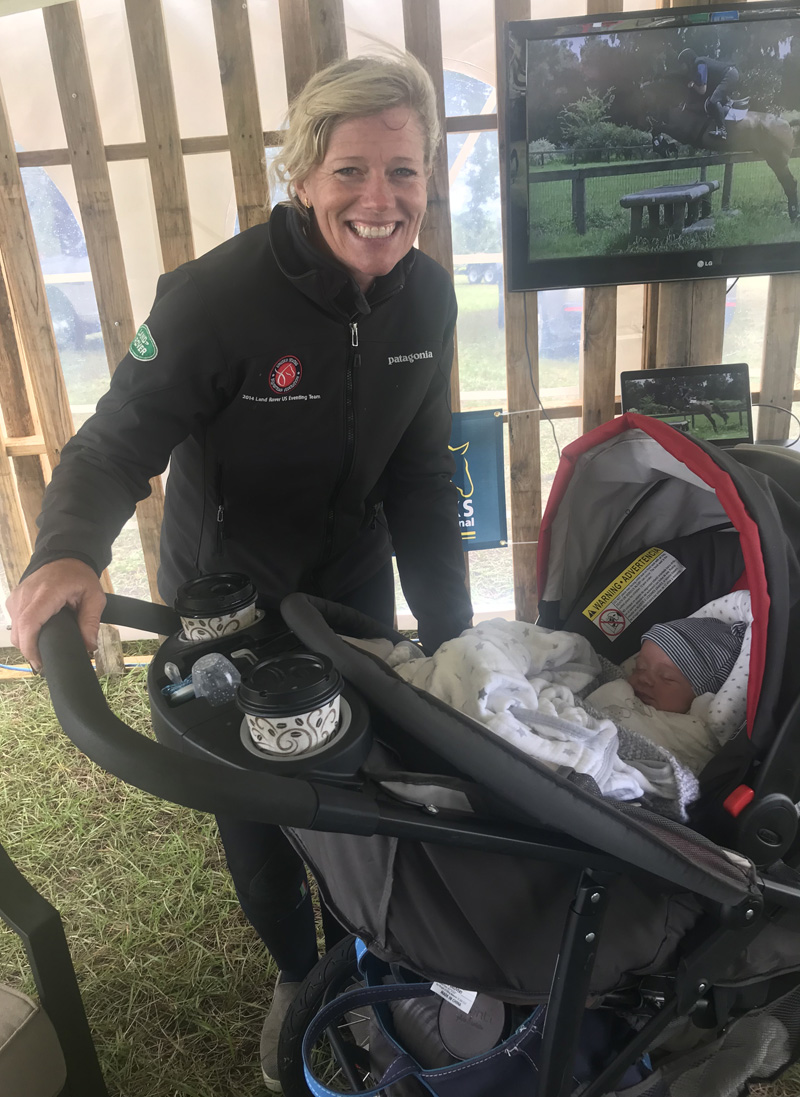 COTH: Congratulations on becoming a new mother! Tell us about your pregnancy and when you decided to stop riding.
Halpin: I rode until about 10 days before he was born. I think that's such a personal decision for everybody, and I did give myself an out if I ever got nervous or felt out of balance or felt like I was going to have a problem that wasn't anything more than I just needed to keep motivated. I do feel that as fit as you can stay and how much you can stay in your routine is probably going to help you get back to the normal routine.
I had some high blood pressure issues that were pregnancy related, so I had to stop for 10 days. I use the term "riding" loosely. I was getting on and walk, trot and cantering around. It was fine.
The last competition I did was in March, so I was about four months pregnant. I did the CIC** at [Cloud-11/Gavilan North Carolina International (North Carolina)]. After that I felt like jumping big jumps would be a bit irresponsible. I still jumped a bit at home on good horses. By the end I was popping over cavalletis. I have a nice group of young, sane horses, and none of them were jumping that big anyway.
I had Leslie Law ride [Cutty Sark] at Jersey Fresh (New Jersey) in the CCI**. I would do some of the work at home, then take him over to Leslie.
COTH: What was it like watching from the ground?
Halpin: Leslie's pretty good! That was fun. It was a little bit tough, but my husband was riding all the horses, and he's great, and Leslie's great, so that was kind of fun to watch them go and learn them from the ground that way.
We were in Florida all summer, and there aren't really any competitions, so that was helpful. When it's 110 degrees here and humid, you don't want to ride anyway!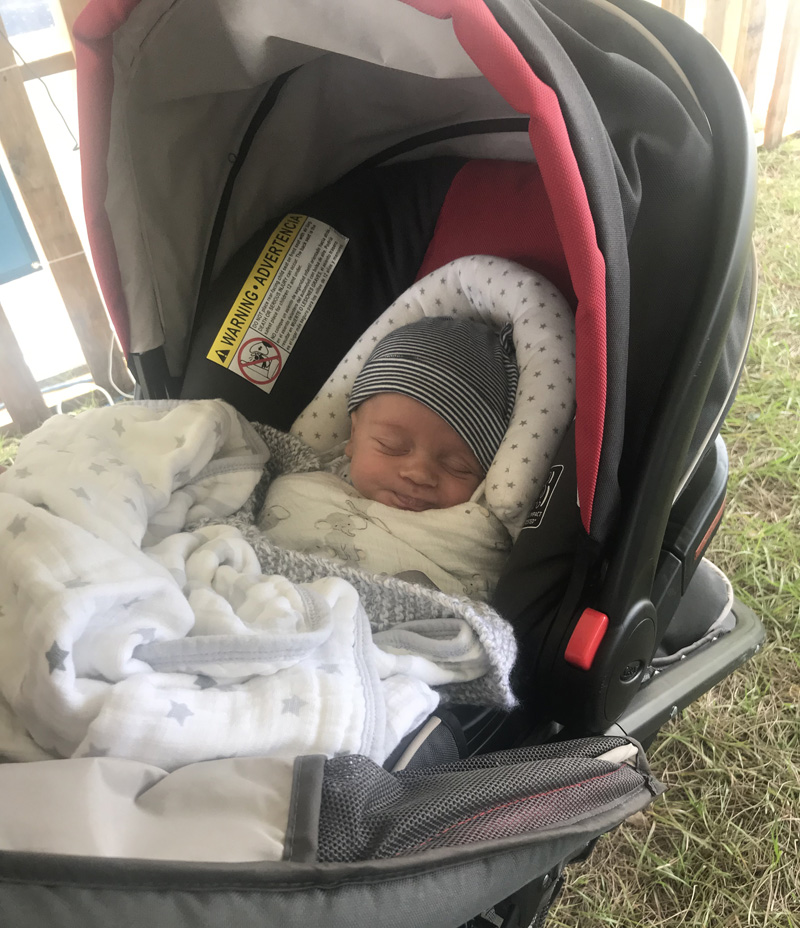 COTH: What's it been like adjusting to motherhood?
Halpin: You don't know what to expect. I didn't know what to expect because everybody's experience is so different. You kind of poll the audience to see what other people's experiences are like, but everyone's teams are a little different, and their goals and plans are a little different.
It's gone smoothly. I think it's been a little bit easier than I thought it was going to be. Everything went smoothly at the hospital, and I was able to get back on and start riding about 10 days after he was born. I was competing three weeks later.
It's been great at the barn. We have a good system. Our girls at the barn are awesome and very understanding, and we live a stone's throw from the barn, which makes it very easy.
COTH: What's Brooks like?
Halpin: He's predictable. You know he's going to wake up between 2:30 and 3:30. I've held one other baby in my life. I didn't know anything! When we were at the hospital, and they sent us home, I was like, 'Are you sure you want to do that?' But he's been super good. His personality is starting to come out, but every week is a little bit different. I've got Lisa Barry for the week helping me look after him. That really helps when everybody as a community comes over.
COTH: Are you hoping he'll be a rider?
Halpin: No! He needs to be able to take care of his mom and dad, and there's not a lot of money in riding. We'll support whatever he wants to do, but I hope it's not riding!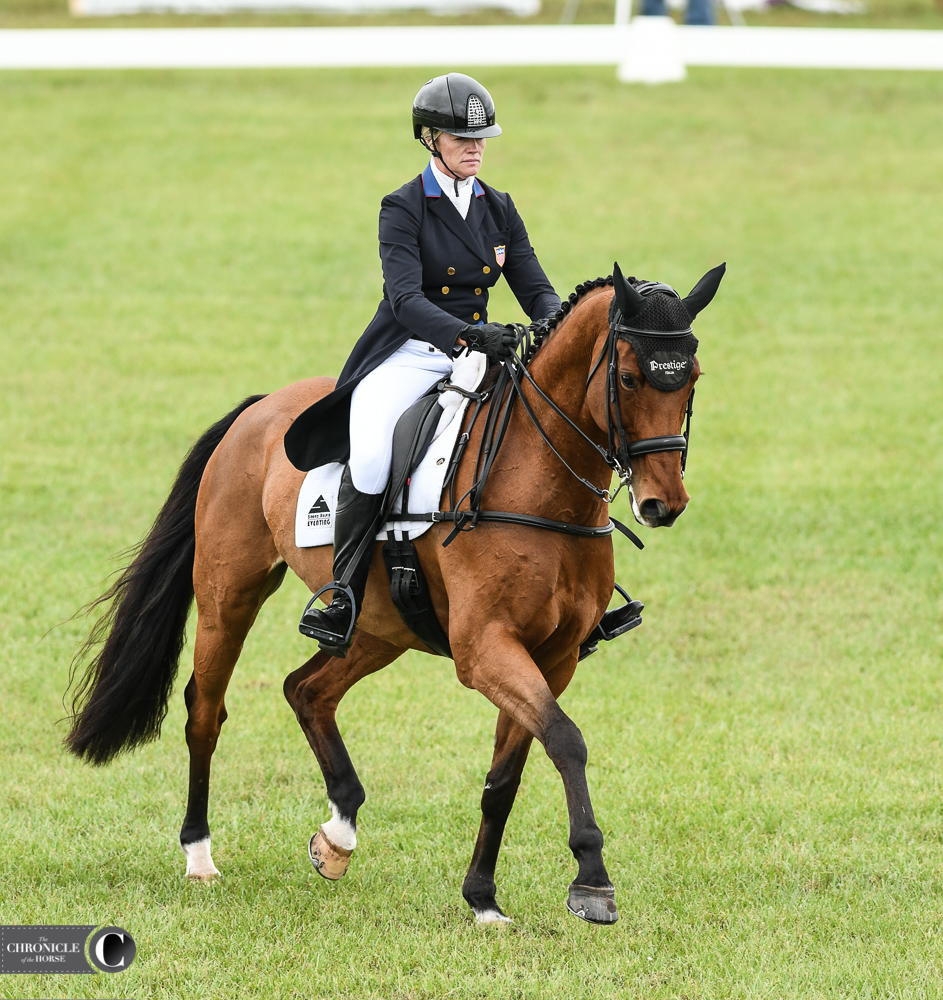 COTH: Where did Cutty Sark come from?
Halpin: He's still owned by his breeders who are in Canada. He was bred to be a show jumper, but he's quite tricky, so he had a habit of bucking people off when he was done.
He would just stop and not go anywhere, and to get rid of the buck they sent him to pull a cart. He broke the cart when he was pulling it by himself, but he loved pulling a cart in company. They did that for a while, and that sorted that out.
He would show jump, but he would do the schooling class, and he would have to be the first horse in the next class, and he would jump around. If not, it was very difficult to get him over the first three fences. Normally if you can get him over the first three fences he's fine.
They sent him to a cowboy to cut cows, so he did that. The cowboy would say the same thing—once you can get him going he's super brave.
Long story short, he started doing a little bit of eventing. If you could get him past the first few fences he would be OK, but it would take you two hours to get him from the horse trailer to the arena. When he said he's not going, he's not going. Tik got an email from Sandra Donnelly who had competed him [to training level], and she said the horse was amazing but really tricky, and she didn't have the time. With him it just takes so much time.
Tik showed me the email, and I said, 'Nope, we're not taking him.' He ended up sending him without telling me to his dad in Vancouver [British Columbia]. Then he just showed up at the barn! Tik worked with him for a few months, then I hopped on him because Tik wanted some help on the flat, and I never got off! I loved him. But we still weren't sure if he was going to jump; he'd stop at everything.
But Tik was amazing. He asked if I thought he was a genuine horse, and I do. He's very thoughtful, and he's always going to jump it the second time. He said, "Well let him stop for a while. If he wants to stop, and you have to put your leg on, just let him look at it and build that trust at home, and see where that gets you."
That's what I did. I don't think the horse has ever had a jumping penalty.
He's a very interesting horse, but I love him. From the moment I sat on him I knew this horse was so cool. He's a real trier and a real fighter, and he just needs to do things on his own schedule.
Thankfully when we got him, I just never put the weight of the world on him. He's either going to do it, or he's not, and we'll just do it in his own time. He kept showing up. He's been pretty awesome cross-country because there's been some times where the rideability did not match what we were trying to do, and he just sorts it out.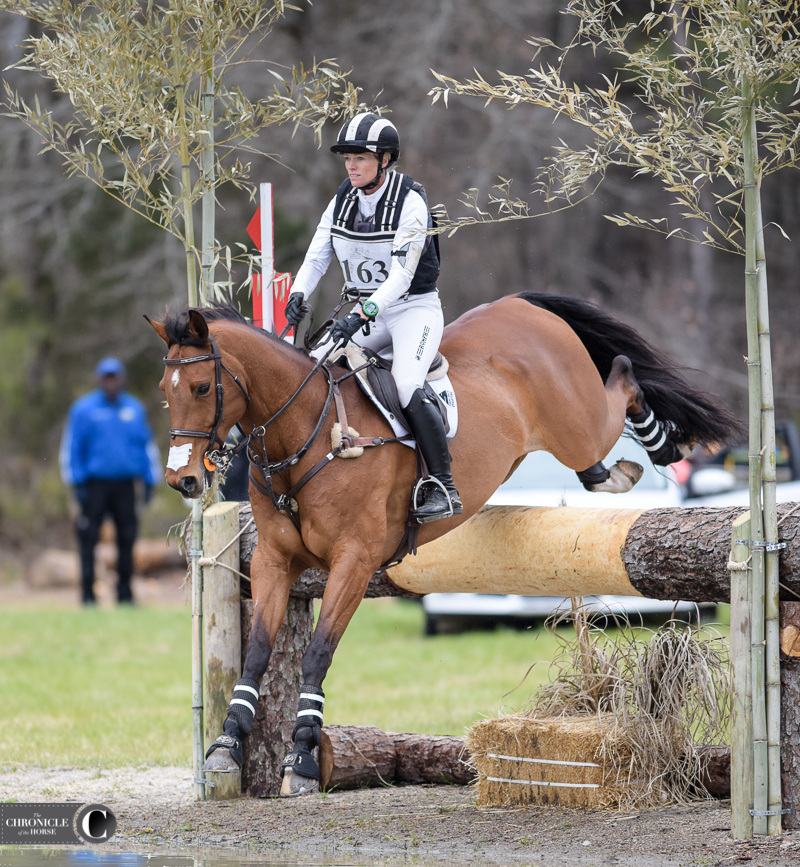 COTH: Was this event a big goal for you?
Halpin: Tik was entered in the two-star on him up until about two weeks after Brooks was born, but I felt fine. I took the ride back and did a training, one preliminary and one intermediate. I'm really excited to be here. I know the horse well. I've had him almost two years now. I feel good being back on him.
I tried not to put a ton of pressure on myself to be doing a million horses. I started slow riding two or three, and now I'm up to five or six, and it's great.
COTH: Do you have a new perspective on riding and competing now?
Halpin: Yes and no. I think one of the things I really noticed is just how much I really love riding horses, and I love competing. You don't know if it's going to change, and I was so driven to get back on and get competing.
There's nothing else I want to do. I felt healthy, and I felt fine, so getting back on and going to a horse show was awesome. I think it just reconfirmed that it's not just a job for me; it's my passion, and riding is what I want to do. That has helped me thus far have maybe a little bit of a lighter attitude about it. Right now I still feel like I'm so lucky to be riding, and I'm so lucky to be out here. Sometimes at the end of the season you start to go a bit crazy, and it starts to feel like a job, and you get tired, and it all gets a little too intense. Right now I just feel really lucky.
COTH: You recently posted on Facebook that your four-star horse Manoir De Carneville, or "Tate" is officially retired after a couple of years as a schoolmaster for your working students. Why did you think it was time?
Halpin: He was my maternity horse! He was the farm mascot. He was teaching the girls how to do flying changes and hacking around and jollying, but in the last little bit when I was riding him—he'll be 19 next year—I just kind of felt that he was feeling a little bit older.
I was thinking, "Oh maybe I should inject his ankles." Then I was thinking, "This is insane!"
We're lucky that we have The Fork [(North Carolina) where Tate is retired with my mom [Bernadette Cogdell], and I just thought the timing was right for him to go.
I honestly struggled with the decision all year because you're not sure. Are they happier with you? I just wanted him around for a little while.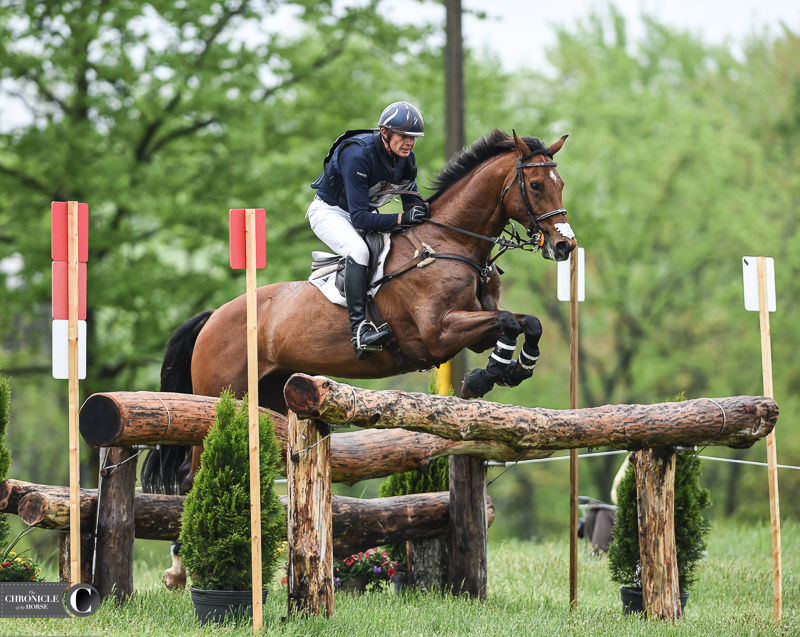 COTH: Do you have anything else in the barn coming up behind Cutty?
Halpin: We have a few nice horses—a nice 6-year-old called Stakkato Bronx that's owned by some really wonderful clients. I've had him since he was 4 and just taken a year at every level since he's Irish and a big mover and big jumper. He's been great. He'll move up to the one-star level this spring.
I took another of Tik's horses, the one he won the Thoroughbred Makeover [freestyle] on [Looking My Way], which is a really nice 4-year-old. I've got a really nice Irish 5-year-old that came over this summer that I tried when I was five months pregnant.
It's nice to develop them from a young age.
COTH: What are your goals in the sport now?
Halpin: To be the best I can possibly be. I love the team stuff; I love being in the mix; I love FEI events. I enjoy it immensely. I have huge goals to keep doing that.
COTH: What are your goals for the weekend?
Halpin: I have the expectations for what will make me feel like this weekend's a success. There's no way for me not to feel like I want to be competitive. I'll go as fast as the horse can go, which I hope will be fast enough, and I'll do the best dressage test I can do, which I hope will be good enough.
I feel so lucky to have all the sponsors and owners and family and friends and girls in the barn and everyone that has made this whole thing work. The whole community is awesome. David O'Connor is his godfather, and he's been over. It's so fun. Everyone calls him "our child." I do feel like he's got 20 aunties right now! I'm very thankful.
Full Results/COTH Coverage/Live Stream/Start Times
We're on site at the Ocala Jockey Club all weekend to bring you news, photos and results from the final FEI event of the year in the United States. Check back all weekend for more, and if you know of a good story, email lberreth@coth.com!
Check out the Dec. 10 print edition of the Chronicle for much more.