It's been four years since Olympic bronze medalist Lisa Wilcox cantered down centerline in a CDI Grand Prix, so when she stepped into the international ring during Week 3 of the Adequan Global Dressage Festival aboard a 19-year-old gelding with no Fédération Equestre Internationale classes on his resume, our curiosity was piqued.
We caught up with Wilcox between rides to ask a few questions about Michael Sjerven's Valando BJ (Jazz—Ilanda, Zeoliet) as well as to discuss another horse she has waiting in the wings and how they have all fared during the pandemic.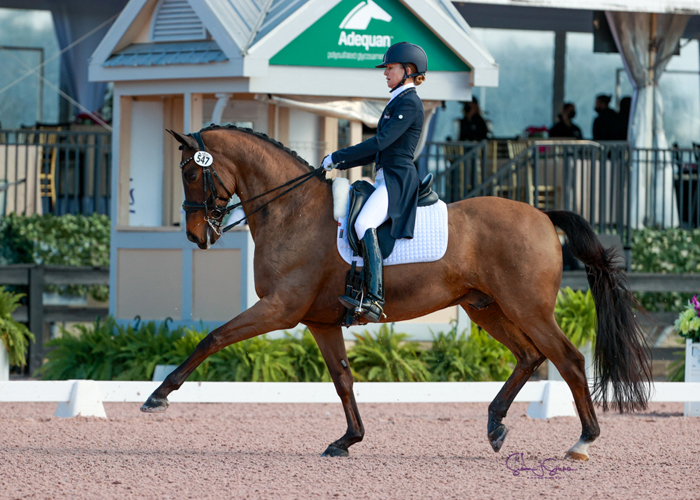 Tell us about this mystery horse you have been riding, Valando BJ.
This is a gelding that belongs to a client of mine that I am preparing for him to compete. We've had "Val" about a year and a half; he was imported from Germany. I started showing him in September. He doesn't have a show record. Basically, it's a horse with very little mileage on it. He learned the Grand Prix and had most of it on him already. He had it, but for home use only.
So here we are. Now he's showing, and I got him a little experience over the summer. He's very quick to learn; he's learned this atmosphere. The first time I brought him here, I brought him with my Hotline mare, and they screamed and were calling for each other the whole time. And so I said, "OK. We will never do that again! You two Never. Get. To. Travel. Together. Again." So since I've separated them, he doesn't attach himself to anything, and he's very focused once we get working.
You earned some impressive scores on a horse that's basically a show novice. Were you expecting that?
It surprised us. We didn't expect to be as far along as were. So that's why we decided, after we got back a 74 [in a national Grand Prix class], I said to the owner, "This is your ride, and soon I want to see you in the saddle." And he goes, "Will you ride him in a CDI? Please?" So, it's his first CDI ever. [They scored 65.42% and 67.97% in the CDI3* Grand Prix and Grand Prix Special, respectively, to finish sixth in both classes.]
If this ends up being like, gosh, this is way better than we thought, Michael wants to put his plans on hold and put the horse with me. Let's see where we go, but I still want to see that guy in the saddle. This is about him getting his gold medal, which I think is going to happen.
Does the hot and spicy Jazz bloodline show up from time to time?
He's pretty reasonable, but he can be a little looky. Last weekend was rather challenging. They had the temporary tents set up, and a wash stall was at the entrance near the [Grand Prix] Special [ring]. So when somebody was washing a horse, the water was flying and splashing and making that noise. He would get a little big looking at that, but he continued, and it wasn't like he balked and turned or anything. So if he can handle that, I'm thinking he should be OK. I was very pleased with him, and I just needed to get him a tick more off of my leg for the changes. It's a little too late once you're in. I was a day late and a dollar short.
I was eavesdropping before our interview, and I overheard you talking about a new mare you have. Tell me more.
She's 14. Her name is Honeymoon, and she's from a client in California. [Templeton's Honeymoon, a 14-year-old Hanoverian mare (Hotline—Allez France) owned by Templeton Farms.] We've just been training piaffe, which kind of got a little difficult start. So it's more or less of a correction. She basically does the whole Grand Prix, and I'm just working on the transition of passage/piaffe. I'm so close. I'm working with [U.S. Dressage Technical Advisor] Debbie [McDonald] four or five times a week. We're very hopeful, but we're taking it one day at a time. You know, she's a mare. So we have those days, and then we have participation days, so we work with her.
What are your goals for her this season?
I guess in a perfect world, it would be nice if I could get qualifying scores for Honeymoon for Tokyo. That would be a Tokyo dream; she would be my Tokyo dream. But it's one day at a time with the horses, and it's their calendar, not mine. So we shall see. Deb has been a great support and help, and we are thrilled with what we get. It's the inevitable one step forward, two steps back, two steps forward, one step back.
How are you weathering the pandemic?
You know what? I have to say we are blessed to be in this industry because I personally haven't felt it. My business hasn't changed, and I ride every day as usual. At home, we didn't suffer any restrictions. The gym was closed for a little bit, so my husband and I started power walking, which is not a bad thing. We came up with other activities. Here at the show, they're very organized, and I feel like over the summer we'd had a few shows, so we're pretty much used to being COVID responsible; we've got it down pat. They're doing a good job, and I think everybody's being responsible and considerate.