In just two short years, Katie Dinan has gone from a greenie on the international show jumping stage to a contender for her first U.S. team.
It was in January 2012 that Dinan, now 20, won her first major grand prix aboard Nougat du Vallet. She looked at showing in the selection trials for the London Olympic Games as an experience-builder. But in 2013, she rocketed up the leagues, serving on Nations Cup teams at Dublin (where she and Nougat du Vallet turned in a clean round) and Spruce Meadows (where they put in two clean rounds) before helping the U.S. team win the Consolation Final at the Furusiyya FEI Nations Cup Final in Barcelona.
At the end of the year, which also saw her win the $250,000 Alltech National Horse Show Grand Prix (Ky.) with "NuNu," she and trainer McLain Ward ended their run together amicably.
For Dinan, 2014 has brought not only a new trainer in Swiss rider Beat Mändli and a new schedule, but also her first legitimate bid for a championship team. When the short list for the Hermes Show Jumping Team for the Alltech FEI World Equestrian Games came out in late April, Katie Dinan's name was there as one of the two riders named by the selectors. She'll compete for the U.S. on Nations Cup teams at Rotterdam (the Netherlands) on June 18-22 and Dublin (Ireland) on Aug. 6-10 before the U.S. team is finalized.
What was it like to see your name on the short list?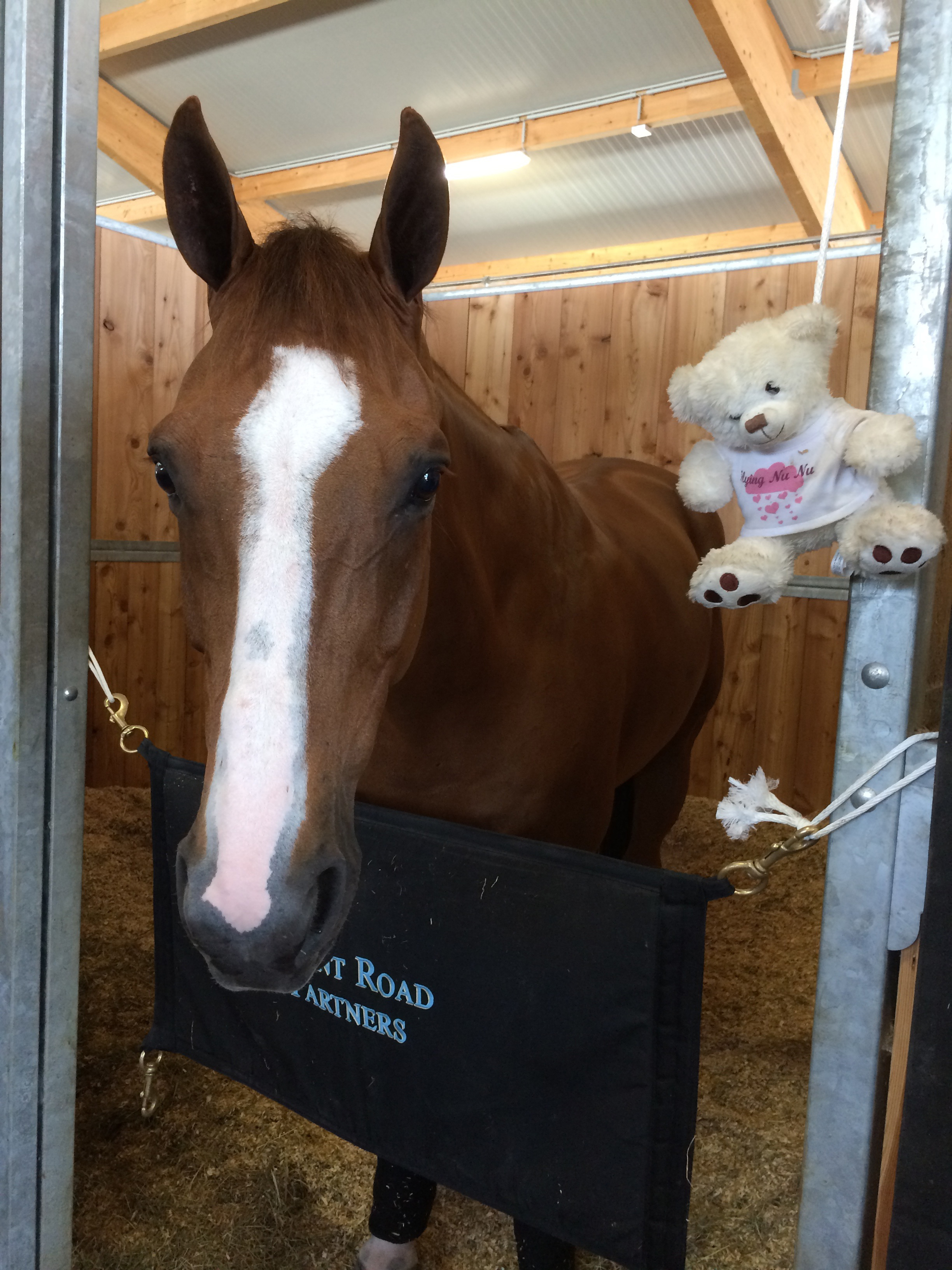 Nougat du Vallet with his "Flying NuNu"
stuffed bear, which travels with him.
It's always been a dream of mine to represent the United States at a championship competition like the World Games. Two years ago when I did the Olympic trials, it was the first time I'd ever really done anything like that, so I went into it looking for the experience.
But in the last two years I think I've gained a lot of experience. Right now I'm lucky enough to have a horse who can jump a championship. I went into this year with more of an attitude that I wanted to be on the team, but I'll see what the summer brings. I think the United States is in a good position right now with a really competitive short list and I'm excited to be one of the contenders on it.
I was one of the two riders chosen by the selectors, so I didn't know until the last minute when the list was released. I thought that given my performances with Nougat over the last year and the week we had at the World Cup Final in Lyon [placing 14th overall], I was in a good position to be chosen for the short list, but there were also a lot of other very good horses and riders also in contention.
I was very flattered to have been chosen by the selectors. I take nothing for granted, so in that sense it was a little bit surprising. It's nice to know that other people have confidence in my performances.
What's your schedule for the summer?
This summer is going to be a little bit different for me because this is the first summer that I'll be based in Europe. The last two summers I competed mostly in the United States and at Spruce Meadows with showing just a bit in Europe. But I'm in Europe until the end of the summer.
I'm getting to do a little bit more of a variety of different horse shows at different levels and in different places than I have in the past. With Nougat, I'm focusing on the two Nations Cup events—I'm competing on the team at Rotterdam and at Dublin. Those are my two main focuses, and I'm also hoping to do a few other five-star events in between.
In between those, I'll go to some two- and three-star shows with some of the other horses. I have five horses here showing—Amaretto d'Arco, a new horse for me in Checkpoint U, Zaza Harvey and Sandro. We're based at the farm of a close friend of Beat, Niklaus Schurtenburger, in Lyss.
This is my first time training with a European rider, so I figured I should spend the summer here because that's something I've never done before. It's something I wanted to experience.
For me, it's nice because I just finished my year at school and this is the first time in nine months I've really been able to just focus on my riding and riding every day, which is great.
How is Nougat?
I'm so grateful for him because in the last two years, he and I have accomplished things I just dreamed about before. That's a great thing to have.
He seems to love his job, and I definitely think he's a once-in-a-lifetime horse. He's my best friend. He's pretty small and he's low-key around the barn, but he's gotten a bit more attitude in the last year because I think he's realizing he's cool. He goes in the ring every time wanting to do a good job and it's great having a partner like that.
How did the Longines FEI World Cup Final (France) go for you?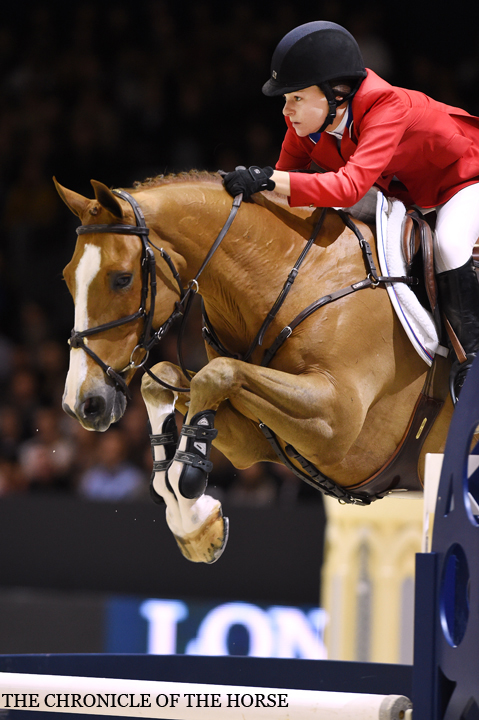 Katie Dinan and Nougat du Vallet
on their way to 14th in the
Longines FEI World Cup Final.
Photo by Molly Sorge
I was very pleased with our week. I was happy with our performance, but I was also kicking myself a little but because without one mistake I made we would have been in the top 10.
But that said, I went in just trying to focus on riding my best and jumping clear rounds. I think that at a show like that, where it's so many top horse/rider combinations, all you can do is jump each round as well as you can and then see where you end up at the end of the week. You just take each round at a time and hope your score at the end of the week is good.
Jumping clear in the first round of the final day was a big moment for me. That was one of the biggest courses we've jumped, especially indoors, and Nougat was fantastic. I couldn't have hoped for him to be any better.
There was a little bit of French pride going on for him because he's a very French-bred horse. He's Selle Francais on both sides, so he's as French as you can get. It was quite cute—I got an email from his breeders saying that they watched him go on French TV.
How has training with Beat Mändi been?
I've been working with Beat since January. What's a little bit different is that when I started riding with him, I had a lot more experience already than I had when I started training with other people. So, I think that now his focus isn't trying to drastically change my style of riding or anything major, but more focusing on little things with each horse that make a difference in the ring.
He's a very sympathetic rider and he pays a lot of attention to what's going on in the horses' heads and how you can bring out the best in each horse every day.
I think that a lot of what we've been working on with my horses is how each of them requires a different ride and how to give them each their best possible chance of success. It's about being able to ride each horse the way it needs to be ridden. We pay a lot of attention to each horse's program and how they can show up to the show ready to do their best. It's also nice because I get to see what he's doing with all the horses he rides.
I don't think he wants to change the way I ride, but he's trying to teach me how to have a little bit more of a connection and learning how to get each horse connected and balanced.
Beat has taken over the ride on Super Trooper de Ness and Antares F, who used to be ridden by McLain Ward. How has that gone?
We did a spring tour in Ebreichsdorf, Austria at the Magna Racino shows in May and June. They had a two-star and a three-star, a week off, and then a four-star. They have a lot of FEI classes but also a lot of 1.20-meter and 1.30-meter classes, so its nice for all the horses.
[Editor's Note: At the Magna Racino tour, Super Trooper won the two-star grand prix on May 18. Antares F was ninth in the three-star grand prix on May 25 and then fifth in the four-star grand prix on June 8. On June 8, Dinan was also third on Nougat in the 1.45-meter final, where Beat was seventh with Super Trooper.]
I think Beat's really trying to get both of the horses to trust him. He's been working with them at home to get them in a place where he felt comfortable showing them. They're both such talented horses that have both proven themselves. He just wants to get to place where he feels he has a good connection with them. He didn't want to rush into anything because there's no reason to do that. He put a lot of time into them this winter and they both look good. I think he's going to plan the summer going forward.
You bought Shane Sweetnam's former ride Amaretto d'Arco last year. How is that going?
We got him in September of last year and I showed him at indoors. He had the winter off and we're just bringing him back now.
He just needed some time off. Of course, you want your horses to show at WEF, but we had to do what was right for him. He's jumping [in Ebreichsdorf] for the first time. He feels good and hopefully he could be jumping some bigger classes this summer.
He's a little bit of a different type than NuNu, but he's an incredibly athletic, scopey horse. He has a lot of experience, so it's all about forming a relationship with him. He's a different kind of horse for me, but I think you get limited if you always look for the same type. Becoming a rider who can ride a lot of different types of horses is important to me.
How is it working toward your biology degree at Harvard and riding at this level?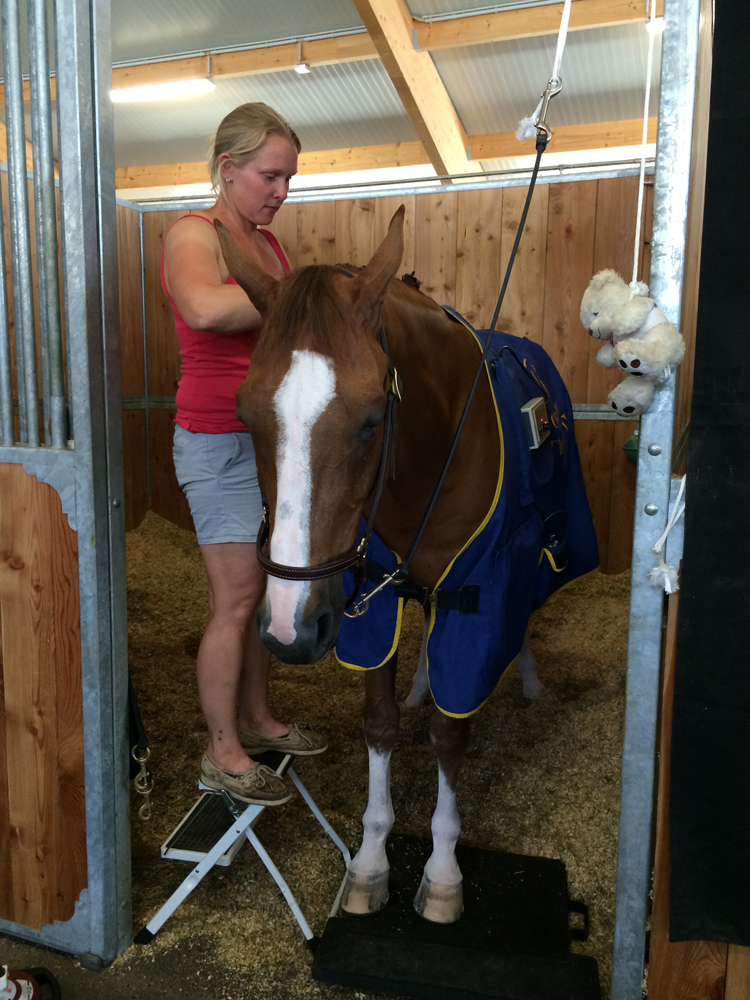 Camilla Pettersson getting Nougat
du Vallet ready to show.
I just finished my sophomore year. It's going well. I'm very busy!
I really enjoy doing both and I appreciate the balance of doing each thing, but sometimes I wish there were 48 hours in the day. Part of me wants to be a full-time rider and part of me wants to be a full-time student. But I'm very lucky that I'm able to do both.
To try and balance it, I try to be in one place at one time. When I'm at the barn or at a horse show, I just focus on riding. At school, I'm still in touch about the horses, but I do my best to act like a full-time student and focus on my schoolwork. If your head's in two places at once, you can't do both as well. I'm very lucky because we have an amazing team at our barn to take care of the horses and keep them going and organized. I know I don't have to worry about them when I'm away.
It's also nice that I have a group of friends at the horse show and another at school. I'm away a lot of weekends, which make it hard, but when I'm there, I try to be as involved as I can. After the World Cup, I had some time to concentrate on school and it was nice to end the school year being there more. It's a healthy balance.
Right now, with a horse like Nougat, I know I have a certain number of years with him. If I just went to school for four years, it's not like my horses would be there waiting and the same when I got done. You have to seize opportunities and go forward with them and that's what I'm trying to do.