This year's Longines Luhmühlen CCI5*-L was set to be huge, with more than 70 entries submitted by the closing date. But due to ever-changing COVID-19 restrictions and travel complications as the event drew closer, the entry list was whittled down to 25.
Four U.S. riders originally were set to compete, but in the end, it was just Ariel Grald and Leamore Master Plan and Jennie Brannigan and Stella Artois who made the trip to Luhmühlen, Germany, for the event, held June 16-20.
Brannigan took a tumble off Stella Artois early on the cross-country course, but Grald and "Simon" fought their way from 11th after dressage to third with a clear cross-country jumping round and a double-clear show jumping on the final day.
Grald and Simon, a 12-year-old Irish Sport Horse gelding (Master Imp—Ardragh Bash, Cavalier Royale) owned by Annie Eldridge, are no strangers to the five-star level.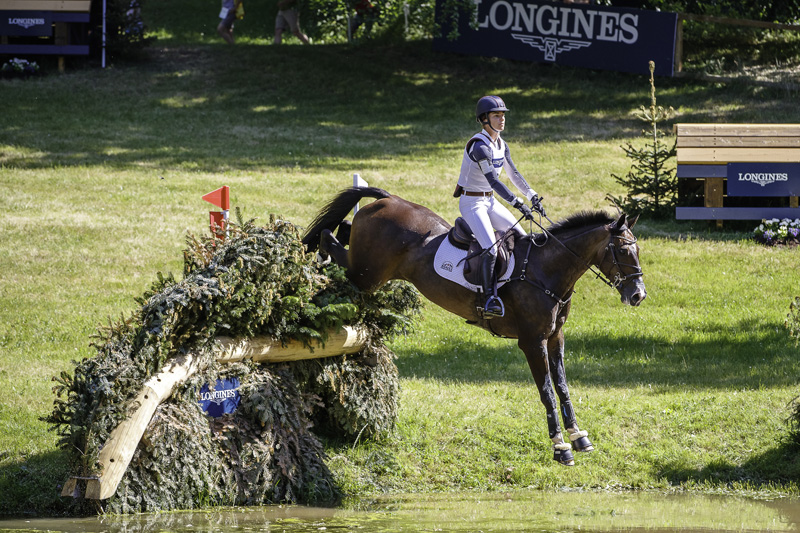 They finished 12th at the Land Rover Kentucky Three-Day Event in 2019 and followed up that impressive performance with a 10th place finish at the Land Rover Burghley Horse Trials (England) that fall.
Grald, 32, Vass, North Carolina, has brought Simon along since he was 5.
How did you decide on this event? Did you feel it was a little risky with possible cancellation due to COVID-19 regulations?
I started off this season hoping to go to [the Mitsubishi Motors Badminton Horse Trials (England)]. Last year was just so crazy, and we're still in a difficult time, but I was really looking to go overseas and keep gaining international experience because I have such an amazing horse and wanted to keep putting ourselves out of the comfort zone.
When Badminton cancelled we were so lucky to have Kentucky run in the U.S., and I felt a little foolish passing up running there, but I really wanted to try to go abroad again.
After chatting to Erik [Duvander, USEF director of high performance eventing] about it, we decided Luhmühlen would be a great educational experience for me and my horse. It's a bit of a different track than the five-stars he's done in the past. Simon is a big galloper and likes to take things on and gets excited and exuberant cross-country and loves to go big.
At Luhmühlen, the turns are a little bit tighter, it's a little bit more windy, and the track is really very technical with still having big jumps, so we thought it would be a great learning venue for both of us.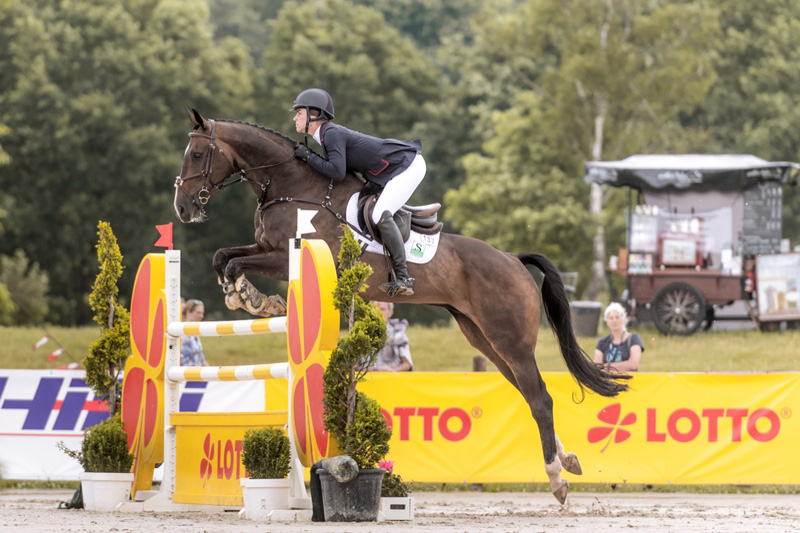 Originally there were a few other Americans going, and I'm really happy that Jennie Brannigan came along. I'm gutted for her, but it was really fun to have her traveling along. We had great support from the U.S. Equestrian Federation and had a lot of help sorting out the details. There were some moments that felt like it was up in the air, but everybody at the USEF, Jenni Autry and Christina Vaughn, did an amazing job helping us sort out the details of it. They were very organized, and at the end of the day, the travel went really quite smoothly.
We got to the venue on Saturday, and the horses shipped well and settled in well. I think it was beneficial to be able to arrive early. It got quite hot for the duration of the competition, but they seemed really happy being able to settle in.
I had never been there. I was impressed. It's an amazingly well-run event. The Germans are very organized, and they were so committed to figuring out how to run this event in the challenges we currently face. They did an unbelievable job. Everything was top notch, and they were so kind and welcoming.
How was your preparation?
Last year he got way too fit for Tryon [CCI4*-L (North Carolina)]. He was just charging around there. We didn't do a ton of events before then, but he gets fit very easily, and the horse really knows his job at this point. He loves to run and jump, but if you run him too many times he just gets fired up.
His dressage made a lot of progress last year. That was sort of the silver lining of COVID. He had a lighter spring and summer, and we were able to focus on the dressage and get him stronger. It's started to pay off. I worked with Erik and James Burtwell as well.
I wanted to try something different: He did a lot fewer gallops than I've ever done before, and I wanted to make sure he was adequately prepared. He did some schooling dressage shows, and he did the five-star test ride at Kentucky, and he did a little bit of show jumping and some cross-country schools. [They only did one event, the advanced at Chattahoochee Hills (Georgia) which they won in May.] We were really trying to keep the preparation light so he didn't get too fit.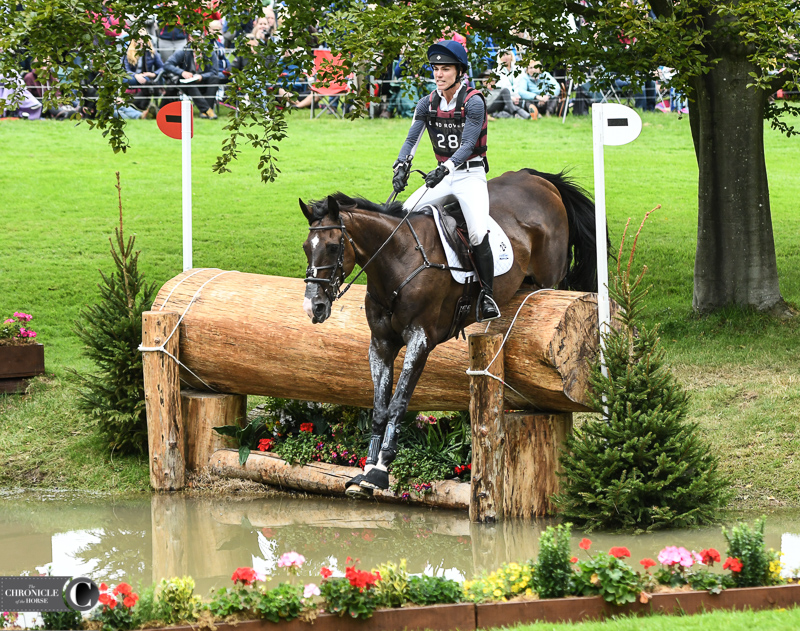 I went up to Pennsylvania for a little over 10 days before the horse flew out of JFK [New York] so I could get some extra help from Erik.
How did the weekend end up?
I was happy with him [in the dressage]. I think there's still a lot more points in there that we can dig out. I think the biggest improvement is that the horse is much more mature and getting stronger, and that's leading him to be more confident and relaxed so I can actually start to go ride the movements. He's getting to the point where I can go show him off and go for more quality. He tends to get a little anxious, but he tries super hard, and he's super genuine. There's not a malicious bone in his body. If things don't go well, it's not that he's trying to be bad, he just gets a little frustrated and finds the flatwork hard.
His brain stayed in a good place, and we were on the same page throughout the whole week, but particularly in the dressage arena he was quite relaxed. I'm excited; that was a big improvement from past experiences, and I think we'll only continue to improve our scores in the future.
He's obviously proven himself to be a Burghley horse, but that's a totally different course. How did he handle the twistier track at Luhmühlen?
The five-stars are all a little different—they're challenging, they're big, they're proper five-stars, but Burghley you're just kind of galloping up and down hills, and it's wide open. I just sort of let him run up to things.
At Luhmühlen, you go in and out of the trees, and there's lots of turns. The combinations are quite technical, so the horses have to be adjustable. You can't just gallop around and let the jumps back them off—the horses have to be in tune and be in focus.
A big thing Erik kept talking about as we were walking the course was that you've got to take your time in the combinations and use the speed of your horse's gallop in between to make up the time because a lot of the combinations rode quite hard. I watched a couple of horses in the beginning, then I decided I was going to stick to our plan.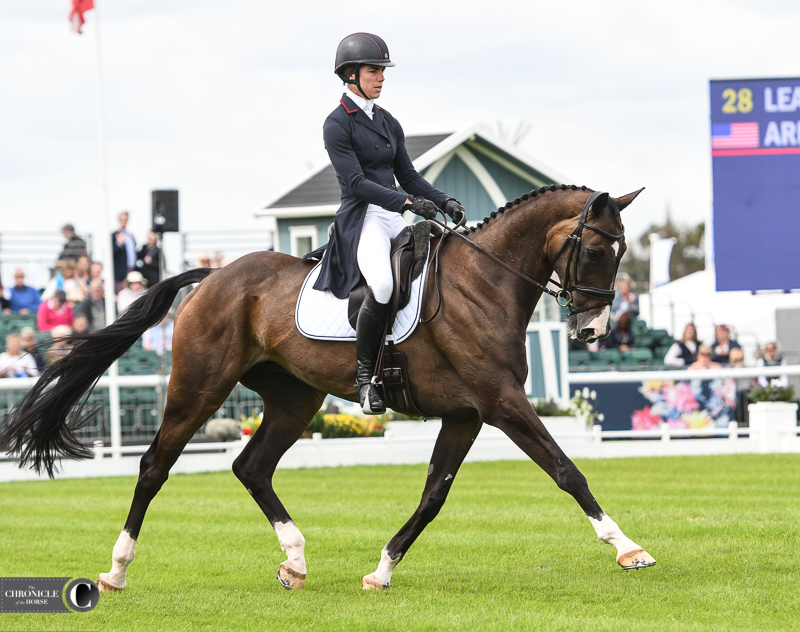 I know there were a lot of problems, but at the end of the day, I just stuck to the plan that we had walked and knew that for my horse, because he can get a bit strong and he likes to take on the jumps, that I had a few combinations I knew I had to be willing to put the time aside and slow him down and slow his brain down and make sure he read the questions. But that was the most rideable he's been.
He was only 9 seconds over. He actually listened so well that I should have gone faster in a few places. I think he could have easily made the time, and he had plenty of gas left at the end, but his ability to slow down and read all the questions and how in tune we were gave me a lot of confidence going forward.
You also jumped a clear show jumping round, which was a hard thing to come by.
I had talked to a few other American riders about the venue when I was deciding whether to make this trip, and one thing I heard a lot was that the show jumping is pretty big and quite hard and can be technical. There's a lot to look at. I think that contributed to the show jumping rate. It's pretty tough there.
You've had one of the best U.S. placings at a five-star in recent memory. That must make you feel very proud.
I am proud. I'm really proud that my horse dug deep and tried hard in all three phases. I'm really happy with him to be able to show jump double-clear on Sunday. He felt really good in his body, and he was really happy to be there and be out, and we both enjoyed it.
I couldn't have done it without the support of my owner, Annie Eldridge, who I know was disappointed to not be able to go watch him. She comes to all of his events, but it wasn't possible for her to travel. She enabled all of this to happen, and we've had so much support from numerous people in our team and the U.S. It meant a lot. It was nice to be able to put together three solid phases, and I truly believe that the horse is a top five-star horse and can be competitive at any venue, and we're starting to put the pieces together.