Cian O'Connor picked up an individual medal for Ireland at the 2012 London Olympic Games, earning bronze with Blue Loyd 12. And four years later, O'Connor believes he may have an even more talented Olympic prospect in the 10-year-old Belgium Warmblood stallion Good Luck (Canturo—Famosa, Furioso II), but the road to the 2016 Rio Olympic Games has proved to be much tougher.
Ireland failed to qualify a team for the Games at the European Championships (Germany) last August. In a highly controversial event, a steward in the ring ran across Good Luck's path while O'Connor and Good Luck were mid-course. Just after the encounter, Good Luck knocked a rail down, incurring a four-fault penalty so costly that it made the difference between seventh and sixth place and caused Ireland to miss out on an Olympic berth by less than four-tenths of a point.
O'Connor, convinced Good Luck had been distracted by the interference, along with Horse Sport Ireland, appealed the Fédération Equestre Internationale's ruling that the results of the European Championships would stand, but in January the Court of Arbitration for Sport denied the request. O'Connor is moving on from arbitration and focusing on having a successful winter show circuit in Wellington (Fla.), but he is as determined as ever to make it to Rio. Team Ireland is the first reserve for the Games, and O'Connor is also in the running for an individual selection.
O'Connor has a complicated history with the Olympic Games, as he won the individual gold in the 2004 Athen Olympic Games but later was stripped of the result by the FEI when Waterford Crystal tested positive for medication violations, though O'Connor proved that the trace amounts of medication in Waterford Crystal's system were from therapy sessions weeks before the Games. The FEI decision on the test result acknowledged that O'Connor "had not acted in a manner intended to enhance the performance of the horse or gain any unfair advantage in the competition," in the ruling. O'Connor worked to rebuild and then was called on to serve on the 2012 London Olympic Games team for Ireland.
The Chronicle caught up with O'Connor on his top horse, his thriving business and his quest for a third Olympic appearance.
COTH: How did the experience at Aachen affect you?
O'Connor: It was obviously disappointing. You would have liked for it to not have happened. All you want when you compete any day is fairness. This was the fact where somebody was negligent. I've often heard people say, 'If it was four strides away [from the jump], it would have been different,' but to me that argument is ridiculous. Either something is wrong, or it's right. There's no rule that says four strides away, you should be able to focus, and 11 strides away you shouldn't. [The steward] shouldn't have been there, and that's the end of it.
Basically, if it happened here in a competition—that somebody is in the lead and somebody else runs out in front of them and the person loses the class over it—with no recourse, because they're saying it's field of play, it doesn't make sense to me. I think the rule needs to be looked at.
You try your best in every situation and you play the cards you're dealt. I didn't want to spend 100,000 Euros on fighting that case personally, and I had to do that with my own money, because I thought it was in the best interest of the team. But you just get on with it. You just deal with what's in front of you.
Will you take further action to appeal?
No, upwards and onwards now. We're going to focus on winning an individual place through our performances in the arena.
What is your plan to earn an individual Olympic berth in Rio?
We'll probably pick two or three big days that we want to peak at [with Good Luck]. During Florida, I'd like to go well in some of the five-star grand prixs here, and I'll probably aim him at the HITS Great American $1 Million in Ocala on March 27. Then back in Europe, I'd probably like to ride him in the Global Champions Tour Grand Prix of Madrid and probably try to be part of the Nations Cup teams at St. Gallen (Switzerland) and Falsterbo (Germany) with him.
After that, the Olympic selection will take place as to whom will get the individual spots for Ireland. We should win two individual placings based on riders' rankings, and then it's up to the chef d'equipe to decide who gets those placings, so it's going to be competitive, but competition is healthy. There are probably about five or six guys in line for the two places, so everyone will be trying their best.
You were an alternate for the London Olympics in London in 2012, and you ended up getting in and winning your bronze medal. Do you believe in deja vu?
A good friend of mine said recently, "I wouldn't bet against it happening." You never know!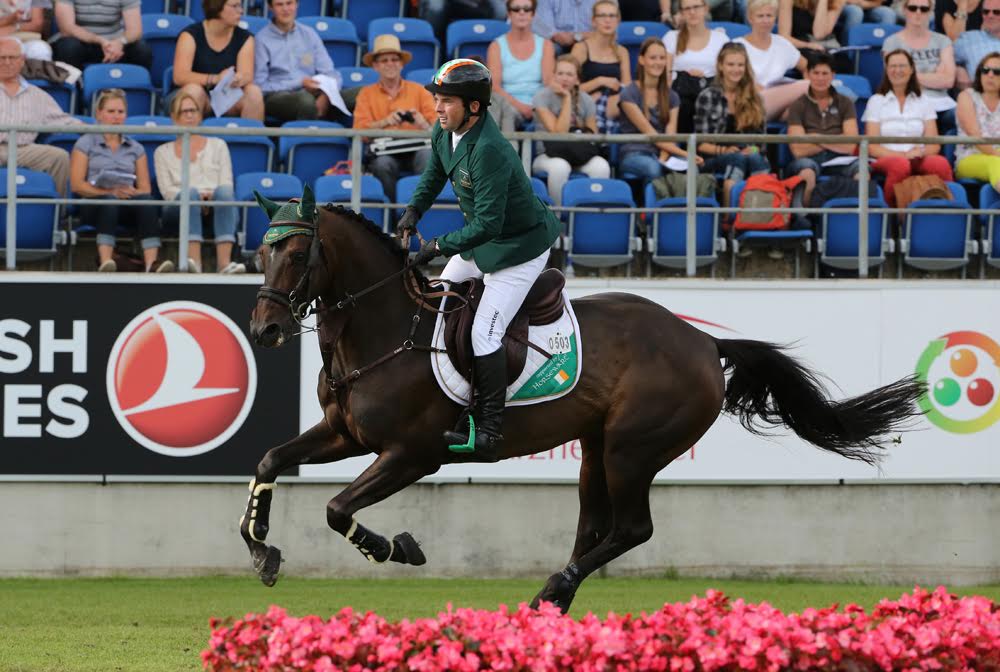 O'Connor and Good Luck at the 2015 FEI European Championships at Aachen. Photo by Sportfot
How is Good Luck coming along?
I just started riding him exactly 12 months ago. He had jumped two-star grand prix [classes] in Europe [when we got him] at 1.45-meter. He was undoubtedly a little bit green, but he was only 8 [years old] coming 9. Then, because we were trying to qualify for the Olympic team last year with the Irish team, we did some big shows with him. He was on the winning Irish team at the Nations Cup in Dublin (Ireland), and he won the [$50,00 Live Oak International CSI-W] in Ocala (Fla.).
And then he was clear in the second round of the Furusiyya FEI Nations Cup Final in Barcelona (Spain) over a huge course. So, the horse has really, really developed. Last year was about making sure he was brave and knew his job, so I rode him with some pressure to instill discipline in him. This year I want to try to get him relaxed and make the whole thing easier.
How does he compare to Blue Loyd?
Blue Loyd is a very special horse and very close to my heart. To win a medal on any horse is special, but he was a small horse with a huge heart, and what he did for me really transformed my career. I could never say anything against him.
But Good Luck is just a different character. He saves all his energy for the arena. He's quiet to hack around, he's quiet even to work, but when he sees the jumps, he's like a lion. He's just an extraordinary, freaky horse at the fence. He's very scopey, very exuberant, super careful, and he's got all the attributes of an Olympic horse."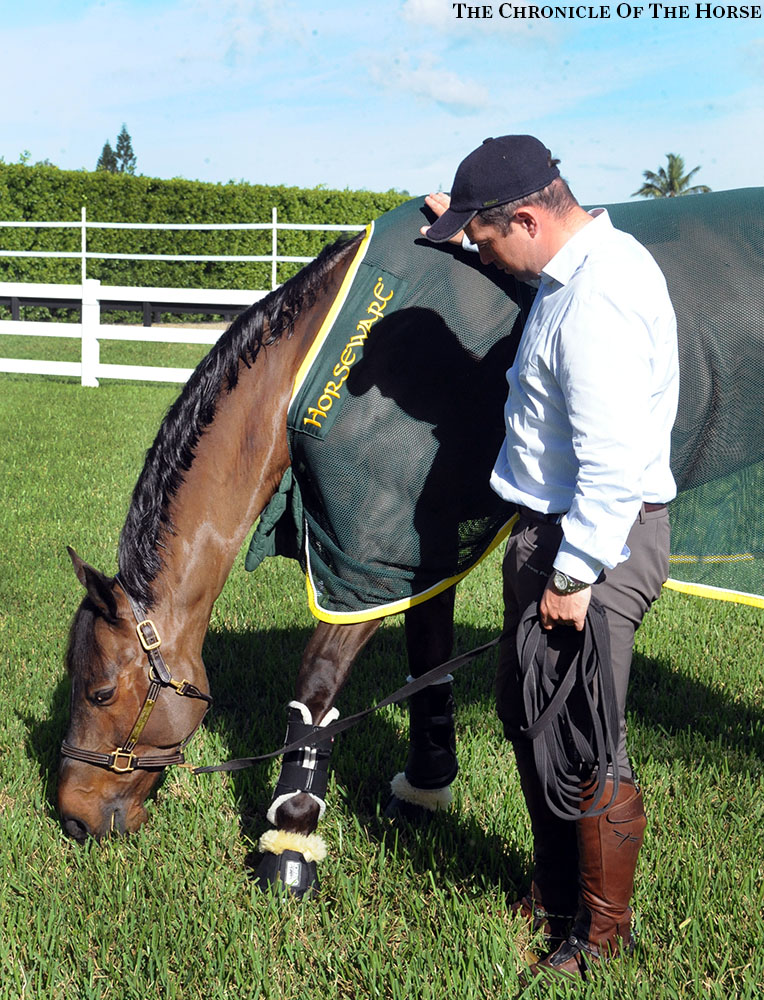 O'Connor with Good Luck at Adena Springs Farm in Wellington. Photo by Catie Staszak
What other horses are you particularly excited about?
We have some very good young horses. There's a horse named David Guetta that we have that I think is probably the nicest young horse I've had in a long time. He's 8 years old, he's big, he's got blood, he's rideable, careful with a huge jump, and his temperament is good. Every horse has something improve upon, whether it's rideability, technique or whatever, but with this horse I don't see too many question marks about him. He looks like a grand prix horse to me."
How has your business evolved in the last year?
I'm currently based here in Wellington at Adena Springs, the farm of Mr. [Frank] Stronach and his granddaughter Nicole (Nikki) Walker. [Walker bought Blue Loyd in Dec. 2012.] I started to coach Nikki in 2013, and since then we've developed a good partnership together with herself and her family. I bring on many of the younger horses for them, and then when they have the experience, they'll go on to her and she'll ride them. I'm also grateful that they have purchased Good Luck for me to ride.
My business is Karlswood Stables. We're basically based in Ireland, but now we spend so much time competing in Europe in the summer and being here in America in the winter that we've developed a business in terms of coaching and selling horses. I have two other full-time pupils with me in Emily Short and Lillie Keenan. We manage the three girls—staff their barns, take care of their horses all year round, and they tend to come back to Europe with me after WEF. Here, we have about 25 horses in total and about 13 people on the staff.
"I love the teaching part. It's good for your own riding as well. It keeps you sound, and it keeps you technically correct. It's a big part of the business, because if you're coaching and you're good at it and people get results, that's how the whole thing evolves through the purchasing of horses and so on."

O'Connor with Nicole Walker and Frank Stronach. Photo by Mollie Bailey
How do you juggle your own international riding career with your teaching?
You need to be extremely organized and have a good plan. Really, the key factor there is staff. I'm very lucky to have great staff. We put a lot of work into finding good people, and we take care of them when we have them.
We spend about 45 minutes every evening planning the next day so that it runs smoothly. For instance, this morning I was on the first horse at 6:50 a.m., and I won't have much of a break until 4:00 p.m., but you get everything done and you can do everything well. The whole day is planned out with who's going where. It's so handy now with email; everyone has it on their phones. We do an overall plan for the week and then an exact plan for each day the night before."
You've been coming to the Winter Equestrian Festival (Fla.) for the last several years. How does the winter circuit in the U.S. prepare you for the rest of your year?
The Florida circuit is great for me, because it really allows me to get myself up to a good level of riding. You're jumping so much on so many different horses, and you and the horses are ready to go anywhere after here. It's really a great stepping stone, but it doesn't feel like a schooling circuit either. Obviously you can jump too much, but if you plan it out carefully, you can really do it well.
What does your schedule look like after Florida?
After Wellington, we go back to Belgium. I'm going to base there for the summer. The clients will come back there as well. We have a very nice barn outside Brussels, where we will stable. We'll keep the horses there and do all the shows very close in that area, and I'd like to jump [in Nations Cups] on the Irish team. I have a couple of new horses as well. I have a nice grand prix horse named Sam du Challois, and I'd like to jump him and be in some Nations Cups as well as Good Luck.
I'd like to do as many Nations Cups as possible. I'm working on my international FEI ranking so I can try to get up to the top 30, and if I can do that, then I can get entry into the Global Champions Tour as well. I probably have the best string of horses I've ever had right now. I've been building this string of horses up for the last while now, and if I use Florida correctly, I should be ready for war after it.