Brazilian Olympian Jose Roberto Reynoso and Galip took the top check in Saturday night's $130,000 Horseware Ireland Grand Prix CSI 3* during Week 10 at the Winter Equestrian Festival.
The pair topped a six-horse jump-off over U.S. Olympic team silver medalist Kent Farrington and Creedance in second, and young U.S. rider Eve Jobs riding Tiny Toon Semilly in third.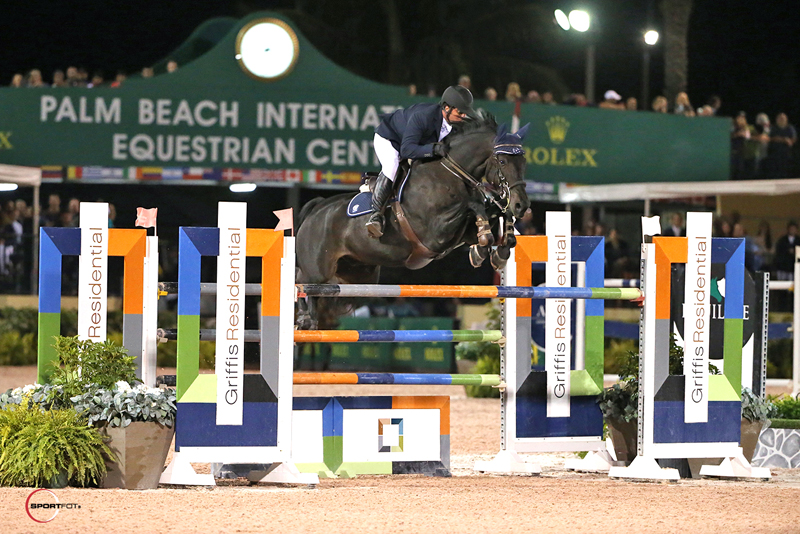 Course designer Michel Vaillancourt of Canada saw 45 entries over his first round course for Saturday night action in the International Arena at PBIEC. Six combinations qualified for the jump-off, and four jumped double clear in the tiebreaker, where Reynoso and his 11-year-old Belgian Warmblood gelding Galip (Nonstop x Feo) crossed the timers in 35.57 seconds for the win.
Farrington was aboard his own and RCG Farm's Creedance for the second-place finish in 36.23 seconds. Jobs rode Tiny Toon Semilly to third-place honors in 37.80 seconds. Colombia's Roberto Teran, Jr. jumped the fourth place time of 38.25 second with Brilliant du Rouet.
"I am really, really happy. It is like a dream to be here, and to come from Brazil and win something like this grand prix," said Reynoso, who is competing at WEF for the first time. "I knew that Kent is a really fast rider. I just tried to be faster."
Reynoso continued, "I bought Galip six months ago. Since I bought him, he has just been doing better and better. Today he was just amazing."
Reynoso grew up in an equestrian family. His father was a successful rider, and it was Reynoso's dream to compete at the top level. He represented Brazil in the 2012 London Olympic Games and continues to develop top horses. Reynoso made the trip to Wellington for the first time to compete against the best in the world and further develop his career in the sport.
"I came because of a dream. I did everything in Brazil that I could do, and I just wanted to try something new," Reynoso stated. "I would like to be here with a good owner and get more horses, because I like really it here."
Second place finisher, Kent Farrington, took an unusual fall from Creedance in last week's grand prix and was happy to complete two good rounds with the 10-year-old Dutch Warmblood gelding (Lord Z x Notaris) on Saturday.
"This was a recovery," Farrington stated. "I got thrown on my head last week, so that was not ideal. I thought he jumped great in the WEF [Challenge Cup] this week, and I thought he jumped great tonight. I thought my strategy was good for the jump-off, and unfortunately, we just got beat today. I think the jump-off suited a longer-strided horse. I had to add to the oxer across the middle before the double verticals, and I think that is where I lost a bit of time."
Third place finisher, Eve Jobs, 18, was competing in her first "Saturday Night Lights" grand prix at WEF and was thrilled with her top finish.
"I was just trying to go for a really nice double clear," she said of her jump-off plan. "I tried to set the pace as best I could. I was not going to leave out in some risky places. Like down the first line, I still did the seven strides and tried to set up for the double verticals. I tried to go clear and have a good result, so I am very happy."
"I bought this horse about a month and a half ago from Charlotte Mordasini," Jobs said of the 10-year-old Selle Francais gelding (Diamant de Semilly x Kannan). "Right off the bat I clicked with him, and my trainer, Eddie Macken, has just kind of been putting me in the bigger classes. It has been going really well. This was the biggest we have jumped to date, and I could not be happier. He jumped amazing."
See full results from the $130,000 Horseware Ireland Grand Prix.