Upperville, Va.—June 7
Ramiro Quintana didn't begin the Upperville Colt & Horse Show the way he might have wanted. A fall from a young horse early in the week left him with badly bruised ribs and some serious doubts about his effectiveness in the tack.
But the Argentinean professional was determined to end the show on a high note. And he did just that on Sunday, topping the $100,000 Upperville Jumper Classic aboard Whitney.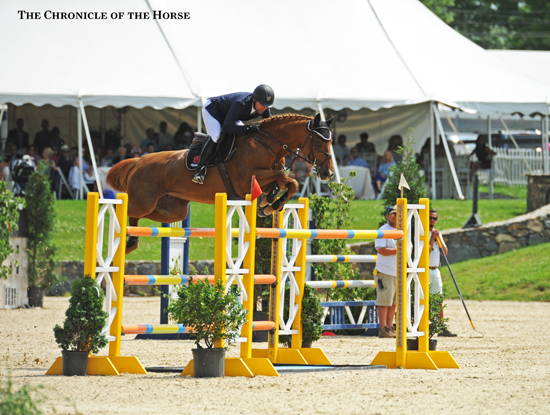 Ramiro Quintana rode Whitney to a speedy win in the $100,000 Upperville Jumper Classic. Photo by Ann Glavan.

"I didn't have a great start to the week," said Quintana. "I hurt my ribs in a bad fall on a younger horse earlier in the week, so on Friday in the Welcome Stake I was a bit sore, and I couldn't hold her. She was dragging me around a bit!
"I didn't do anything different [after the fall]; I showed anyway, but I didn't feel 100 percent," he continued. "I was just hoping to feel better Sunday and give [Whitney] a better ride. She has a lot of blood; you need to be able to be strong and hold her, and I couldn't really do that because I was quite sore."
Although he wasn't feeling at his best yet, Quintana was ready to tackle the course when he cantered into the grand prix ring aboard St. Bride's Farm's 12-year-old Dutch Warmblood mare (Indoctro—Majestic). He also rode Michael Smith's Versus in the class.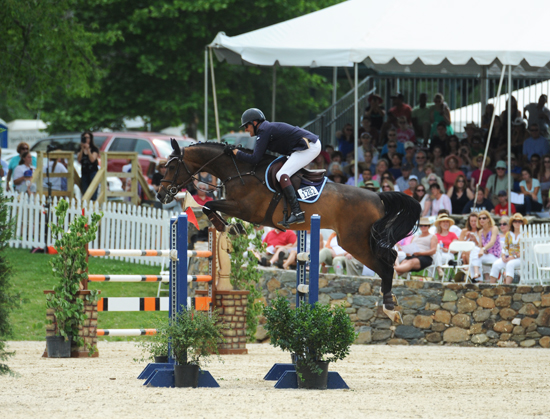 Paul O'Shea narrowly missed out on victory with Primo De Revel, settling instead for second place. Photo by Ann Glavan.

Of the 26 starters, six combinations advanced to the second round. Paul O'Shea, who also rode Primo Calypso to fifth place, came up just short of besting Quintana's winning jump-off time (35.76) with his other mount, Primo De Revel. "Revel" stopped the clock at 36.13 to come in second.
"With 'Calypso' I was only going to go as quick as was comfortable for him. He's only 8, and this was the biggest course he's jumped," said O'Shea. "So there was no point in trying to go too quick; just a nice clear round was what we were looking for, and that's what we got, so we're delighted with him.
"Obviously I went faster on Revel but just didn't go fast enough today," he continued. "Ramiro beat us fair and square, and it as a great win for him."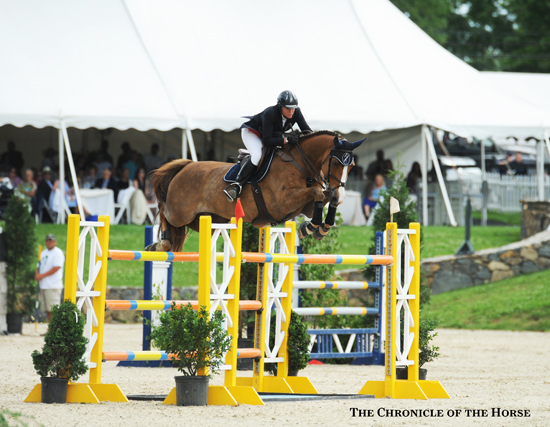 Callan Solem piloted VDL Wizard to a third-placed finish in the class. Photo by Ann Glavan.

Callan Solem, who also qualified two horses for the jump-off (VDL Wizard and VDL Torlando), jumped to third place aboard VDL Wizard, while VDL Torlando settled for sixth. Alison Robitaille and Cassinja finished fourth.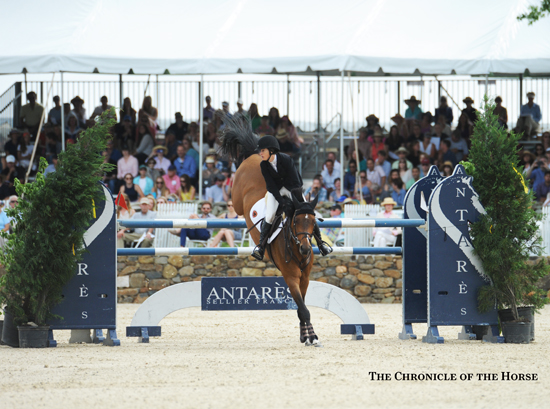 Alison Robitaille and Cassinja landed in fourth place after their quick jump-off round. Photo by Ann Glavan.

With a variety of technical questions—including tricky distances, rollback turns, a triple combination down the diagonal, and a tight left turn to a liverpool oxer—the first round proved tough to navigate.
"I'm a big fan of [course designer Michel Vaillancourt]," said Quintana, 37. "I really like his work; I think he builds to standard. He builds really technical courses. I think it worked out in the end with the good horses doing well, so I think it was a fair track."
Quintana went into the jump-off round with a bit of advice from his former boss, Olympic show jumper Joe Fargis, on his mind.
"You know, I was coming to the jump-off, and I wanted to go as fast as I could without having a rail, just not to lose my head," said Quintana. "I think it kind of worked out because I ended up having a really nice round and all the rails stayed up, which is something I learned from Joe Fargis. You gotta go fast, but the point is to leave them up."
Fargis also imparted some wisdom to Quintana over the years that ultimately helped him to push past his disappointing first days at Upperville.
"He always told me every time you have a bad round, don't worry about it and keep going," said Quintana. "Don't feel so sorry for yourself; just keep working. Shake it off and keep going."
This is an especially sweet win for Quintana, who's based just down the road in Middleburg, Va.
"This is a grand prix that's been avoiding me," said Quintana. "I'm local here, so I always want to do well at this venue, and I always keep missing. It's a grand prix I always had in my mind to win because we're locals, and luckily it worked out today."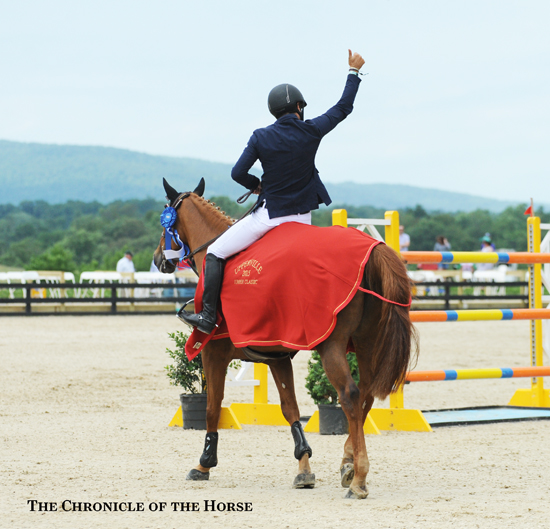 Photo by Ann Glavan.
See full results here.
Curious about what happened in Saturday's $20,000 USHJA International Hunter Derby at Upperville? Read all about Tori Colvin's win with Vaillero here.