June 6—Upperville, Va.
While American Pharoah ran a wire-to-wire victory in the Belmont Stakes to win the Triple Crown, two derby contenders were coming from behind to finish one-two at the Upperville Colt and Horse Show (Va.).
Tori Colvin and Heritage Farm's Vaillero made the move from seventh in the first round to first place overall in the $20,000 USHJA International Hunter Derby, held June 6. Hot on her heels was Harold Chopping and Caramo.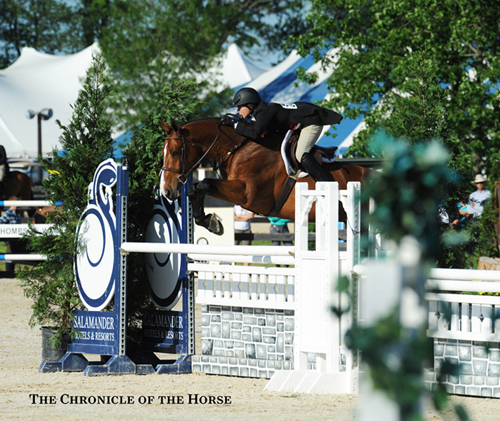 Tori Colvin topped the $20,000 USHJA International Hunter Derby at the Upperville Colt & Horse Show with Vaillero. Photo by Haley Burton.
Colvin's had a pretty successful show at Upperville so far—she topped the large and small junior hunter classes with four of Betsee Parker's horses (the division will wrap up Sunday); won the Platinum Performance/USEF Show Jumping Talent Search with Heritage Farm's Agsburg, who also campaigned in the derby; took first and second in the open 1.40-meter jumpers (Karen Long Dwight's Don Juan for the win); and won the $25,000 Upperville Welcome Stakes with Lumiere, a horse owned by Peacock Ridge LLC.
And now, of course, Colvin is adding a derby win to the list. Saturday's derby was a bit of a déjà vu moment for second place finisher Chopping—he followed Colvin into the ring for the jump off in the Welcome Stakes, and he did so again in the handy round of the derby. Both times he graciously accepted defeat, but not without a fight.
"I went a fraction too slow," Chopping said, smiling at Colvin as he discussed the Welcome in an interview following the derby. "I keep following you in the victory gallop!"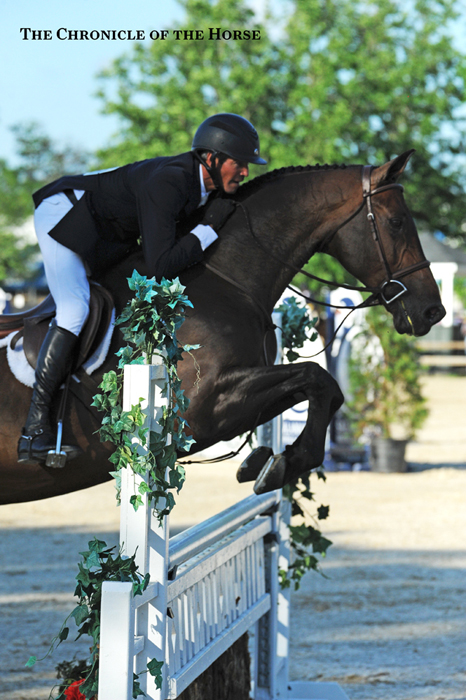 Harold Chopping piloted Caramo to second overall in the $20,000 USHJA International Derby at Upperville. Photo by Haley Burton.
It didn't look like Colvin was going to be able to keep her Upperville streak alive after the first round of the derby—her first ride, Agsburg (another Heritage Farm horse, recently imported) scored a middle-of-the-pack 161, and even a very smooth trip on her slightly better known equitation-turned–derby horse Vaillero (she's ridden him since WEF of this year) only pulled a 175.5.
Something had to change in the handy round if Colvin was going to pull off a win.
"I was just going for broke," Colvin said of her handy round with Vaillero. "My first one [Agsburg] didn't go very well, and we were so far behind we just had to."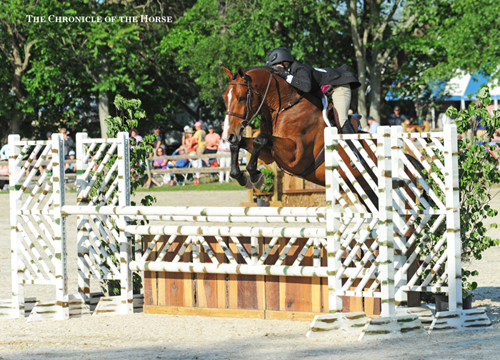 Vaillero's knees were picture perfect as he flew over fences in Round 2. Photo by Haley Burton.
Had to, and did. Colvin came into the ring on Vaillero and laid down a foot-perfect trip, earning a pair of 88's from the judges. Her roll back turn into a one-stride, vertical-vertical combination was particularly impressive—Vaillero was still pivoting as he left the ground, before jumping seamlessly through the combination.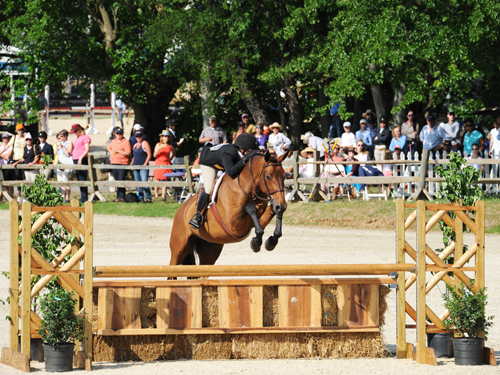 Exemplar took third place with Tommi Clark in the irons.
After Colvin's impressive handy ride, Upperville show management pressed pause on the derby to broadcast the Belmont Stakes on the scoreboard over the ring, and the derby crowd got on their feet to cheer on American Pharoah as he galloped into the history books as the first Triple Crown winner in 37 years.
Chopping was the first horse back in the ring after the race, and he did the very same turn Colvin did into the one-stride, with equally perfect execution. His handy pulled a pair of 87's, ending just 1.5 points behind Colvin.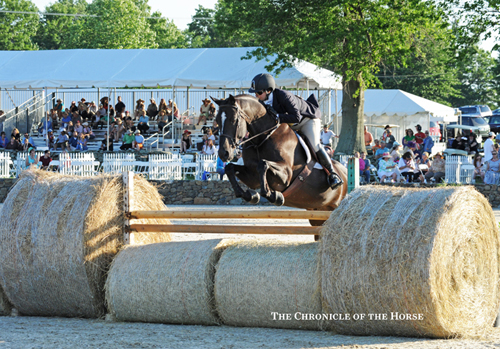 Louise Serio and Temptation jumped beautifully to place fourth overall. Photo by Haley Burton.
Chopping, too, had something to prove in the handy round—he wasn't happy with how his first round went, comparing the trip to a round of golf.
"I felt like the first round, just by the nature of the lines being a little quiet, I was a bit stuck the whole time," Chopping, of Southern Pines, N.C., explained. "You can't hit a four iron in and then be pulling on the reins the whole way there. I feel like I played the whole course with my seven iron, and I never really took a full swing.
"And then the handy track was completely the other side of it, where it was all single jumps roll backs," Chopping continued. "You could just ride at the rhythm the horse wanted to go."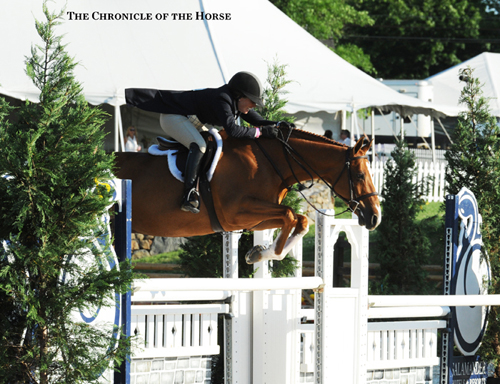 Chronicle blogger Jennifer Bliss put in a scrappy handy round with Poker Face to place fifth in the class. Photo by Haley Burton.
Colvin, known for not being particularly wordy in interviews, was happy to agree with Chopping's golf-metaphor description of the Kenny Krome designed courses.
"What he said was good!" Colvin said, grinning. "Exactly what he said – he sounds really great when he talks!"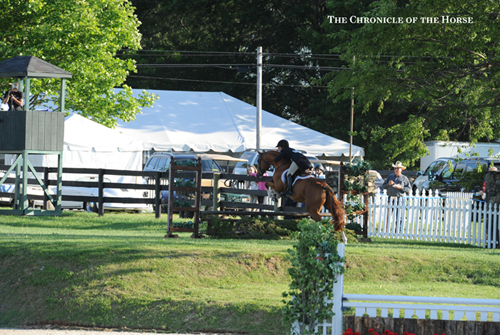 In the handy round, competitors were required to ride up a grassy bank to a trot fence, then turn left down the bank and back to the sand footing. Jennifer Bliss and Poker Face are pictured. Photo by Haley Burton.

Chopping has one more chance to get ahead of Colvin on the leaderboard at this year's Upperville —both will ride in the $100,000 Upperville Jumper Classic on Sunday, June 7.
Check back with the Chronicle for more coverage from the Upperville Colt and Horse show. See full results here.