Devon, Pa.—Oct. 2
Handwalking Qredit Hilltop around the show grounds in the early morning light at ShowPlus Dressage At Devon today, Michael Bragdell couldn't help but let his mind wander back to the stallion's early days.
Bred by Judy Yancey, "Q," a now 13-year-old Oldenburg (Quaterback—Dream Rubina, Dream Of Glory), won Grand Champion of the Devon breed show back when he was a yearling with Bragdell handing him.
Bragdell backed him and started him before Chris Hickey took over most of the riding and showing when Q was 4 and 5, then Bragdell got the ride full-time at the end of his 5-year-old year.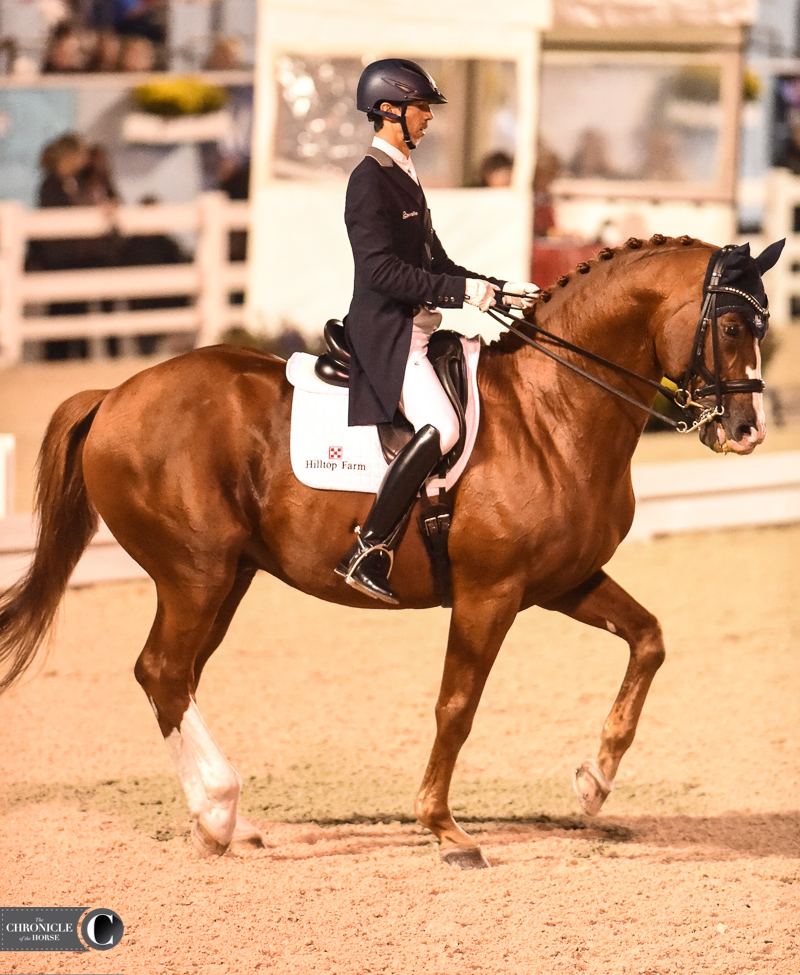 Now they've reached the top of the sport, and the pair won their second Devon blue on Saturday night, topping the CDI-W Grand Prix freestyle (72.99%).
"He's really good with the electricity," said Bragdell. "I love how he felt in the ring and how electric he felt in a good way. We just went in there to have fun. Of course we want to have a good, clean test, but it's always fun when you do the freestyle and enjoy the music. There's no other place like it."
His freestyle featured more modern music from Coldplay, and the popular song "Blurred Lines," which got the crowd cheering as he piaffed and passaged.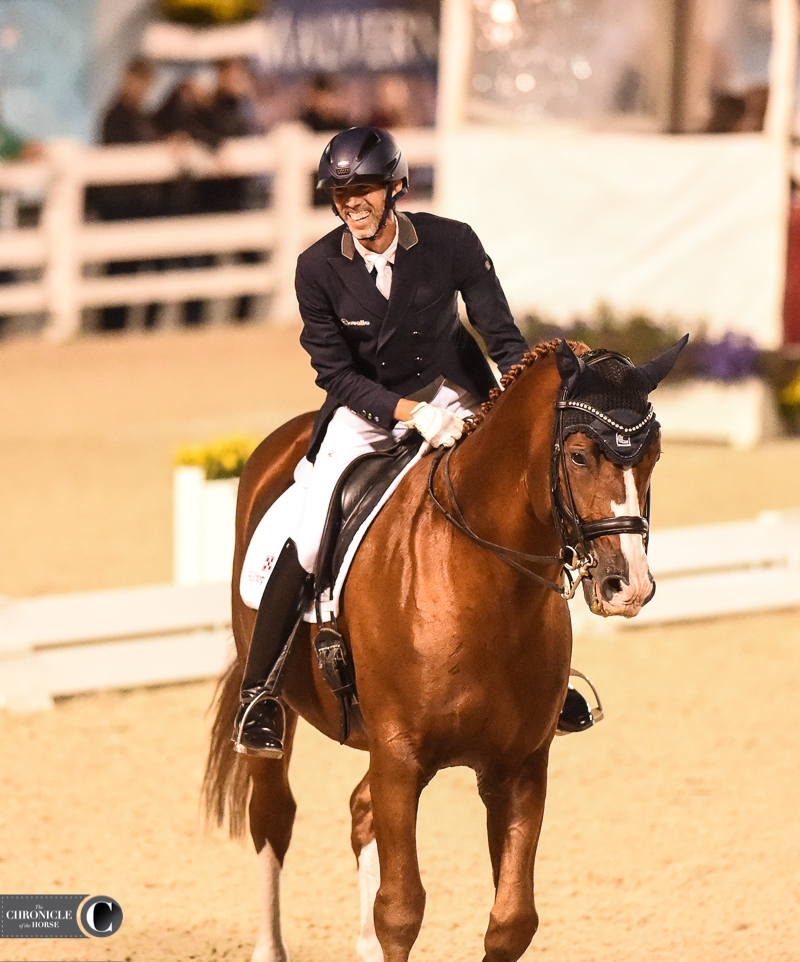 Bragdell said he always listens to a special playlist to get pumped up before an important ride, including music from his native Sweden, like ABBA, and the Beastie Boys.
Bragdell almost couldn't believe his fortunes this weekend.
"From the day he came to the farm as a weanling, I knew he was special," he said. "He was really fun to handle as a yearling, and he was so well-behaved. Yesterday morning I was just walking around before the sun came up, and it brought back those memories. I've done Devon as a handler at the breed shows for 20-some years, and when I did that in the beginning I was purely a jumper rider. I never thought I'd do what I did tonight. It's just crazy to be here and to wear the blue ribbon. It's very special, especially on him."
Bragdell has spent some time training and competing in Florida, but hopes to spend even more time there this winter.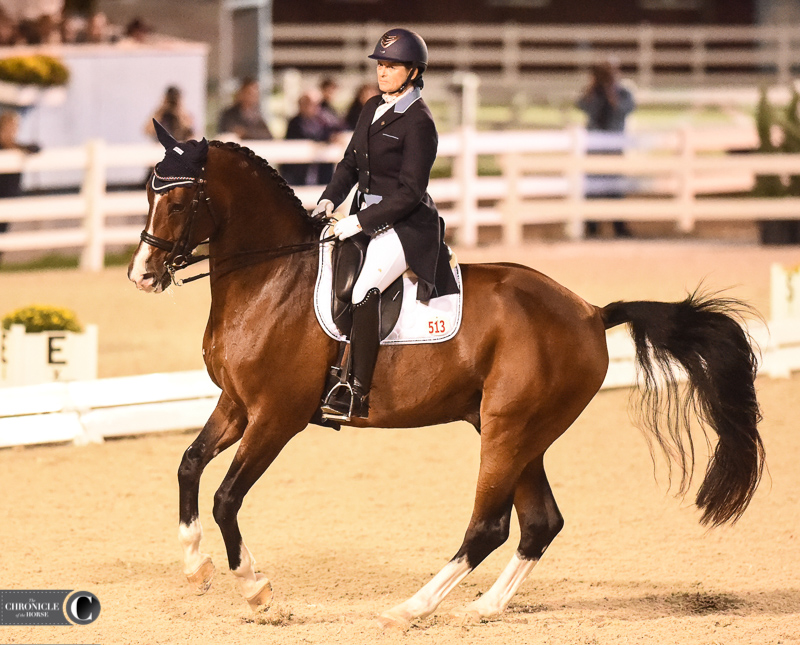 "Hopefully we'll continue to build on this," he said. "Horses are so humbling. I'm enjoying the moment right now, then you go back, and you go to work. We are perfectionists, so we say, 'OK, I need to get this better, and I need to be able to create this in the ring, and this day I did, this day I did not, what do I do different?' "
He admitted stallions can be tricky when they're green, but that he feels like he's still green himself.
"I'm still learning. Every horse you still learn," he said. "He's the first one that I made from scratch, and there's a lot of bumps along the way as you figure the horse out. What I love about him is he allows me to make the mistakes, and he says, 'OK, sounds like you figured it out now. Now we'll play.' "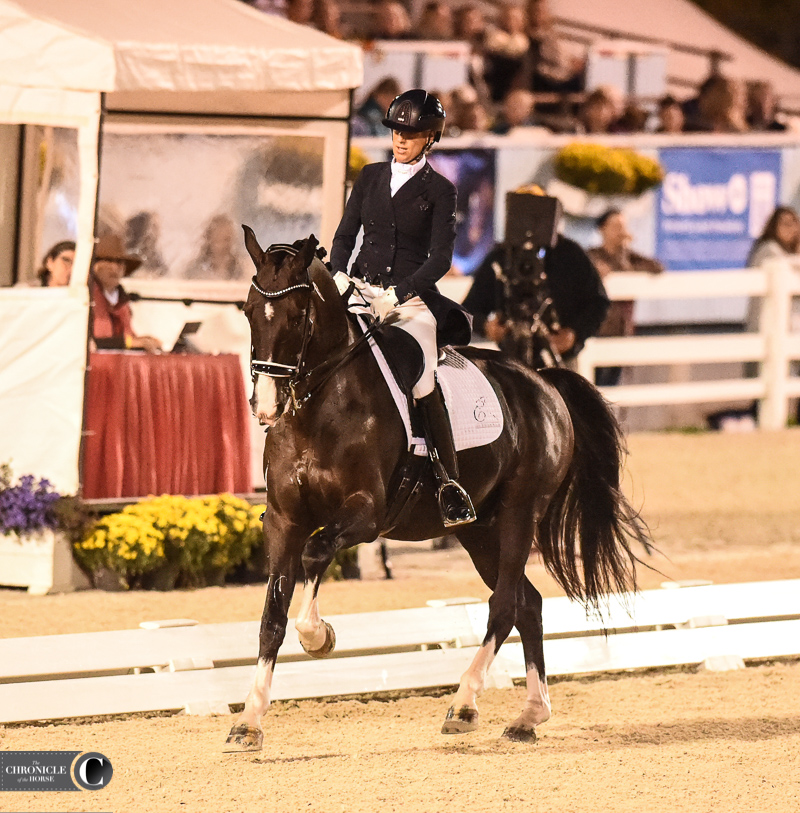 Canada's Diane Creech picked up another win this weekend, this time in the CDI3* Grand Prix Special with her own and Louise Leatherdale's Chrevis Christo (69.65%). They topped the CDI3* Grand Prix for the Special Friday night.
" 'Christo' felt fantastic, he was amazing. And the crowd—it was so nice to see the stands full again and showing at nighttime," said Creech. "It was just so electric and really great. Christo can be a little bit shy about shadows and about the flower pots, and he had one or two little spooks, but he went in there, and he was really so brave. We just had a lot of fun; it was just great. We're so grateful that Devon runs this horse show because it's so special showing under the lights and with so many people. You don't get that too often."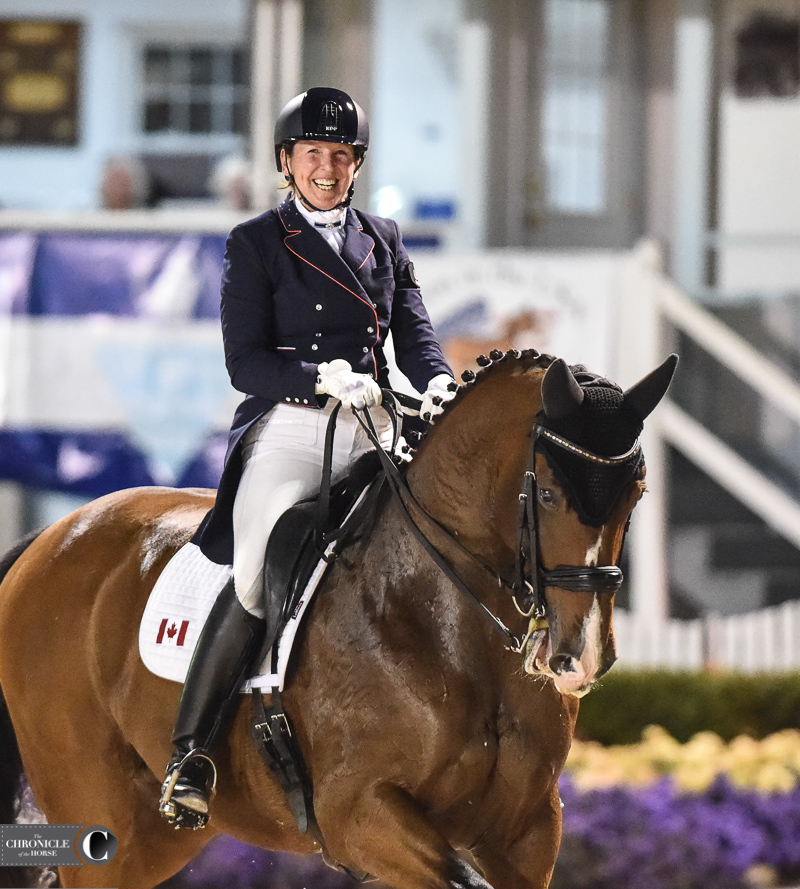 Creech isn't sure what's next for Christo, an 18-year-old Danish Warmblood (Chrevi's Cavallo—Chrevi's La Vi, Matador) gelding.
"If he feels happy and he still wants to do it like he is now—like he goes, and I don't have to ask him. If he still loves it and wants to do it then we'll do it," she said. "But he doesn't owe me anything. Everything on top is just extra now. He's my best friend, and that's how it will stay whether we show or not. So, we don't make direct plans but we'll see how he feels and how he goes. At the moment he's still a rocket out there, and he really loves it."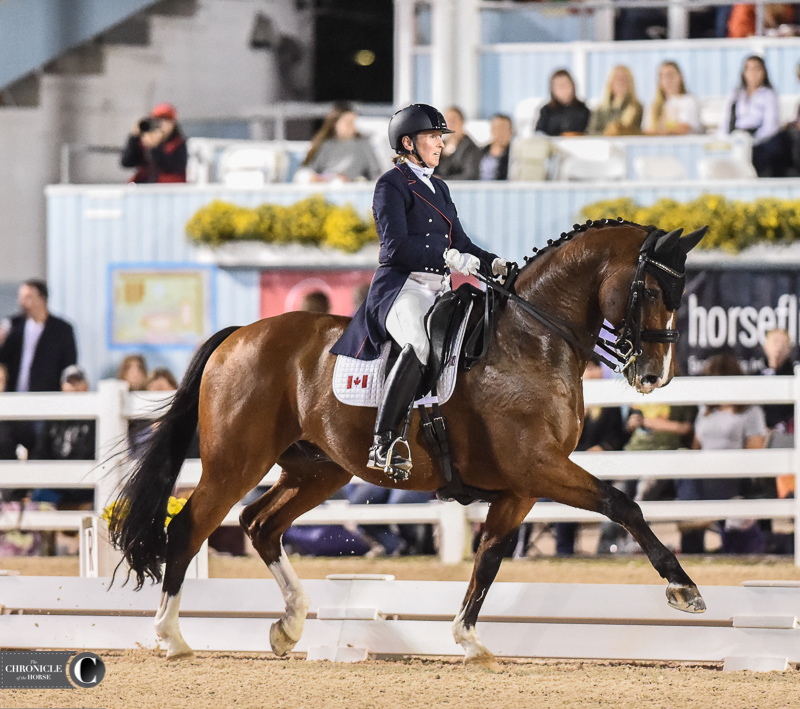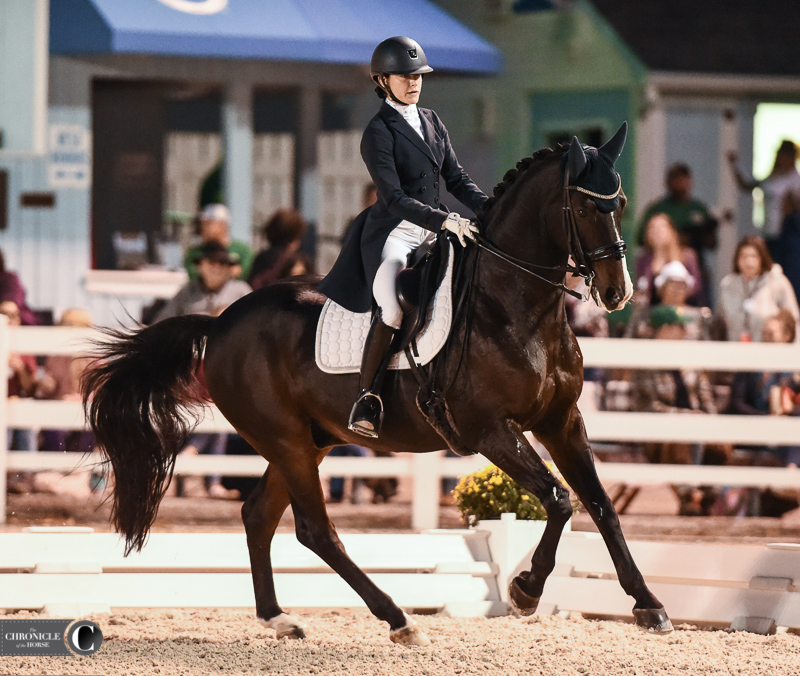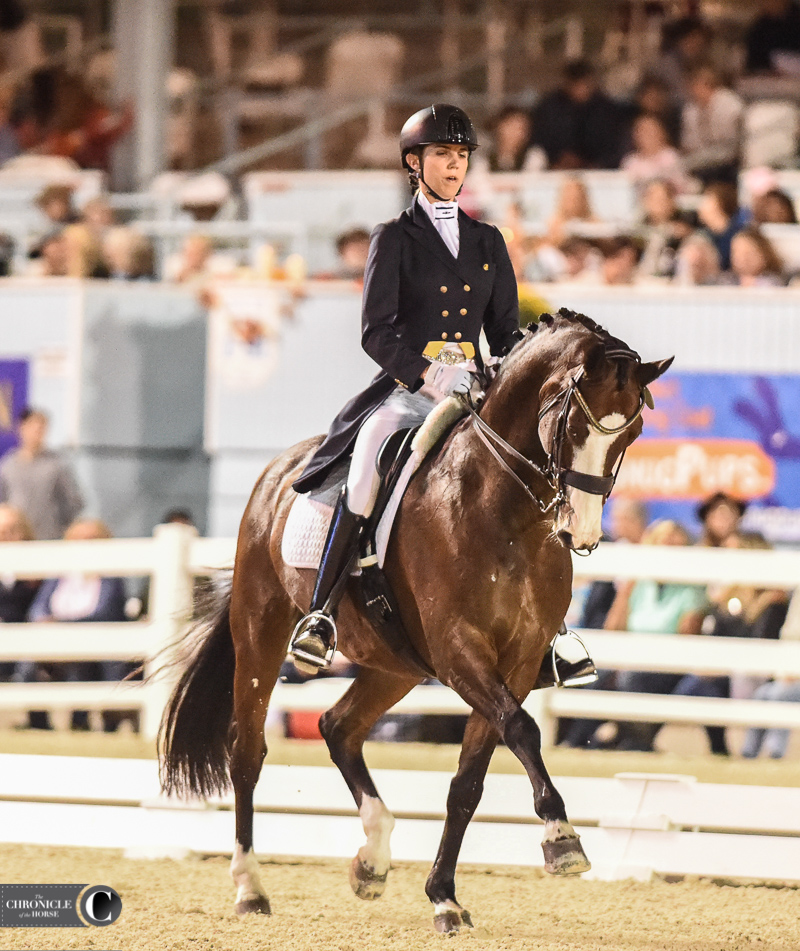 Click here for full results.
Click here for COTH's coverage.