Devon, Pa.—Oct . 2
Diane Creech has been partnered with Chrevis Christo for more than 10 years, and they've competed in countless CDIs, but there's always been something special about cantering down centerline under the lights in front of a packed crowd at ShowPlus Dressage At Devon.
The pair won the CDI-W Grand Prix for the freestyle at Devon in 2017, and returned this year to win the CDI3* Grand Prix for the Special.
"Christo" is 18 years old, and Creech, Ontario, Canada, thinks he's feeling better than ever.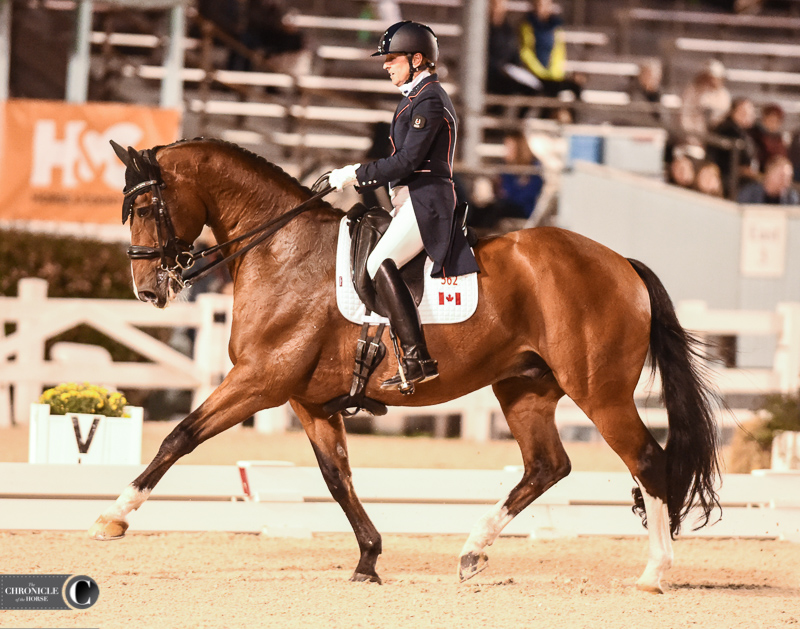 "Because of COVID-19, we haven't been in a ring since Florida, because it's been very hard to find shows. So, we were excited when Devon continued to have the show, and we love that the show in Devon brings the riding community together, and we're so grateful that it's still happening," she said. "All the spectators and the atmosphere and the judges—everybody just comes together and celebrates the sport despite of all the challenges that are happening.
"Christo was amazing. He hadn't been in the ring for a little bit, so I was super happy with him. I'm very excited about the win. It's always special to win in Devon because Devon is just a very special show and winning a blue ribbon just kind of has an extra notch in your [belt]."
Creech came down from her home base in Canada and said crossing the border was difficult  with extra time and tests, but it was worth the challenges.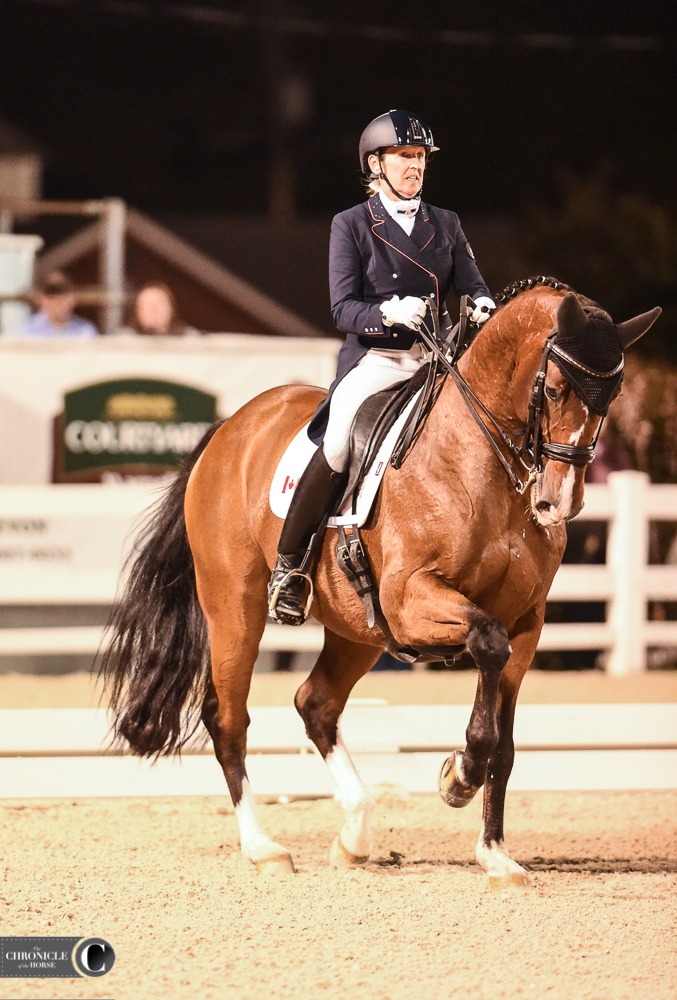 Christo, a Danish Warmblood (Chrevi's Cavallo—Chrevi's La Vi, Matador), is owned by Creech and Louise Leatherdale.
"He's a very, very exciting horse, and I just love him to death," Creech said. "He loves people; he's a very special horse. He doesn't owe me anything, we just love going out there together and doing it. It's just fun. [His owner] is so happy and so proud of him. It's a testament of his big heart and his fun will that he still wants to go out there and perform and still wants to do it. He's such a character it's quite funny."
Creech said Christo is king of the barn and has the prime spot in the barn to look out his window and see the action.
"He does get lots of loving and care," she said. "He's such a person horse. If you were to meet him, he would put his head on your shoulder, and that's where he is most. His favorite place is to be close to you. He's a horse with a really big heart. Every time Mrs. Leatherdale comes, the first thing she does it go to his stall and snuggles with him because he's a real snuggle bunny. But, he loves to go out there and put in the extra swing out there."
Click here for full results.
Click here for COTH's coverage.