This long shot and his gray-haired jockey top a tough field in Maryland.
Private Attack and William Santoro, a talented jumper and a confident jockey, joined forces for a thrilling victory for owner Sportsmans Hall and trainer Alicia Murphy in the 106th Grand National in Butler, Md.
Eight horses faced starter William Wylie on April 19, including 2004 NSA Timber Horse of the Year and winner of last year's Grand National, Bubble Economy; 2006 NSA Timber Horse of the Year Askim; and 2007 Pennsylvania Hunt Cup winner Earmark.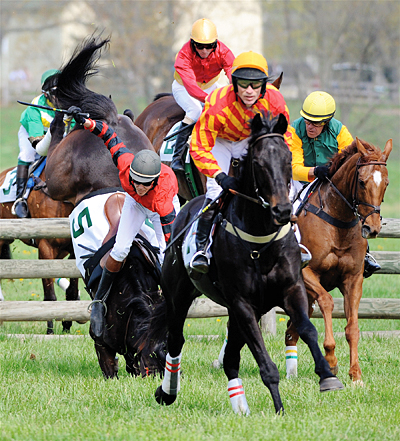 Confronted with this field, Private Attack seemed like a very long shot. The 9-year-old, dark brown gelding had never won a sanctioned race, and he had a 58-year-old jockey in the saddle.
Santoro sent Private Attack to a forward position early in the 3-mile route, then tucked him into a steady second or third slot as the race unfolded.
Paddy Neilson's Can't Find My Keys (James Stierhoff) was unseated at the third fence, and Private Attack was joined on the front end by Lindsay Dryden's Foiled Again (Anna McKnight). Billy Meister soon linked up with the front-runners on Daniel Baker's Mr. Liberator.
Beyond sight of most of the spectators, rider H. Brooks Durkee suddenly jumped off Earmark after the 13th fence and pulled out of the race. By the third-last, Private Attack picked up the pace and passed Mr. Liberator and Foiled Again who kicked up their speed in an effort to regain the lead. Unfortunately, Foiled Again went down at the next-to-last fence and Mr. Liberator bobbled, leaving Private Attack with no one close.
Askim (Charlie Fenwick III) and Bubble Economy (Jack Fisher) put on a burst at the last fence and through the uphill run to the finish, but their efforts weren't sufficient to catch Santoro and Private Attack who won by a comfortable 4 lengths. Askim put a neck in front of Bubble Economy for second, with Mr. Liberator in fourth.
A State Of Mind
What first caught everyone's attention is Santoro's age. Although he'd ridden show jumpers as a teenager, Santoro had abandoned an equine career for a shot at acting. Three seasons ago he started riding with trainer Alicia Murphy and soon became the chosen jockey. He and Private Attack seemed to click.
"The horse is a polished jumper," Santoro said with pleasure, "but he's a tiger to rate and hard to settle. Still, I knew I was on a really good horse today. Alicia [Murphy] has an aptitude for keeping her horses happy with their job."
Private Attack was purchased a half dozen years ago to be developed as a polo pony for the Colhoun family who live about 5 miles from the Grand National course.
Deep Roots A page in this year's Grand National program recognized the late J. Fife Symington Jr., an avid foxhunter, timber horse owner and rider, and a member of the race committee for more than 50 years.

Mr. Symington was quoted in a history of the race as saying: "The Grand National has always been a race for the community. So many people are involved who are interested in foxhunting and farming on the land, but not necessarily in the bigger racing picture. It's more of a local event, and there are more local people who tried again and again with their horses and didn't give up even though they didn't win. That's part of what makes this race so special."

This year's Grand National speaks eloquently to Mr. Symington's assertion. The owners of Private Attack are the daughter and grandson of one of this race meet's strongest supporters: Janon Fisher Jr.
Fisher rode in the race twice, in 1922 on Rumor and in 1923 on Pioneer. The rider, by his own account, distinguished himself in neither performance.

As a trainer, however, Fisher started as many as 40 horses at Butler in the period from 1932 to 1968. The star of the Fisher trainees became a legend: Mountain Dew, with Janon Fisher III riding. This pair ran in the Grand National eight times in eight consecutive years (1961-1968), winning six of the eight and taking second and third in the other two. The Fisher family lived at Deer Park, about 3 miles from the racecourse.

Similarly, the winning trainer and rider of the Murray Memorial, Ann Stewart and her son Charles C. Fenwick III, both grew up on the course itself. Charles Fenwick Jr., won a phenomenal 10 Grand National renewals in the 21-year period from 1973-1994.
"We found him at Charles Town [W. Va.], but he'd never been raced," said Julie Colhoun, who owns the horse with her son Dan Colhoun. "Being a polo pony didn't work out too well because the horse was pretty tough."
Dan added to the story, "The fact is that he became a jumper almost by default. After the polo season we turned some of the string out in Tommy Smith's pastures, but Private Attack was having none of it. He circled once or twice and then turned and jumped out over a big board fence, folding beautifully, and ran across country back home.
"I stood there in amazement. I had no idea he could jump," he continued. "I called Alicia and asked her to come take a look at this horse."
Private Attack had some nice finishes in 2006 and finally a win in the open timber at the Potomac Hunt Races (Md.) last spring. This year he was second in the Rokeby Bowl at the Piedmont Foxhounds Point-to-Point (Va.) and dead-heated with Incomplete at the Elkridge-Harford Point-to-Point (Md.), before getting his first sanctioned win over timber at Butler. As a result, the son of Private Interview may give Santoro a shot at the Maryland Hunt Cup.
"Never before have I had so much confidence in a horse," said Santoro. "I'd really like to do it."
Complete Triumphs
In the second race on the card, the 43rd running of the Benjamin H. Murray Memorial for non-winners of two sanctioned timber races, 7-year-old Incomplete found himself to the good at the finish line by 3 lengths.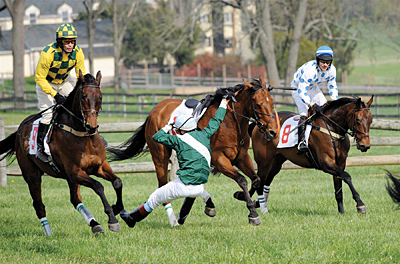 Ridden by Charles C. Fenwick III, trained by the jockey's mother Ann Stewart, and owned by Robert A. Kinsley, Incomplete patiently waited until he was five fences from home before moving to the inside and fourth place behind Battle Op (Durkee), J. Alfred Prufrock (Conrad Somers) and Move West (Stewart Strawbridge).
Move West went down at the 15th, leaving the other three front-runners chasing down Incomplete. Gunning for his second victory of the day, Santoro on Lucy Goelet's Twill Do charged from the back of the pack to finish second, passing Battle Op in third and J. Alfred Prufrock in fourth.
Kinsley was ecstatic over his horse's first sanctioned triumph. "He's just a great horse," Kinsley said. "I've had him three years, and we've won some good point-to-points at Elkridge and Piedmont, but this is the best."
The third and final race was the Western Run Plate, a heavyweight event for amateur riders. Western Fling, ridden by Irish jockey Shane Burke and trained by Pennsylvanian Kathy McKenna, blew away the competition to break his maiden by 40 lengths over Professor Maxwell (George Hundt Jr.) and Comanche Station (Durkee).
The 10-horse field was beset by four fallers, including Patrick Smithwick on Riderwood and Meister on Voler Bar Nuit who looked to be in winning positions when they parted company. These four horses and riders escaped injury, but the ill-fated Earmark suffered a broken leg in the feature and was euthanized. Move West was uninjured in the Murray, but jockey Stewart Strawbridge suffered a cracked vertebra.
Margaret Worrall