The Canadian claims victory with the only first-round clear.
Chris Pratt had a long wait after taking the first trip in the $50,000 CSI-W Grand Prix at the Oaks Blenheim Fall Tournament, Sept. 12-16, in San Juan Capistrano, Calif.
But he said it's sometimes easier that way.
Aboard Royal Beach Farao, Pratt posted the only flawless first-round course in a class of 35. He set a standard on Guilherme Jorge's world-class course by sticking to his plan.
"What I like about going first is that you walk the course, you make a plan and you execute that plan," Pratt explained. "There's no time to watch the other horses and second-guess yourself."
The course was tight and tall. A small covered arena mimicked what riders might find at World Cup Finals venues. Pratt planned to add strides whenever possible and be efficient to stay within the 79-second time allowed.
He made the course look easy.
But the following six withdrawals, two eliminations on refusals, one fall, and 200-some faults told a different story.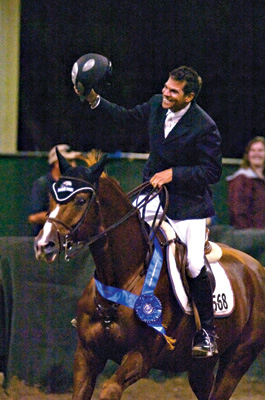 A number of riders tripped up over a tricky triple combination along the outside rail. The two strides to the last oxer seemed to be a bit long for some combinations, but Pratt and Royal Beach Farao nailed it.
"You had to be forward and really get [the horse] there. Guilherme Jorge does a brilliant job of giving subtle variables. There were a lot of different options and places where you could add a stride or leave one out," said Pratt.
"It really took a good ride because there were a lot of technical aspects. You really had to make a solid decision and stick with it. Chris had a perfect plan, and his execution was flawless," said Richard Spooner, for whom Pratt now works.
Spooner rode Quirino 3 and Airtime and finished with 8 and 4 faults, respectively.
Pratt ventured to the United States from his home in Toronto to work for Spooner in January. He had never been to California and simply reckoned it was time for a change.
He picked up Royal Beach Farao's reins in February. Katherine Bardis, one of Spooner's students, first tried her hand with the 12-year-old, Mecklenburg gelding (Golden Miller—Apollo) when he was 8.
"Katherine rode him first, and he wasn't that good. I rode him next, and he wasn't that good," Spooner said laughing. "Then Chris started riding him, and now he's winning World Cup classes."
"He's my No. 1. He's such a fun, rewarding horse to ride," Pratt said sincerely. "He loves to compete. He's the type of horse who wakes up first in the morning loving life, and he'll run you to the ring ready to work."
With 20 more World Cup points in hand, the 2008 FEI World Cup Finals are on Pratt's radar.
He's An Old Soul
To put another accent on Alison Baileys' junior career, she and Tache Rouge earned the LRW Farms Mary Ann Weisman High-Score Trophy for the large junior, 16-17, division and reserve championship in the week's division. The LRW award is given to the highest-scoring junior hunters after the final show in the Oaks Blenheim Classic series each year.
The pair also topped their division at the Junior Hunter Finals West (Calif.) at Show Park in August (Sept. 14, p. 110).
Surprisingly, last year was the mare's first season as a junior hunter, and neither Baileys nor trainer John French expected Tache Rouge to qualify for indoors. He was only 6 then.
"He surprised us all and was ready for indoors his first year in the United States," Baileys said of the Selle Francais gelding. "He's an old soul."
Mary Morrison originally found Tache Rouge and imported him from France as a youngster. Baileys bought him in early 2006 and started training with French just after the HITS Indio Desert Circuit (Calif.).
"John really is the best," she said. "He doesn't say a lot, but he always says the best thing and goes by what's best for the horse."
He agreed with Baileys; it's not every day you find a horse like Tache Rouge.
"He has a great personality," said Baileys, 18, as Tache Rouge nuzzled her shoulder. "He acts like a medium pony. He can be kind of sulky in the warm-up ring, but completely different in the show ring. He's always on in the show ring."
Baileys has been accepted to Santa Clara College (Calif.) this fall, where she'll study veterinary medicine. She's also going to continue showing Tache Rouge in the amateur-owners.
To cap off her final year as a junior, she plans to revisit the East Coast this fall with French to hopefully top the reserve championships in the first year green and junior hunter divisions Tache Rouge earned at Capital Challenge (Md.) last year.
French rode Janie Andrews' Andiamo to tricolors at the Fall Tournament in the regular working and second year green hunter divisions earlier that week.
After claiming the ASPCA Maclay Region 8 Finals during the Oaks Blenheim Fall Tournament, Tina Di Landri rode Ellen Spalding's No Limit to the small junior hunter, 15 and under, championship and won the junior hunter classic. They also topped the LRW Farms Mary Ann Weisman High-Score Trophy for the division.
Spalding said Di Landri's quiet style and professional ride seemed like a perfect fit for No Limit, an 11-year-old Dutch Warmblood she's owned for six years. She originally bought him with the intention of getting back into the hunter ring but decided relaxed hacks at home with some occasional jumping were more her style.
But at the same time, she also realized his talent and hoped to find him a good home where he can continue to live up to his potential.
"He looks so good with someone who really wants to compete a hunter," Spalding said. "I think he could go to the top under the right rider."
How Lucky I Am
Trainer Archie Cox also had success at the Oaks through student Laura Wasserman and her Quality Time. The pair earned the amateur-owner, 36 and over, championship and won the amateur-owner hunter classic.
Over fences, "Jack" was unbeatable. Even under saddle he finished second, which made quite a convincing case for collecting the tricolor. It's taken some time, though, to heal a bruise in Wasserman's confidence. She and Jack have been good remedy for one another.
"It's been a long road to repair," Wasserman said reflecting on a spill at the Las Vegas National Tournament (Nev.) last November. Neither horse nor rider was seriously injured, but "it took a lot longer than I expected to bounce back and get things back together. I'm just so happy to be where we are now," she said.
Cox fell head over heels for the 9-year-old Hanoverian two years ago after seeing him at the Washington International (D.C.) and so did Wasserman. She tried him immediately. Even in the midst of the Verizon Center's chaotic indoor warm-up ring, the bond was instantaneous. He had a gentle personality "and he's just plain fun to ride!" Wasserman said, smiling.
They won't return East this year because Wasserman's been happy with his performances and will stay home in Los Angeles with her two children, Emmett, 4, and Stella, 2.
"I'm a full-time mom now, and it's kind of tricky to find time to ride. It would be hard to travel that far with two small kids," she said. "But now that they're both in school I can ride in the mornings at least. I don't know what was harder; working full time and riding or being a mom full-time and riding.
"But I know I'm lucky now to have such nice horses, a supportive husband, and Archie's help," she added.
---

The Flynns Fly High In Children's FEI Qualifier
Sage Flynn, this year's USEF Junior Hunter Finals West grand champion, proved that she's got talent in the jumper ring too. With her 9-year-old jumper, Hot Pants, she topped the FEI Children's Jumping Qualifier.
This competition is four jumping rounds under Fédération Equestre Internationale rules and is open to riders aged 12 to 14. Riders designate one horse and compete to qualify for the FEI Children's International Jumping Final, to be held Dec. 3-8 in Jalapa, Mexico. Each country can send two riders to the finals who are determined after the FEI tabulates results from all competitions.
The courses reflect FEI-level complexity for the young riders. Jumps reached 1.20 meters in height and 1.30 meters wide.
"All the courses were big, but it was definitely weird being in such a small arena," Flynn said. "Especially with all the jumps so short off the rail."
But the difficulty was hard to judge by watching Flynn and "Hottie" compete. They cruised through all four rounds without touching a rail.
"He's amazing! Even when I make a mistake, he helps me out," Flynn explained.
Trainer Hap Hansen found Hottie with grand prix rider Guillermo Obligado just after the HITS Thermal Desert Circuit (Calif.) this winter, and he sees grand prix potential.
"We won't jump straight from children's to grand prix, obviously. I'm game," Hansen said with a laugh, "but we'll just work our way up."
Flynn, 14, still has some time before joining the ranks of Hansen in the big rings. Until then, she enjoys competing against her younger sister, Brooke, who finished second in the FEI qualifier.
"We're really close in age, only 12 months apart, so we kind of pick on each other," Brooke said. "But if someone else has to win, I'd rather it be my sister."
---
What Will Happen To The Oaks?
The fate of the Oaks Blenheim property is still up in the air after Irvine Ranch heiress Joan Irvine Smith accused Richard J. Brandes of cheating her out of at least $6 million, according to a pending lawsuit.
Brandes is Smith's business partner and the main overseer of the Oaks activities.
The lawsuit alleged that Brandes withheld financial information and redirected revenues to his own unrelated business ventures. The lawsuit was filed with the Orange County Superior Court in early August.
Smith owns 26 acres of property along Route 74 in San Juan Capistrano and leased the 80-acre neighboring property from Rancho Mission Viejo in 1995. She opened that property as the riding center in 1996.
Smith and Brandes formed an equal business partnership two years later.
Brandes contributed $100,000 toward turning the equestrian center into a world-class facility. According to the lawsuit, however, Brandes initially refused to share financial information with Smith and withheld records.
In 2000, the venue become the first West Coast facility to host Olympic selection trials, and would have been the site for the 2016 Olympic Games, had Los Angeles been selected as the host city.
The current property lease expires in December 2008, and according to a report in the Orange County Register, landowner Rancho Mission Viejo has already expressed plans to turn Oaks Blenheim into a regional park. Smith told the Orange County Register in August that the facility's fate is still up in the air. "It would be a real pity to lose this," she said.
Neither Brandes nor other staff members of the Oaks Blenheim grounds were available to comment at press time.
Joshua A. Walker