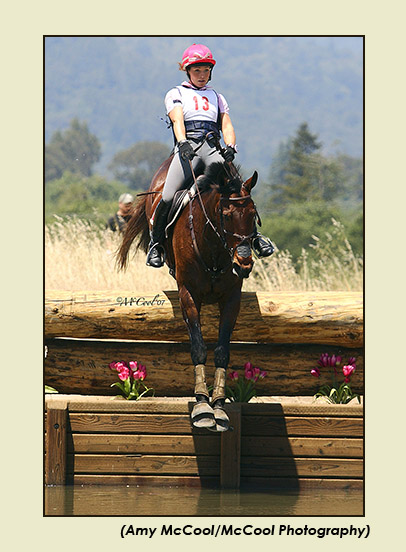 Kelly Prather was thrilled to earn her first advanced win at the Woodside Spring Horse Trials, May 25-27 in Woodside, Calif., with four members of the U.S. Equestrian Federation Eventing Selection Committee looking on.
"It was really cool to have them come out here and watch us," Prather said.
Prather, competing in just her third advanced event, wasn't in contention for selection to the U.S. squad heading for the Pan American Games in Brazil in July (selectors also viewed East Coast riders in contention for the team at the Jersey Fresh CCI*** [N.J.] two weeks later). But she plans to take the Irish Sport Horse mare as far as she can go.
Prather, 23, was working for a horse dealer in Ireland and found Ballinakill Glory, also known as "Pippa," as a 3-year-old. She tried the bay mare (Mark Twain—Ballinakill Poppy) her second day under tack and was thrilled with her calm nature and flashy movement.
"I didn't really expect her to be an advanced horse—I just thought she was a nice horse," said Prather.
She called Andrea Pfeiffer, who had been her trainer since she was 8, and asked her advice about whether she should ask her parents to purchase the promising horse. But Pfeiffer offered to buy her first, without even seeing a picture of her.
"She really likes being an owner and watching me ride, and she supports me 100 percent," said Prather, who works at Pfeiffer's Chocolate Horse Farm in Petaluma, Calif. Pfeiffer's husband, James, is Pippa's co-owner and farrier.
Prather stood fourth after dressage, but dressage leader Amy Tryon withdrew Poggio before the completion of the event, in order to compete him at Jersey Fresh. Tryon rode the greener Coal Creek, who was second after dressage, slowly around the course, incurring time penalties.
Only Tiana Coudray and King Street posted a faster cross-country round than Prather, but Coudray withdrew before show jumping.
"She's very good cross-country. I've only ever had one stop with her in her career, since she was 3," said Prather of the 8-year-old, bay mare. "She's very straightforward and loves her job. I have a lot of confidence in her."
Prather said the course had a different feel from Derek di Grazia's other courses. "It was pretty big and had lots of technical questions. The striding made you think on your feet. I liked it a lot, and she jumped great. With the hills, it was a little hard to make the time."
In her first two advanced starts, Prather had finished third at Twin Rivers (Calif.) and then second in the Galway Downs CIC***W (Calif.).
Prather plans to compete at the Rebecca Farm CIC***W (Mont.) in July before heading to the East Coast to train with Bruce Davidson in preparation for the Fair Hill CCI*** (Md.) in October.

In the meantime, she will enjoy her partnership with Pippa. "She's a pleasure to ride," said Prather. "In the barn, she knows she's the queen, and she gets a lot of special treatment. Her grain has to be warm, and she's very food-oriented."

Beth Rasin