Two years ago Fiona Bigwood's life changed forever when she fell from a horse at a competition and suffered a concussion.
After four days in the hospital, the British rider went home, but her recovery was complicated by nerve damage to her right eye, which left her with double vision, and a loss of confidence.
But a special mare, Orthilia, brought her back to the international ring, and she's making her Olympic team debut this week. So far, they've knocked .2 percent off their personal best in the Grand Prix, scoring a 77.15 percent to finish in eighth place.
Bigwood has been riding in an eye patch since her accident until she can take the time to undergo the several surgeries needed to correct it.
"When I had my accident I wasn't allowed to ride anything that could be a little cheeky or naughty, so I kept riding her," she said. "She's got the biggest heart, she'd never do anything to hurt you. She's the one that kept me going. I was going to stop riding. It's such a lovely relationship with her. I know it sounds silly but she really is a friend to me, I just love her to bits."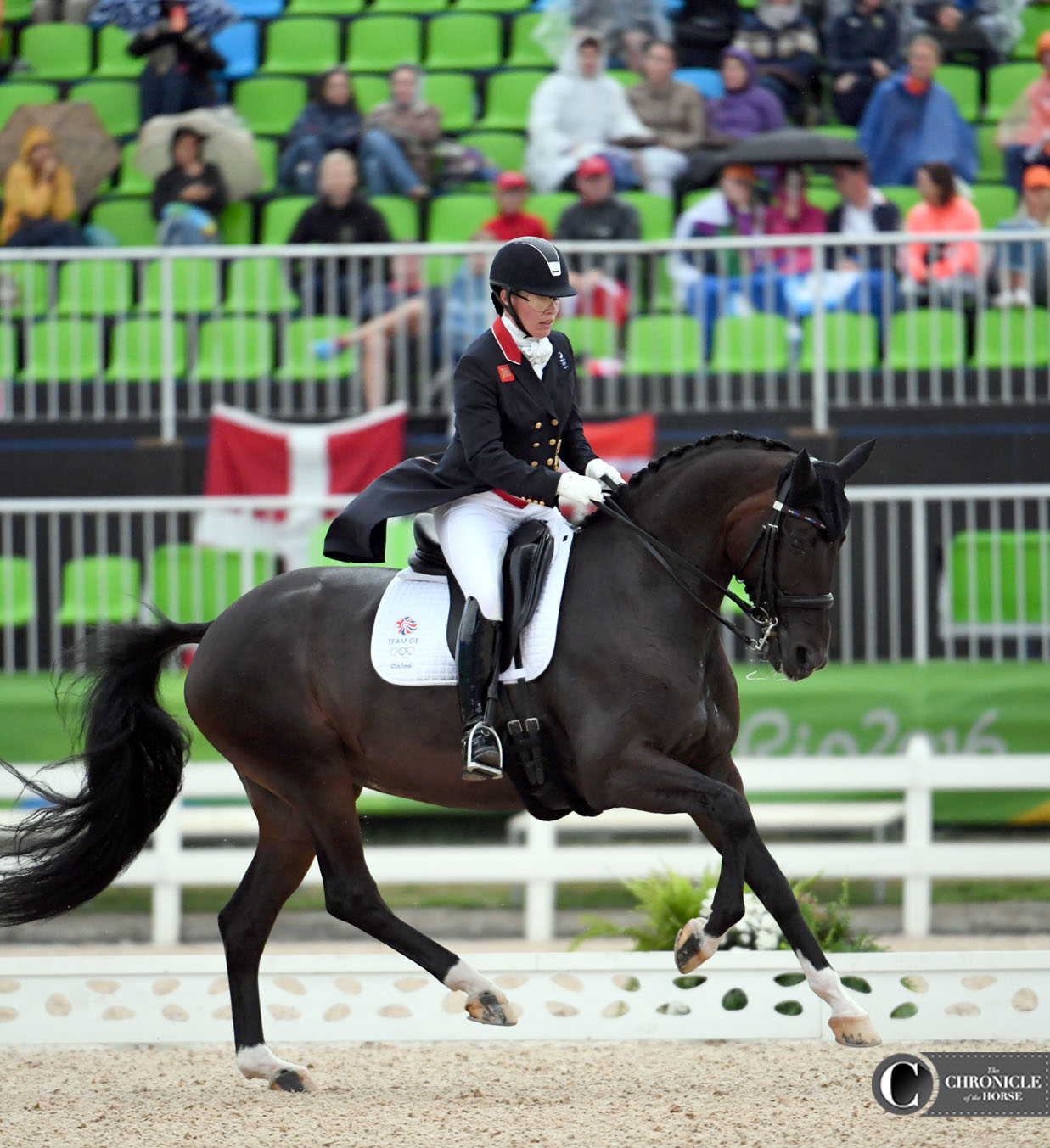 Fiona Bigwood and Orthilia. Photo by Lindsay Berreth.
Bigwood is a veteran of four FEI European Championships, including winning a team silver medal last year, and the 2010 Alltech FEI World Equestrian Games. When it came time to find her next top horse, she found "Tillie" in 2013. The mare had been campaigned at the young rider level by Cathrine Dufour of Denmark, who also happens to be competing in Rio this week.
Tillie wasn't quite advanced enough for Bigwood the first time she saw her, but after six months, she reconsidered.
"I looked at other horses over a 6-month period, but couldn't get her out of my head," she said. "I loved her, but I didn't think it was right, so then in August I said, 'I need to go back and try that horse,' and she hadn't been sold. She was amazing."
Bigwood was excited to start work with her new partner, but then her accident happened.
"Two years ago I was riding a nervy horse at a competition He was scared of other horses, and I had my line [in the warm-up,] and another horse got scared and ran into us. He didn't mean to do anything but he then fell over," she said. "We just went down, and I hit my head and ended up losing consciousness."
Bigwood was wearing a helmet at the time of her accident, but still incurred a hairline skull fracture.
"They knew the problem with the eyesight was there, and they said in six months it'll be back to normal. I think it's only 10 percent [of people] that don't recover. And a year and a half later I've still got it. It's fine. You do get on with it, [but] it was really tough after," she said.
Bigwood said it's hard to judge distance. And in her first competitions after the accident she would get nervous because she couldn't see anything on her right.
"I have to tell whoever's on the mic [of the headset] to let me know if someone's coming because there's no sight there. And it's silly things like doing my stock—I can't do my stock. I couldn't get it right. But you do adjust to it, and life carries on," she said.
A mother of three children ages 4, 8 and 10, Bigwood is married to Danish dressage rider Anders Dahl, who's also competing in Rio.
"It is tough," she said of competing and being a mother. "But it's possible, and I wish more moms would carry on riding once they have kids. They think they can't do everything. I have an amazing support team. My mom and my husband's mom are brilliant, and the amazing girls in the yard who are happy to help with the kids. And it's fun doing it as a family. I think they really enjoy it."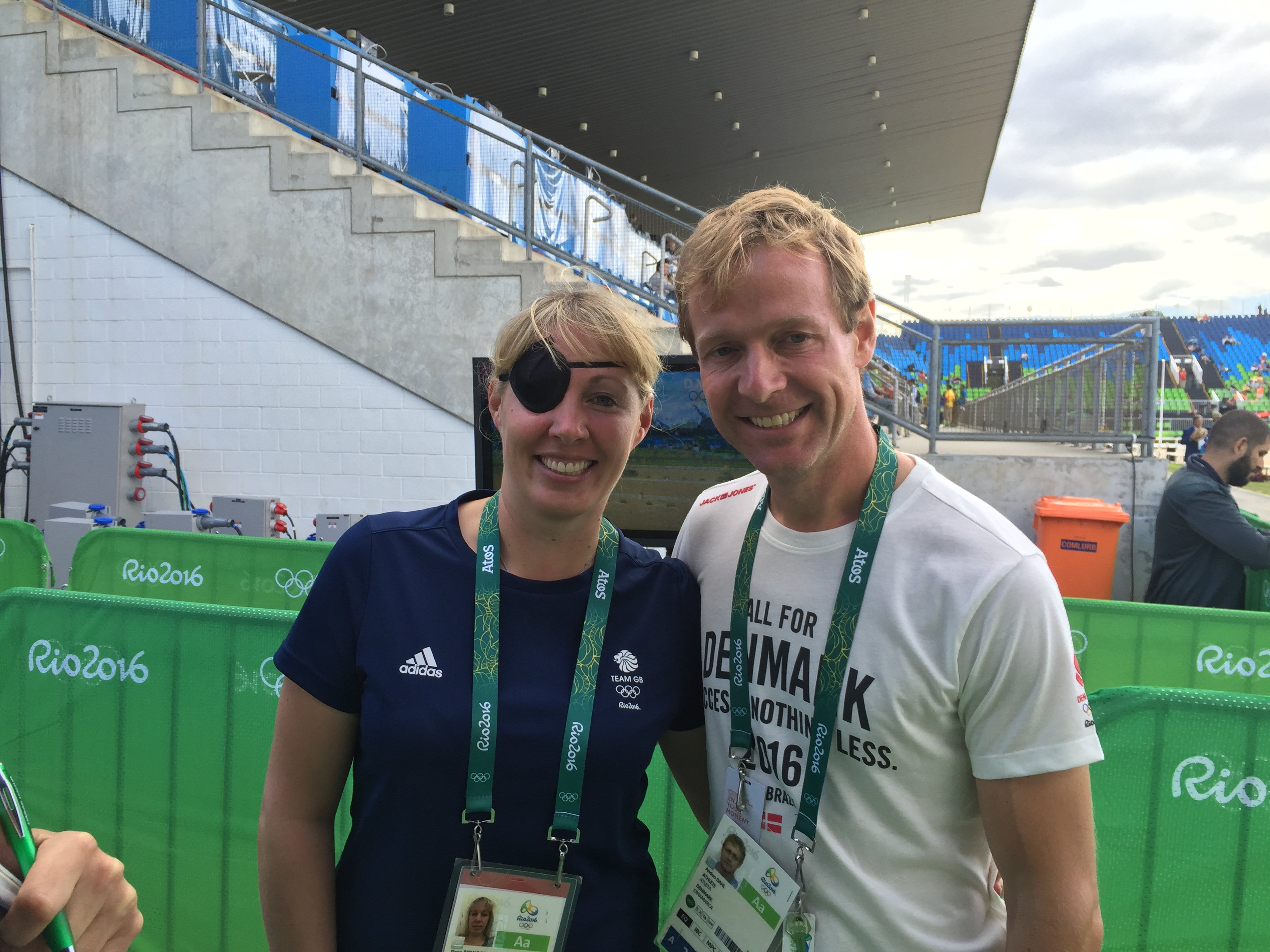 Fiona Bigwood is enjoying the Olympics with her husband Anders Dahl, who rides for Denmark. Photo by Mollie Bailey.
The whole family is in Rio, and Bigwood and Dahl got to go to the opening ceremony together.
"It was lovely to be at the opening ceremony both of us, what an experience is that! How many people can say that!" she said.
Bigwood is thrilled to be at her first Olympics with Tillie, an 11-year-old Oldenburg (Gribaldi—Atterupgaards Olivia, Donnerschlag), and is looking forward to helping Great Britain bring home a medal today.
"Just the fact she's so listening to me from the minute I get on, and then you drop the reins, and she walks, there's no tension," she said. "You just feel you're riding with a friend. I've had many horses over the years, but to get a real friend like that is something special. She is such an honest horse—I love her to bits."
Mollie Bailey and Lindsay Berreth are on the ground in Rio de Janeiro for the Chronicle and will be reporting with all the news, fantastic photos and behind-the-scenes details, all posted on www.coth.com. Your go-to page for all things Olympic is http://www.chronofhorse.com/2016-Olympics
We'll have live blogs of competition sessions, Twitter updates, blogs, photo galleries, stories about each day's competition and so much more. Don't miss a thing—we'll have everything you need to know. Also make sure to follow along on the Chronicle's social media outlets: Facebook, Twitter, Instagram and Snapchat (@chronofhorse).