VDL Wizard's road to the top of the sport has been anything but straightforward. But rider Callan Solem has never doubted that he had the heart to go all the way, and he'll prove her right when the two make their debut together at the Longines FEI World Cup Final.
They're in Gothenburg, Sweden, this week set to peak at this event, with a slew of hard-earned ribbons on their 2015 record, like second at the World Cup qualifier at the Washington International (D.C.) and the Pennsylvania Big Jump, and third at last year's Great American $1 Million at HITS Ocala (Fla.). And they've proved themselves true team competitors too, helping the United States qualify for last year's Furusiyya Nations Cup Final (Spain) with a team win at the Coapexpan CSIO Nations Cup (Mexico).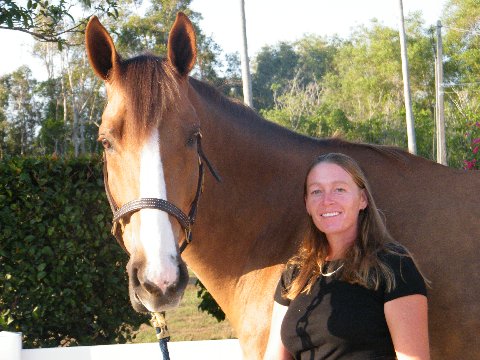 Photo courtesy of Callan Solem.
They're impressive results for any horse, let alone one whose career could have ended years earlier. But Solem's faith never wavered and she's worked hard to get the 13-year-old Dutch Warmblood (Gentleman—Pretty, Ahorn) healthy and at the top of his game.  While Solem's a professional through and through, she can't help getting sentimental about the horse who will finally take her to her first World Cup Final.
"He's really just that horse you want to ride," said Solem, who runs Callan Solem Show Stables out of Chester Springs, Pa. "He's never going to do something of poor character; he's never going to let you down.
"He wouldn't rise to his potential as someone's servant, he's not built to be that way," she continued. "So a lot of the work we do together is about us against the world. I think, 'OK we can do it like this, what do you think?' He's not stupid, he doesn't need someone to boss him around."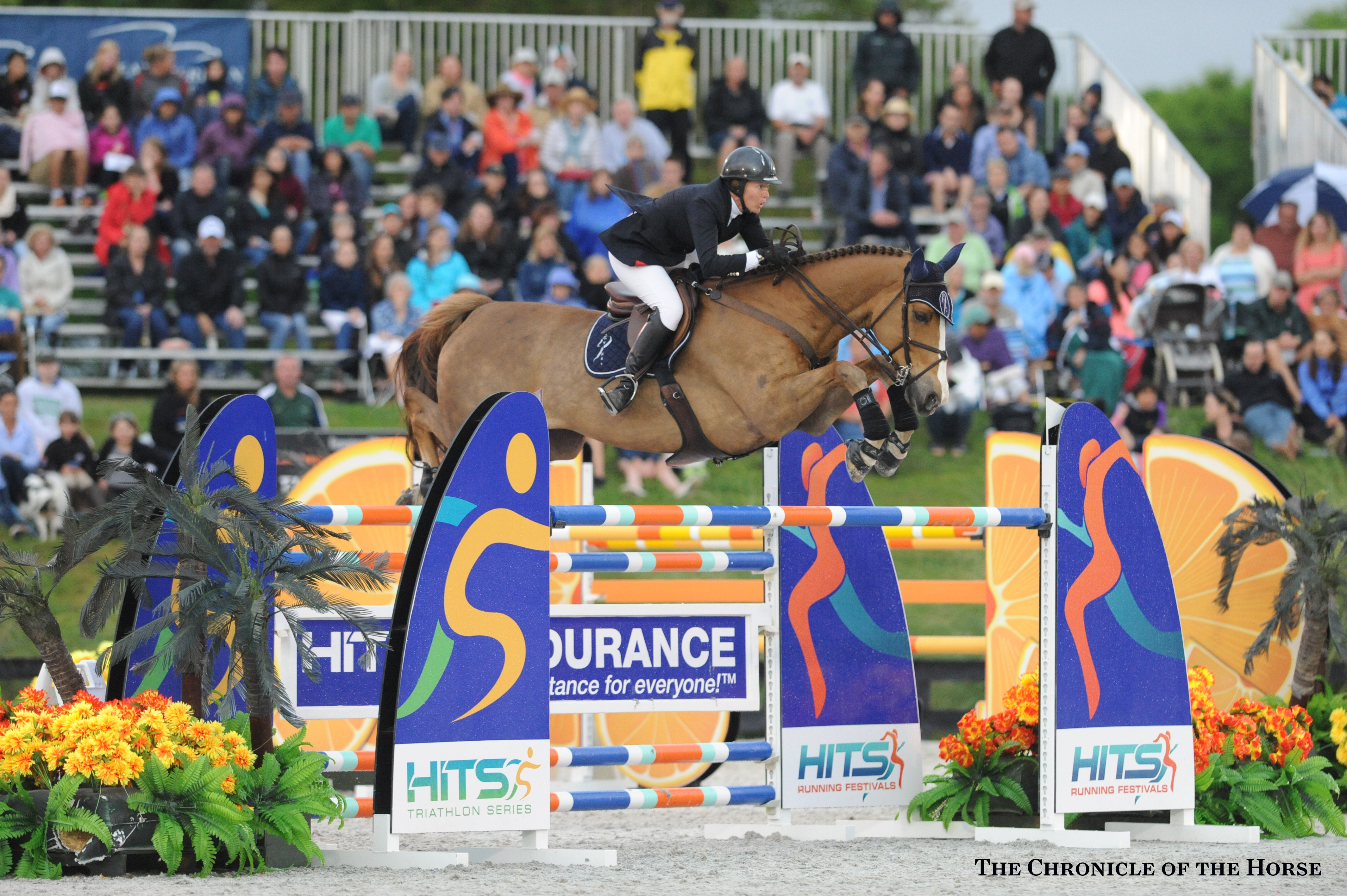 Callan Solem and VDL Wizard finished third at last year's Great American $1 Million Grand Prix (Fla.). Photo by Mollie Bailey.
"Don't Teach Me Anything New Today"
In the spring of 2010 Solem went to VDL Stud in the Netherlands and picked out 7-year-old "Wizard," the first horse she would ride for her brand new partner, Virginia McNeil. But two days after he got out of quarantine, Wizard colicked badly and had to go in for surgery. The procedure went well, but they took their time with recovery. He was back in work by the end of the year.
During his 8-year-old year he and Solem started showing up in the ring, but they didn't exactly set the world on fire. Solem felt frustrated because she knew the horse had enormous potential.
"Looking back, I didn't know him that well, and of course we'd lost a year, and I just don't think he was feeling his best," she said.
The next year Solem could tell Wizard wasn't feeling well but pinpointing the problem proved tricky. His immune system was weak, and he was treated for Potomac Horse Fever and EPM. On top of all that he managed to get a bandage bow. Solem had half a dozen vets on speed dial, and even called an animal communicator to see if she could get extra insight.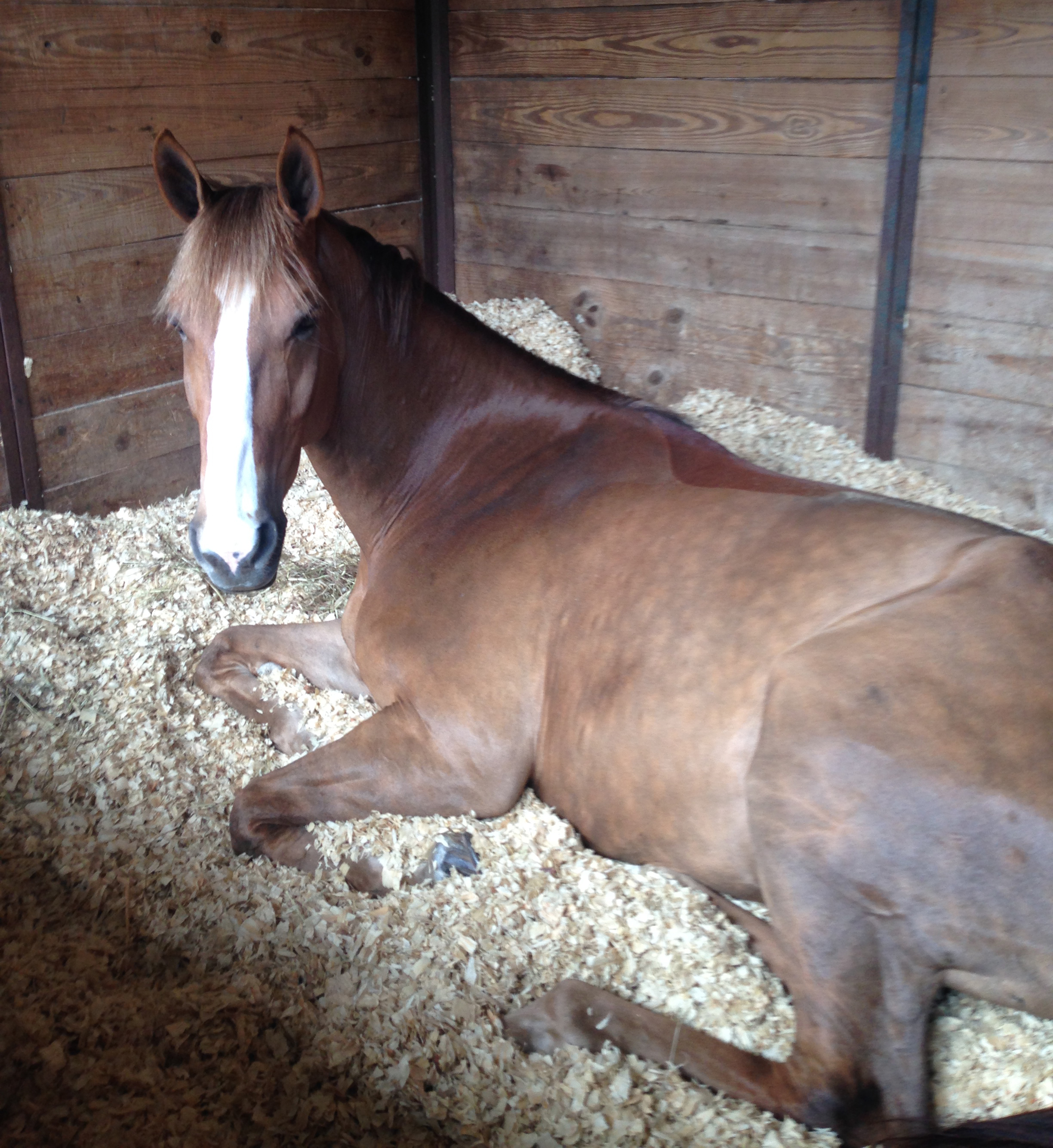 VDL Wizard napping. Photo courtesy of Callan Solem.
"All the time I say, 'Lord, don't teach me anything new today,' " said Solem with a laugh. "I was reading everything there is to read about EPM, Potomac Horse Fever and immunology, and I called every specialist I could. It was such a collective effort.
"I couldn't have been more excited about him and about being partners with the McNeil family and doing this together," she continued. "It was the beginning of so many things, and right away for that to happen could have broken a lot of relationships. But they were amazing. They've been the best owners a rider could have. He was years without producing anything, and they had no reason to believe in me and in him and in this. It would have been so easy to pull the plug. They deserve so much credit."
Solem had an experienced grand prix partner to help keep herself fit at the level while Wizard got back to himself: VDL Torlando.
"He kept me in the ring and kept me healthy so that when Wizard was ready to go I could go on with it," she said.
By his 10-year-old year Wizard was back to himself and feeling good, but Solem had her work cut out for her. She found herself with an enormously talented horse who had just lost two out of three crucial years of training and experience. Add to that that he's a big, long horse and Solem wanted to work carefully to make sure that he'd build muscle "in a way that wasn't brutal or stressed his system." Extra turnout was out, because the only way he manages not to jump out of his paddock is if groom Holly Osman babysits him in a small medical paddock.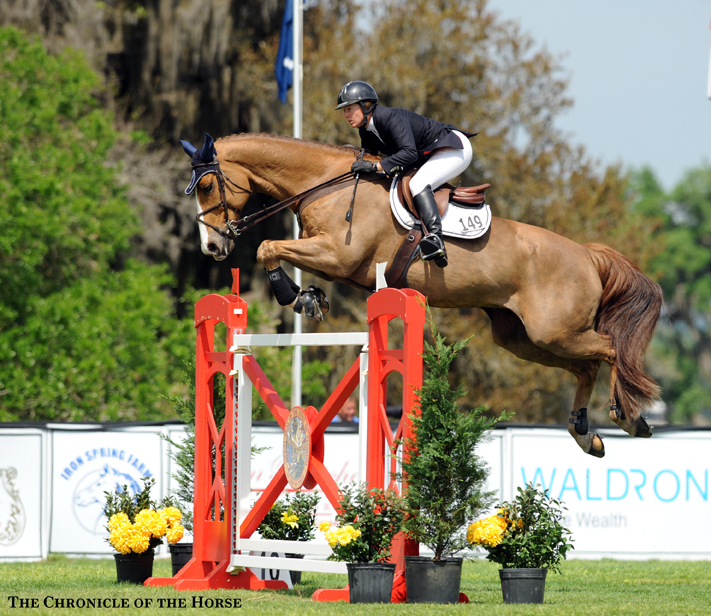 Callan Solem and VDL Wizard at the 2015 Live Oak International CSI-W. Photo by Mollie Bailey.
On the recommendation of veterinarian Jim Kenney, DVM, Solem got Wizard back in the show ring when he was ready rather than spending more time jump schooling, with the thinking that the adrenaline would help protect him as he built strength. She showed him at the 1.30- to 1.45-level, with her eye on bigger classes and challenges.
"At that point he's not a kid anymore—you can't jump horses small for too long and we sort of felt like we had to get on with it," said Solem. "I've done everything I can for him, and we just had to see where he was going from here."
The next year she stepped him up again, even though she knew he wasn't as experienced as other 11-year-olds. She took him in major classes like the Ocala HITS Great American $1 Million knowing it would be a challenge, going for experience rather than top ribbons. But as the year went on he started getting a piece of competitive grand prix classes, finishing third at I Love New York, sixth at the Idle Dice Open jumper Stake at Devon (Pa.) and eighth at the Washington International. The great performances over his 11- and 12-year-old years prompted Chef d'Equipe Robert Ridland to put Solem on Nations Cup teams in Falsterbo (Sweden), Mannheim (Germany) and Coapexpan, where she proved herself again and again.
"When I show Wizard, now that he's so great and experienced, all the horses go better," she said. "I feel more confident, and I got a half a second faster because I feel good about things because I'm showing an amazing horse. Torlando made Wizard, and now he's making some of the younger horses as well."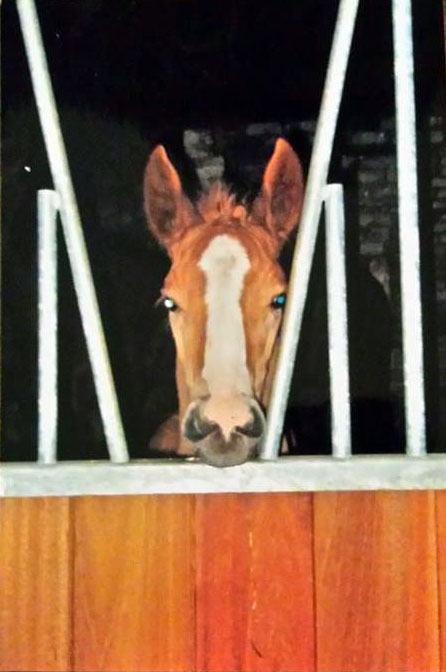 VDL Wizard as a foal. He was bred by the Wolters, a sister and brother breeding operation that also produced Norman Dello Joio's Glasgow. Photo courtesy of Callan Solem.
Inspiration To Be Better
While this is Solem's first time competing at a World Cup Final, it's not her first time going. She went to the World Cup for the first time in 2000 (she babysat Nick Dello Joio for his father Norman) to watch Rodrigo Pessoa win his second consecutive championship on Baloubet du Rouet.
"I just remember so much wanting to feel that competent at the sport," she said. "They say it takes 10,000 hours to master something, and I think I've done more than that—maybe I'm a slow learner. When you watch Beezie and McLain, the word 'expert' comes to mind. It looks like they know exactly what's happening all the time."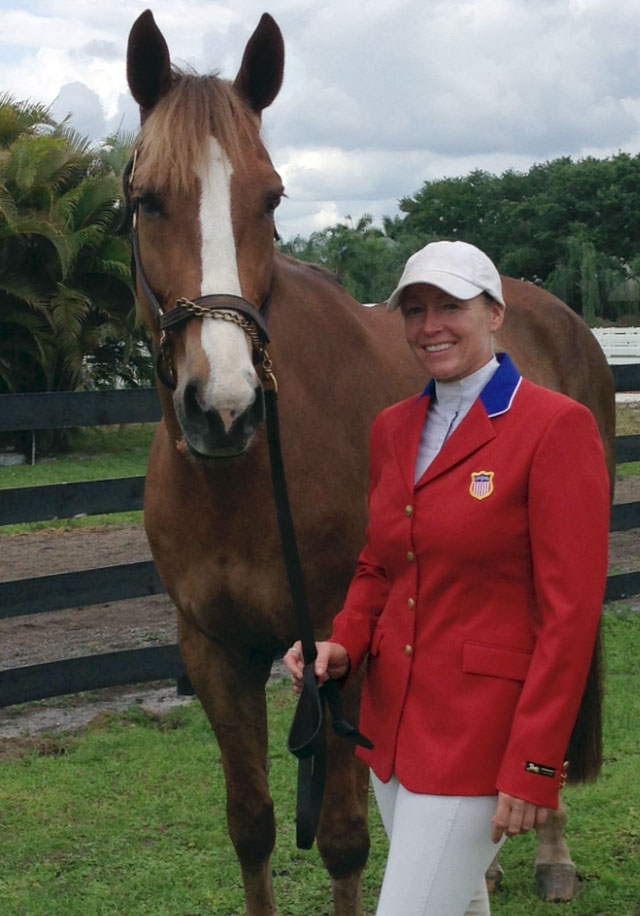 Photo courtesy of Callan Solem. 
There's no doubt that she feels ready to compete in Sweden. For much of Wizard's career she's had Mark Jungherr helping her from the ground, and Solem credited him with helping produce Wizard today. More recently his schedule didn't mesh with Solem's, so she asked Peter Leone to give her tips, and Leone is in Gothenburg to lend a hand.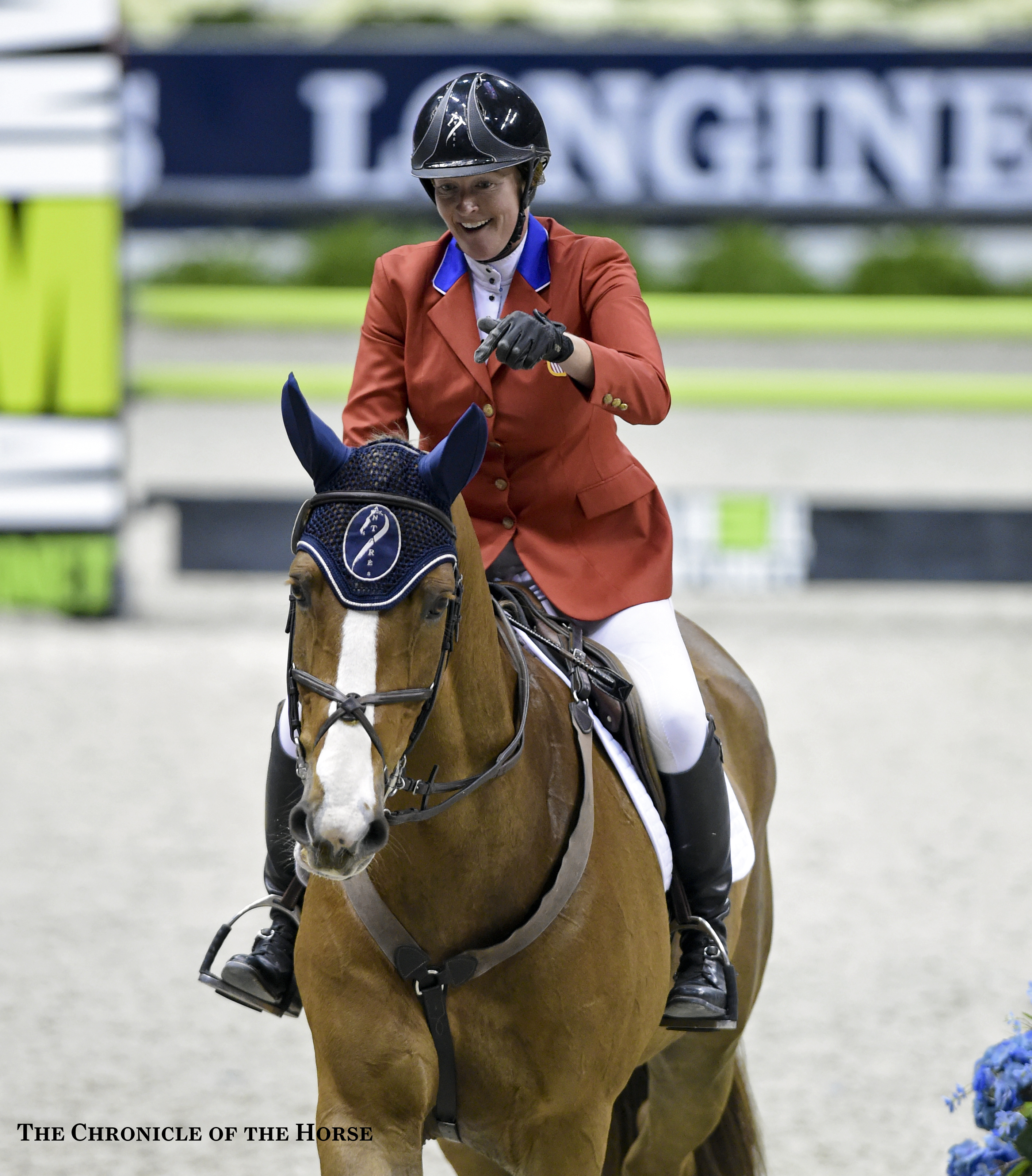 VDL Wizard never ceases to impress Callan Solem. Photo by Mollie Bailey.
"I'm responsible for the results in the ring, and the schedule that we make and all the people we drag along—the vets, farriers, grooms, owners, everyone. I want everyone to be successful, most of all Wizard. I'm not trying to waste anyone's time. If there's a legacy to leave, I hope people will think I've been considerate of them and the horses and grateful for any help.
"You know how they say when you're in a really good relationship, 'My husband makes me want to be a better person?' Well he and Torlando both make me want to be better for them. They're both really an inspiration for me, and when you know the answer is yes, you have to be careful of the question."
The Chronicle is on location in Gothenburg, Sweden, for the Longines FEI World Cup Finals and you can follow can follow along at coth.com and on the COTH Facebook page.